| 1 | 0.50" | 70 | 360 |
| --- | --- | --- | --- |
| TORNADOES | HAIL | WIND | MILES |
The 12th looked like a pretty decent local day. A surface low in Southwest Nebraska was forecast to drift east. A cold front draped south from it through Kansas and a warm front extending eastward towards Omaha. Cloud cover was pretty strong in the morning so the play would be to watch for clearing in the warm sector for a favorable target.
SPC had a 5% encompassing the triple point area. Despite the cloud cover they were expecting a couple hours of destabilization to prime the atmosphere. With southeasterly surface flow in the warm sector, the storm relative helicity was expected to be conducive to a couple of tornadoes. Watching visible satellite from home a bit of clearing was presenting itself south of Lexington, so it seemed prudent to head in that direction.
I took off from Grand Island around 1730z and at about the same time the SPC issued a mesoscale discussion for much of the triple point area with the expectation of storm development near the triple point with the possibility of a couple tornadoes.
I arrived in Kearney around 1830z and a cluster of storms were present west of the US 183 corridor. They were pretty disorganized at the time so I started to drift southwest to catch the cluster at the southern end. Eventually I caught that as the southern cell strengthened as it approached Elm Creek and went tornado warned.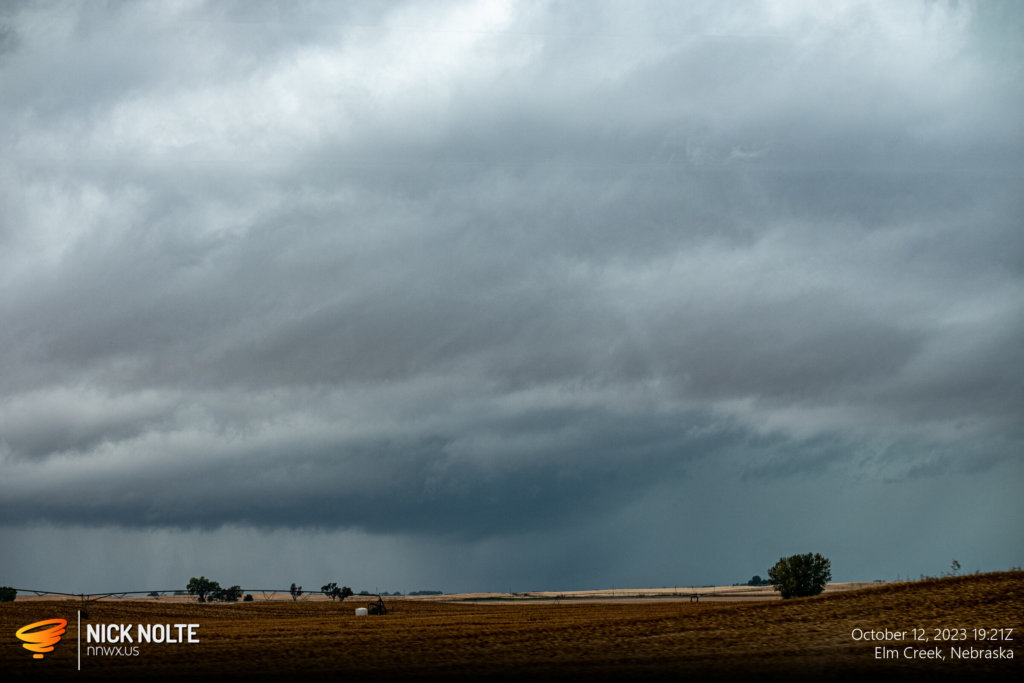 Even though it was tornado warned, there wasn't much to look at. I followed it north a little bit until there was additional development on the southern flank. At that point I turned around and headed back south to get in front of the storm. As I did that, a new storm down by Oxford went tornado warned.
OK fine, I'll drop south some more to the newly warned cell. Which I did, getting on it a few minutes later.

The southern end of the line continued to develop and strengthen so I continued south to keep in position. Eventually I approached the main cell near Hildreth where a nice RFD cut emerged and a bowl funnel developed and debris kicked up at the ground. It was barely a tornado, but we'll count it.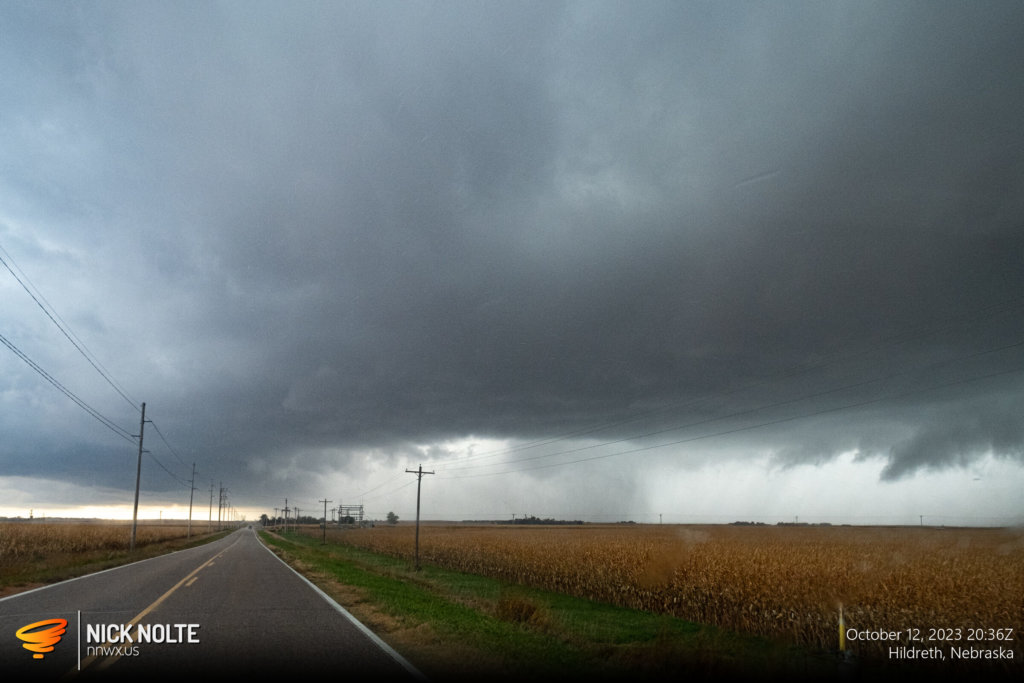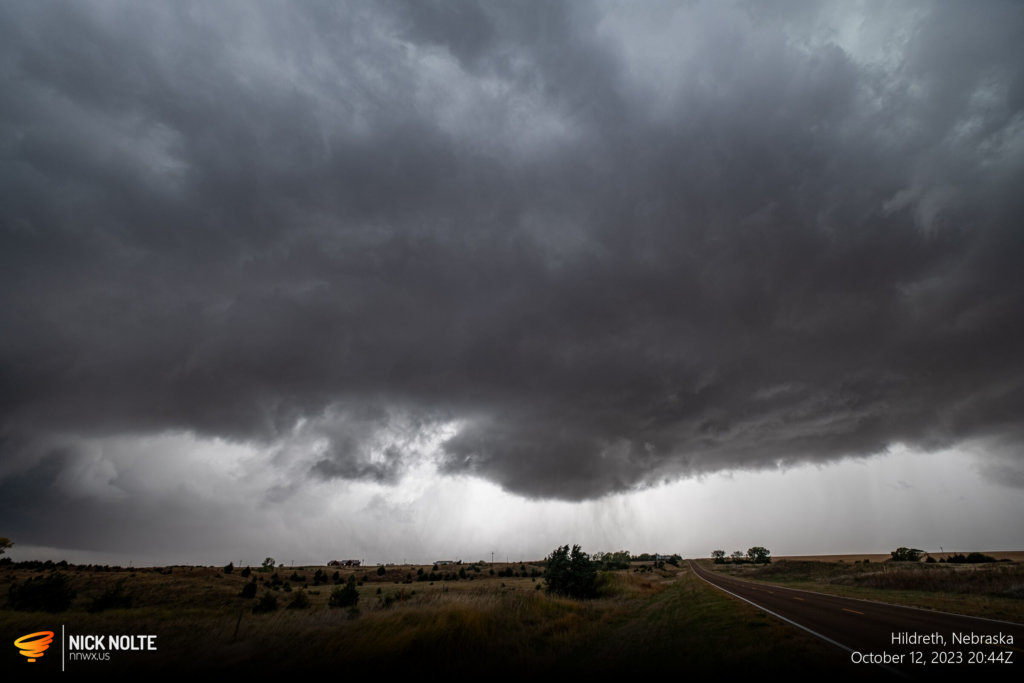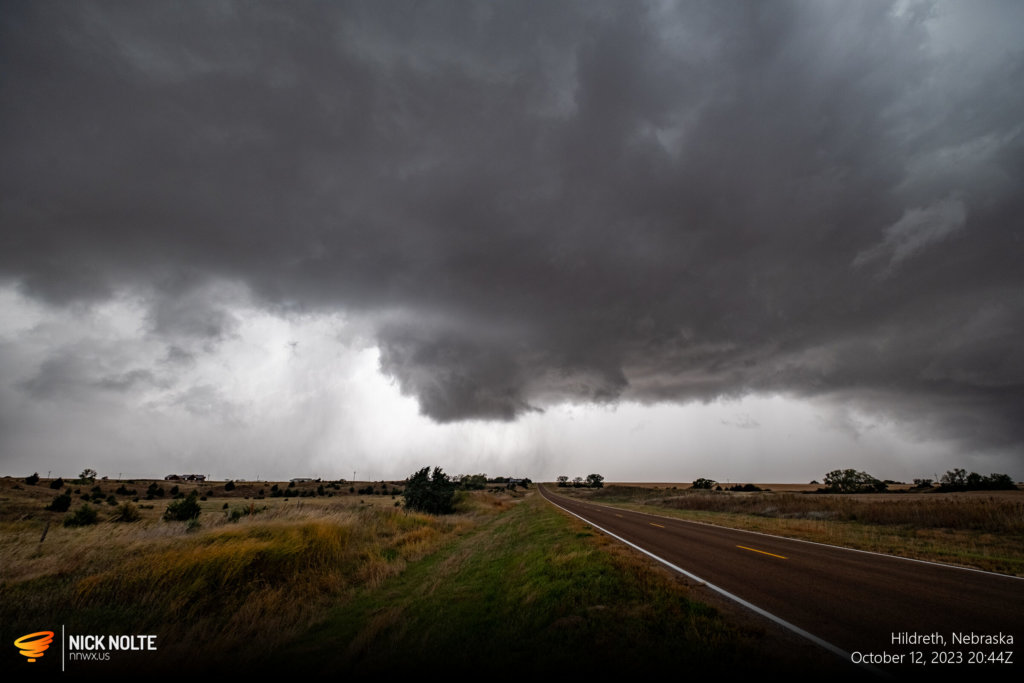 This feature was confirmed to be the longest and strongest tornado of the day in the Hastings forecast area, rated EF-1. Although it never fully condensed, it was on the ground for about 6 miles and did damage to a house, garage, and grain bin about 2 miles north of this photo.
I continued to track the storm east while it continued to remain tornado warned, and between Ayr and Roseland there was a debris cloud on the ground, but I'm pretty sure this was just a gustnado on the rear flank.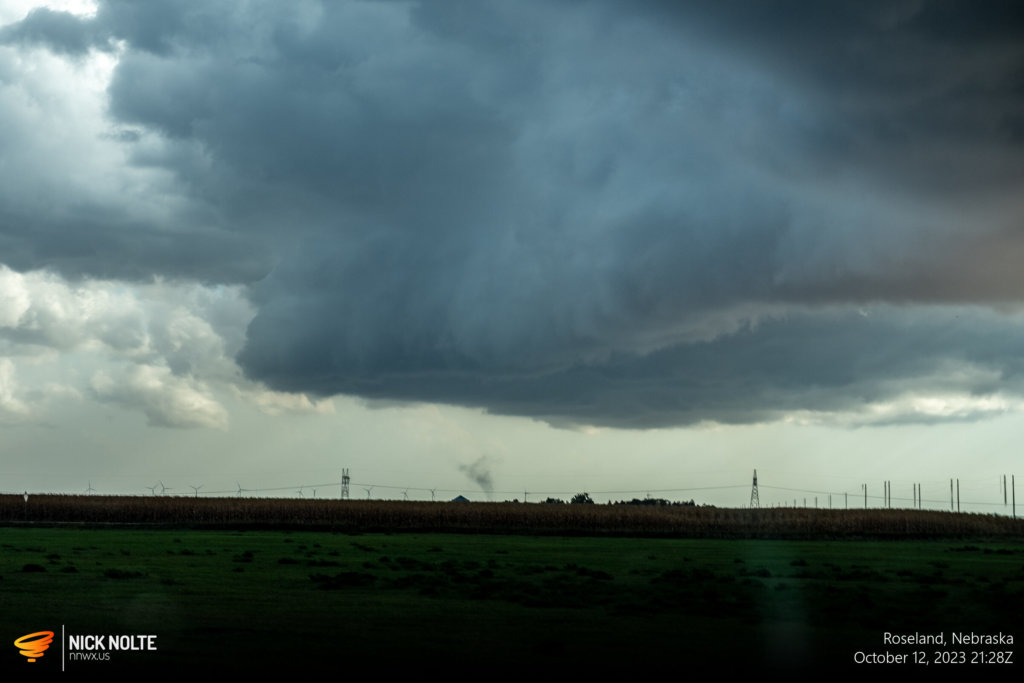 I continued to track the storm all the way to Fairmont before calling the chase as the storms began to weaken as the sunset.
Chase Recap
| START | END | DURATION |
| --- | --- | --- |
| Grand Island, NE @ 12/1734Z | Grand Island, NE @ 13/0036Z | 07 hours, 2 minutes |
| INTERCEPTS | CHASER ENCOUNTERS |
| --- | --- |
| | None |
Chase Map