| 5 | 1.25" | 90 | 712 |
| --- | --- | --- | --- |
| TORNADOES | HAIL | WIND | MILES |
June 23rd featured a favorable setup for isolated supercells, especially in Southeastern Wyoming. Moderate daytime heating coupled with an increase in deep shear from an ejecting shortwave would provide a good thermodynamic environment while cyclogenesis would cause low level curvature in the hodographs to increase.
While the SPC kept the tornado risk confined mostly to Wyoming, there would probably be good corridor for storms stretching down along the foothills in Colorado as well. I had stayed the night in Limon and my morning forecast said southeast Wyoming was the place to be, so the plan was to head north to Cheyenne and reassess.
I left Limon around 16z and began the trek north. I arrived in Cheyenne right around 19z and after looking at visible satellite it looked like I was in the right area, but maybe a bit further north at the southern edge of the lingering morning cloud deck.
As I left Cheyenne, the SPC issued a mesoscale discussion for the area indicating that a tornado watch was likely as the afternoon wore on. As I traveled up I-25 a couple of small cells started to fire to the west, so had to keep an eye on those in case they did something sneaky.
Also, on the way up, earlier storms that had fired northwest of Casper started going tornado warned and several tornado reports came in west of I-25 between Casper and Buffalo. I took that as a good sign that we might get a similar outcome further south. SPC issued a tornado watch for all of Eastern Wyoming around 2:30pm as I rolled into Chugland. I should have grabbed lunch in Cheyenne but decided I'd just go to Wheatland and grab something. On the way there I passed into the lingering morning clouds and there was actually a little cell just south of town with an actual wall cloud, but that wasn't the main show. After grabbing food, I went back to Chugwater to sit at the rest area and wait for the show to begin. Didn't have to wait long.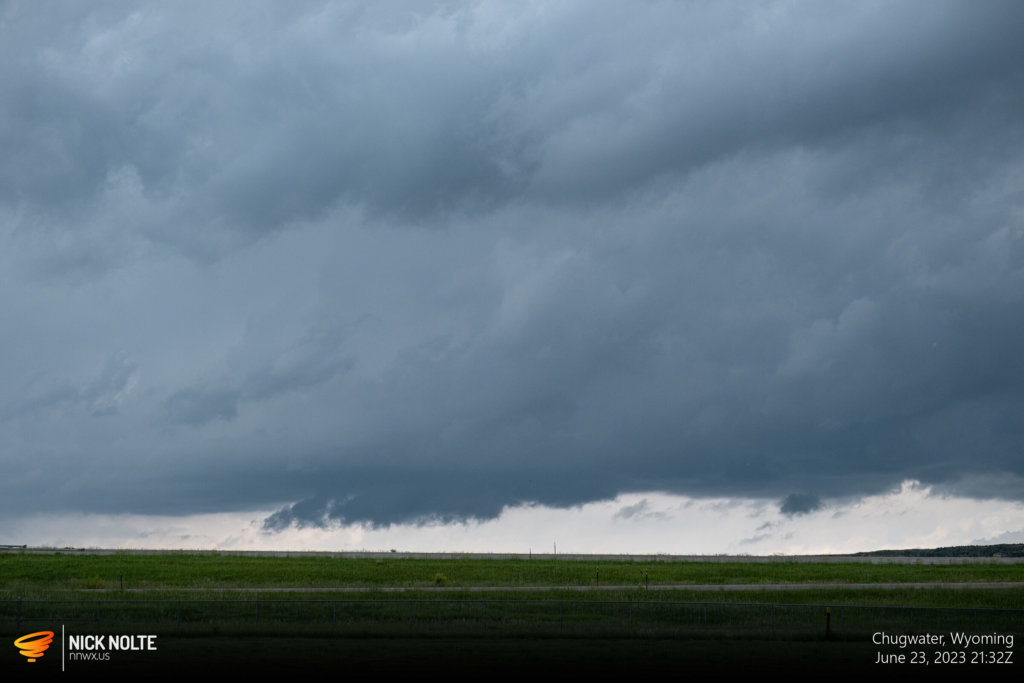 This first cell started to develop just west of town right around 21z but it looked pretty weak so I waited for the next one to develop. And it did, so I found a nice spot east of Chugwater to watch it.
Eventually, this storm put down a brief tornado but I was unable get video or photo of it since it lasted about ten seconds. But repositioning east along highway 313 as the second tornado began to develop.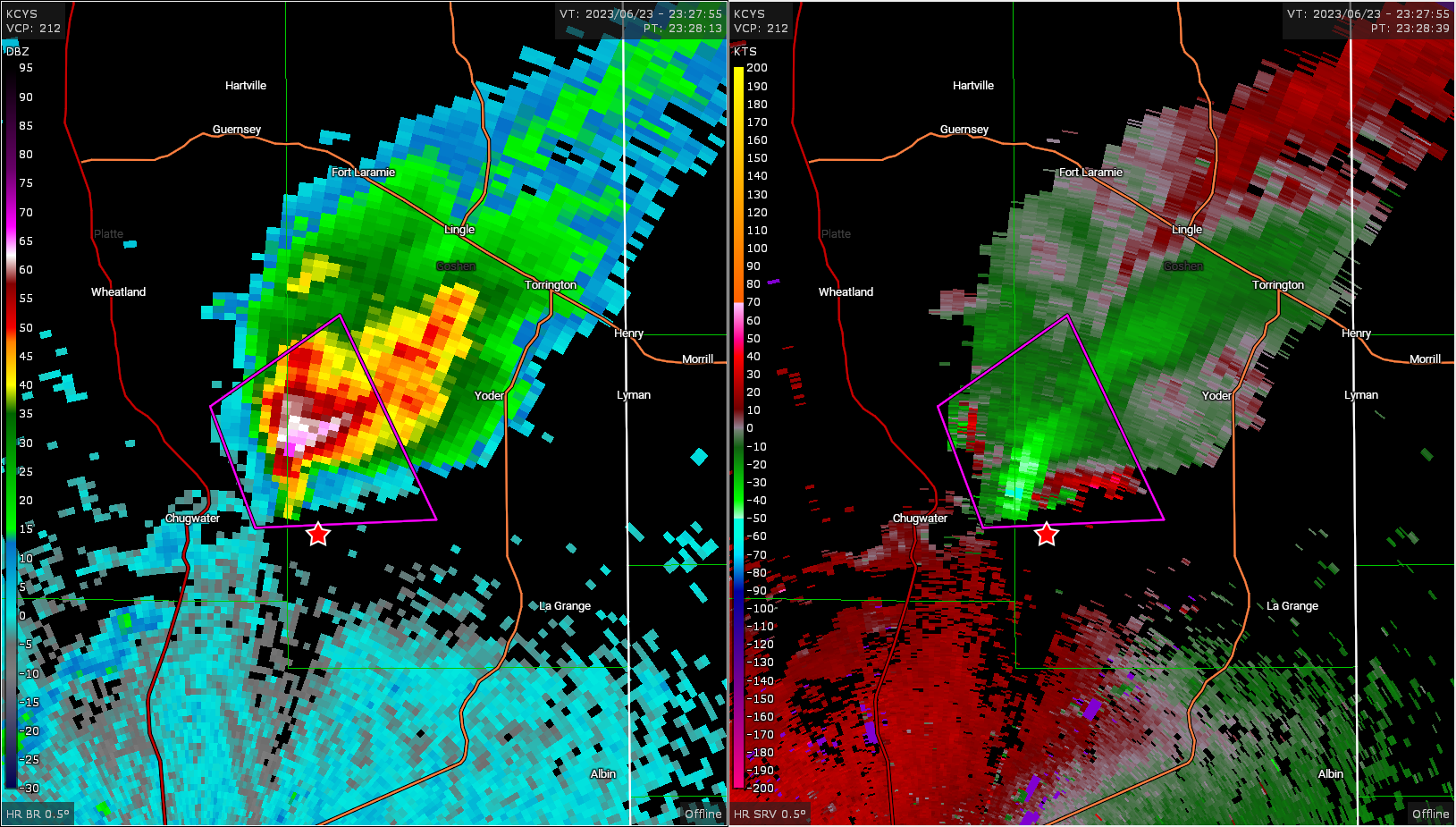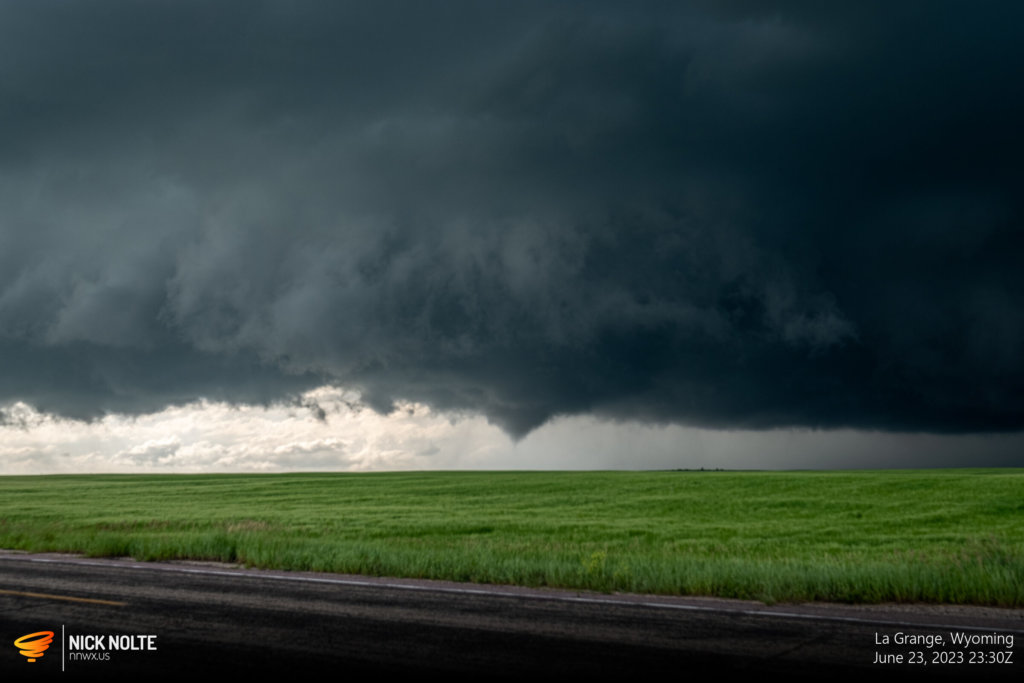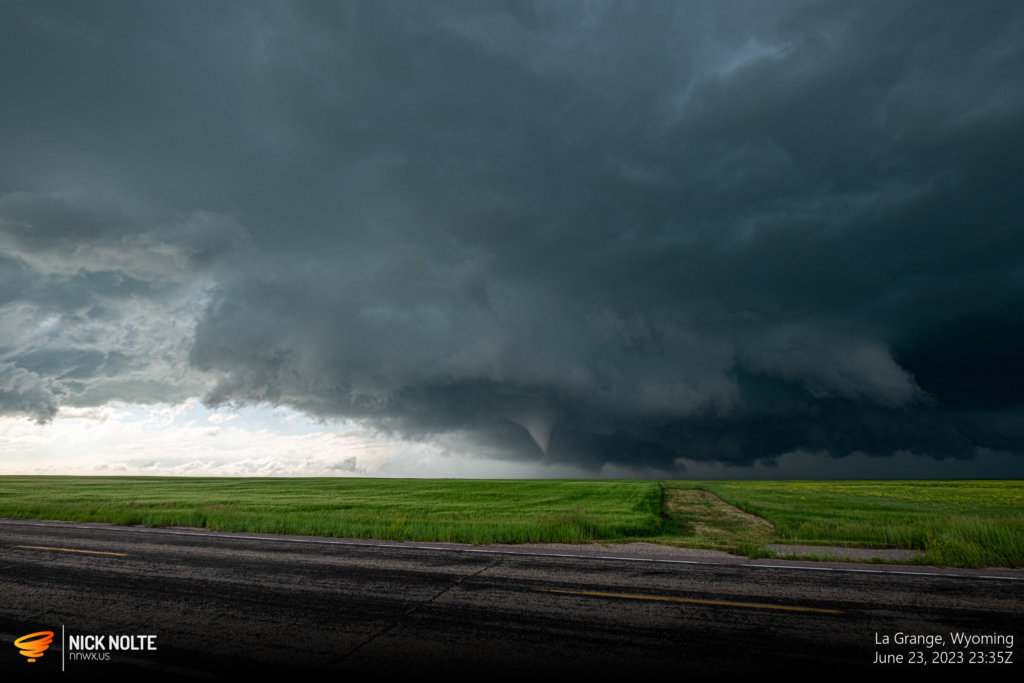 I continued to track the storm east until highway 85 where I diverted north towards Hawk Springs to get a better look at the storm.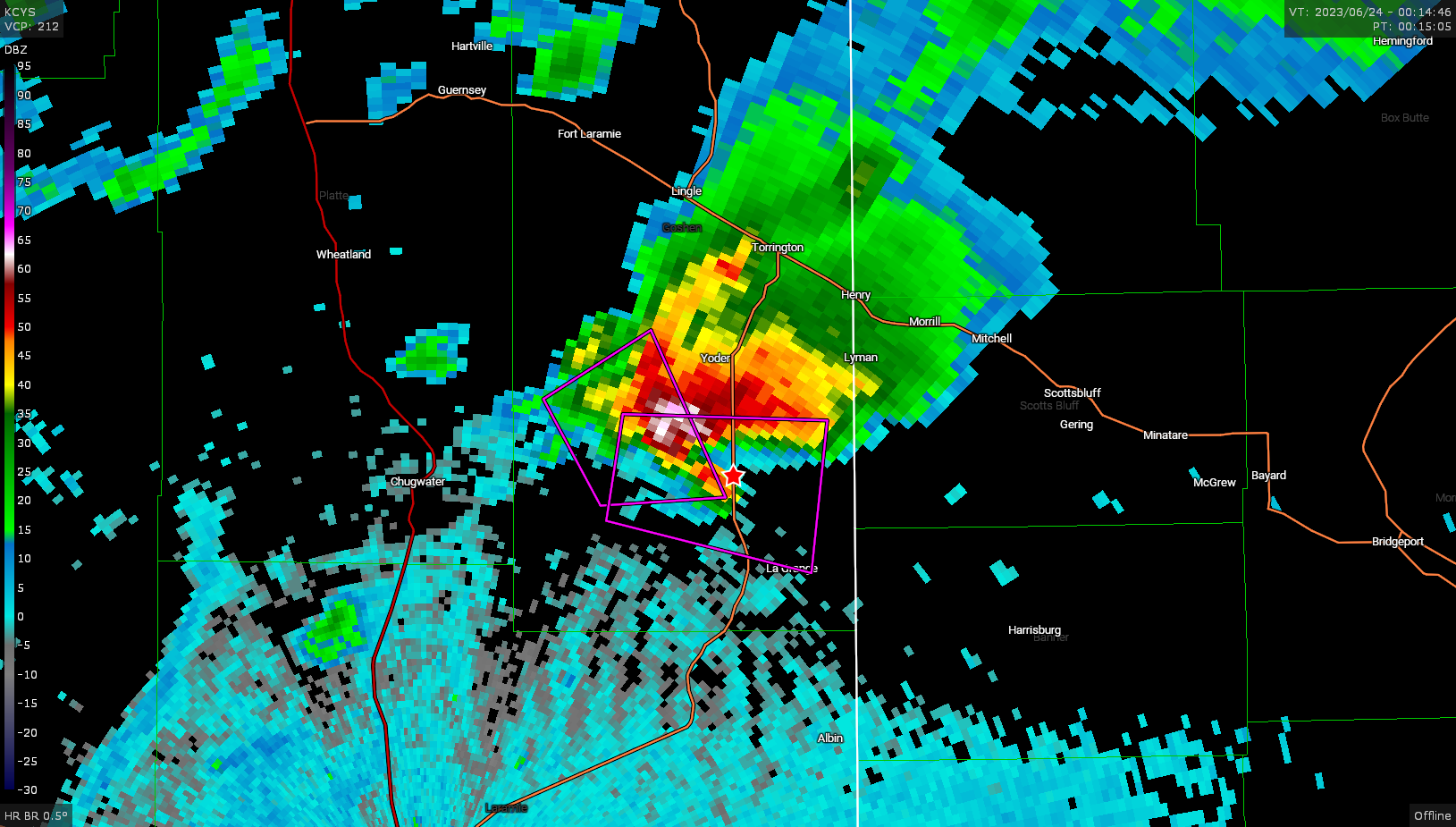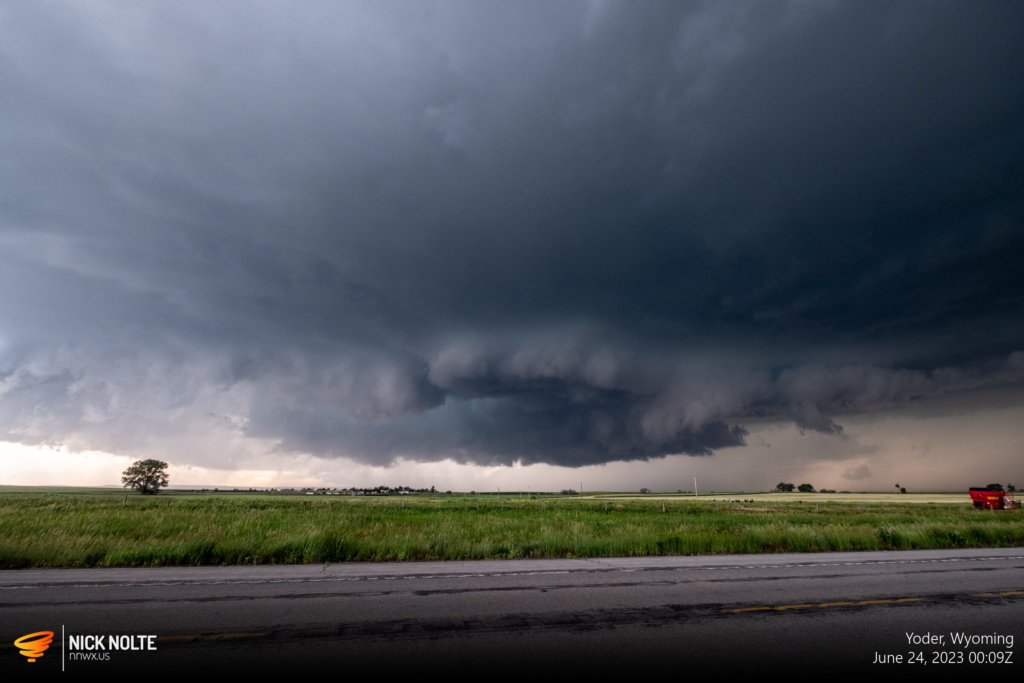 I turned around to head to highway 151 to continue tracking the storm east eventually taking a road north out of La Grange to get a better look at the storm again. The road network in this area was lacking so I didn't go too far north before doubling back to the main highway to continue east.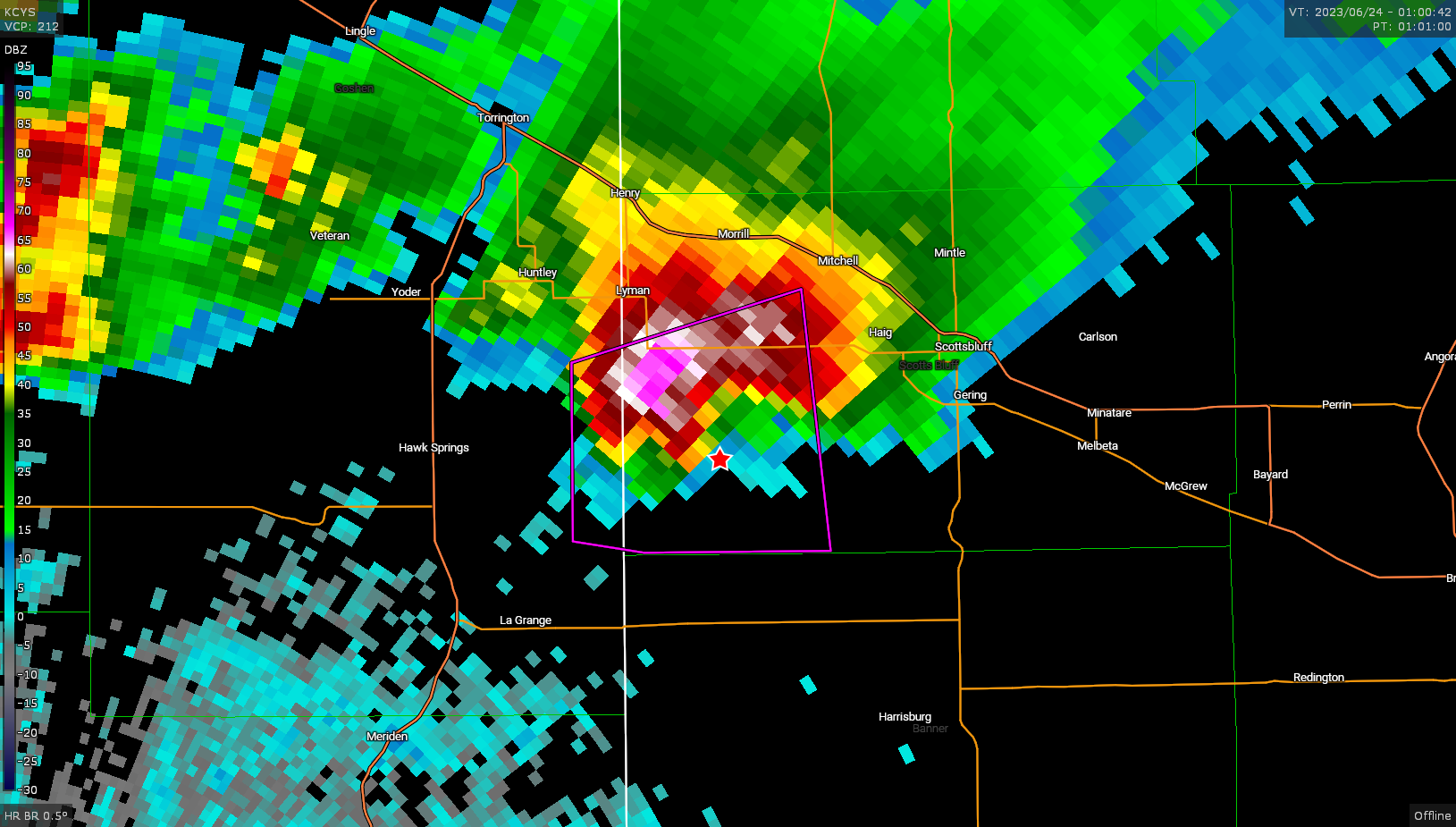 Eventually I crossed into Nebraska and a couple miles in diverted north to get a good look at the storm again. Here I was able to spot a rather stout cone in the distance which eventually morphed into a very tall stovepipe before roping out.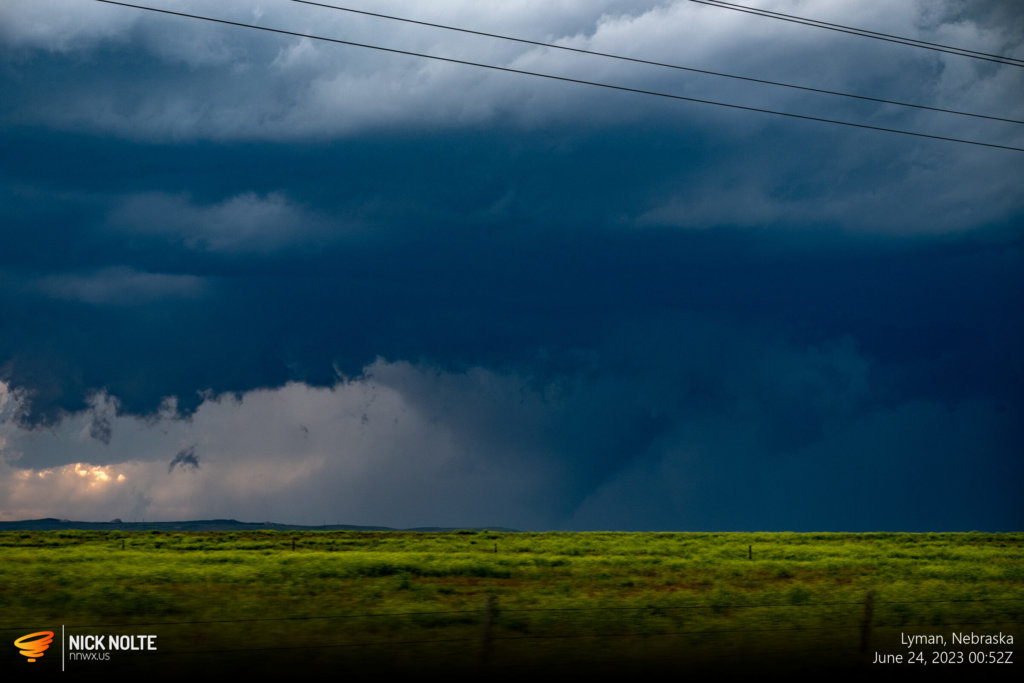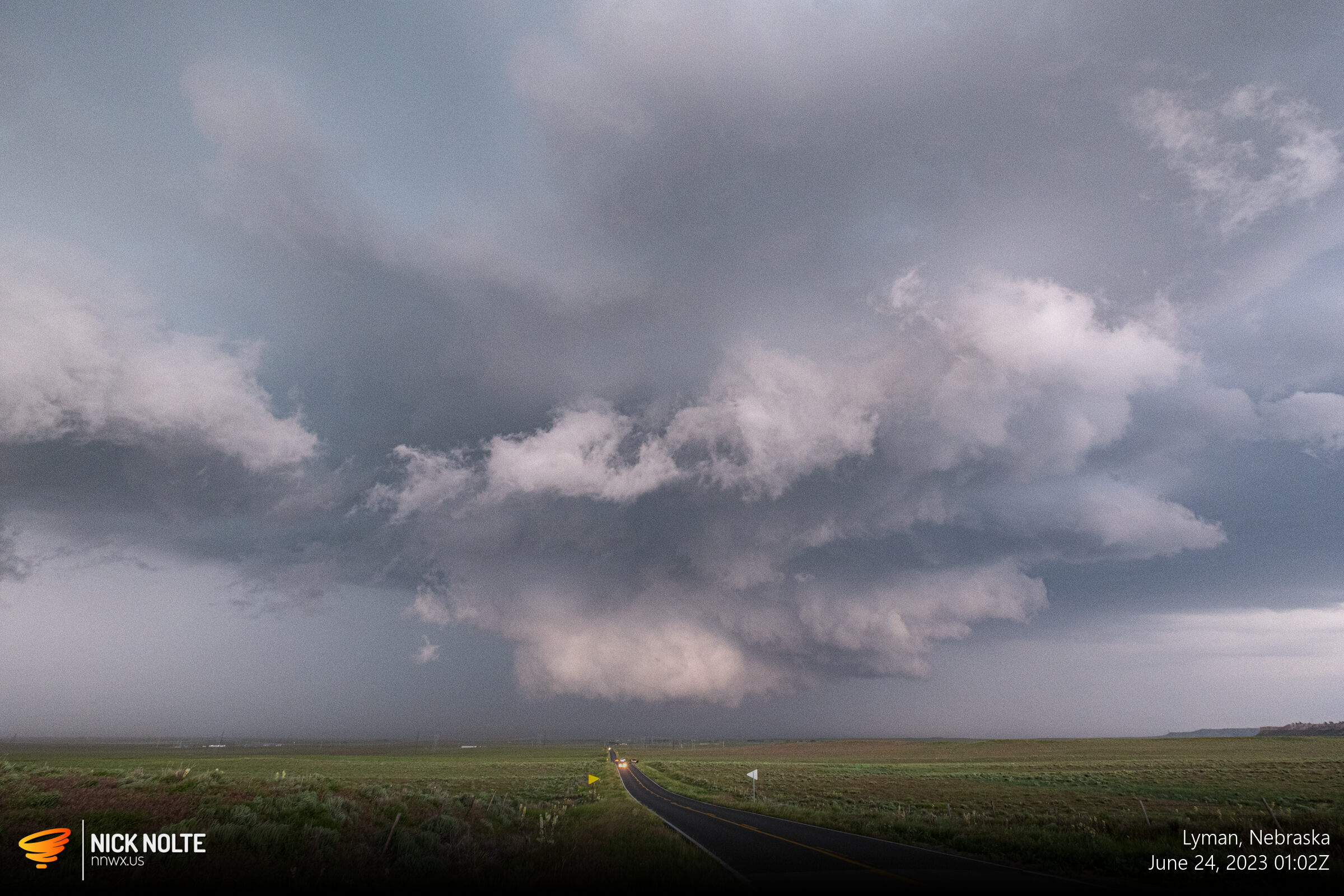 As the RFD began to encroach I bailed back south and made the questionable decision to head east on Carter Canyon Rd rather than head back to highway 88. Luckily the road was pretty good and we were able to stay in front of the storm and got all the way east to Melbeta where looking back west I was able to see a tornado in the grunge which I believe was the Gering tornado.
Eventually I took one last look at the storm right after sunset north of Bridgeport before calling the chase.

Chase Recap
| START | END | DURATION |
| --- | --- | --- |
| Limon, CO @ 23/1608Z | Grand Island, NE @ 24/0711Z | 15 hours, 3 minutes |
INTERCEPTS
CHASER ENCOUNTERS

23/2330Z @ 10 E Chugwater, WY
24/0004Z @ 7 W Hawk Springs, WY
24/0052Z @ 8 E Hawk Springs, WY
24/0150Z @ 2 SE Scottsbluff, NE

23/2311Z @ 4 NE Chugwater, WY
David Mayhew (7)

Chase Map