| 1 | 0.50" | 65 | 781 |
| --- | --- | --- | --- |
| TORNADOES | HAIL | WIND | MILES |
May 13th was the final day in a four day event stretching from Colorado to Iowa. I had actually driven home the prior night after a lengthy internal debate about whether I would even chase this day. Well, I awoke in the morning and given the forecast I decided that with the way this system performed the last three days, Northwest Iowa wasn't that far after all.
SPC had a long corridor of 5% tornado risk stretching from Northwest Iowa into Central Illinois. It seemed apparent to me, given the past three days, that playing the north edge of the low in Northwest Iowa was going to be the play. Knowing it was going to be an early day, I took off from Grand Island at 9am and my plan was to head towards Denison, Iowa.
The surface low was forecast to be in Northeast Nebraska towards the late afternoon dragging mid 60°F dewpoints into Northwest Iowa. I even noted 70°F dewpoint reported at Denison before leaving home.
As expected, a mesoscale discussion for a tornado watch came out pretty early, right at noon. I was about 20 miles southwest of Denison when it was issued, so I felt pretty good about my timing. The cumulus field along the front was looking pretty good. There were a couple ongoing storms south of Des Moines, but I was sold on the northwest play so generally ignored them. A couple cells were going up northwest of Storm Lake, so I trekked up in that direction.
I got on one of the cells near Schaller and despite the radar presentation, this thing had a beefy wall cloud that looked like it was scraping the ground. These low-topped supercells are usually under-represented on radar since they're not very tall.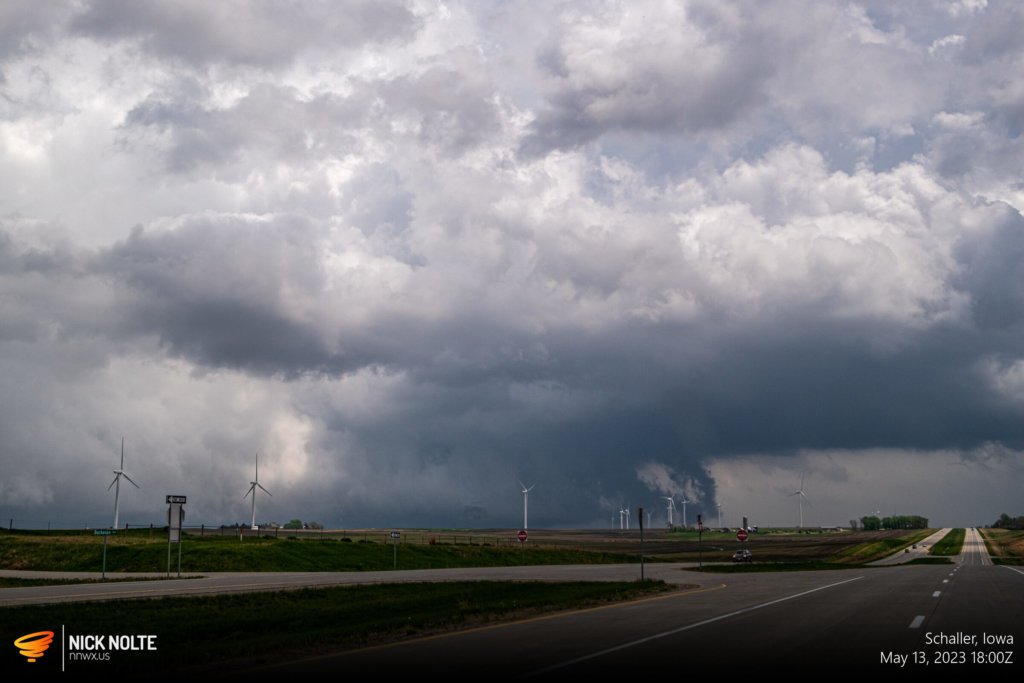 Most of the next hour was spent roaming the same dirt roads bouncing from cell to cell checking out the different storms. Eventually one had a nice clear slot and looked like it might be worth watching. The meso of the storm started rotating like a top and eventually a cone funnel formed and swirls were evident in the fields below. It persisted for a few minutes and we had a tornado!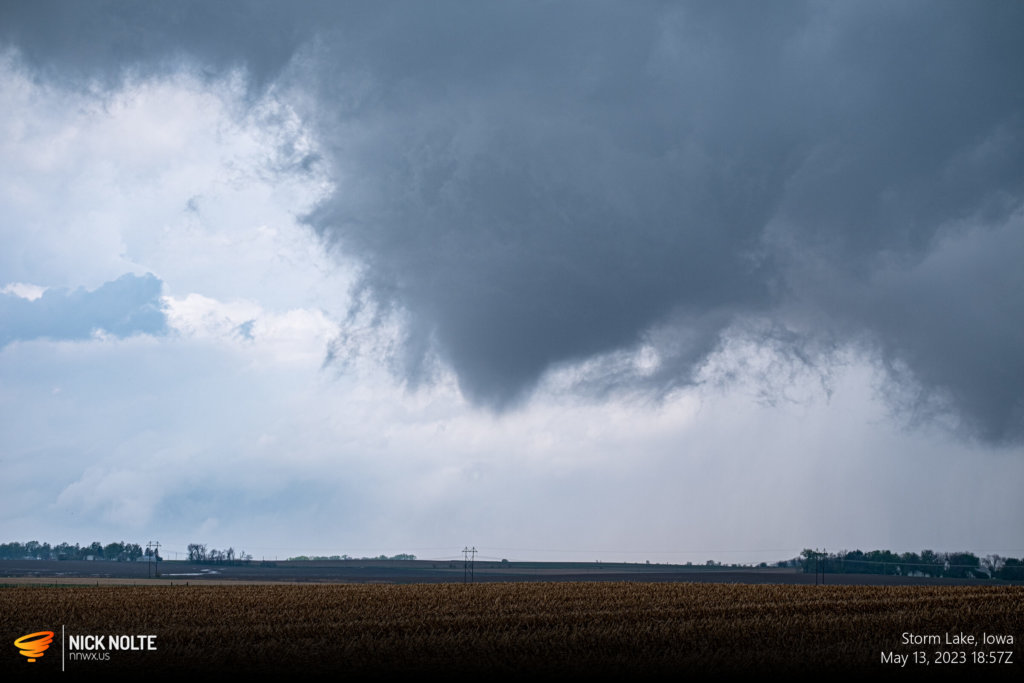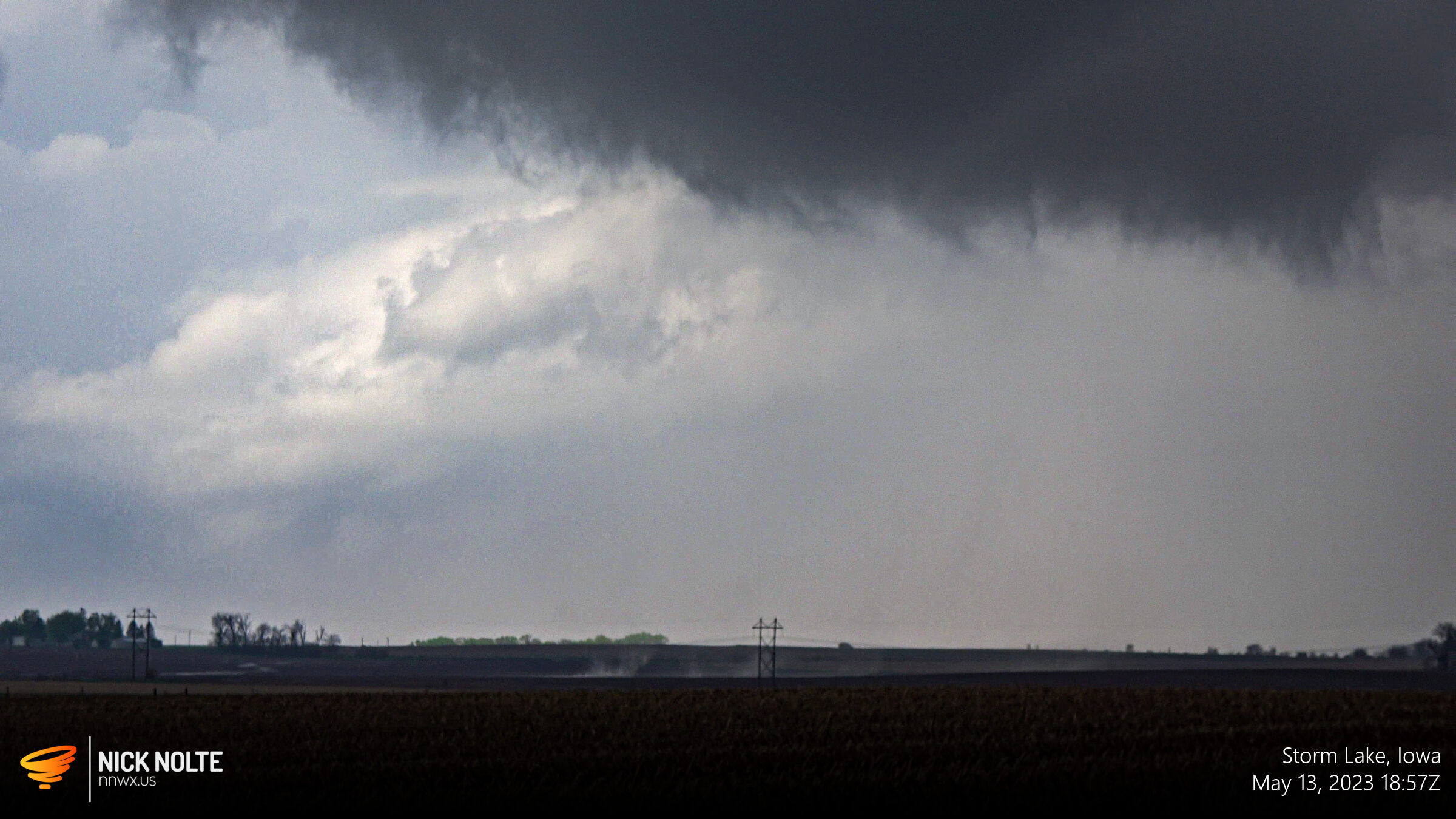 After this I messed around with these storms for another hour or so before I made the decision to drop southeast. I was expecting the area between Lake City and Des Moines to have new development as that area had been storm free the whole day. This turned out to be a bad idea as a couple more tornadoes happened on the northwest storms that I missed out on, including a cool multi-vortex tornado near Newell.
All in all, a successful four days of chasing and one of my best season starts in a long time. I've had a couple seasons where I had stretches of 3 tornado days in 5 days of chasing, but this was the first instance of 3 tornado days in 4 chase days. Just in time, too, as we head into late May the outlook looks bleak for chasing until June!
Chase Recap
| START | END | DURATION |
| --- | --- | --- |
| Grand Island, NE @ 13/1358Z | Grand Island, NE @ 14/0529Z | 15 hours, 31 minutes |
| INTERCEPTS | CHASER ENCOUNTERS |
| --- | --- |
| | Chris Gullikson (1) |
Chase Map