| 1 | 0.50" | 70 | 936 |
| --- | --- | --- | --- |
| TORNADOES | HAIL | WIND | MILES |
March 31st was shaping up to be a significant weather event in the mid-Mississippi Valley as forecast models were showing a low deepening to 988 along with a 100+ kt mid level jet. It all just depended where it setup. SPC had outlined the area beginning on the Day 6 outlook on March 26th. They upgraded it to 30% the following day, then went moderate on the Day 2 and initial Day 1 that was upgraded to dual high risk areas at the 1630z update.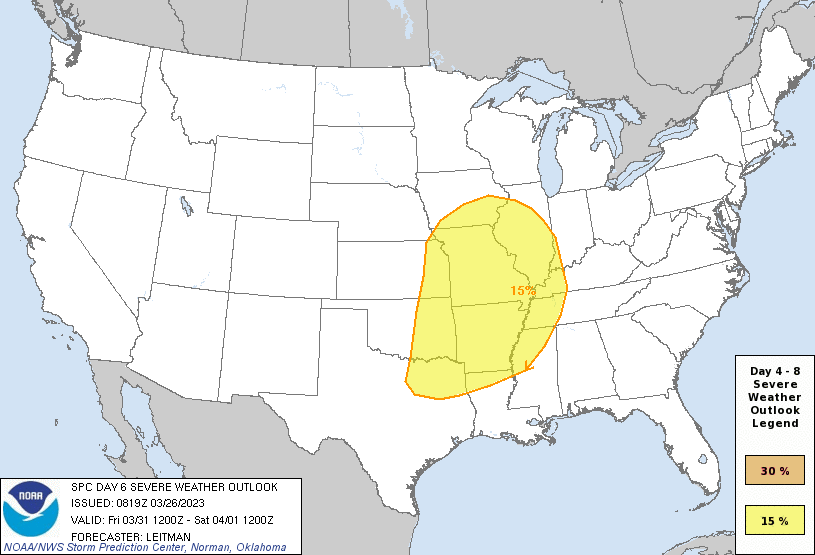 I decided a couple days before to chase this day even though I'm not a big fan of chasing east because it just makes the trip home longer, but this looked too good to pass up to start my chase season. My main concern was given the crazy dynamics, a deepening surface low coupled with a 115 kt mid level jet meant storms were going to be hauling ass and keeping up would be difficult. Odds are it was going to be a one-and-done situation where you setup and wait for the storm and hope it produces where you're at.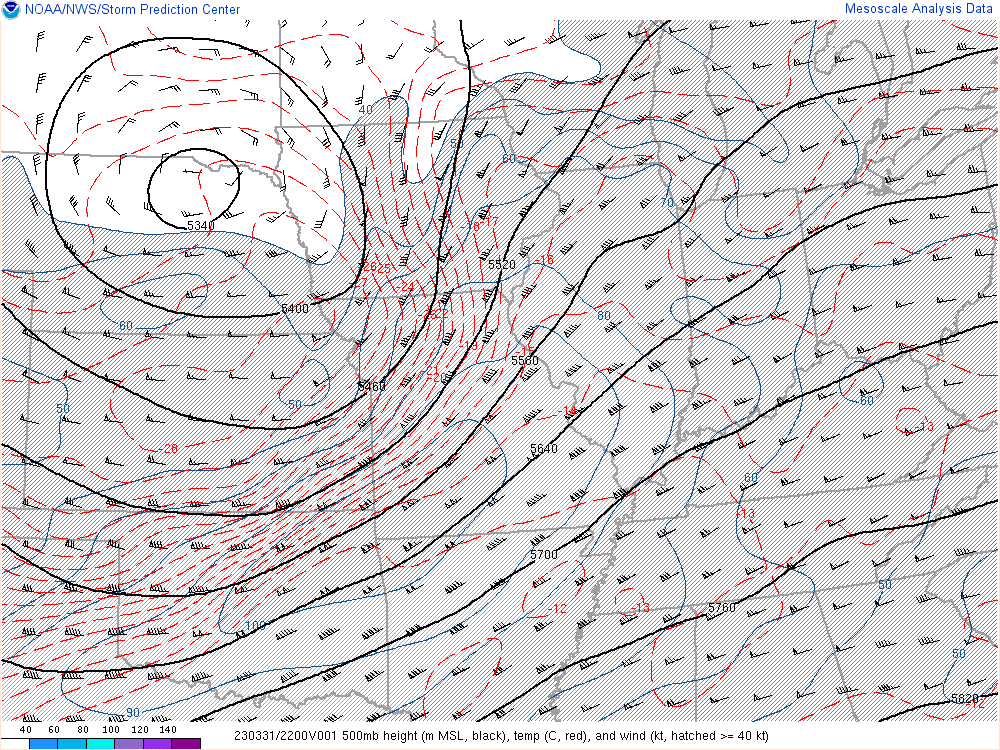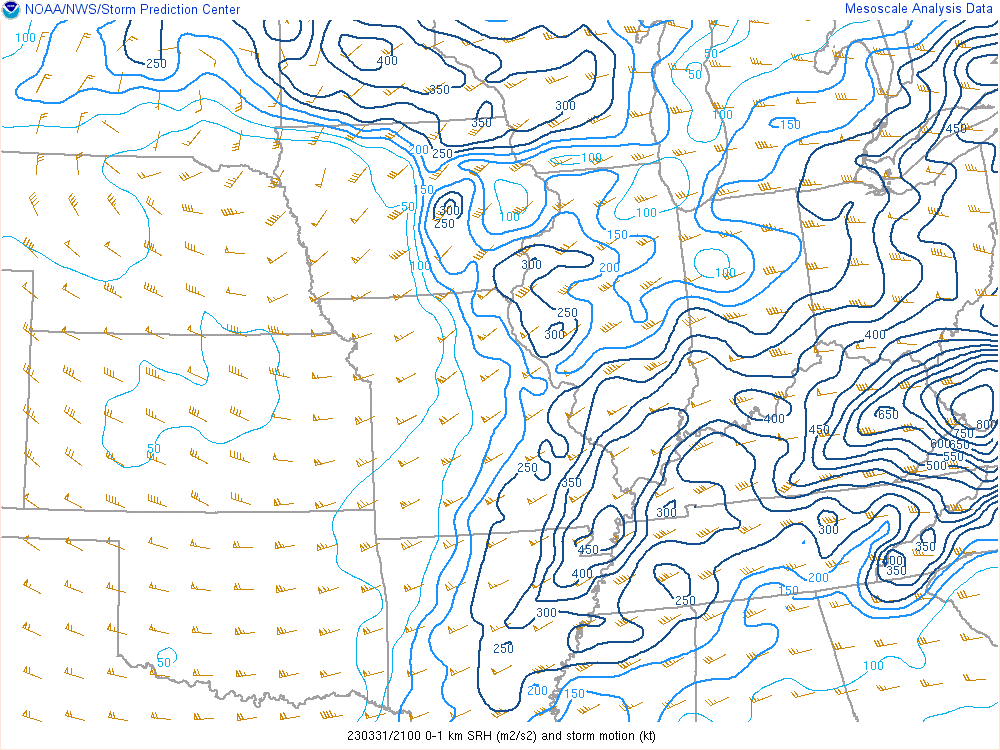 My forecast was looking at two possibilities. The morning visual satellite of Iowa had a broad clear area where insolation would destabilize the atmosphere so I figured either we'd get initiation around I-35 or earlier storms in northwest Missouri would translate northeastward into the cleared area. My plan was to head to drive to the east side of Des Moines for my initial position.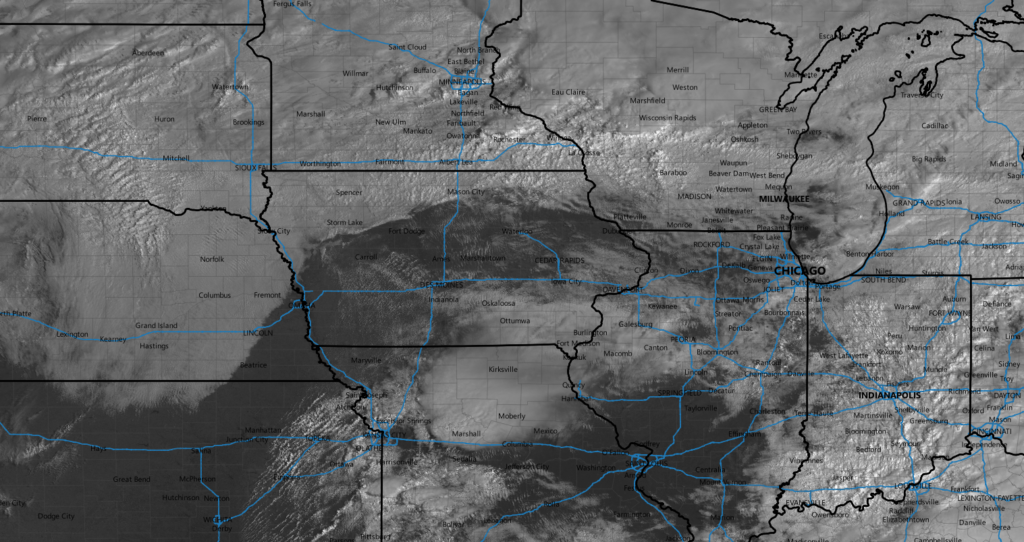 I knew it was going to be an early day, so I took off from Grand Island just a little before 8am. About an hour after I crossed into Iowa the SPC issued the mesoscale discussion indicating an upgrade to high risk in the target area based on tornado probabilities. I arrived in Newton a little before 18z as the SPC issued the mesoscale discussion that a PDS tornado watch was coming soon for southeastern Iowa.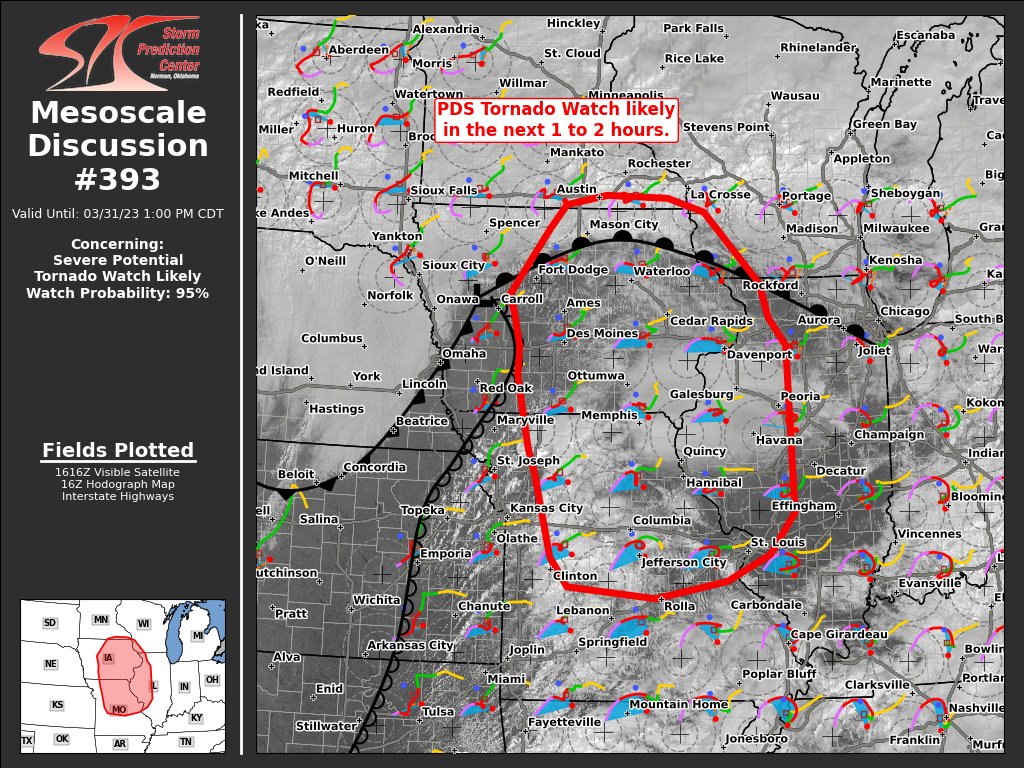 Supercells had formed in northeastern Kansas and northwestern Missouri and these were moving northeast into Iowa. These looked like the targets to hit. I got on the first cell coming up southwest of Knoxville around 19z.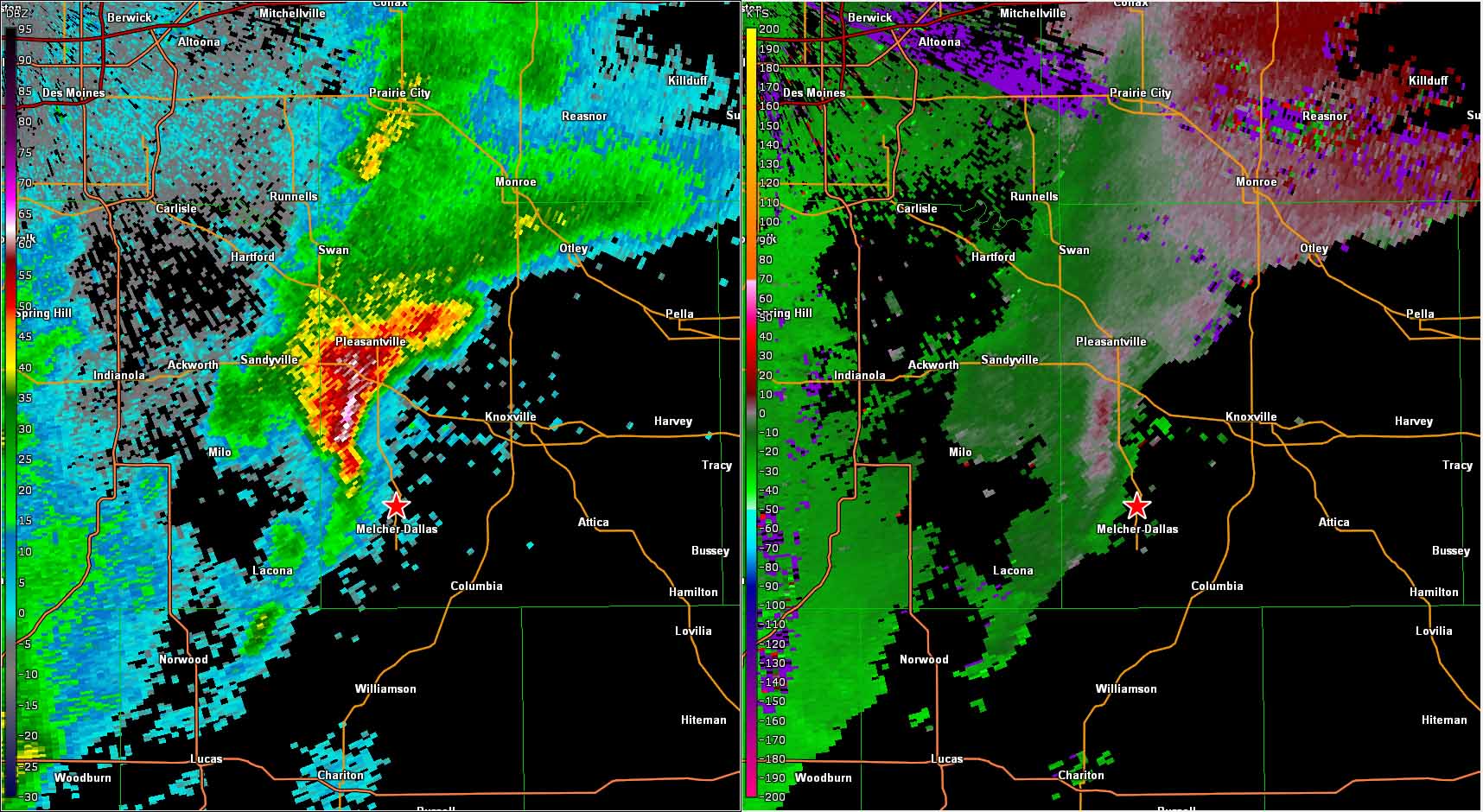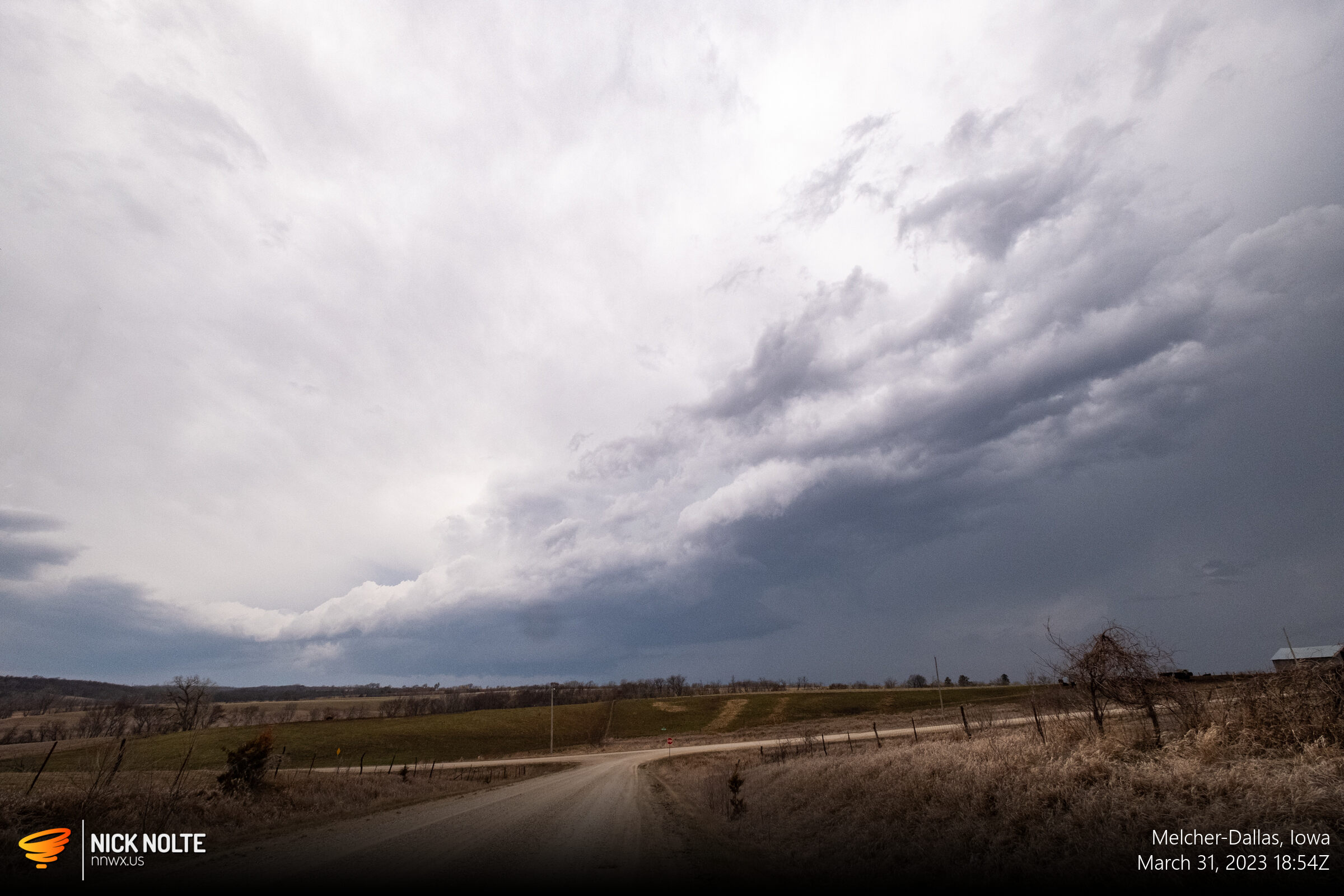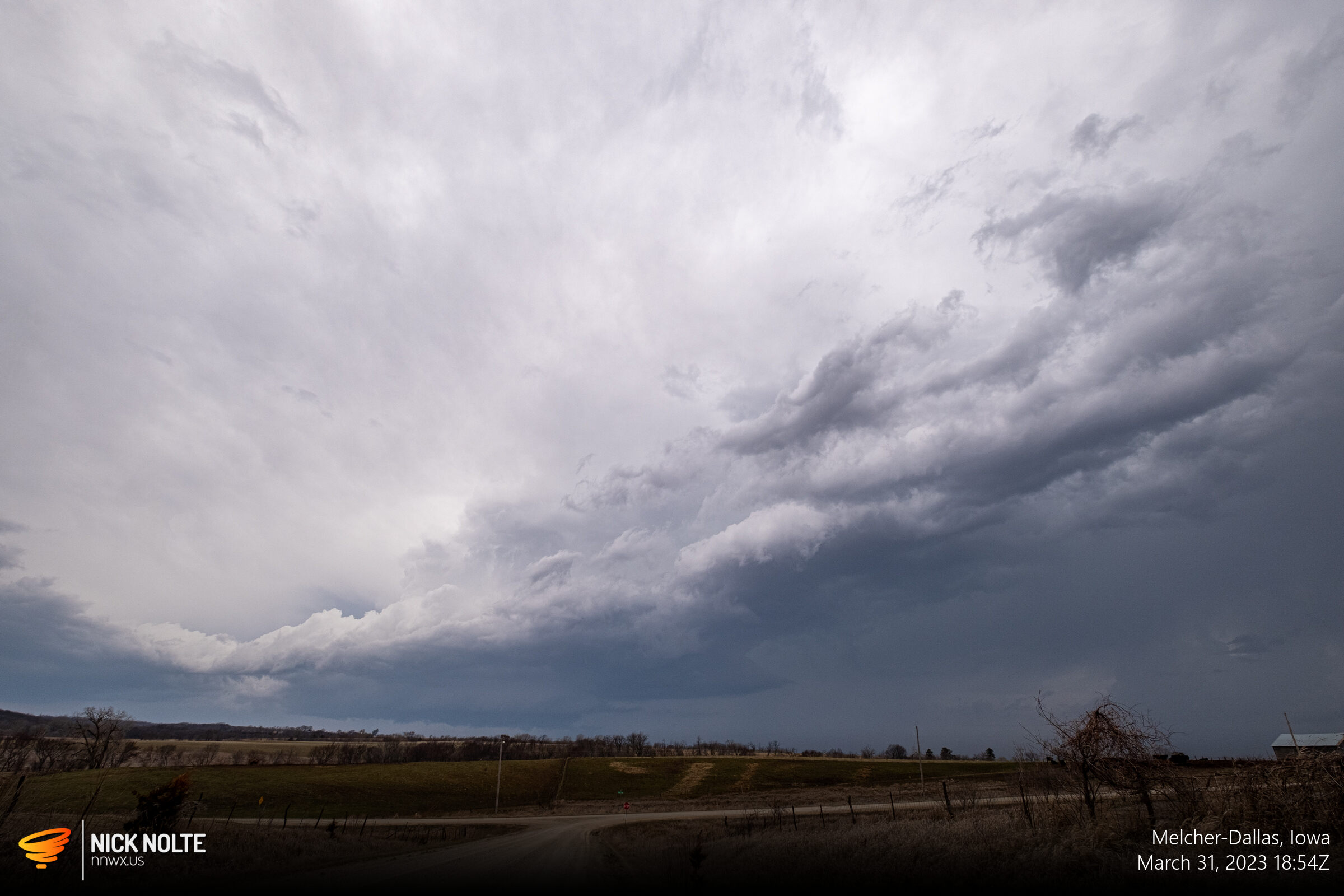 Although this storm was tornado warned, there were no active reports. I kept up with it for a while but it never looked that good. I followed it back up to highway 92 and decided to let it go and catch the next one in line which was looking really good on radar. It appeared to be headed right for Ottumwa so I bailed southeast on highway 5 towards Albia and then east on 34. I arrived in town just after 20z and went south just to take a peek.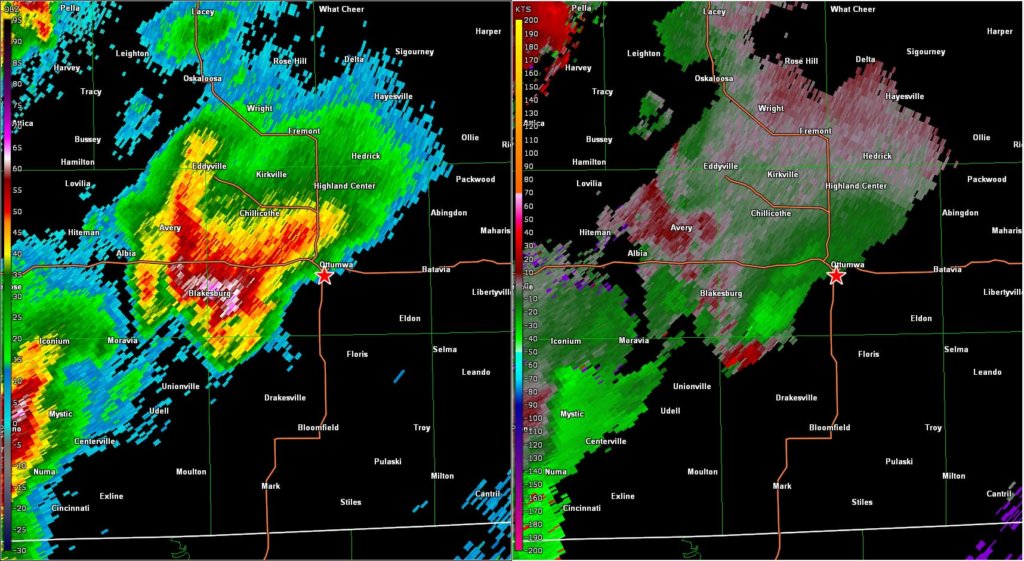 I doubled back to head east on US 34 and head north out of Fairfield to prepare for an intercept. As I was headed east I decided the better move was to head north out of Batavia and try to keep up with the storm to highway 78. Lucky for that decision as I pulled up on a clearing as the tornado began to develop.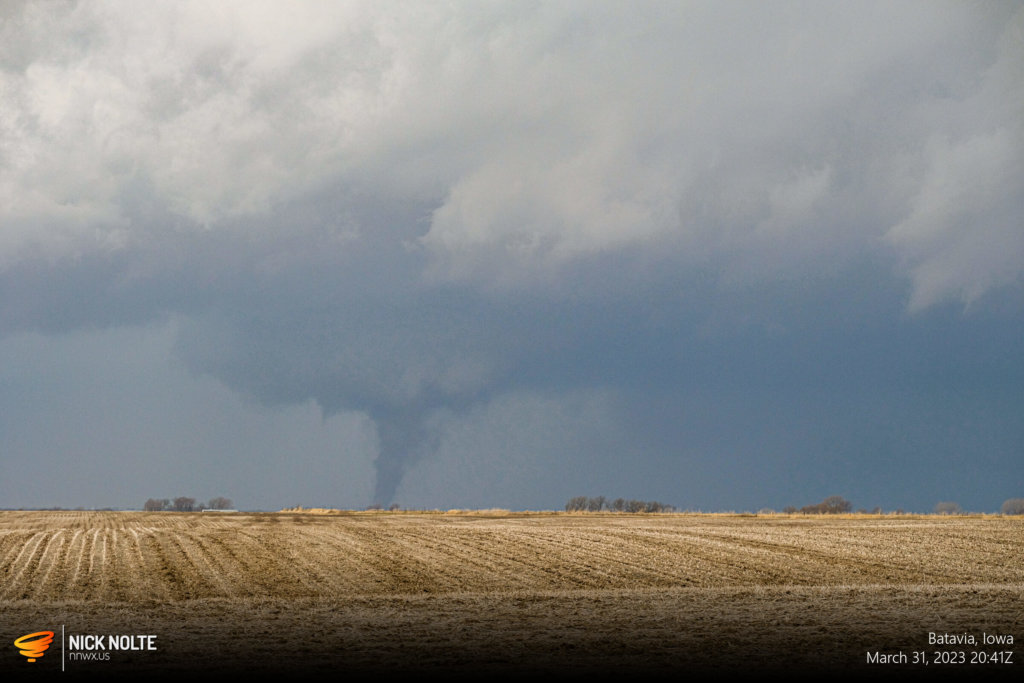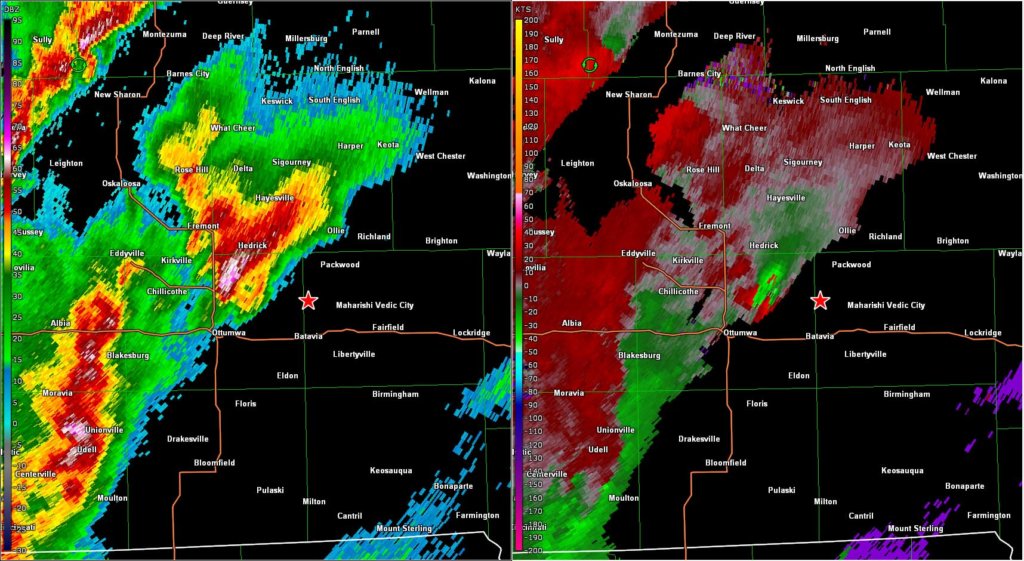 Now was the time to try and keep up with this thing so I just followed along best I could on the backroads as the tornado grew in size and strength becoming a large, dusty wedge.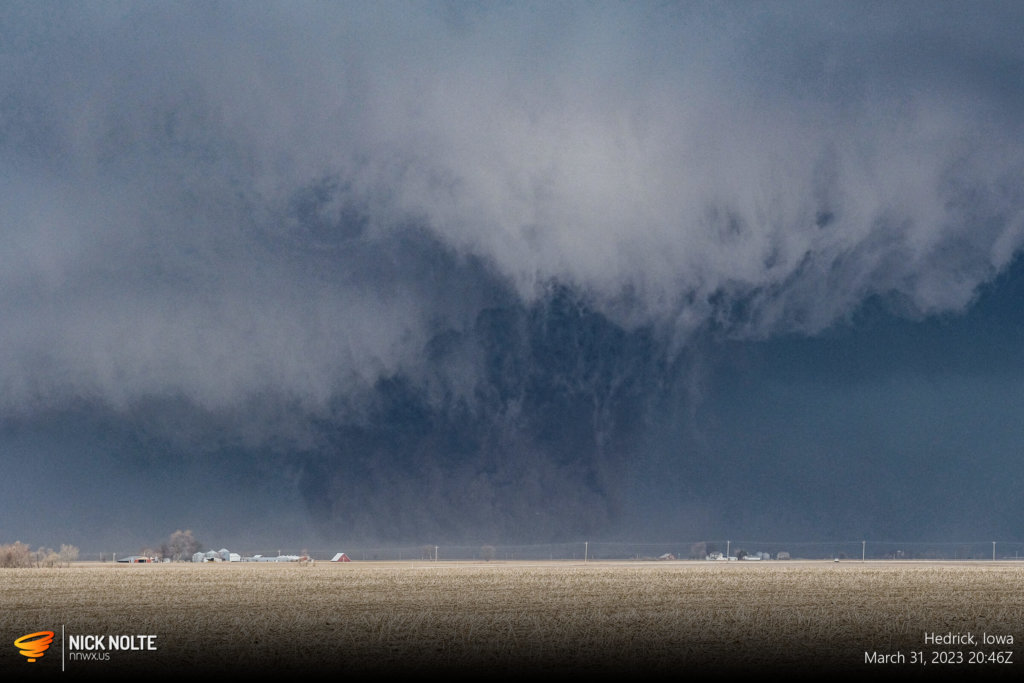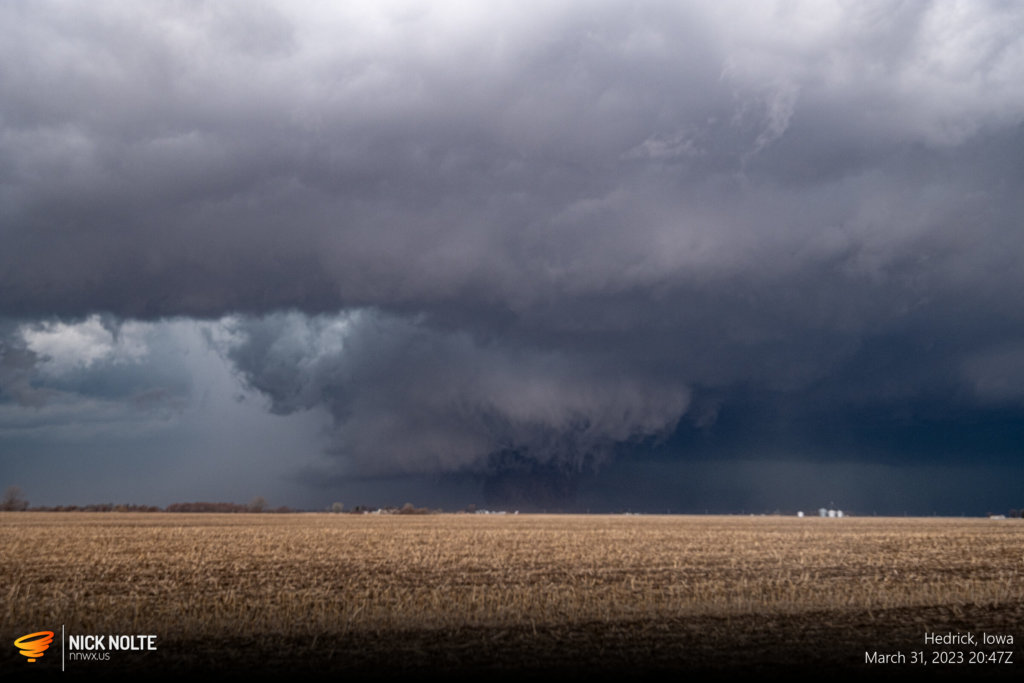 Unfortunately, after this shot I ran into a flooded road and had to double back. As I mentioned before, I knew these storms were going to be moving fast, so catching back up was going to be difficult. As I got back on a clear road headed north I was able to grab some final shots as the storm raced away.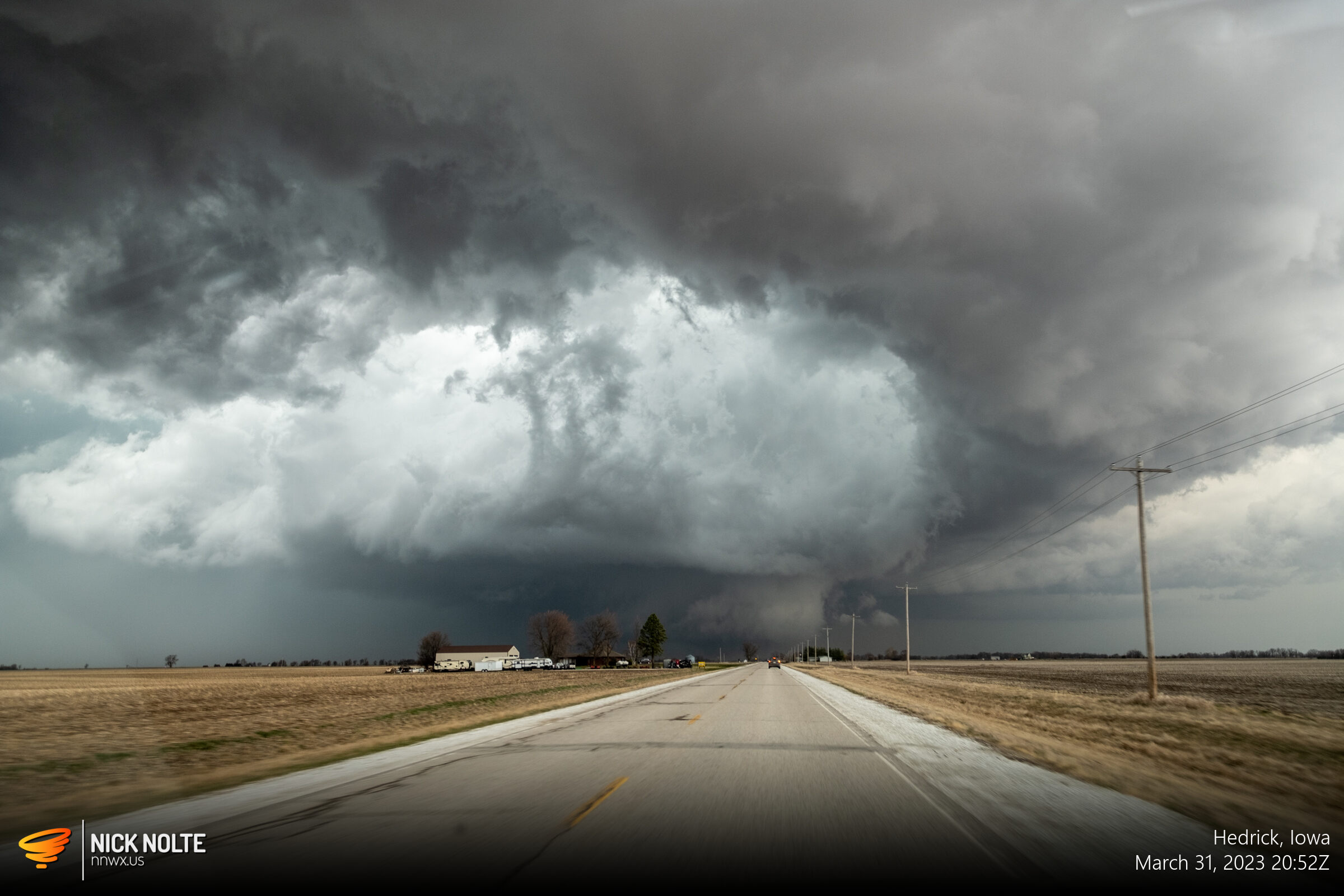 The tornado continued to churn to the northeast, this shot showing the amazing clear slot that formed around the meso with the tornado ongoing up the road. I would not be able to catch back up to it as it continued northeast towards Keota.
At this point there weren't any other interesting storms to the south so I continued north trailing the storm but knew my day was over. I let the line of storms to my west overtake my position so I could begin the long, long, looooooooooong, trek home. All in all, a successful chase, especially for the first one of the season. It's always a relief bagging a tornado early in the season because it relieves pressure on getting one later. With this capture, that marks 14 consecutive seasons of at least one tornado intercept.
Storm Report
The tornado tracked from northeast of Ottumwa through Keota and ended just north of Wellman before spawning additional tornadoes downstream. The Quad Cities WFO surveyed EF-4 damage in Keota and a maximum width of 600 yards. As of the publication of this blog, the final path length was unknown but it was at least 40 miles. Overall, the bi-modal high risk areas ended up mostly verifying with over 100 tornado reports mostly clustered around the high risk areas.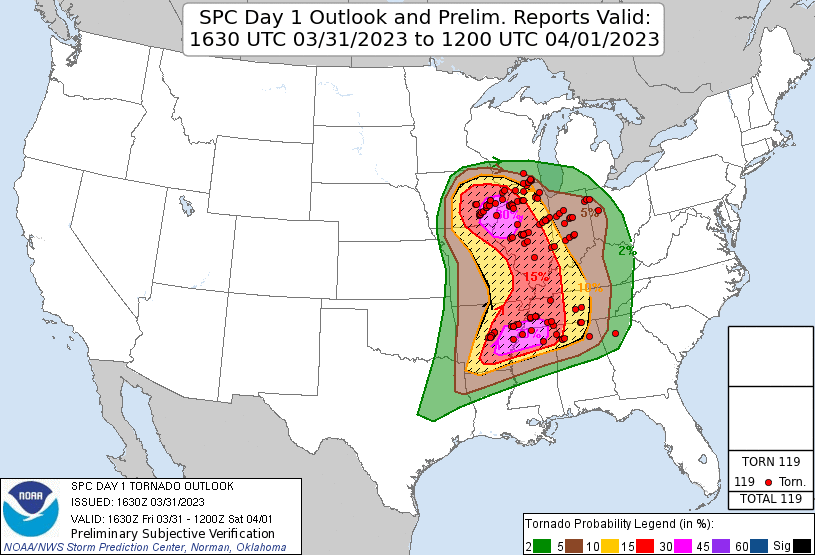 Chase Recap
| START | END | DURATION |
| --- | --- | --- |
| Grand Island, NE @ 31/1251Z | Grand Island, NE @ 01/0425Z | 15 hours, 34 minutes |
| INTERCEPTS | CHASER ENCOUNTERS |
| --- | --- |
| | None |
Chase Map