| 0 | 0.50" | 50 | 152 |
| --- | --- | --- | --- |
| TORNADOES | HAIL | WIND | MILES |
A lee cyclone was forecast to develop across western Kansas and cause a dryline to sweep east across the state while a warm frontal zone was expected to strengthen and lift into Southern Nebraska. SPC had an enhanced risk forecast in the southeast portion of Nebraska.
It appeared that convective mode in Nebraska was going to be a bit messy and if I was going to head out it would probably be southern Nebraska hoping to catch the later development to the southwest.
I hung around home until later in the evening when a mesoscale discussion was finally issued around 2230z as a few cells began to develop along the front south of North Platte near the state line.
I decided to saunter to the southwest shortly after the issuance of the MD and intercept the line that was developing between Kearney and Colby.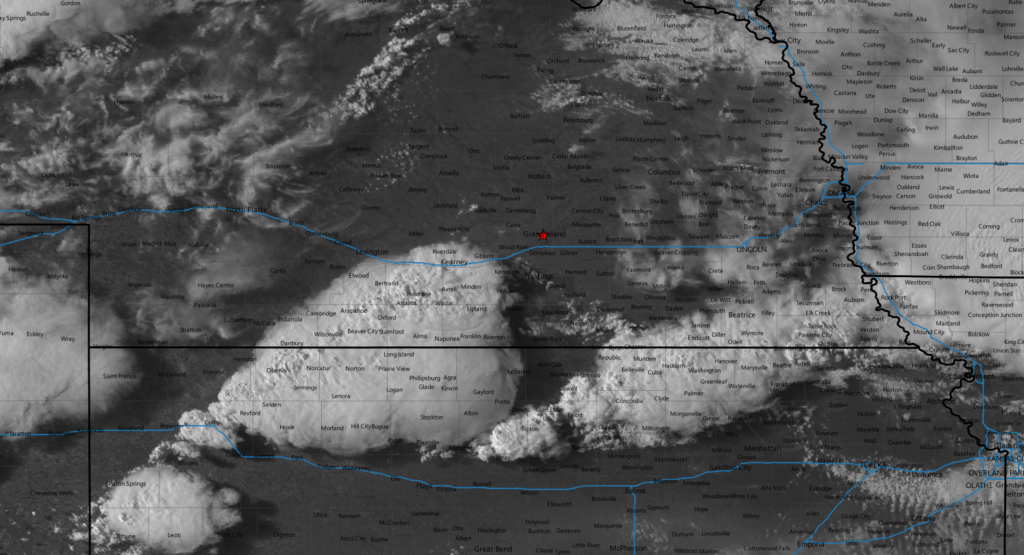 I took I-80 west to intercept the storms and got to Shelton before I decided to bail south before the line overtook me so I could get shots from in front. I got a nice vantage point west of Kenesaw and there was a cool mini supercell that I snapped a few shots of.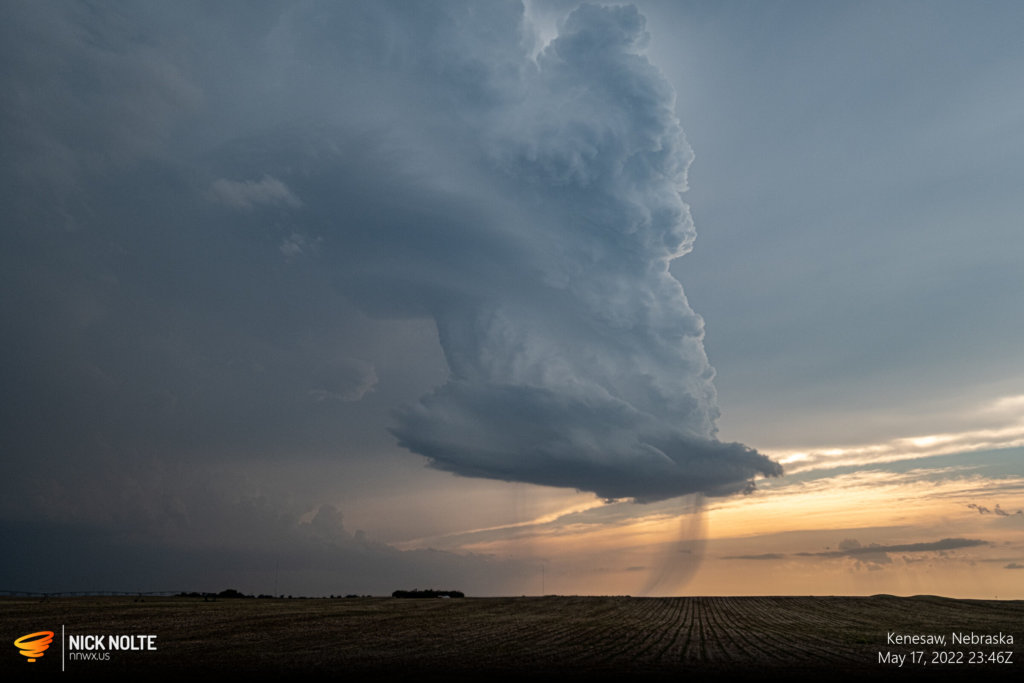 The line began to sag south so I continued south on county roads to stay in front of the line. This became increasingly difficult as roads became more and more sketchy. As I arrived at highway 4 west of Blue Hill I debated just bailing east and let the line overtake me, but opted to continue south on dirt hoping to get to US 136. While heading south on dirt I stopped amongst some wind turbines for some more photos.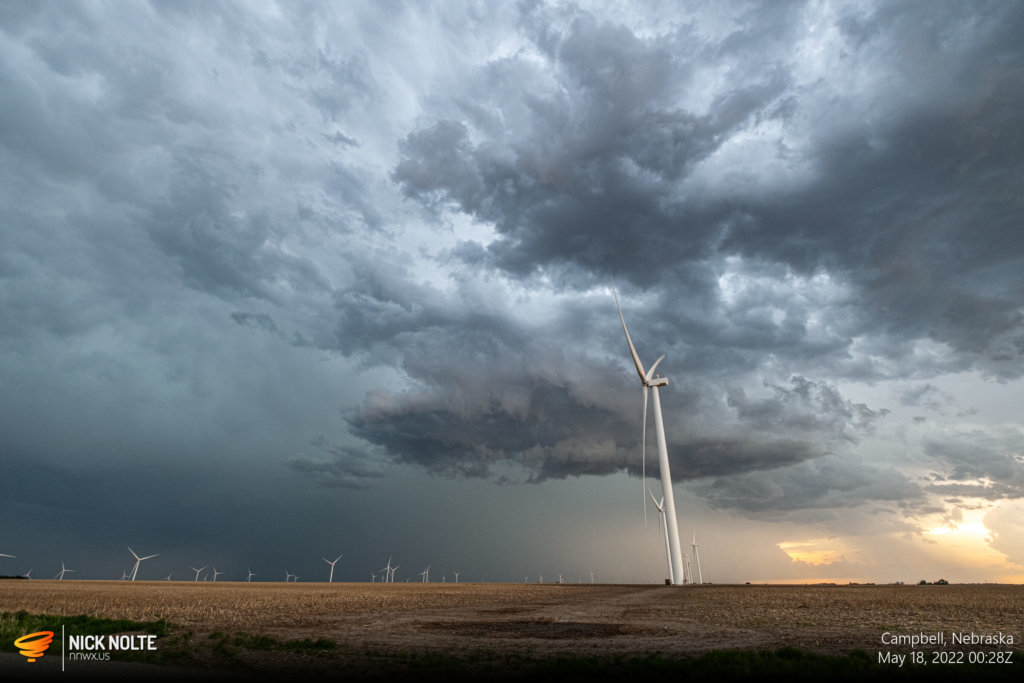 There were a couple tornado reports during this but they appeared to be mostly brief dusty swirls. I never saw anything where I was but it was a fun chase, nonetheless. As I headed back home the sky put on a show with some very bright crepuscular rays and their counterparts on the other side of the sky.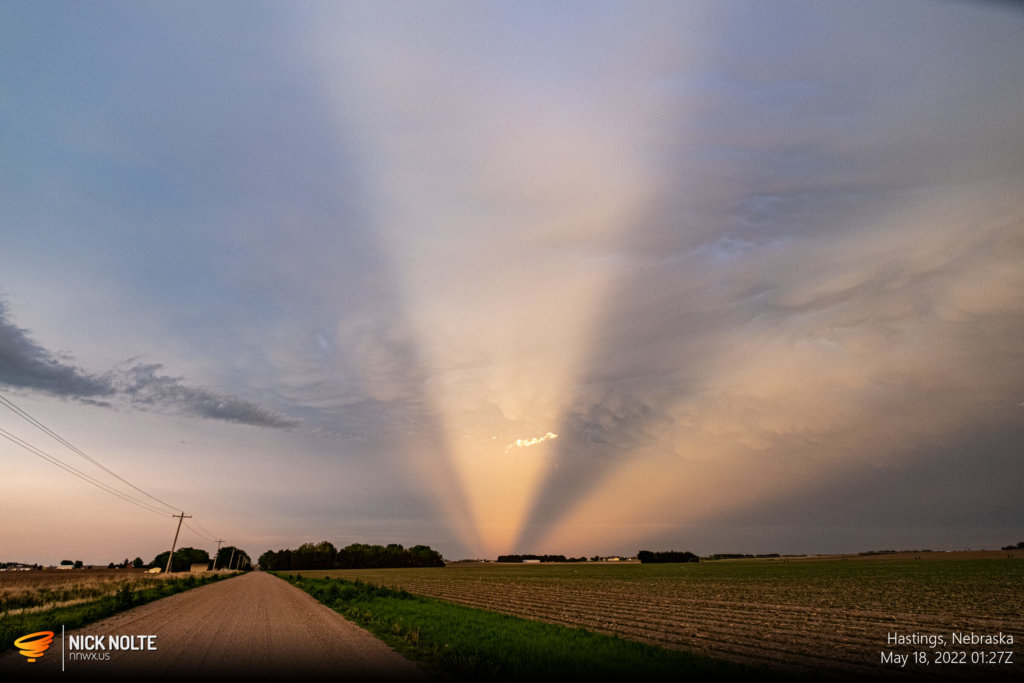 Chase Recap
| START | END | DURATION |
| --- | --- | --- |
| Grand Island, NE @ 17/2301Z | Grand Island, NE @ 18/0143Z | 02 hours, 42 minutes |
| INTERCEPTS | CHASER ENCOUNTERS |
| --- | --- |
| None | None |
Chase Map