| 1 | 1.25" | 60 | 690 |
| --- | --- | --- | --- |
| TORNADOES | HAIL | WIND | MILES |
June 22nd featured a couple of targets for chasing. A cold front was expected to slide across the plains from Kansas into the Texas Panhandle extending from a low in Northern Kansas while a post-frontal upslope regime was also expected to take hold in Eastern Colorado from the I-25 corridor east. Since I'm not a fan of southeast-northeast oriented cold fronts and I really dig chasing in Colorado, this made the decision easy.
I decided I was going to play Colorado and that 2% tornado risk. I probably wouldn't see a tornado, but the storms there are always gorgeous. I spent the night in Goodland and got on the road just before 16z. I got down the road a little bit to Kanorado and stopped at a rest area to double check things and be absolutely sure I was going to play the Colorado target and not Kansas. The north winds across Eastern Colorado were worrying me that moisture was not going to be there for the afternoon and that had me seriously considering the Kansas target. After debating for a while I decided that while Colorado was a long shot, I really didn't want to play a cold front in Kansas, so westward I continued.
I arrived in Limon around 18z, fueled up and got some food and noticed storms had started to develop in the higher terrain, so I decided, much like the day before, to head to the I-25 corridor and get close to where the storms were forming.
I arrived in Colorado Springs at 20z and the storms were still a bit to the west. I knew I didn't want to actually go into the mountains, but rather hang around the I-25 corridor until they rolled off.
21z went by and a tiny cell finally rolled into Pueblo, however my decision to head to the foothills would not be great as a new cell developed in eastern Las Animas county that looked to be on its way to becoming a nice supercell as it headed towards Springfield.
So, I hop on US 50 and start hauling towards La Junta hoping I can get to this storm before it does anything crazy. As the storm passed Kim the core really ramped up, unfortunately I was still 60 miles from it. I decided to take highway 109 south out of La Junta and attempt to come up behind the storm on US 160, maybe near Springfield.
As I closed in on the storm, within 25 miles of Pritchett, it became clear on radar that the storm was beginning to die. However it was putting on a nice show from the backside with a supernumerary rainbow.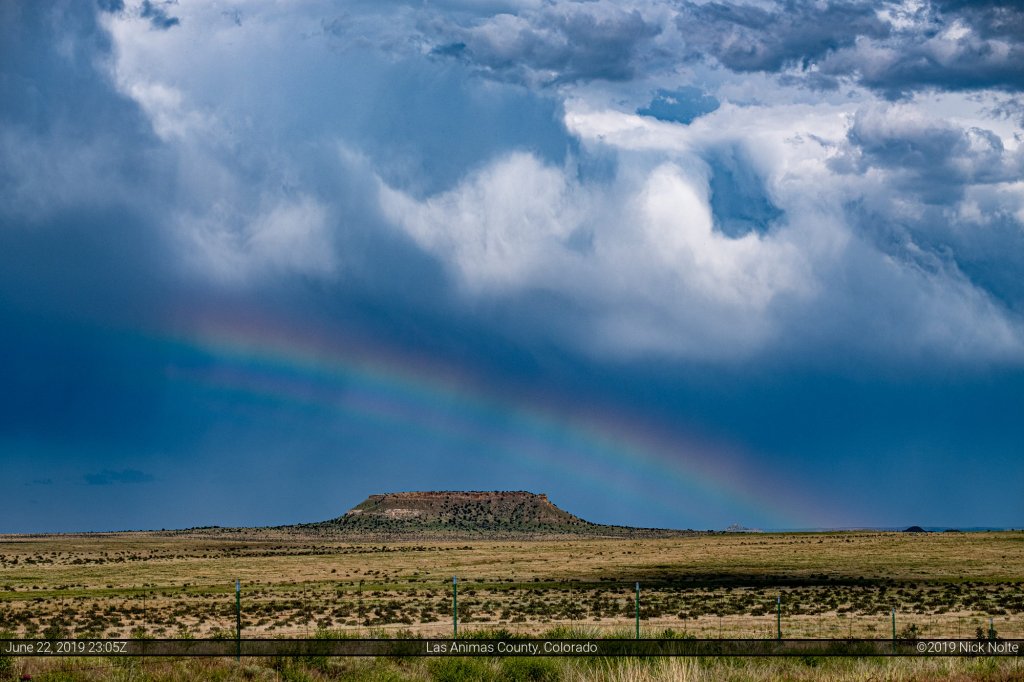 As I rolled up to Springfield the storm had all but completely died out, meanwhile a couple strong looking cells had developed and rolled into the foothills where I had come from an hour or so earlier. Kind of made me wonder what the hell I was doing. Just running around Colorado with not much to show for it.
I decided to just head north out of Springfield towards Lamar to get in position for the storms headed east. I found a nice quiet road to sit and watch the storms come my way and even photograph a couple lightning bolts.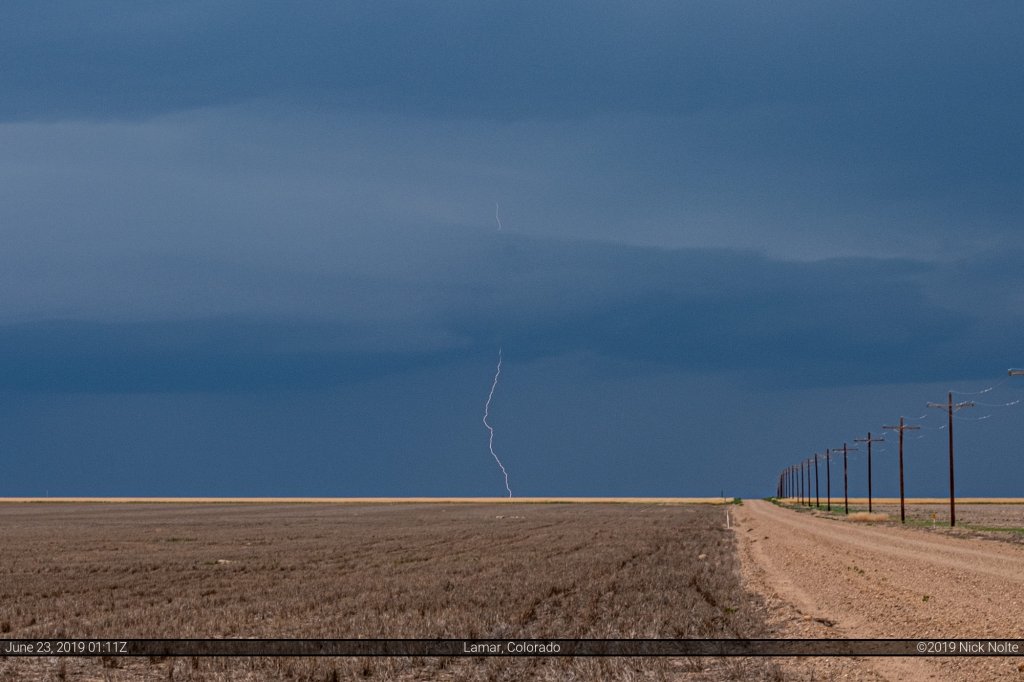 I sat there for about 30 minutes until I decided to bail south as the storm approached. It didn't look great on radar so I opted to drop south and try and pick a stronger cell out. While headed that way the cell by Kim really ramped up and that looked like the one to go after.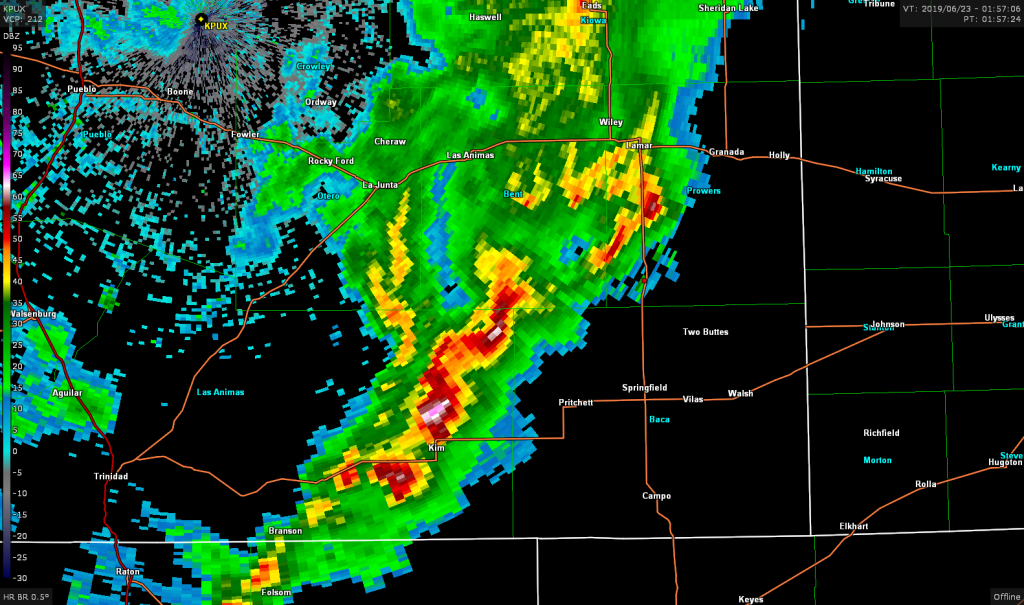 As luck would have it, while I was headed south the cell to the north of the Kim storm took over and ramped up rather quickly so I found a nice road that went west to see what I could see and arrived at a nice wide open view to the west. Just a couple minutes after arriving the cell went tornado warned.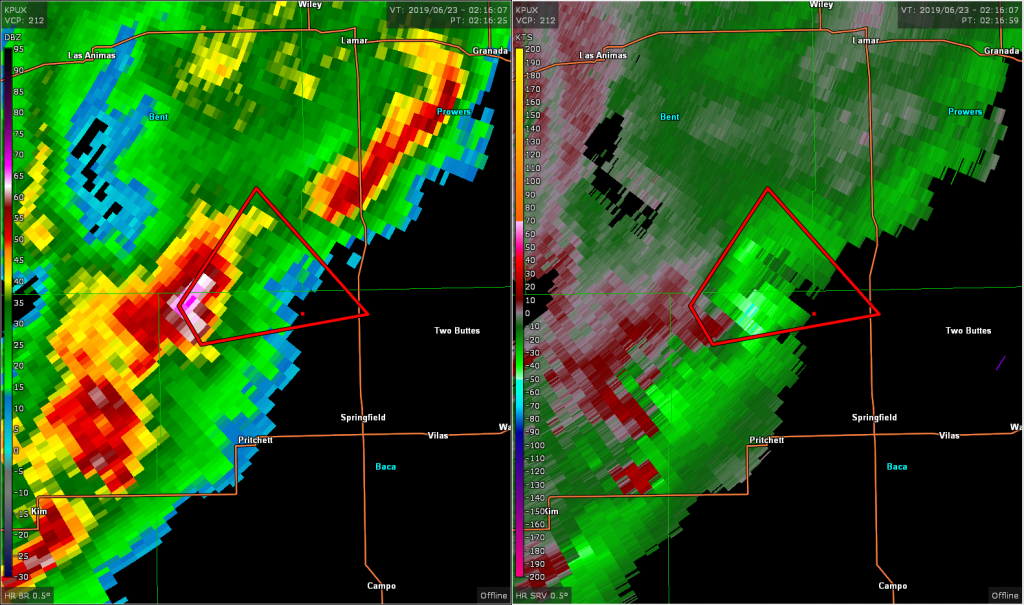 It was well after sunset but there was still some light so I setup the video camera to see if we could get a shot of anything beneath the storm. Around 223z a cone tornado became visible briefly when illuminated by lightning.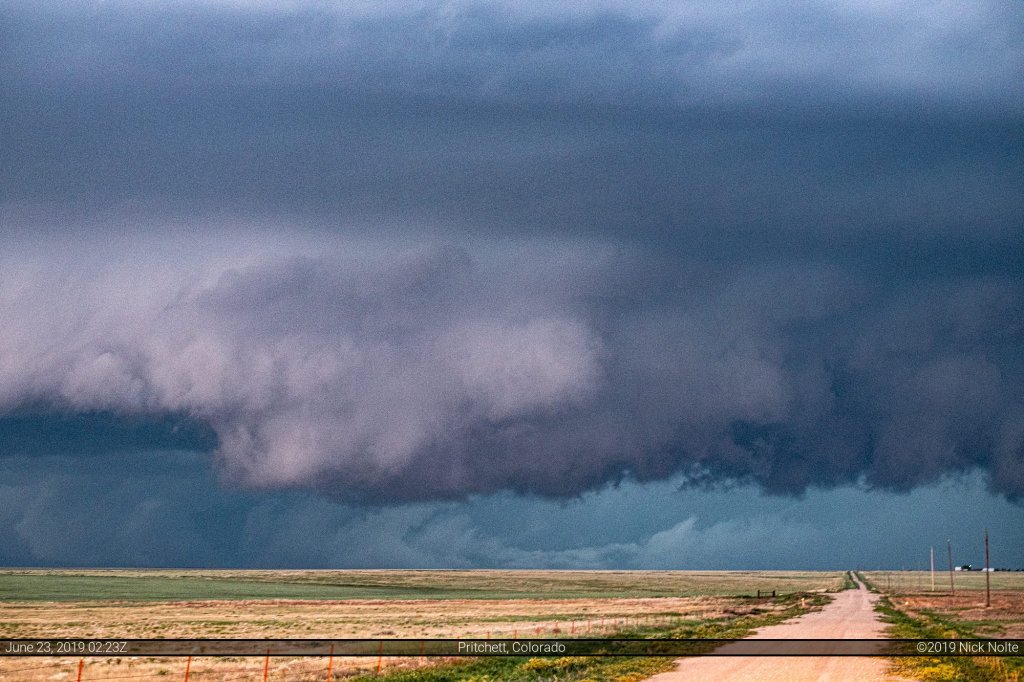 I continued to watch as the storm headed towards me. I have photos of the storm from before the tornado unfortunately they're all out of focus! But here's a shot just before I bailed east.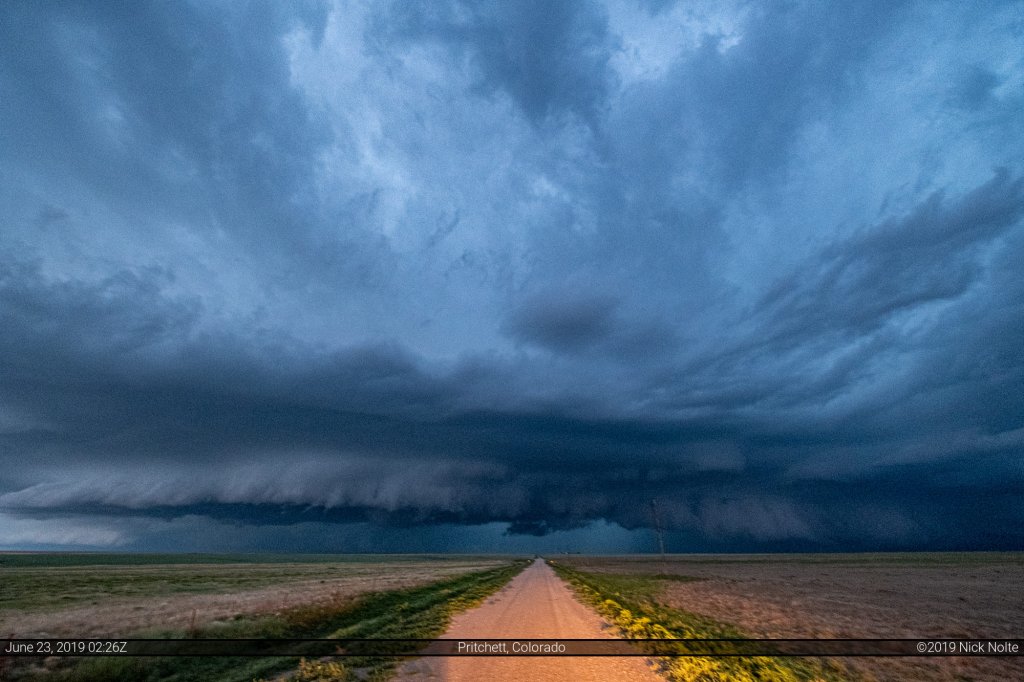 I stayed ahead of the storm on highway 116 stopping every now and then to check on it as I passed Two Buttes and Johnson City, Kansas where I called the chase since it was on highway 27 which takes me back to Goodland.
Chase Recap
| START | END | DURATION |
| --- | --- | --- |
| Goodland, KS @ 22/1543Z | Goodland, KS @ 23/0558Z | 14 hours, 15 minutes |
| INTERCEPTS | CHASER ENCOUNTERS |
| --- | --- |
| | None |
Chase Map