| 0 | 1.00" | 40 | 540 |
| --- | --- | --- | --- |
| TORNADOES | HAIL | WIND | MILES |
June 20th was the start of a 3-day mini chase vacation late in the season. The forecasts were looking like a day in Northeast Nebraska/Western Iowa followed by a Colorado chase then a third day yet to be determined. The first day featured two possible targets, one in southeast Montana and another along the Nebraska/Iowa border. Since the 20th was a partial work day Montana was out of the question, so Northeastern Nebraska it was!
The SPC had actually outlined a 5% tornado risk along the Missouri River on the Iowa/Nebraska border extending into Missouri and Kansas. Strong westerlies were forecast over the area with plenty of speed shear meant supercells were likely, and perhaps even a long-track one or two. The biggest concern for tornadoes was the meager low level moisture as dewpoints were only forecast to reach the low to mid 60s.
I left Grand Island around 17z and began the trek to the northeast. My plan was to head to Columbus and re-evaluate once I arrived. However a storm was already ongoing in the wake of the morning MCS in Northern Nebraska and it was sustaining itself rather well. When I got to Columbus I decided to head north despite the fact that the cell didn't look that great, but there wasn't anything else going on and if there was any new development, I expected it downstream from there anyway.
While the storm didn't look like too much on radar, in person it actually had a nice little wall cloud with some minor rotation.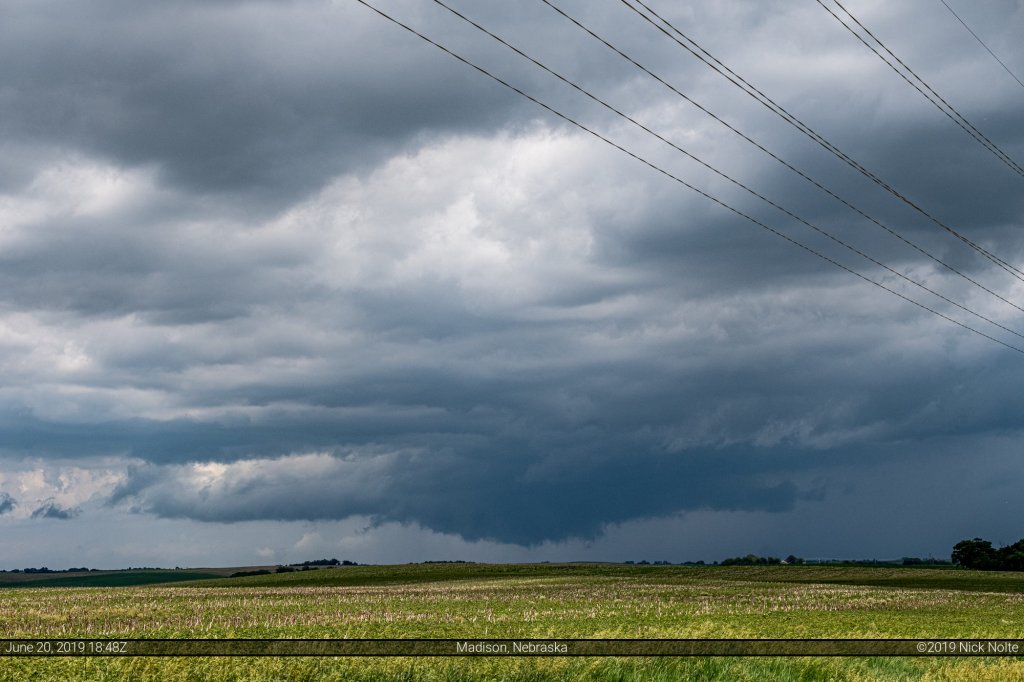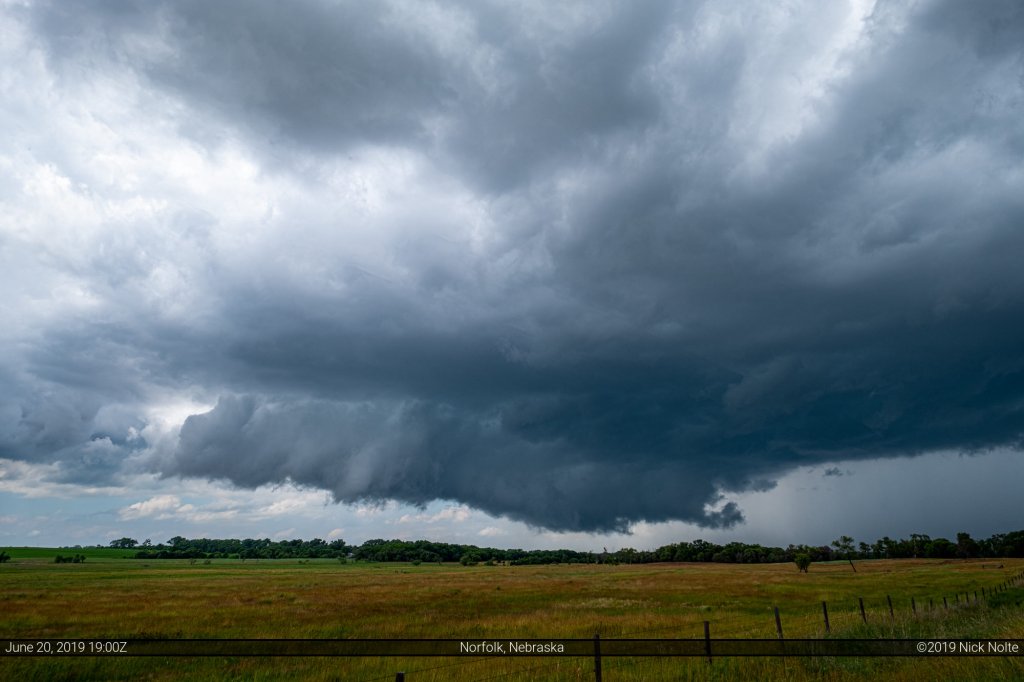 As the rear-flank downdraft cut into the wall cloud it looked like something might get going.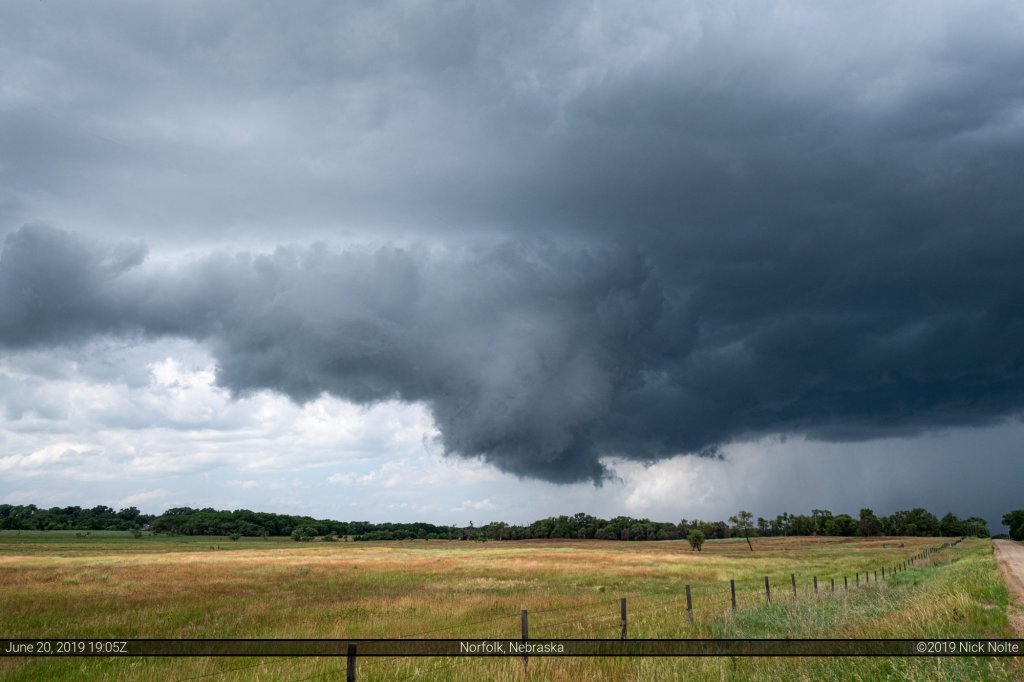 Unfortunately it kept on cutting through and split the meso in two and promptly killed the storm as it completely dissipated and disappeared from radar within thirty minutes.
With my job of saving Norfolk from this dangerous storm complete, I headed into town to grab some food while I figured out what to do next.
At 20z new cells started to percolate up near Sioux City and knowing it'd take me about two hours to get up there I decided to head northeast and see what happens. I got on the storm north of town as it pulsed up and down not really sure what it was going to do.
It pulsed up and down not really presenting much low level structure leading me to believe it was probably going to die soon.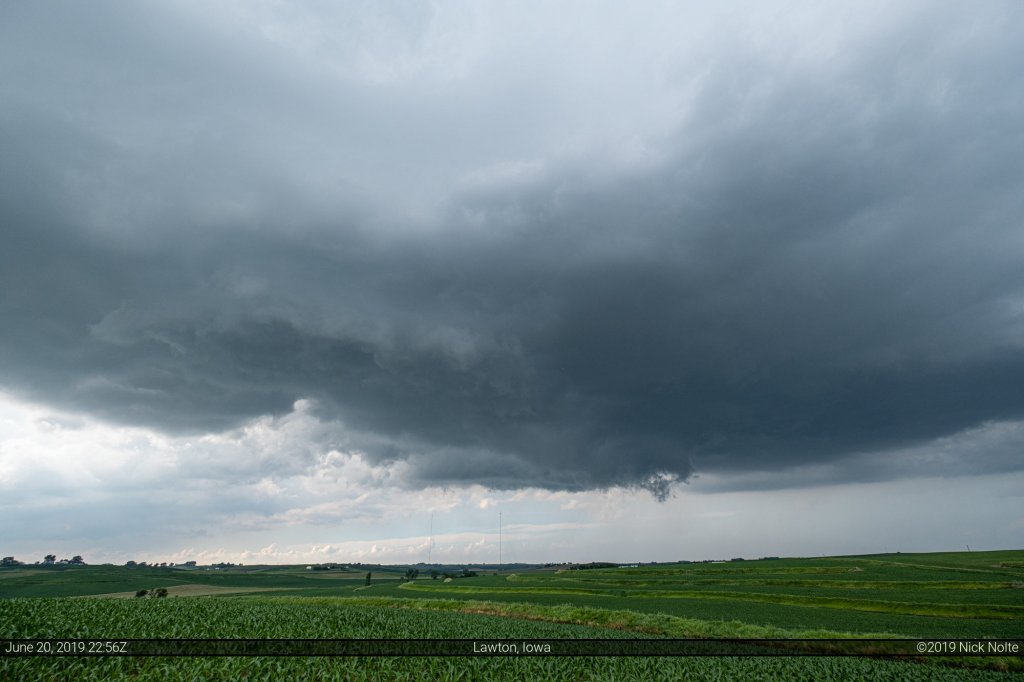 As it's radar signature waned over the next few minutes it was starting to look like the end of the chase until a new storm formed and strengthened northwest of Onawa. So, with the day not quite over yet, I moseyed on south to check it out.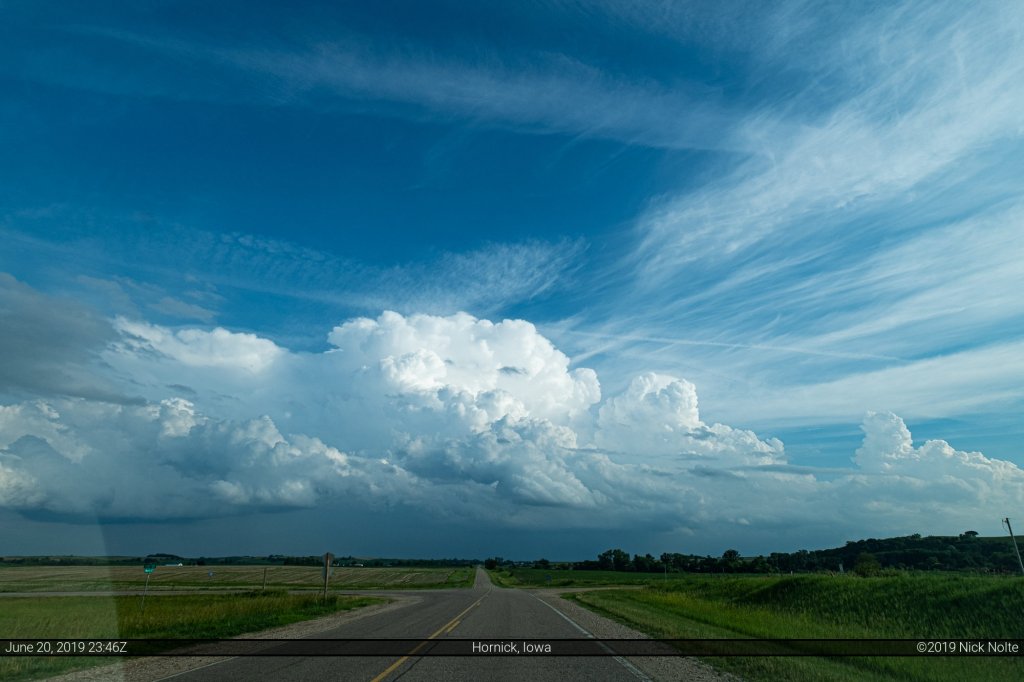 Didn't look too bad out the windshield so I kept on heading towards it. It started to strengthen on radar and when I finally got a decent visual on it, I was surprised at how good it looked. A nicely sculpted low-precip supercell in Iowa.

I found an awesome spot up on a hill where I was able to sit and watch the storm for about a half an hour.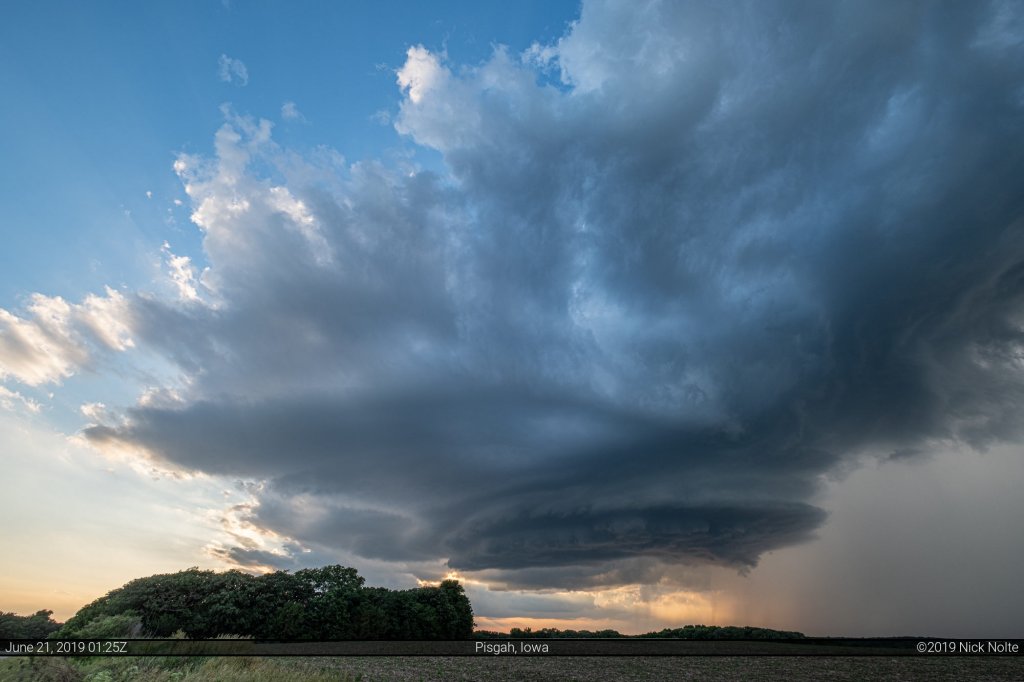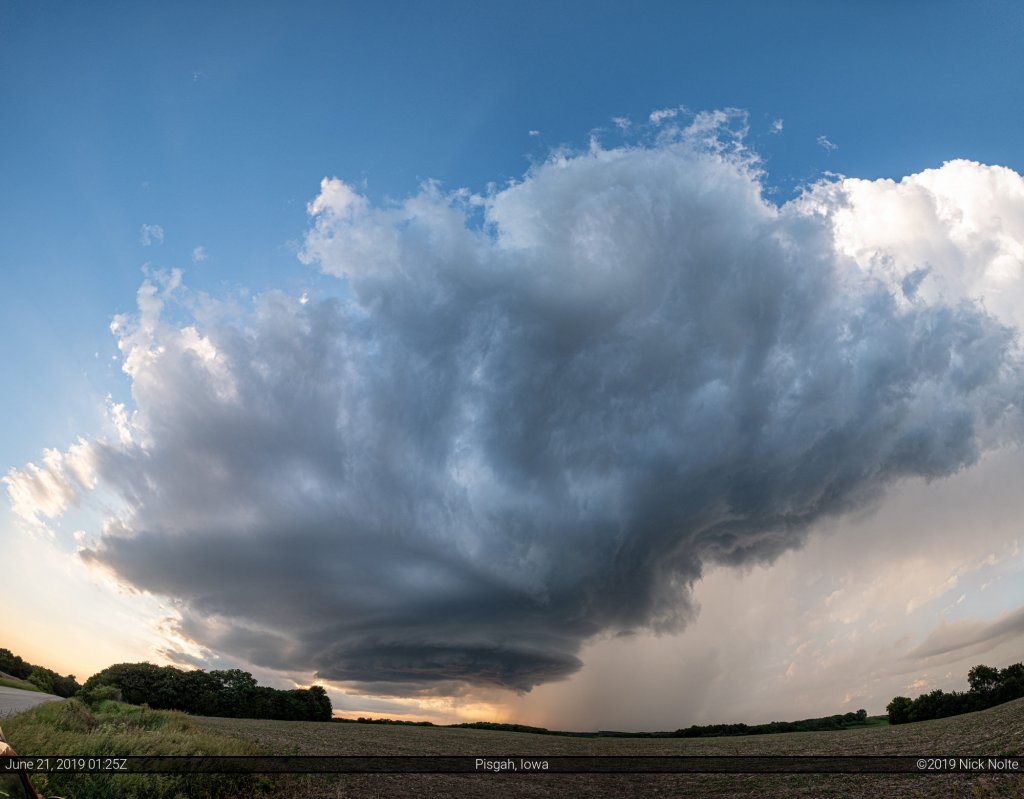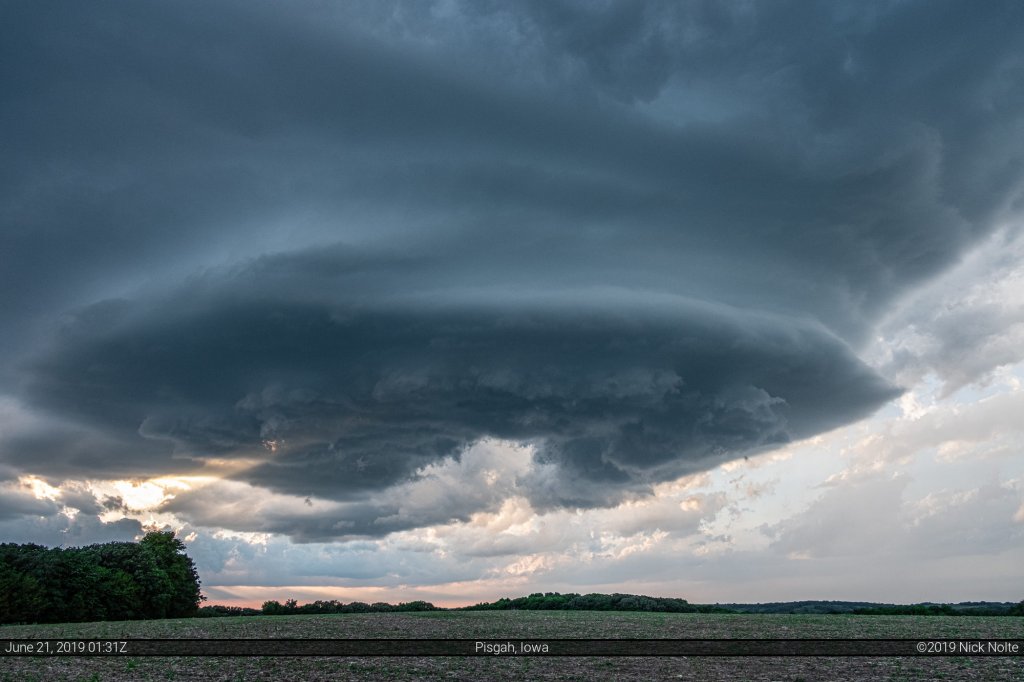 Eventually the storm began to fizzle out as the sunset, but that show it put on made the whole day worth it. I drove back to Grand Island for the night with the plan to get up and head to Colorado the following morning.
Chase Recap
| START | END | DURATION |
| --- | --- | --- |
| Grand Island, NE @ 20/1703Z | Grand Island, NE @ 21/0454Z | 11 hours, 51 minutes |
Chase Map