| 3 | 1.50" | 70 | 720 |
| --- | --- | --- | --- |
| TORNADOES | HAIL | WIND | MILES |
June 8th featured an interesting setup across the high plains. A cold front was expected to extend from a surface low in northern Minnesota through South Dakota and Central Nebraska and intersect a dryline near the Kansas/Colorado Border. Behind the front in Northeastern Colorado, a post-frontal upslope regime with maximized shear was forecast.
SPC had issued a slight risk for much of Central Nebraska into Northwestern Kansas, but I was interested in the post-frontal upslope area in Colorado where SPC outlined a 2% tornado risk outside the slight area.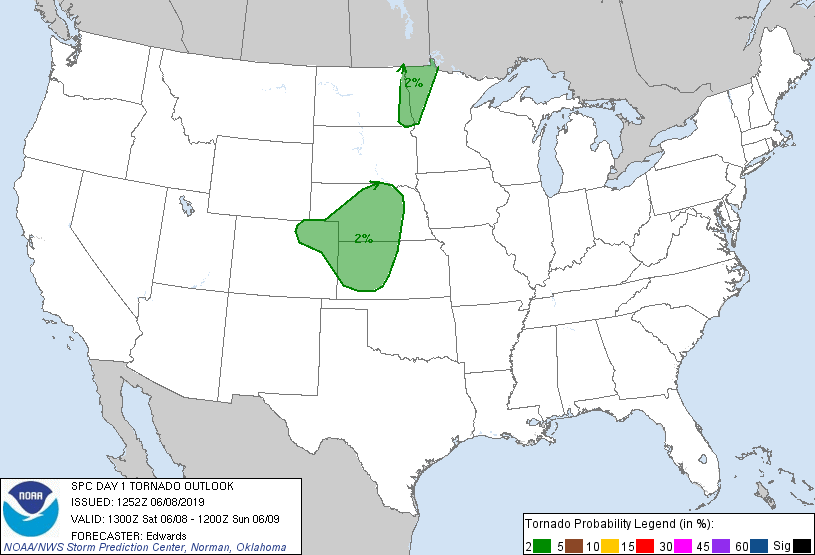 I decided to forego the 2% risk near me and opted to head into Eastern Colorado to attempt the upslope regime where surface vorticity was forecast to be rather strong.
I took off from Grand Island at 14z and began the trek west. My initial staging area was Burlington, Colorado where I arrived just after 19z. A mesoscale discussion was issued shortly after indicating a sagging cold front was going to be the trigger for increased convection as the afternoon progressed.
I found a nice spot southwest of town to sit and watch as the cumulus field overhead became more agitated. As I sat, I noticed little dust devils in the field next to me whipping up dust and debris from the ground. They were pretty fun to watch and you can see them in the first part of the video at the top of this post.
As the cold front approached Burlington, a cell began to go up right over town just before 20z and it didn't take long for it to put on a show.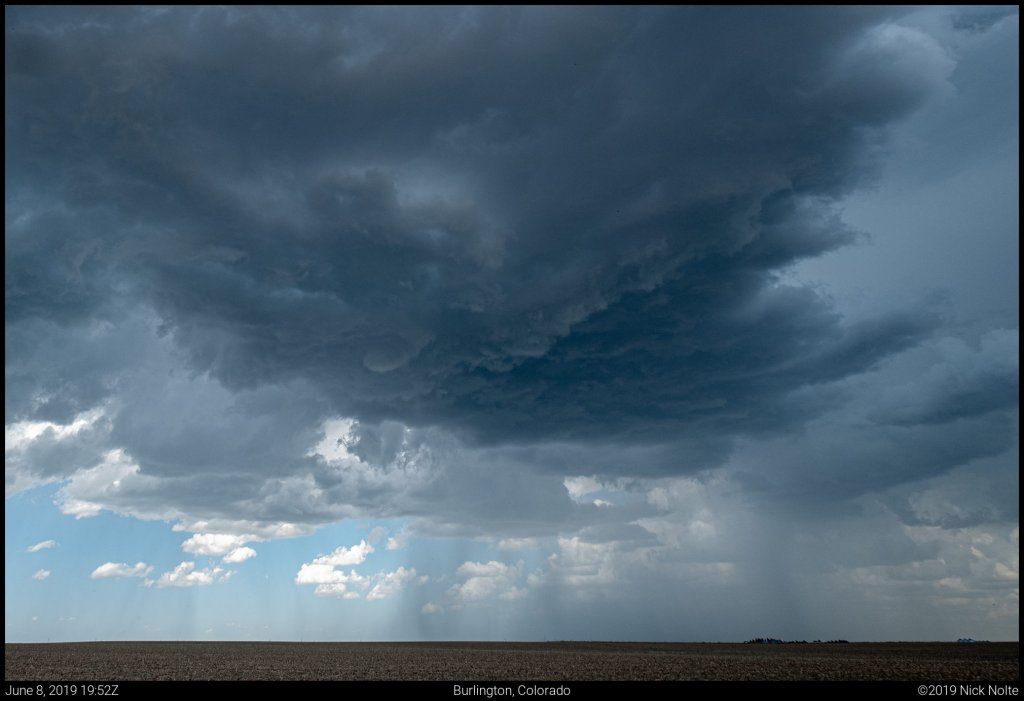 The storm began to exhibit the classic cinnamon bun swirl in the base before a landspout develops as visible in the above photo just left of center.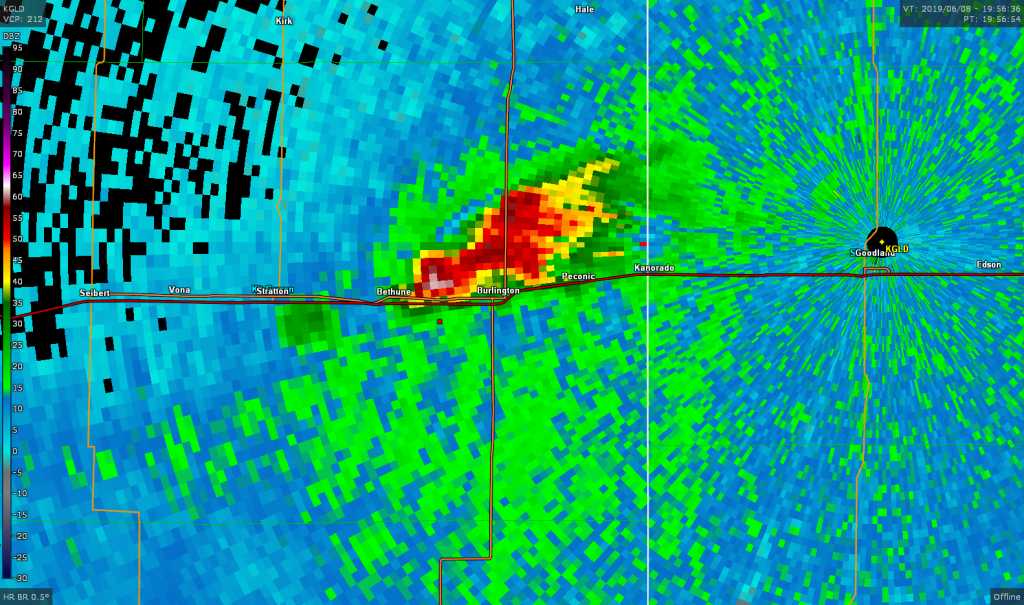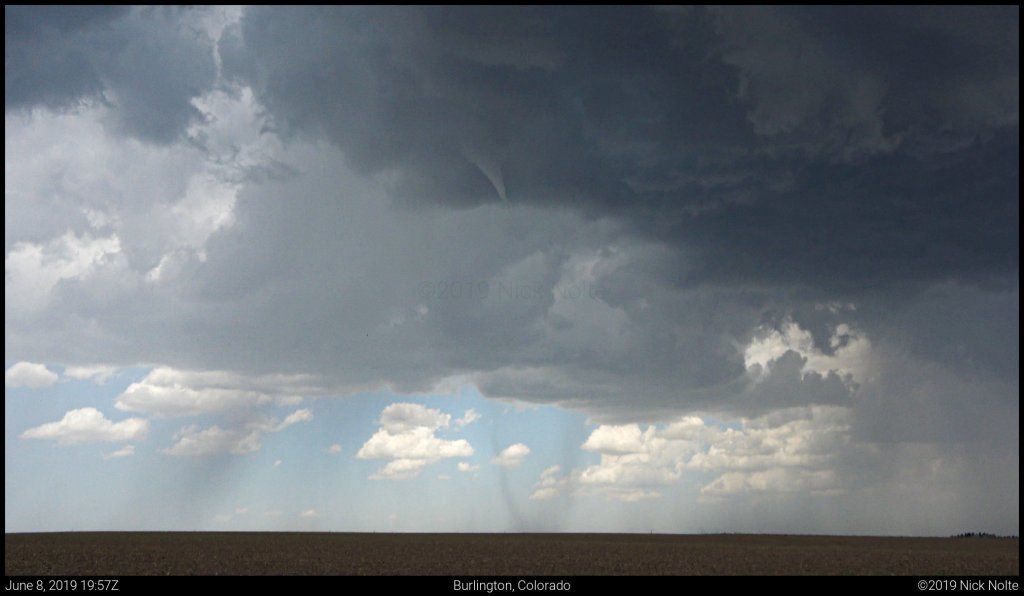 The first landspout developed around 1957z. Initially I wasn't sure if there was a ground circulation but given the arrangement of the rain bands directly below the funnel and the subsequent report, this was definitely landspout #1 for the day.
Just a few minutes later another landspout developed on the north side of town as the storm drifted east.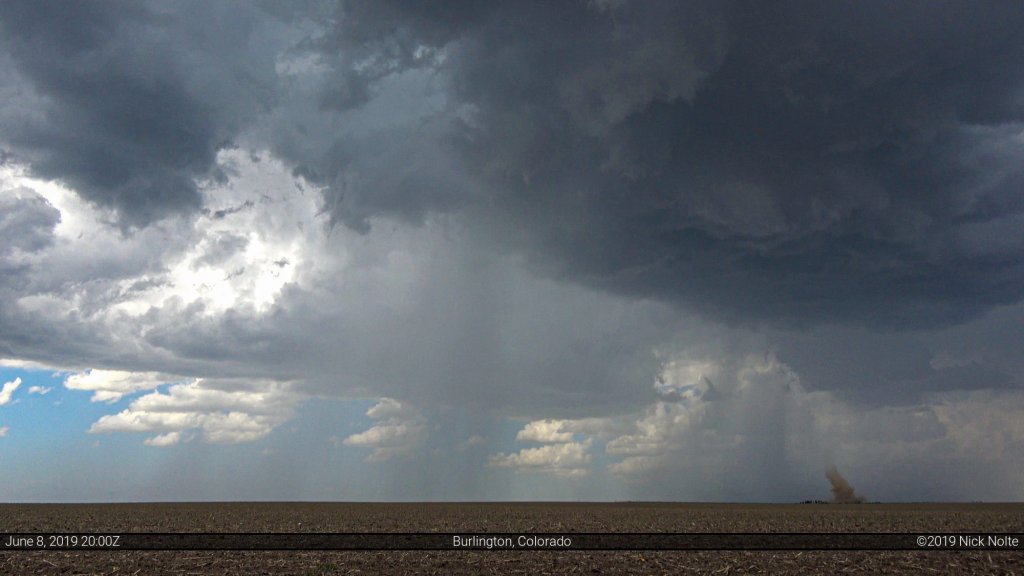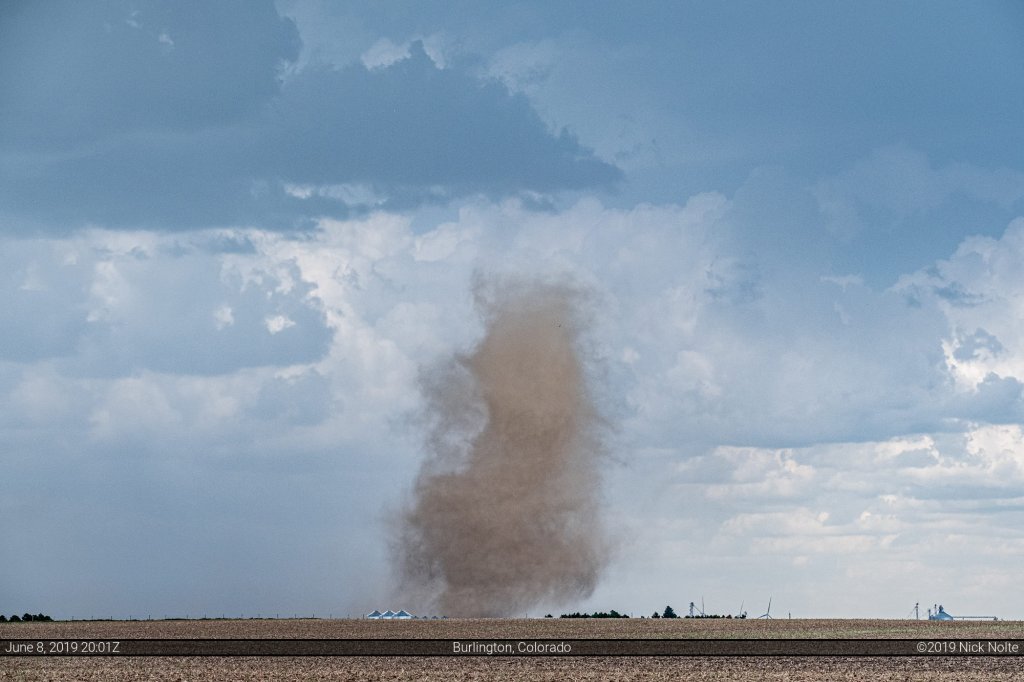 As the storm drifted off to the east it laid down an outflow boundary that was expanding to the northwest. It made me wonder if new cells would go up along that as it drifted away. As I sat north of Kanorado a new cell developed on the outflow boundary to the northwest as the original Burlington cell finally began to die. A new tornado report came in south of Idalia but I was still too far south to see anything, but could tell the new cell was looking really healthy.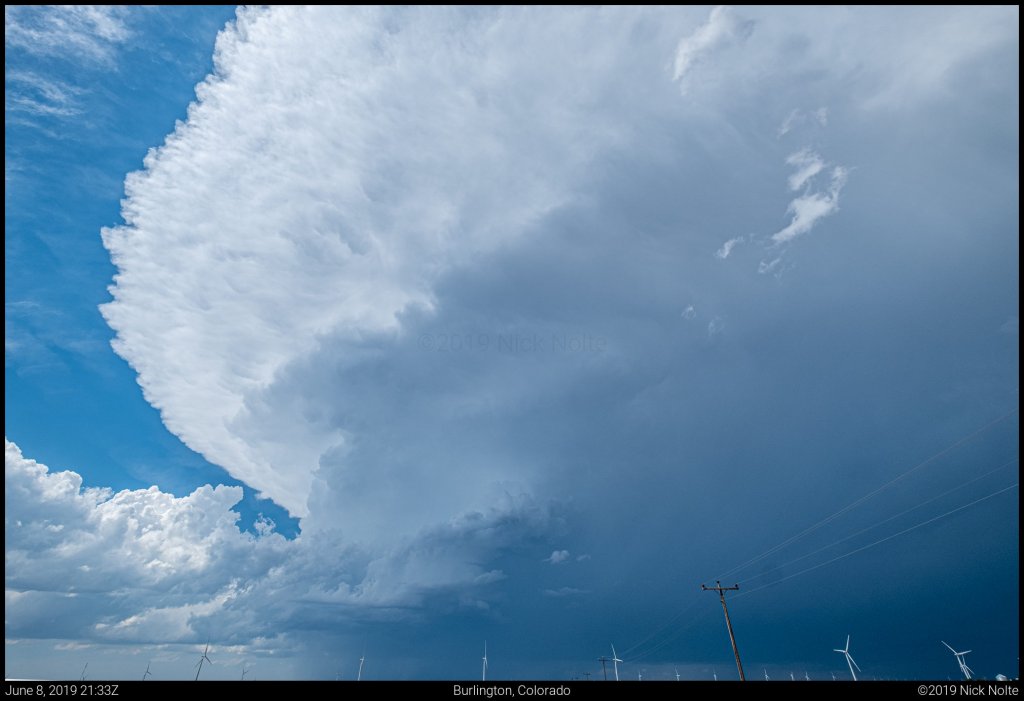 Eventually another landspout developed southeast of Idalia as I was traveling north on US 385 and I was able to get a shot of it from a distance.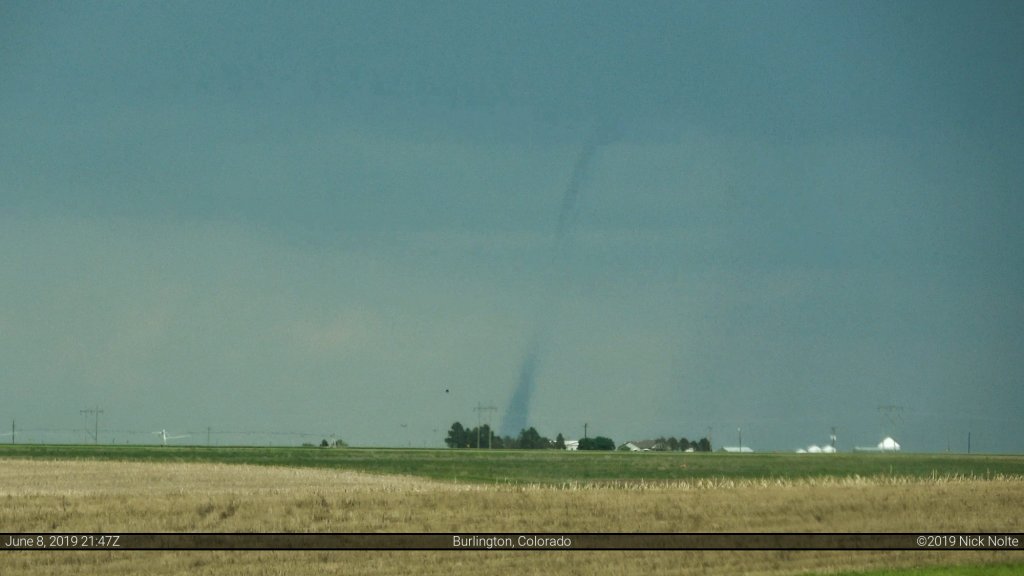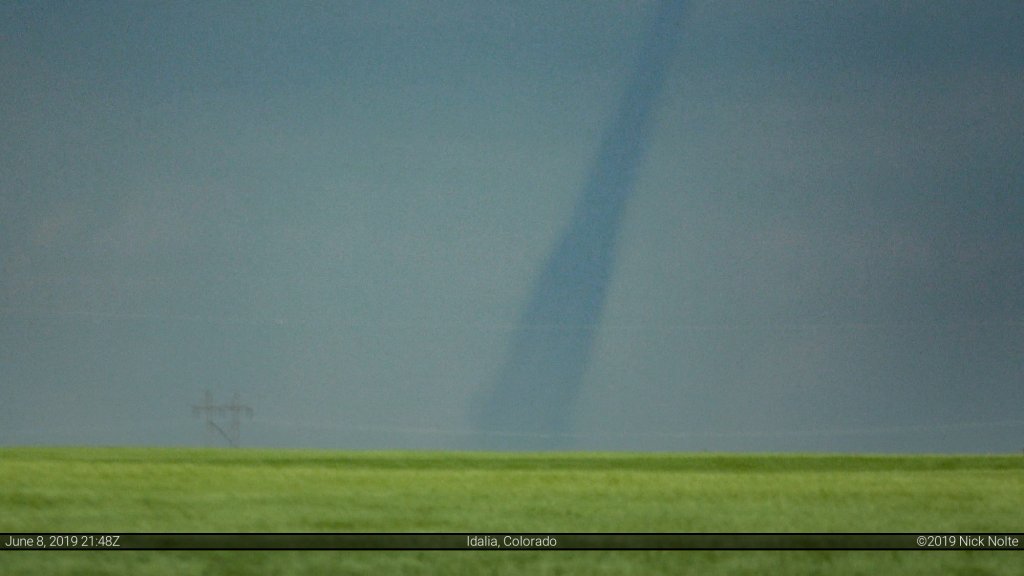 Eventually we had a mess of storms all over the place in Northwest Kansas and Southwest Nebraska. At this point I wasn't really sure where to head, but I was pretty sure that outflow boundary headed northwest was going to eliminate most of the chance of tornadoes in this area, but it was starting to get dark so I didn't think heading to the boundary was a good idea so I continued to track what storms I could back east.
Near Oberlin, Kansas I dove south to intercept a newly developed storm and while it didn't exhibit any nice low level structure there was a really nice hail shaft.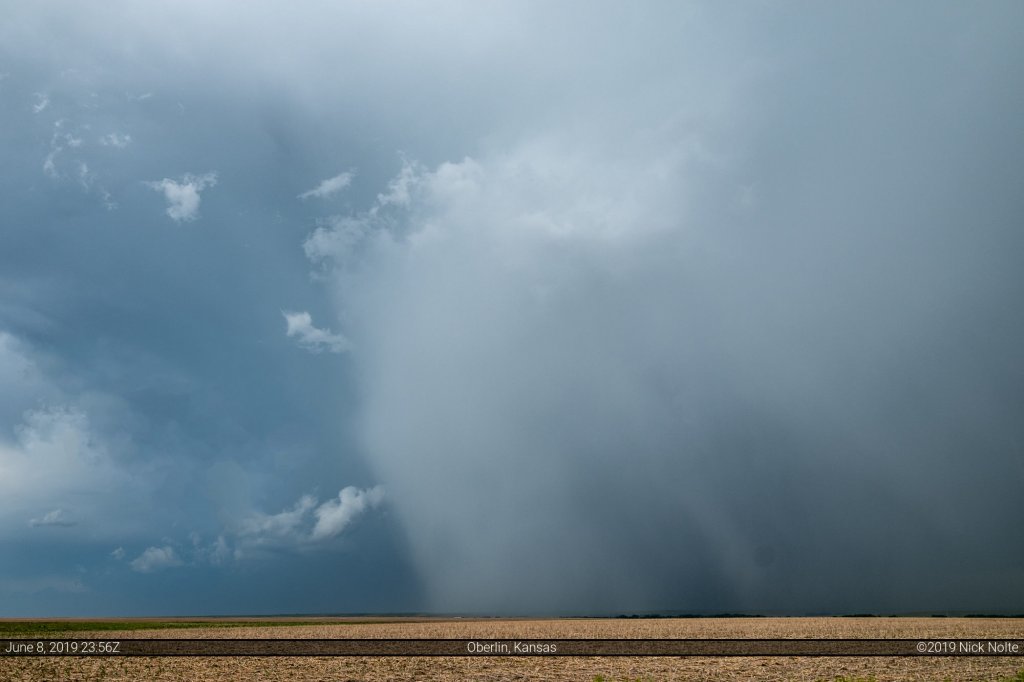 At this point I began to head home, and as luck would have it I would have to drive through nice line of storms in Southern Nebraska on my way back.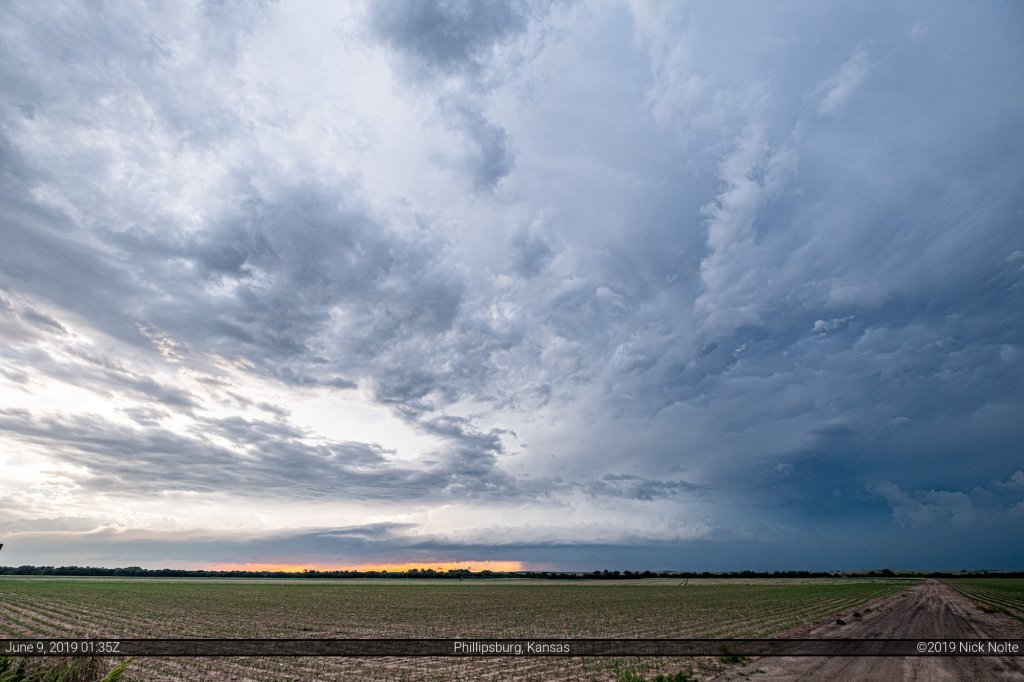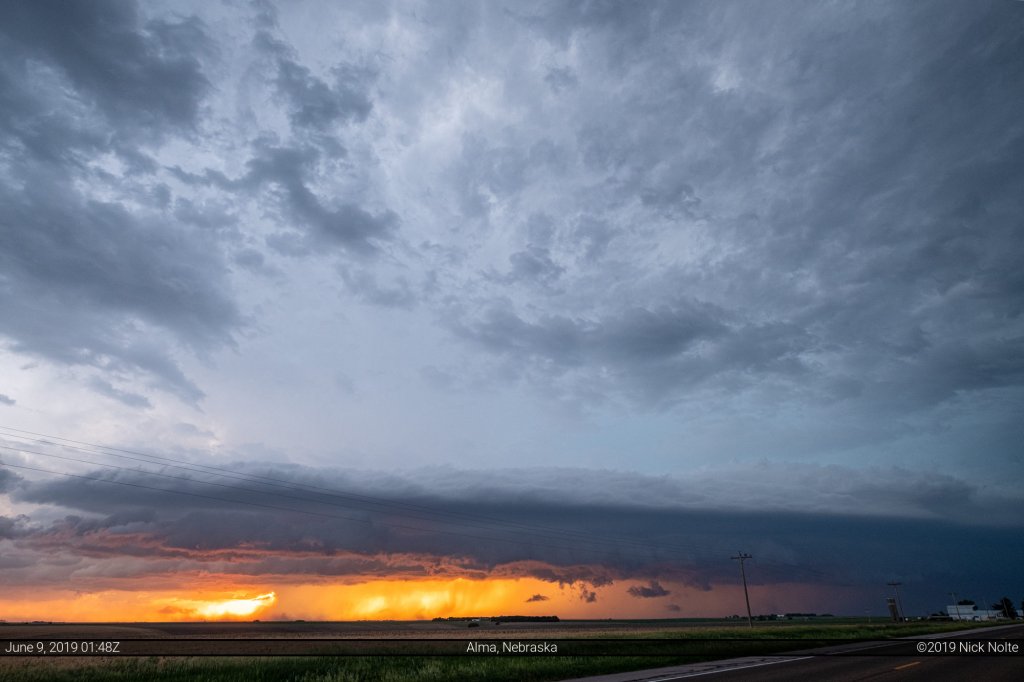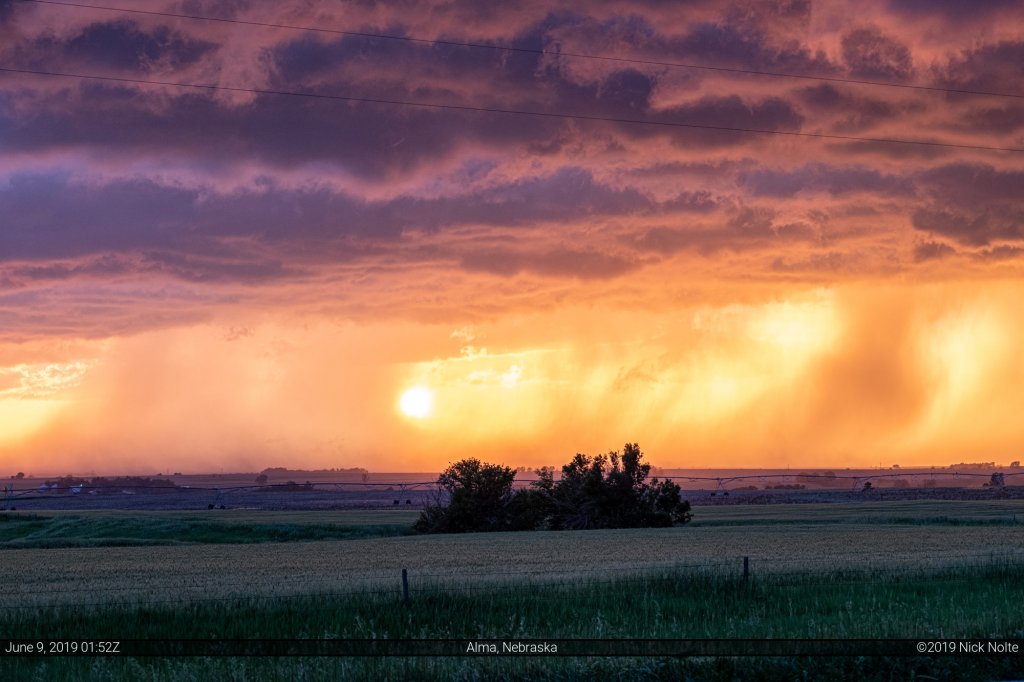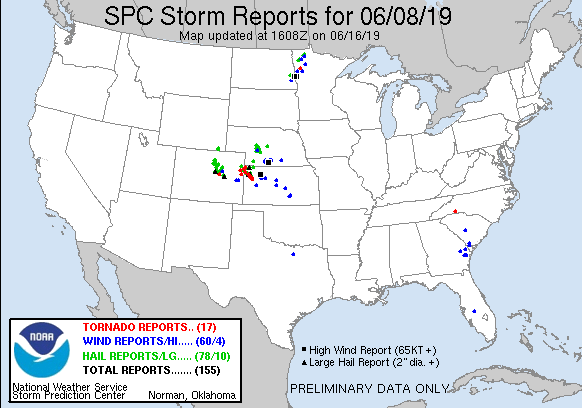 Chase Recap
| START | END | DURATION |
| --- | --- | --- |
| Grand Island, NE @ 08/1406Z | Grand Island, NE @ 09/0336Z | 13 hours, 30 minutes |
INTERCEPTS
CHASER ENCOUNTERS

08/2001Z @ 3 SW Burlington, CO
08/2148Z @ 9 N Burlington, CO

08/1957Z @ 3 SW Burlington, CO
None
Chase Map