| 0 | 1.25" | 40 | 898 |
| --- | --- | --- | --- |
| TORNADOES | HAIL | WIND | MILES |
So, in the days leading up to April 13th, SPC began highlighting a severe risk in Northern Louisiana on the Day 5 outlook. I began to talk myself into chasing Dixie Alley. "At least you should do it once," I kept telling myself. In my ten years of chasing, I'd heeded the warnings of other veterans that chasing down there is not fun. Winding, tree-lined roads lent itself to poor chasing visibility. That's what I always heard. A few chasers who chased down there frequently would always counter with "there's some good spots. It's not all bad!"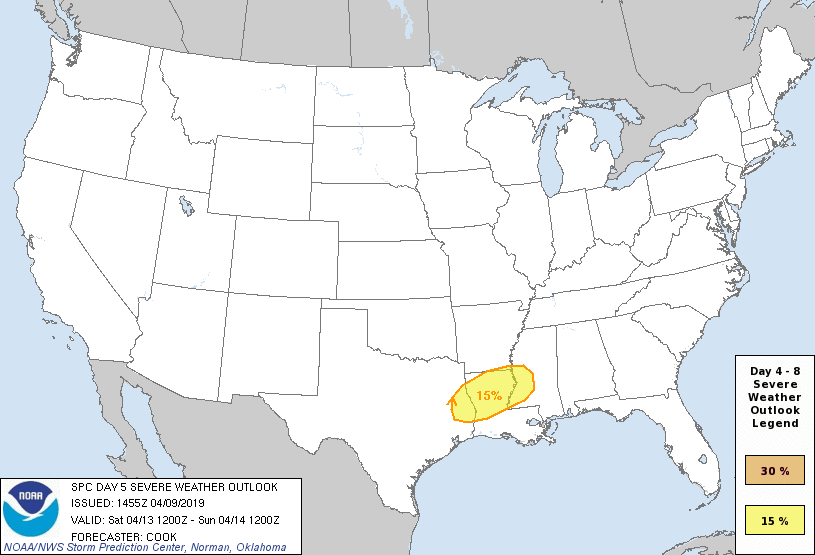 It's just the D5 outlook, surely it'll move into more favorable areas? I haven't really seen a good storm yet this year, Louisiana is not that far. At least Northern Louisiana isn't.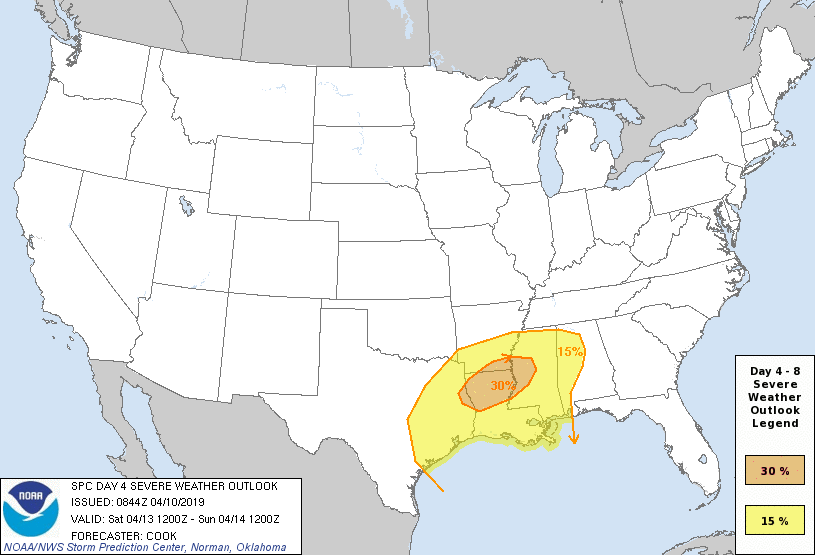 Fine. I'll go. But it's quite a ways so I'm going to have to leave the day before. I ended up picking up fellow storm chaser Dillon Killoren in Kansas on my way to Fayetteville, Arkansas where I spent the night.
We got up pretty early the following day to continue the trek down the western side of Arkansas until we arrived at Shreveport just after 16z. A surface low in Northeastern Texas was expected to deepen and migrate to Northwestern Louisiana with an attendant warm front lifting into Northern Louisiana. This would setup a boundary along the I-20 corridor as well as a broad warm sector covering much of the state characterized by surface temperatures in the upper 70s with 70°F dewpoints widespread.
This would set the stage for an unstable environment with large MLCAPE values in excess of 2,000-3,000 J/Kg. The question for us was where is the triple point going to setup, and do we think the warm sector will produce isolated supercells? Well, probably neither.
As we arrived in Shreveport there was already a huge conglomeration of showers and storms scattered all throughout Northern Louisiana.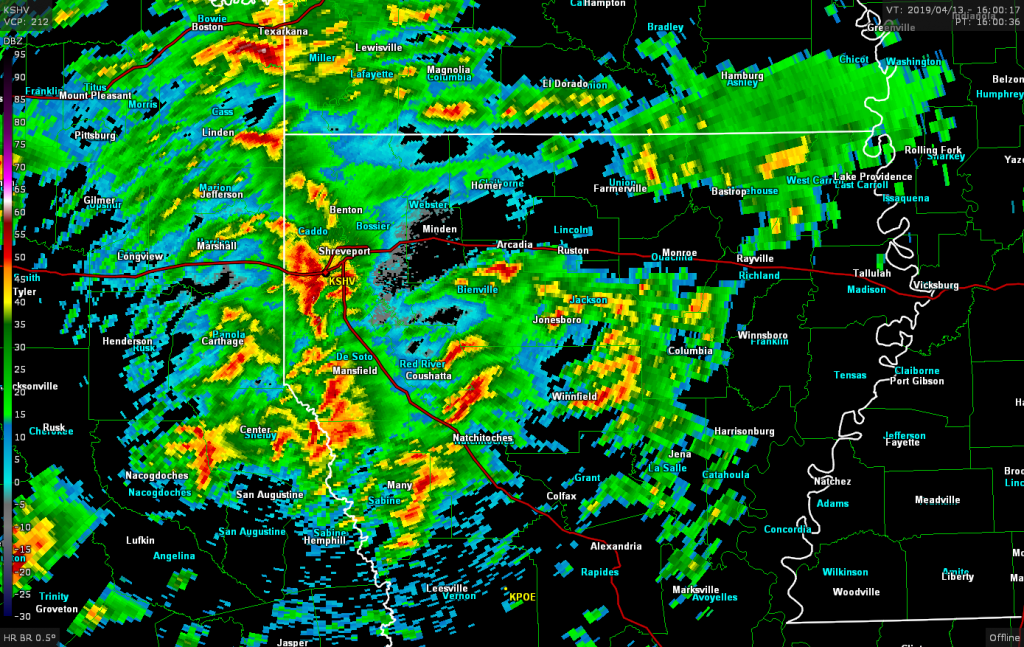 And to top it off, almost all of Louisiana was socked in clouds with a thinner, broken layer southeast of Alexandria.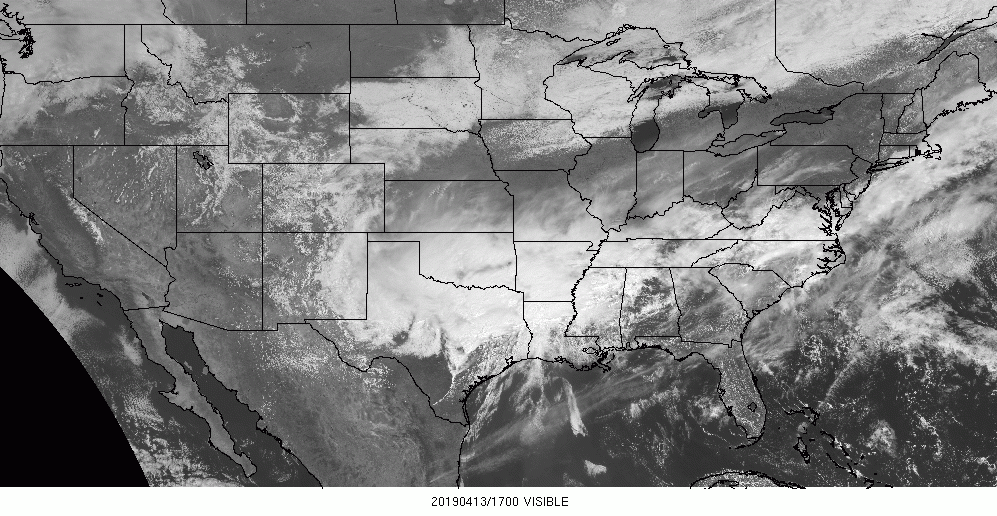 Around this same time a tornado watch was issued for the area that mentioned discrete supercells forming along the frontal zone which was retreating to the north.
So, we decided to move east along I-20 and attempt to intercept cells coming up from the south with a secondary plan to drop south in case any cells developed in the more open air by Alexandria. At 18z we were in Ruston watching a cell come up from the south and we positioned ourselves to watch it go by.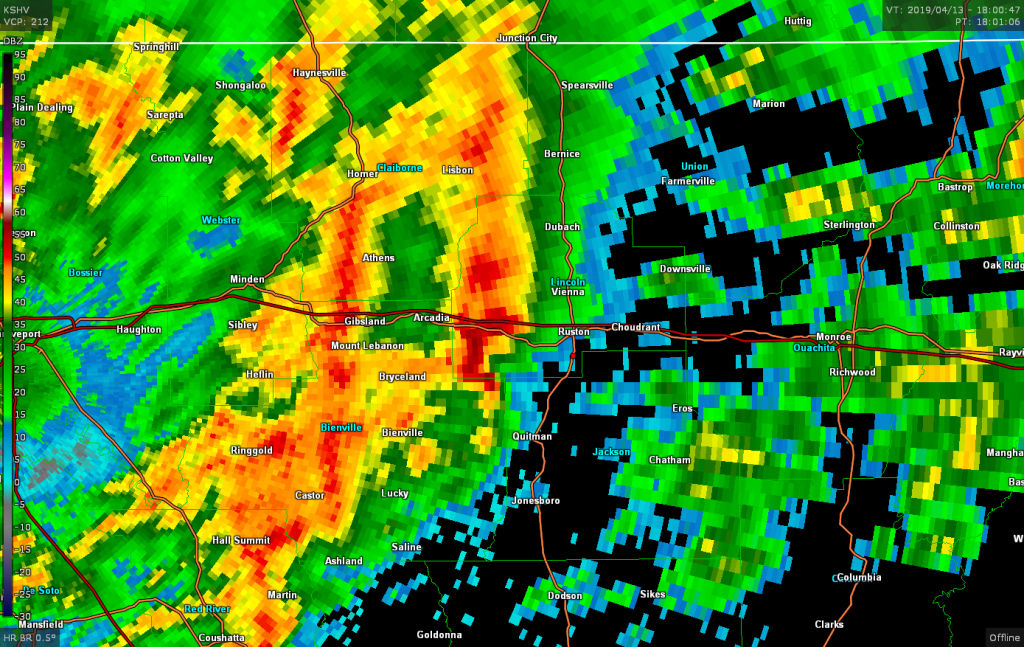 As the storm went by we could not make out any discernible features or lowerings despite the fact that there appeared to be a decent couplet on radar.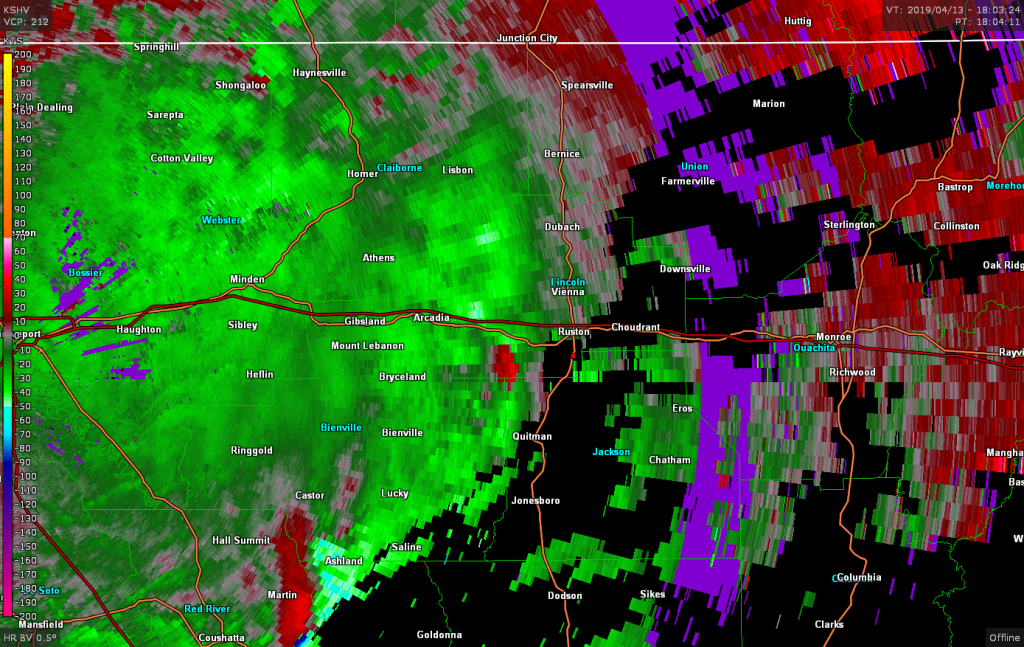 That storm raced off to the north at 55 mph so we decided to bail south towards Quitman and hope to catch the next cell coming up. The same story played out. We watched the cell fly by with no structural features to note. Even playing it close to what appeared to be the hook/meso area we still could not even make out a decent updraft base. We followed that storm back up to US 80 west of Ruston. We, once again, decided to drop south to attempt to catch the next storm in line.
We were near Vernon when the storm to our south went tornado warned. The storm appeared to be heading straight towards Chatham, so we headed in that direction to attempt to find a spot where we could watch the storm go by. We found a nice cleared area northwest of Chatham and parked to wait.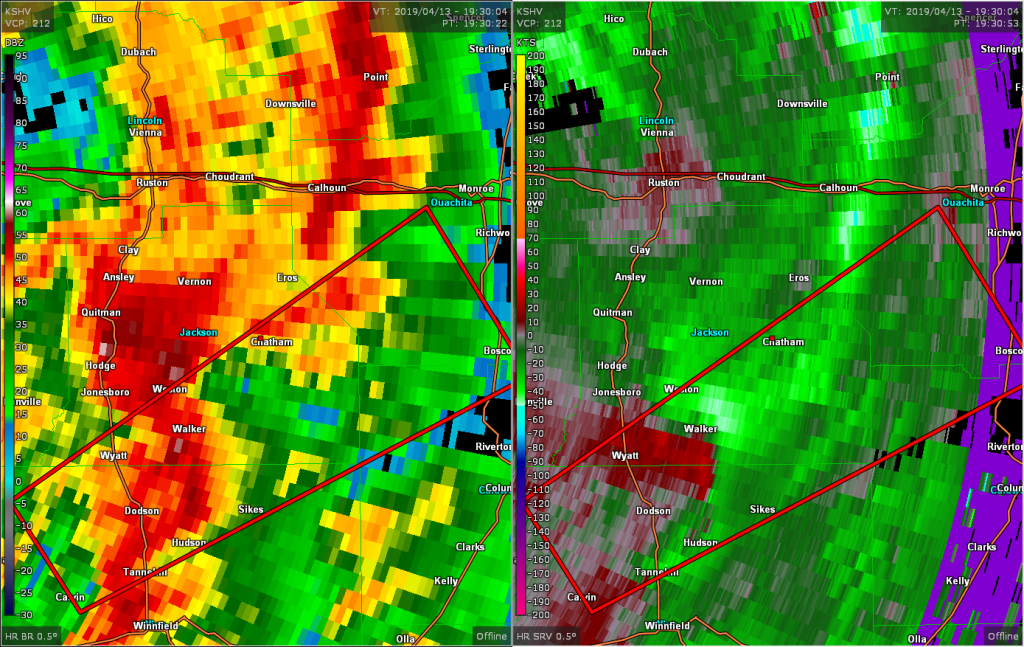 As the storm rolled by, I took the only photo I took for the entire chase, which kind of sums it up perfectly: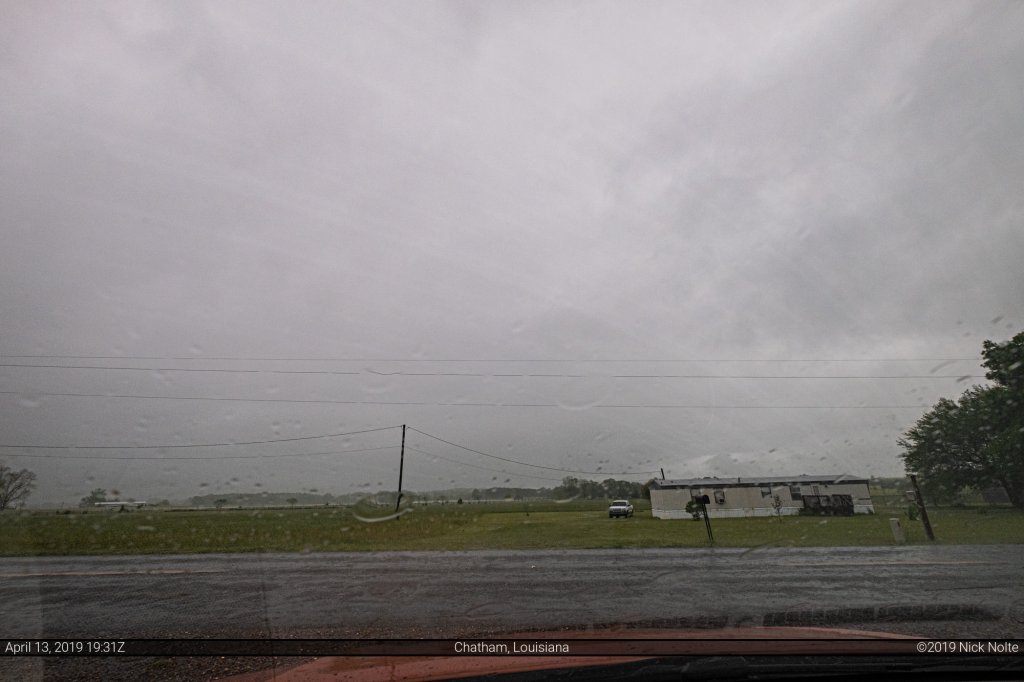 That photo was shot a mere 3 minutes before what appeared to be the inflow notch of the storm would be on top of us. The storm passed over without incident, and again without any features of note. We passed back through Chatham and drove south wondering if any additional development would head our way from the southwest.
We drove to Winnfield then decided to continue on towards Alexandria hoping that something would develop in the relatively untouched air, but as we continued south on US 167 it started to become apparent that no isolated cells were going to develop as a messy line started to move in from Texas. We eventually decided to call the chase and began the trek back to Shreveport.
It appears the lack of a cap is what ruined the environment for a significant event as several storms were already ongoing prior to 16z and they just continued to develop throughout the morning and early afternoon. I don't think the warm front ever made it up to I-20, more like the US 84 corridor.
Overall, I did not enjoy the chase. It was extremely frustrating just to find a spot to get a view in the direction of the storm. When we did find a clearing, the storms were just gray blobs with no definition. I rate chasing in Louisiana 1/10 and would not recommend it to anyone.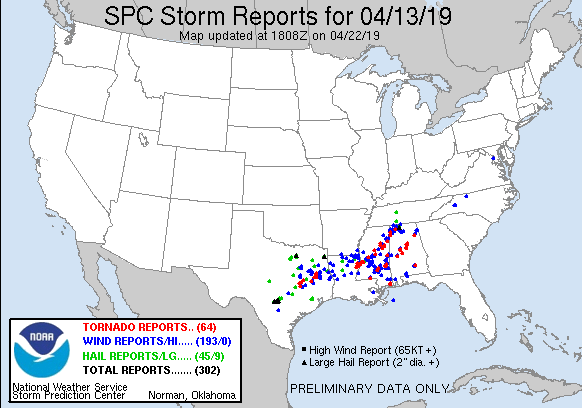 Chase Recap
| START | END | DURATION |
| --- | --- | --- |
| Fayetteville, AR @ 13/1046Z | Fort Smith, AR @ 14/0454Z | 18 hours, 8 minutes |
| INTERCEPTS | CHASER ENCOUNTERS |
| --- | --- |
| None | Dillon Killoren (5) |
Chase Map