| 0 | 0.00" | 30 | 336 |
| --- | --- | --- | --- |
| TORNADOES | HAIL | WIND | MILES |
The second day of my chase vacation began with James Seitz and Rob Hurkes in Salina, KS. Our expectations for the day were for storms to fire along a cold from stretching from a surface low in western Kansas. Low level hodographs weren't expected to be that fantastic, so our expectations for tornadoes were low, but nevertheless, the chase was on. Since we expected the storms to fire later in the day, we didn't get going from the hotel until a little after 11am.
We arrived in Wichita around 19z and had lunch at an Applebee's there. During this time it was discovered that one of the other guys had left his wallet back at the hotel in Salina. So he headed back to Salina to grab it while his chase partner rode with me and we continued on. Some weak storms were starting to fire ahead of the front near Greensburg, so we left the restaurant and headed in that direction. We eventually caught up to the storm near Pratt where it looks somewhat ragged, but better than we had expected given its radar presentation.
We followed the storm for a bit, and watched it for a while near the town of Iuka.  The storm had become outflow dominant and was losing its punch.  We then received a call from our partner who had retrieved his wallet and was approaching Pratt.  We waited for him to catch back up with us as we watched the storm slowly die as it lumbered to the northeast.
Eventually we left the storm, dropped back south to Pratt and stopped to have dinner as we figured the day was over.  As we sat in McDonald's lamenting how the day turned out we noticed that storms kept firing to the northeast.  Even a few with hail markers and increasing VIL signatures.  So, we figured, what the hell and went after them.
We sat south of Langdon watching the storms from a distance. The storms were moving at about 6 kts, so even though they were only 15 miles away, they would take over an hour to reach us.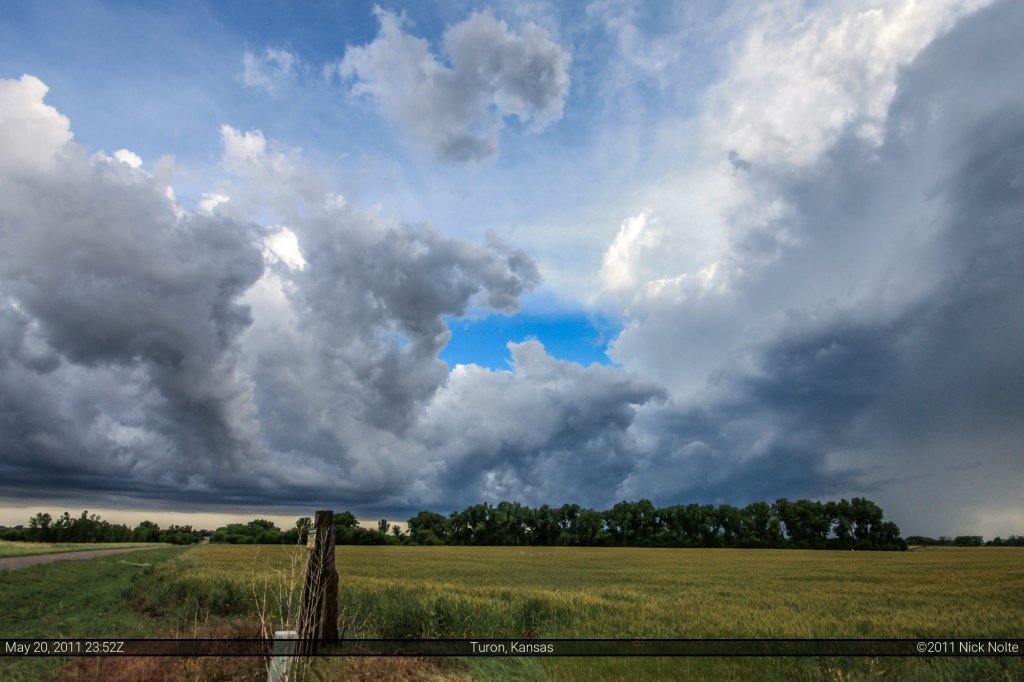 We decided to move closer as we were quite a distance from the storms and eventually stopped to watch a few miles south of Cunningham. This would end up being our location for the next hour and a half as one of the most beautiful storms I had ever seen slowly traveled across the fields while dying at the same time and putting on one of the most amazing color shows ever. I'll let the photos do the talking.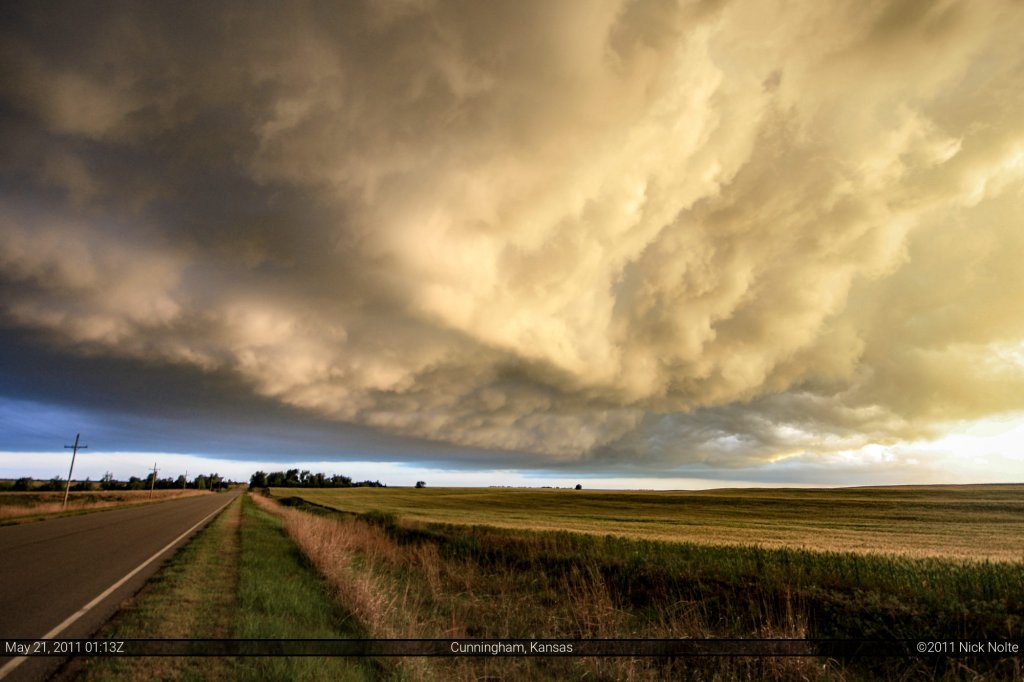 So, on a day where we were ready to admit defeat, we went after one more storm and were rewarded with this display.
Chase Recap
| START | END | DURATION |
| --- | --- | --- |
| Salina, KS @ 20/1603Z | Wichita, KS @ 21/0410Z | 12 hours, 7 minutes |
INTERCEPTS
CHASER ENCOUNTERS
None
James Seitz (15)
Laura Duchesne (1)
Rob Hurkes (18)

Chase Map