| 0 | 0.00" | 30 | 332 |
| --- | --- | --- | --- |
| TORNADOES | HAIL | WIND | MILES |
I wasn't sure what to think of this day. It appeared that storm motion was going to be nearly parallel to the boundary that was supposed to trigger the storms in the evening. That meant there wouldn't be much of a window for isolated supercells to plod along. Anyway, I decided to drop down from Wichita into Northern Oklahoma. Left Wichita at around 12pm. I was temporarily distracted by the minor storms that popped up southwest of Wichita shortly after I left town. They popped up rather quickly, but died just as fast. After I finished being distracted by shiny objects, I continued south into Oklahoma.
SPC threw up a Tornado Watch for Kansas and Oklahoma west of I-35 at around 2pm CST. The front started triggering storms across central Kansas south into Oklahoma at about 2:30 CST. At about 3:00 I pulled off on a dirt road in Woods County, Oklahoma to observe the storms that were firing to my west. They were riding the boundary to the NNE. The storms weren't doing anything terribly spectacular, so I started to head east a little bit. Around 4:00 I pulled off on a dirt road in Alfalfa County to observe once again. The storm was looking much healthier here, but it was turning into a line. Well, it had pretty much been a line since the beginning. There was a severe thunderstorm warning on the cell, but that was about it. Here are some photos from this stop.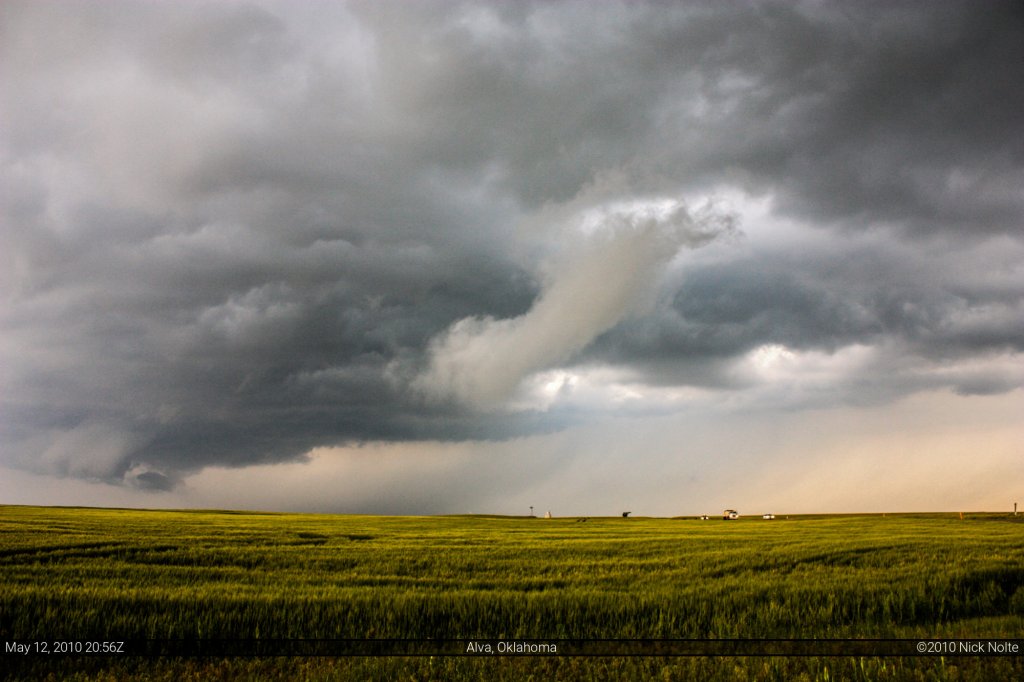 The last shot being the radar image from KVNX at 4:52PM CST. If you look closely there is a red dot northwest of Cherokee near the center of the image, that was my location at the time of the radar image. Nothing terribly exciting happened in my vicinity, although there were tornado reports in southwest and northeast Oklahoma as well as a couple in southern Kansas. With my bust of a day, I began to head back to Wichita. The next day was going to be a travel day as I planned to be in Midland, TX for the 14th.
Chase Recap
| START | END | DURATION |
| --- | --- | --- |
| Wichita, KS @ 12/1557Z | Wichita, KS @ 12/2348Z | 07 hours, 51 minutes |
| INTERCEPTS | CHASER ENCOUNTERS |
| --- | --- |
| None | None |
Chase Map