| 7 | 1.00" | 60 | 816 |
| --- | --- | --- | --- |
| TORNADOES | HAIL | WIND | MILES |
Day three of a multi-day chase trip featured a mid-level trough that was rotating through the four corners region into the High Plains with a 70-80kt upper jet rounding the base as well. Morning convection made the situation messy for the day and it appeared that two target areas would develop later in the day. The first was in an upslope regime from the OK Panhandle into Colorado; the second along and south of the Red River. I had a bias towards the northern target because I was planning on returning home the following day and I didn't really want to drive back to Texas after driving to Clinton, OK for the night.
SPC had outlined a MDT risk in their 6z update in the upslope regime from Eastern Colorado through Southwest Kansas. A separate belt of enhanced probabilities stretched from the Dallas/Fort Worth metroplex southwestward towards Big Bend. Ongoing convection was expected to slow the eastward advance of the dryline and its outflow would become the effective boundary. Meanwhile, further north in Western Kansas and Eastern Colorado a surface low was progged to develop and move into northwestern Kansas during the evening hours. That surface low, coupled with strong shear aloft and a strongly buoyant profile, thanks to a closed mid level cyclone advecting cooler temperatures aloft, provided an environment conducive to supercells.
I had spent the night in Clinton, OK, specifically to be near the center of the moderate risk the SPC had issued the day before so I'd be able to make a call in the morning as to which target looked the best for me. The amount of cloud cover for the Red River area concerned me and I decided to play the northern target. I left Clinton around 15z and a couple hours down the road the SPC issued a mesoscale discussion for the area I was heading towards indicating that a tornado watch was coming, and which they did issue just before 18z. They also issued a tornado watch for the southern target shortly after.
I arrived in Guymon just before 20z to evaluate the situation. SPC had upgraded the southern target to a moderate risk and increased the tornado probabilities down there. That always makes you second guess yourself, but with ongoing storms along the front range and a cumulus field in Colorado, I continued on to the north.
Storms had been developing and getting tornado warned off and on for the last couple of hours as cells fired along the front range and interacted with all kinds of boundaries that were in place.
A new cell had started to develop southwest of Lamar, so that became my target and I continued north on US 287 until I finally caught up to it north of Lamar around 2225z and the first funnel started to develop.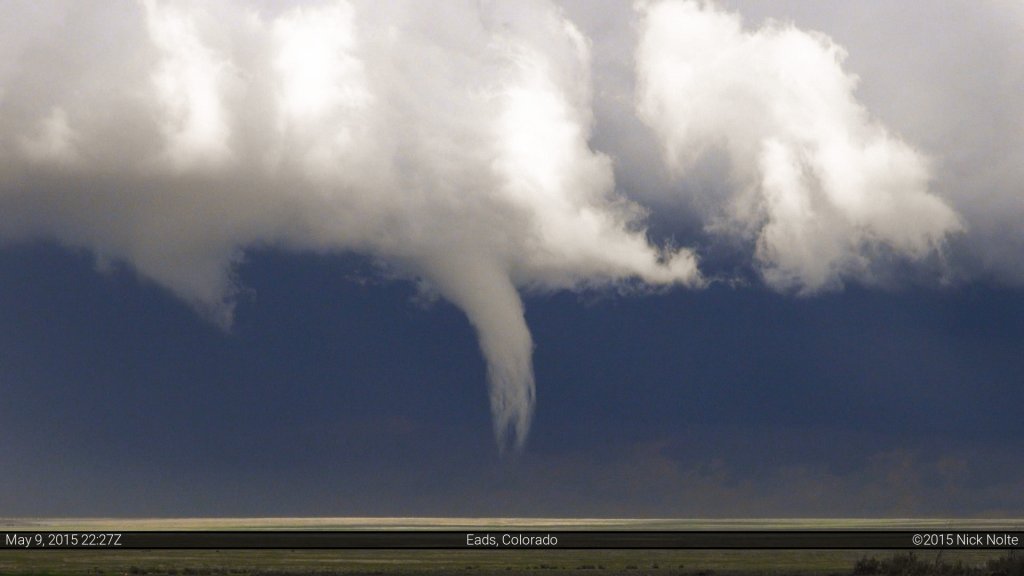 As the funnel danced around beneath a stunning updraft and rear flank downdraft cut, people lined the roads to get a look at this beautiful sight. After watching for quite a bit, I drove north to Eads then went east on highway 96. At this point I hadn't realized the storm was moving mostly north, but I was concerned with finding a north road that was actually traversable for a distance. As such, I ended up going too far east and getting out of position. Eventually, I went north west of Sheridan Lake on a dirt road that looked like it went for quite a ways and while I was navigating to get back into position on the storm I could barely make out the cone stage of the second tornado. This is the best shot I have of it and I had to blow it out quite a bit to get a glimpse.
Eventually I caught back up to the storm and was able to follow it and see three more tornadoes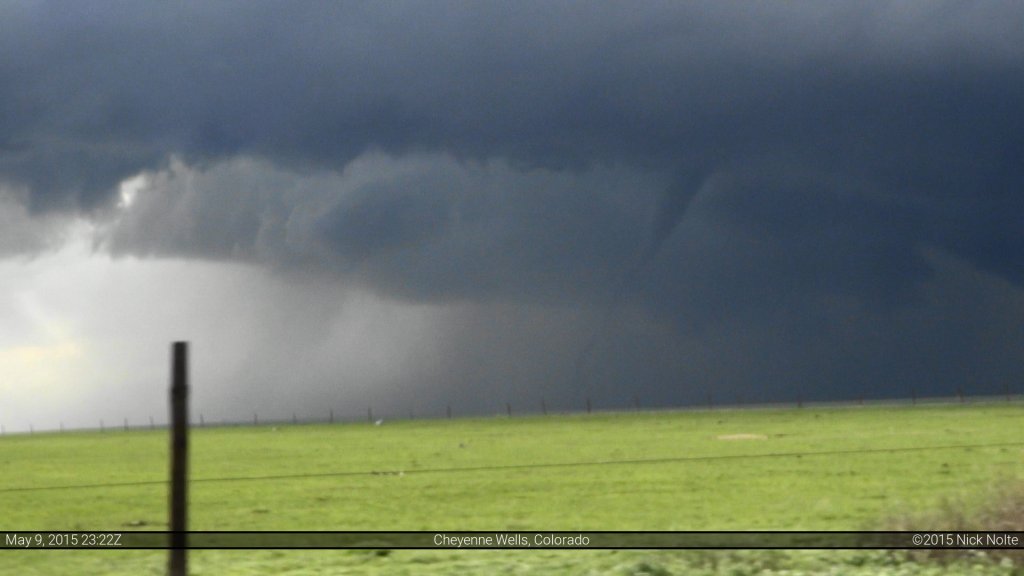 This was the final tornado that touched down before the storm crossed a southbound outflow boundary from storms to the north. After driving through some torrential hail that coverent the roads north of Cheyenne Wells I tailed the storm to Burlington where I abandoned it to head east on I-70 to get in position for the fourth and final day of chasing.
Interestingly enough, as I blasted east into Kansas a newly developed storm south of Oakley went tornado warned. Given the current motion of the storm I'd arrive in Oakley just as it crossed I-70. How lucky would it be to happen across another tornadic storm?
I arrived in Oakley at 0144z just in time to catch two more tornadoes east of town.
Here is a video montage from the entire chase
The final GPS track for the day with the 7 tornado intercepts marked, 5 in Colorado and 2 after dark in Kansas.
Chase Recap
| START | END | DURATION |
| --- | --- | --- |
| Clinton, OK @ 09/1454Z | Kearney, NE @ 10/0526Z | 14 hours, 31 minutes |
INTERCEPTS
CHASER ENCOUNTERS

09/2259Z @ 16 E Eads, CO
09/2322Z @ 12 SW Cheyenne Wells, CO
09/2330Z @ 8 SW Cheyenne Wells, CO
09/2337Z @ 4 SW Cheyenne Wells, CO
10/0152Z @ 3 E Oakley, KS
10/0204Z @ 7 W Grinnell, KS

09/2227Z @ 9 SE Eads, CO
Aaron Rigsby (1)
James Wilson (12)
Mike Brady (10)

Chase Map