| 1 | 3.75" | 50 | 854 |
| --- | --- | --- | --- |
| TORNADOES | HAIL | WIND | MILES |
August 11th was shaping up to be an interesting day in northeastern Colorado. Upslope flow as expected to bring in moisture and with diurnal surface heating a corridor or MLCAPE around 2,000 J/Kg was expected to setup between Denver and Goodland.
Models were showing the typical initiation of storms on the Front Range and then cells would roll into the plains where wind profiles were expected to be more favorable for tornadoes as low level hodographs increased with increased backed surface flow the further east you went.
The following day looked like an event in Iowa and Illinois so this was going to be a one-and-done for me. I left home at 14z and hit I-80 to get me west as fast as possible. I arrived in Brush just after 18z. Shortly thereafter the SPC issued a mesoscale discussion for the Nebraska Panhandle and Northeastern Colorado as the standard cumulus percolation along the Front Range had begun.
I decided to head to Byers as a cell had developed over Castle Rock and was moving northeast.
I eventually got on the storm shortly before 20z and there was a rather beefy wall cloud established on the storm and there was low level rotation present.
The storm went tornado warned around the time of this photo although I was a few miles away I didn't see any ground circulation. I continued to track the storm as it moved east but then a new storm started to explode near Akron and it looked like it was in prime real estate, so I bailed to get to that storm.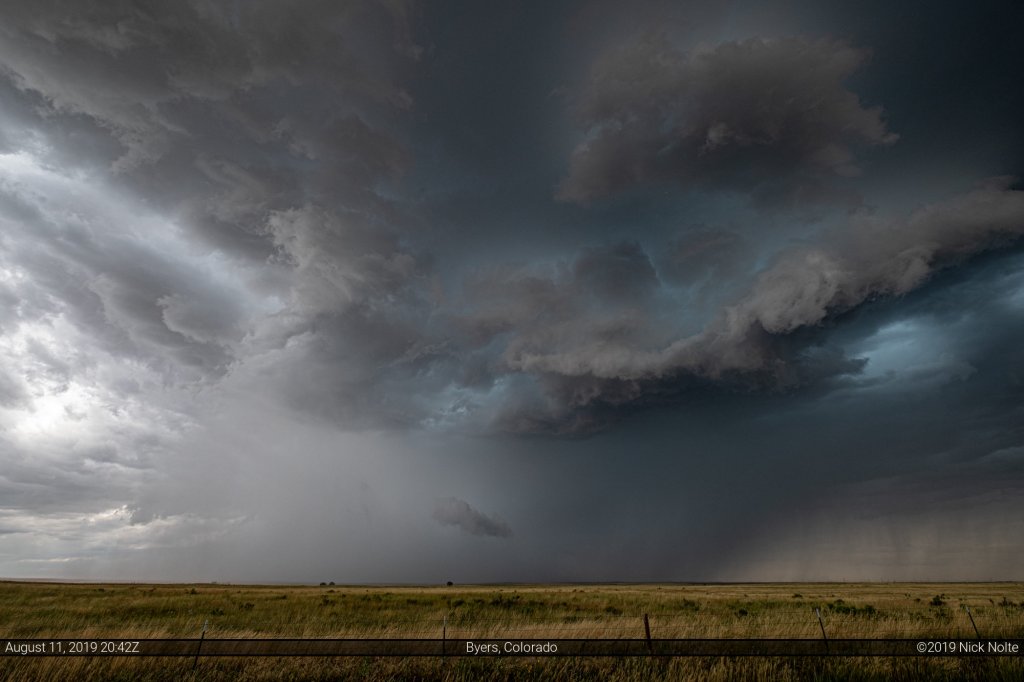 While I was on the way to the Akron storm tornado reports started to come in and I figured I was going to miss out on the show. I kept pushing onward and as I passed through Otis I saw damage all over the place from monster hail that the storm was dropping. 4″ reports were coming in and I saw plenty of softballs chilling in the grass as well as chasers running into ditches to find the largest stone they could.
As I approached Yuma, I took a glance back and saw a tornado on the ground to the north of the highway so I stopped to watch for a bit.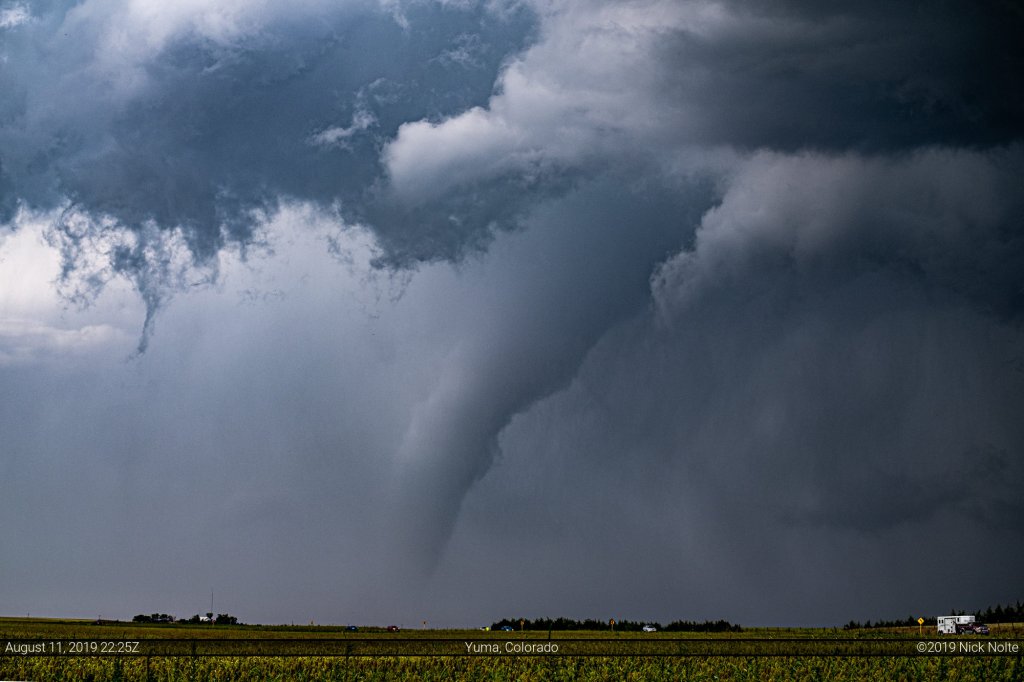 I continued to track the storm east and on the east side of Wray I drove north on a dirt road to poke into the storm to see if anything was going on in there. The storm relative velocity on the radar looked like it was pretty strong, but it was broad.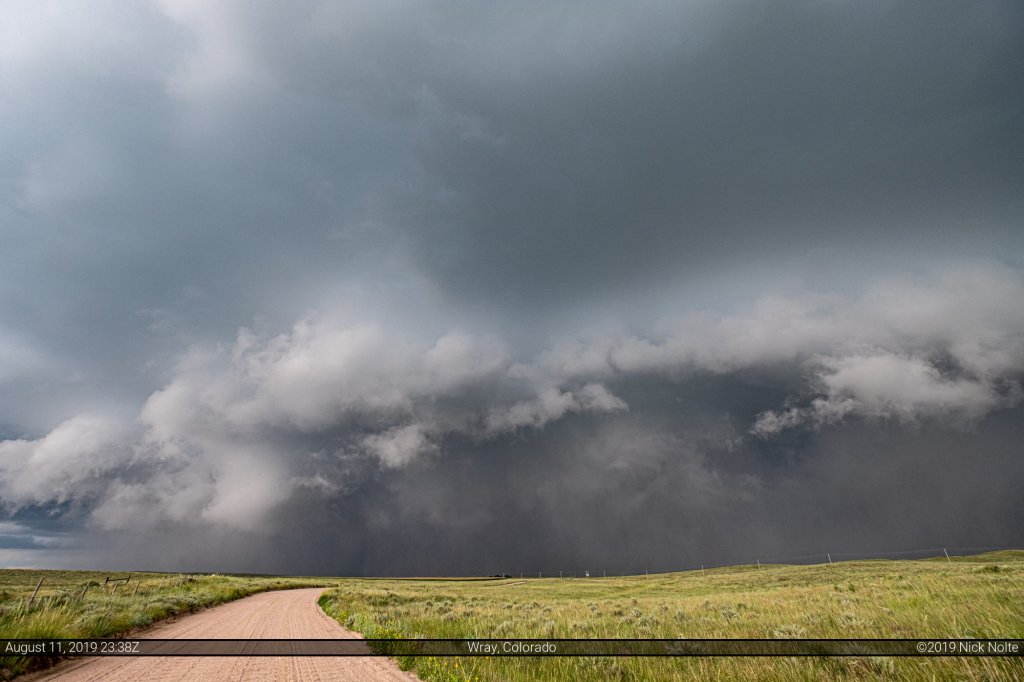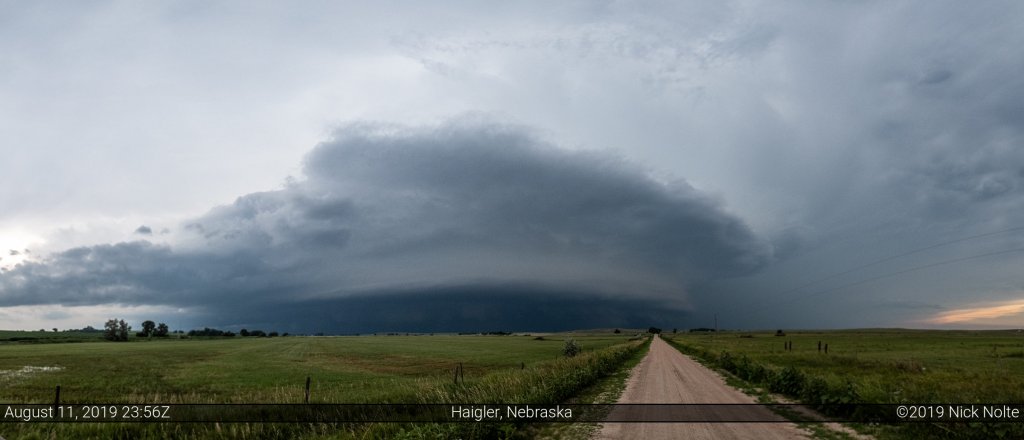 I took a couple more looks into the storm near Benkelman, but by this time it was starting to get dark and the storms were congealing into an MCS so I called it a chase and started back home!
Chase Recap
| START | END | DURATION |
| --- | --- | --- |
| Grand Island, NE @ 11/1347Z | Grand Island, NE @ 12/0420Z | 14 hours, 33 minutes |
| INTERCEPTS | CHASER ENCOUNTERS |
| --- | --- |
| | None |
Chase Map