| 2 | 1.50" | 90 | 735 |
| --- | --- | --- | --- |
| TORNADOES | HAIL | WIND | MILES |
After spending the night in Hays, Kansas, June 15th presented another opportunity for severe weather throughout many portions of the country. A warm front across the Ohio River Valley presented the best chances for tornadoes, but I wasn't about to drive to Illinois. My attention was towards Western Oklahoma which would be a prime position for storm development as a surface low was forecast to deepen in the Texas Panhandle. This would back surface winds throughout Western Oklahoma while a shortwave impulse pivoted through the area along with a very unstable airmass. This seemed to be a rather decent recipe for severe weather.
While the SPC had an enhanced risk for the target area it was mostly for damaging winds that were expected as storms grew upscale in the evening. They had only outlined a 2% risk for tornadoes. My initial target area was the Wichita to Enid area with an anticipation of repositioning further southwest as visible satellite dictated later in the afternoon.
I passed through Wichita after 19z and decided to continue south. Word was coming across social media that chasers were making visits to the Twister Museum in Wakita, OK, so I decided to make my way over there and visit for the first time. I'd been to Wakita before, but never visited the museum. There were several other chasers there when I stopped in.
After stopping in Wakita, the afternoon was wearing on as it was now after 21z and a Severe Thunderstorm Watch had been issued while I was in the museum. Storms had begun to blow up on the New Mexico/Texas border near Clovis while a cumulus field built throughout Western Oklahoma.
I continued south towards Enid as a cell began to develop around 23z southwest of Watonga. The day getting long that looked like the only shot so I continued southwest towards them. As 0z approached, the storms hadn't really strengthened and this is what we were lookin at: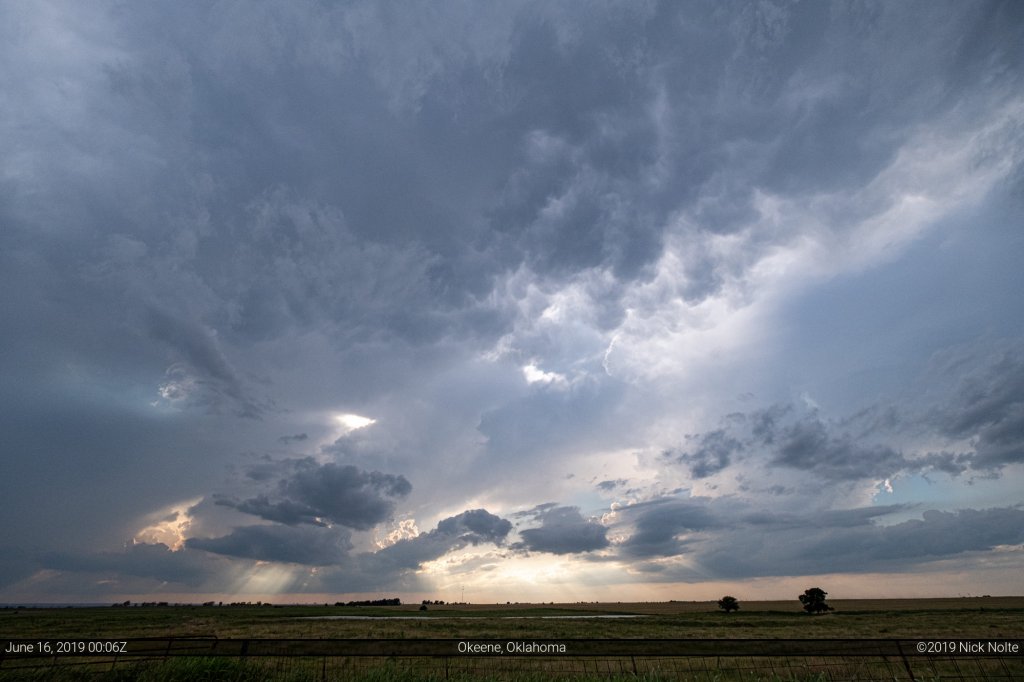 I drove west to Canton Lake to see if getting a shot of the storm from the reservoir dam would be possible, but the terrain and angles didn't work our. By this time the storm was starting to grow upscale and it looked like the chase might be over before it really got going. However, the southern end of the cluster started to develop and get organized so I decided to get to the south side of the cluster and hope for the best.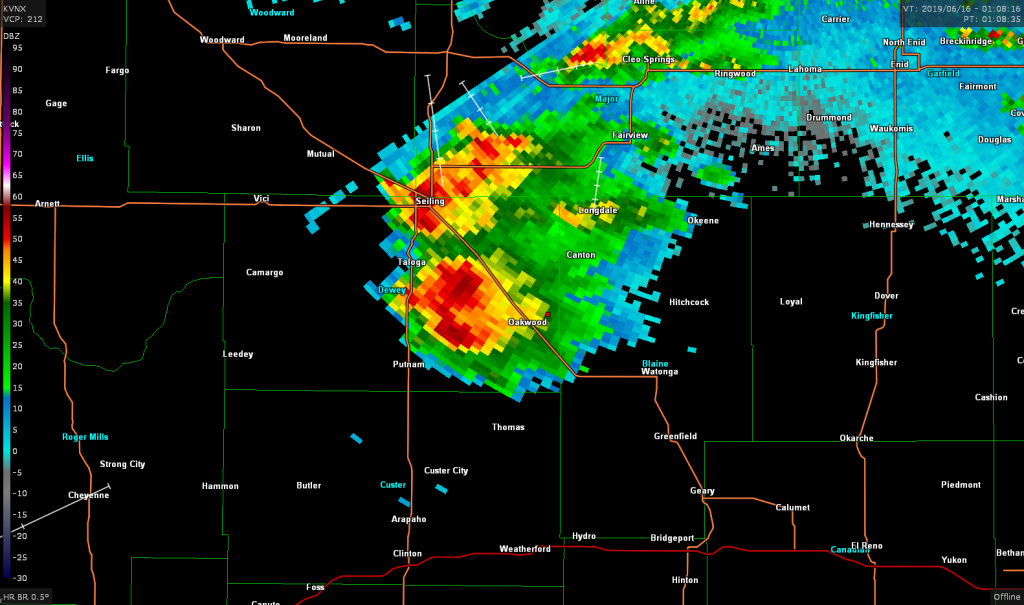 I continued through the rain to get into clear air on the south side of the storm and as I did it finally started to really get organized.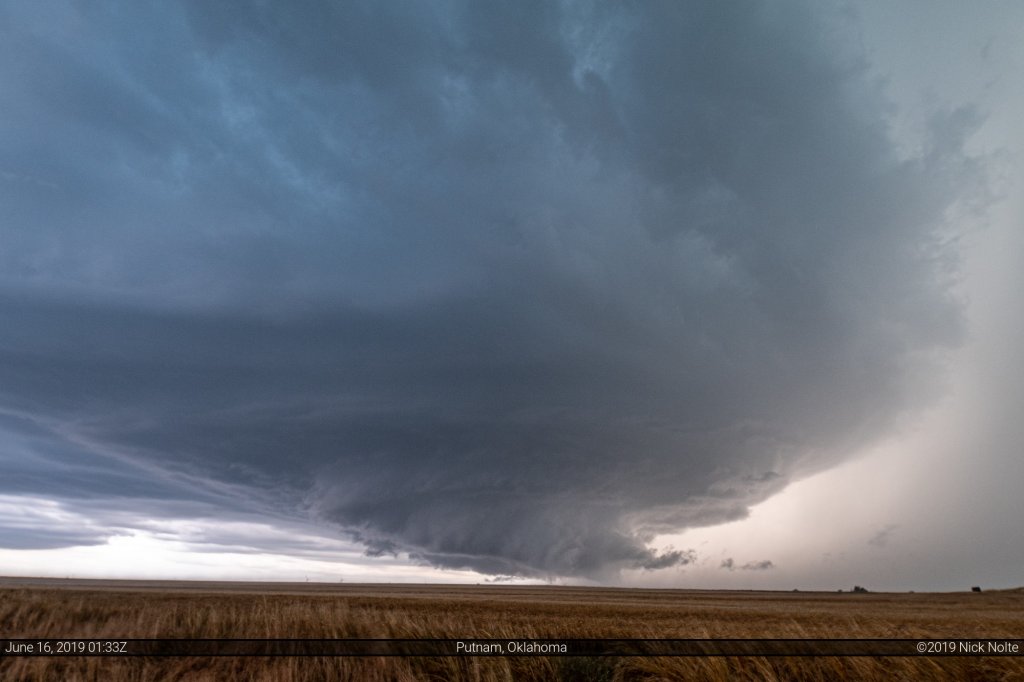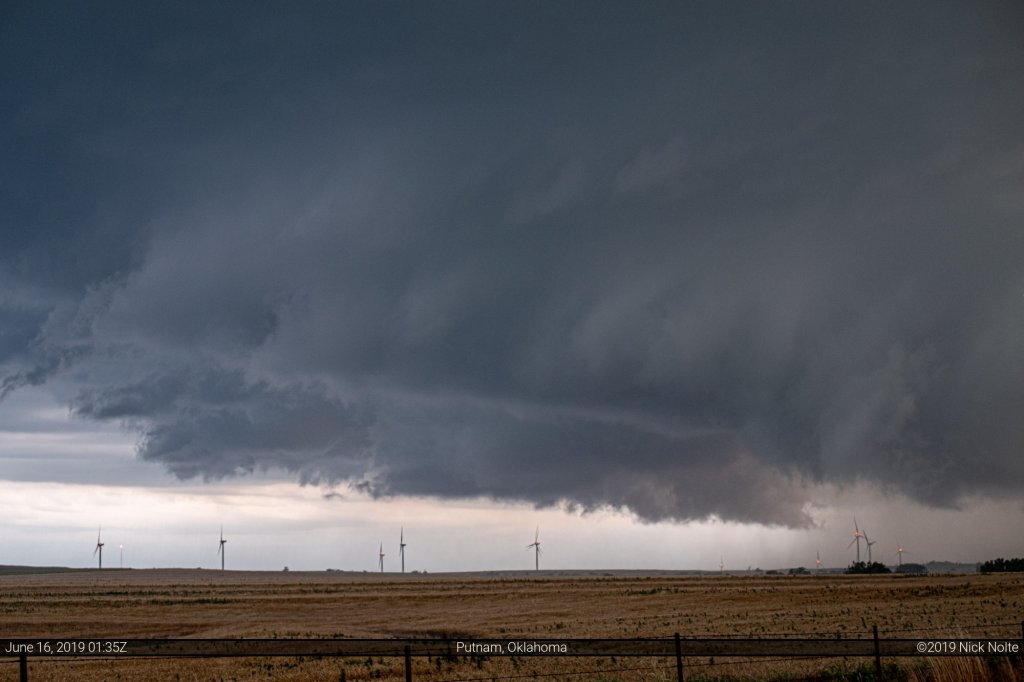 I found a nice westerly dirt road that poked into the newly developed notch of the storm and was able to sit and watch for a while while golf ball sized hail fell around me. The storm was wrapping up really quick and a brief tornado formed and touched down for just a couple seconds.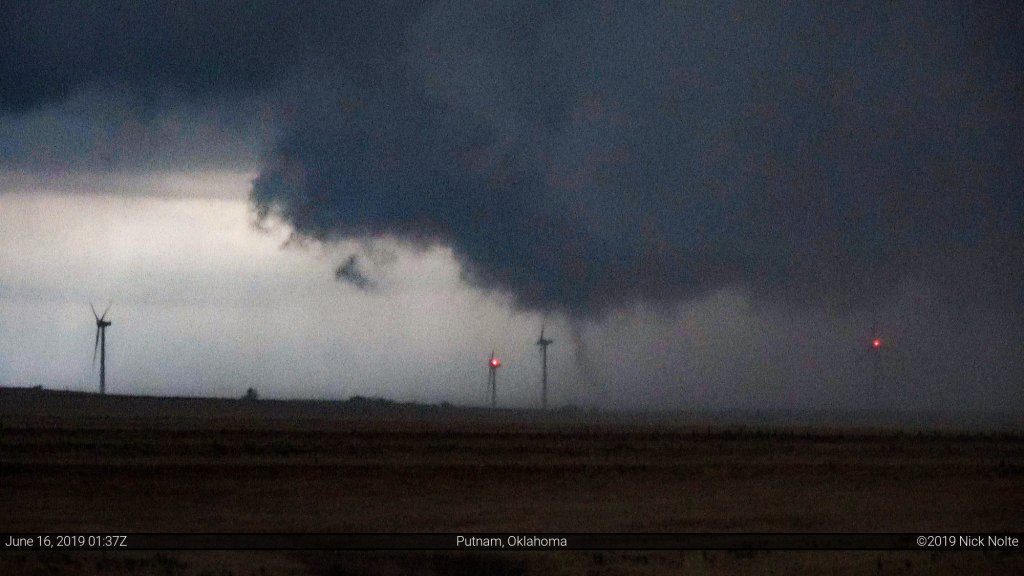 I then bailed further south to get out of the forward flank. The storm was nearly stationary at this time so repositioning was easy to do. After watching from a new spot for a few minutes I decided to get south to the main road and drive west further into the inflow notch. It was pitch black dark now, so the only way to see a tornado was backlit from lightning and I didn't want to do that on dirt roads.
I drove south to highway 47 and stopped at an intersection 4 miles east of US 183 that gave a clear view into the storm. Through various lightning strikes I was able to make out a cone tornado around 0212z.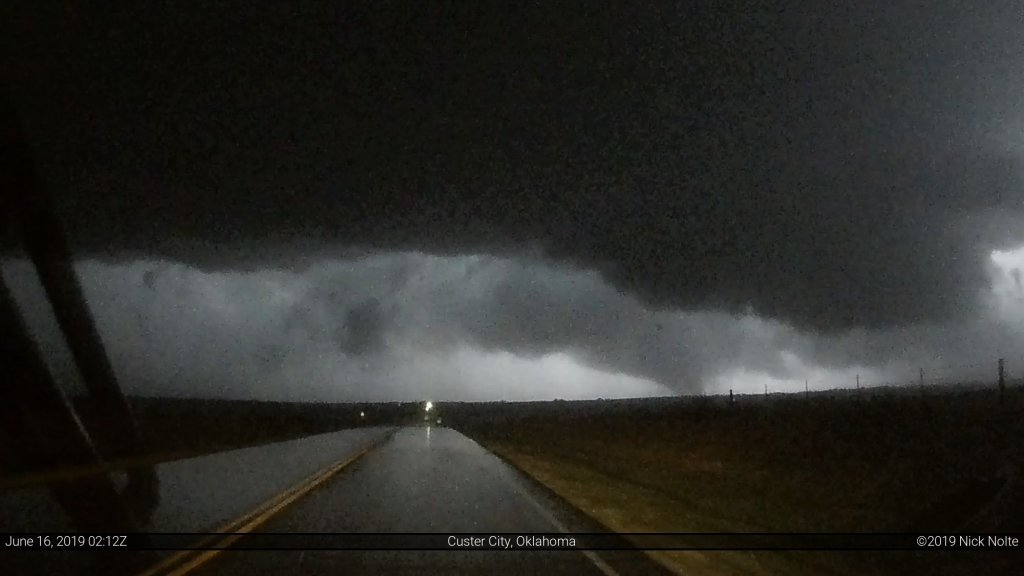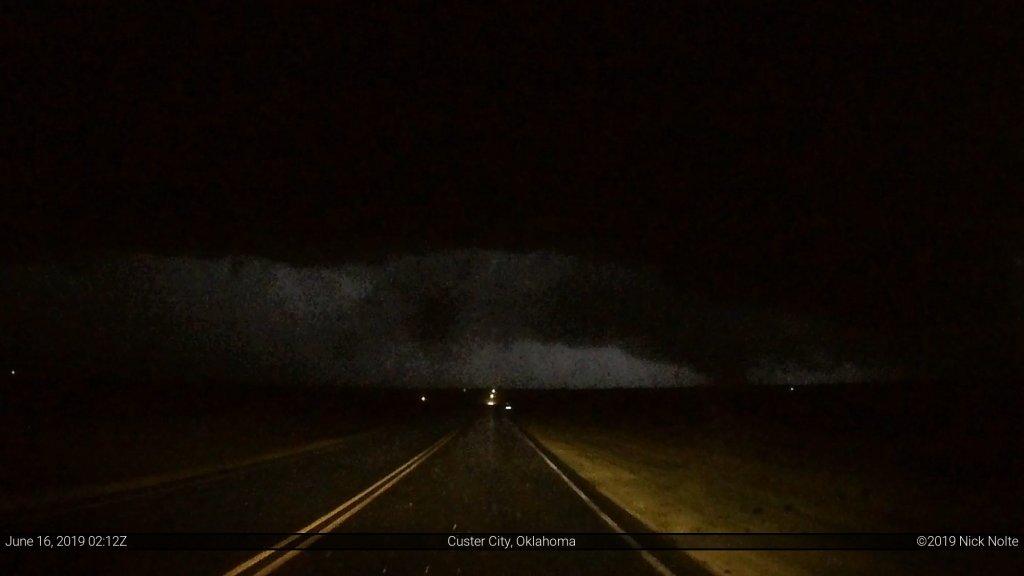 I ended up calling the chase shortly after this as other storms joined in and clustered up everything. It was a rather unique opportunity to get close to a tornadic supercell after dark because it was nearly stationary the whole time after it developed. In any other scenario I probably wouldn't have poked into the notch so closely if it was moving. All in all, a fun chase. I headed back to Wichita as I had planned on forgoing the tornado risk in Central Texas the following day. That was just too far from home for me.
Chase Recap
| START | END | DURATION |
| --- | --- | --- |
| Hays, KS @ 15/1443Z | Wichita, KS @ 16/0600Z | 15 hours, 17 minutes |
| INTERCEPTS | CHASER ENCOUNTERS |
| --- | --- |
| 16/0210Z @ 10 SE Putnam, OK | Brett Wright (10) |
Chase Map