| 3 | 1.25" | 70 | 735 |
| --- | --- | --- | --- |
| TORNADOES | HAIL | WIND | MILES |
May 10th featured a rare 10% tornado risk in Northeast Colorado. When you have strong easterlies pumping moist air into the foothills you chase Colorado. While a trough was digging into the Four Corners, a lee cyclone was forecast to sit in Eastern Colorado with a warm front stretching into Northwest Kansas. This actually presented two decent targets for tornadoes as the Kansas play wasn't something to discount.
However, as I said before, when you get mid to upper 50°F dewpoints into Northeast Colorado with easterly surface flow, that's where you go. I planned to head straight to Bennett which is just east of Denver on the northern side of the Palmer Divide. Usually when there's easterlies in NE Colorado I like to play on the north side of the divide that stretches from Castle Rock to Limon, basically north of Highway 86. Storms will pop in the foothills and eventually roll into the plains where they will run into the juicier air and the magic happens.
This looked like day one of a four day stretch of severe weather with a high likliehood of tornadoes as a stacked low pressure system slowly migrated from Colorado to Iowa. Stacked lows are nice because colder temps directly above the surface low opens the opportunity for low topped supercells and you can play on the north/northeast side of the low where surface helicity is maximized. Typically you'll see scattered storms that get spinning pretty quick, but they can be numerous which makes it hard to target a specific storm, or be on the right one at the right time.
I left Grand Island at 14z and began the trek west. I arrived in Brush around 19z as storms were ongoing in the foothills. A cumulus field was developing along the I-70 corridor between Limon and Denver.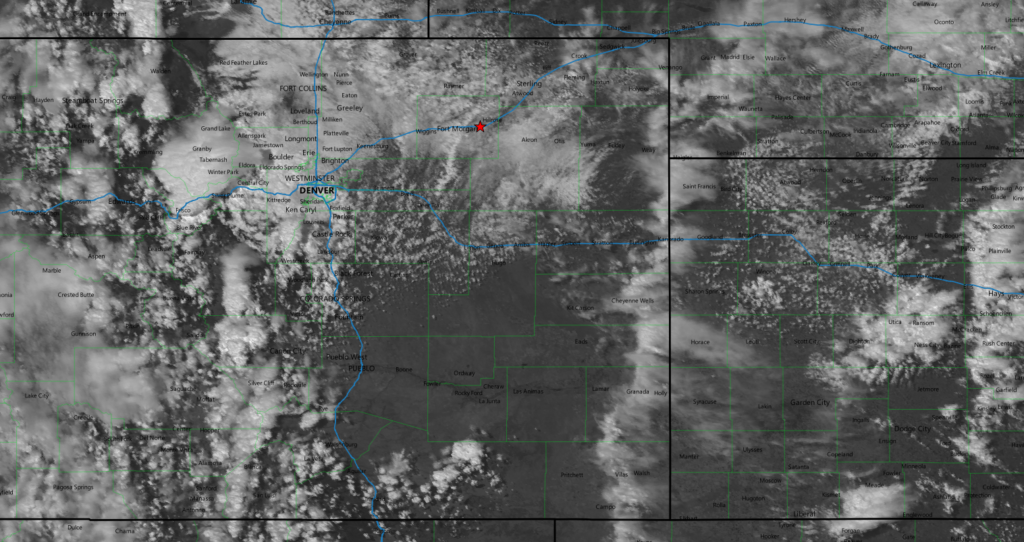 I decided to continue west as typically what happens is you get storms forming right on the I-25 corridor and then those move east into the plains. Based on the satellite it looked like initial storms would form around Castle Rock just north of Colorado Springs. I decided to continue to my original target of Bennett. As I passed through Roggen the mesoscale discussion was issued where a tornado watch was expected along the warm front stretching from Colorado Springs to McCook.
I arrived at my original target right around 20z with a bubbling cumulus field to my west and a more stout cell starting to form between Castle Rock and Colorado Springs. While it probably wouldn't be the storm, it would probably emerge from that field.
At about the same time, the tornado watch was issued for the area and it basically covered 70 miles on either side of the warm front. That whole area was characterized by strong easterly flow and moist air.
Not long after 20z the first tornado warning came in for the day, but it was for a storm still in the foothills. No tornado reports came out of it, but it sort of gave a hint of how the day would unfold. Eventually I drifted south of Bennett towards Ponderosa Park where our first big cell of the day got going and earned a tornado warning.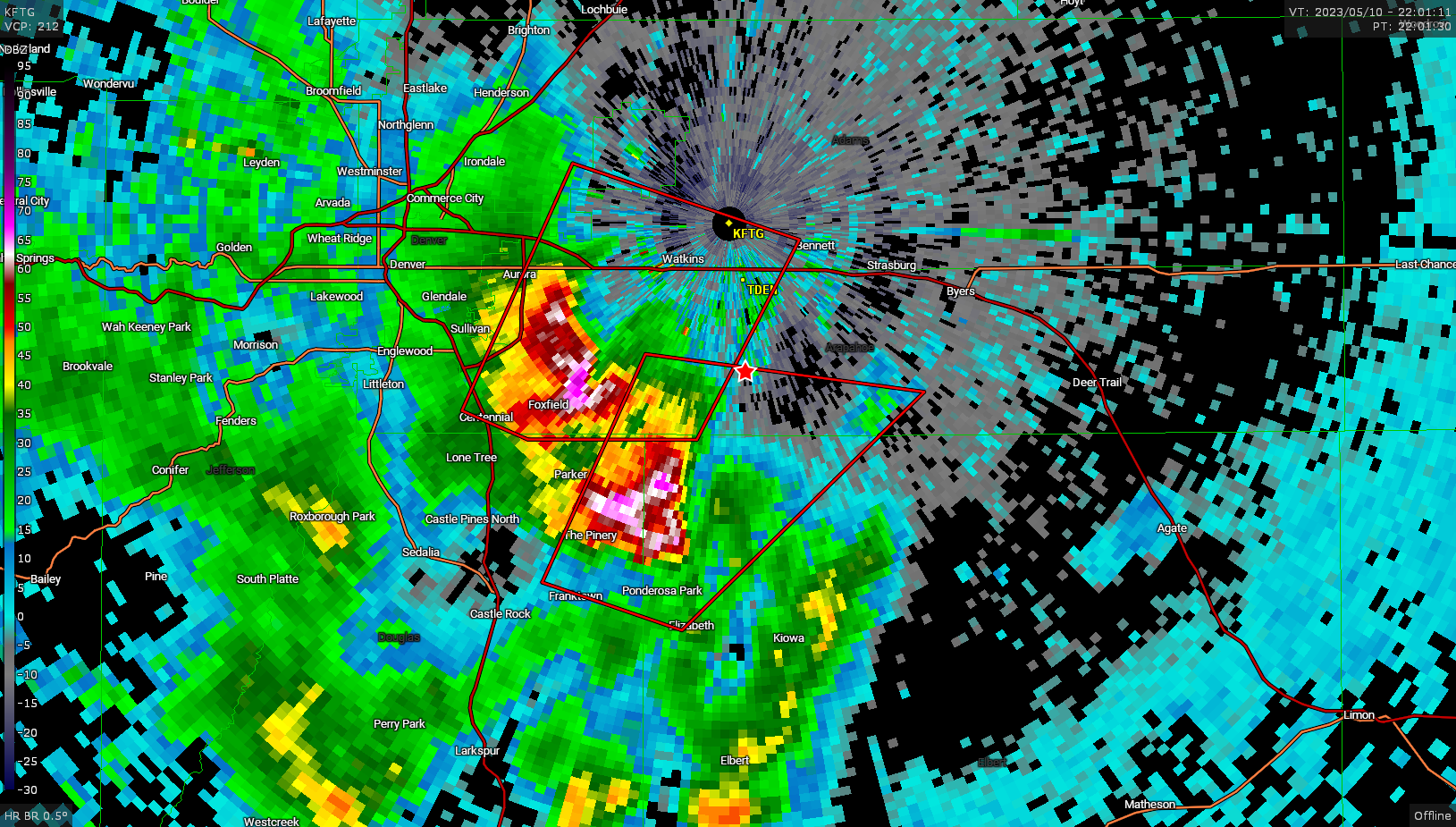 I had found a decent vantage point to watch as the storms approached. The one to the immediate west didn't look as good as the southern one both on radar and with my eyeballs. The southern cell was showing some rotation on the radar and there was a nice wall cloud on it with some rotation visible.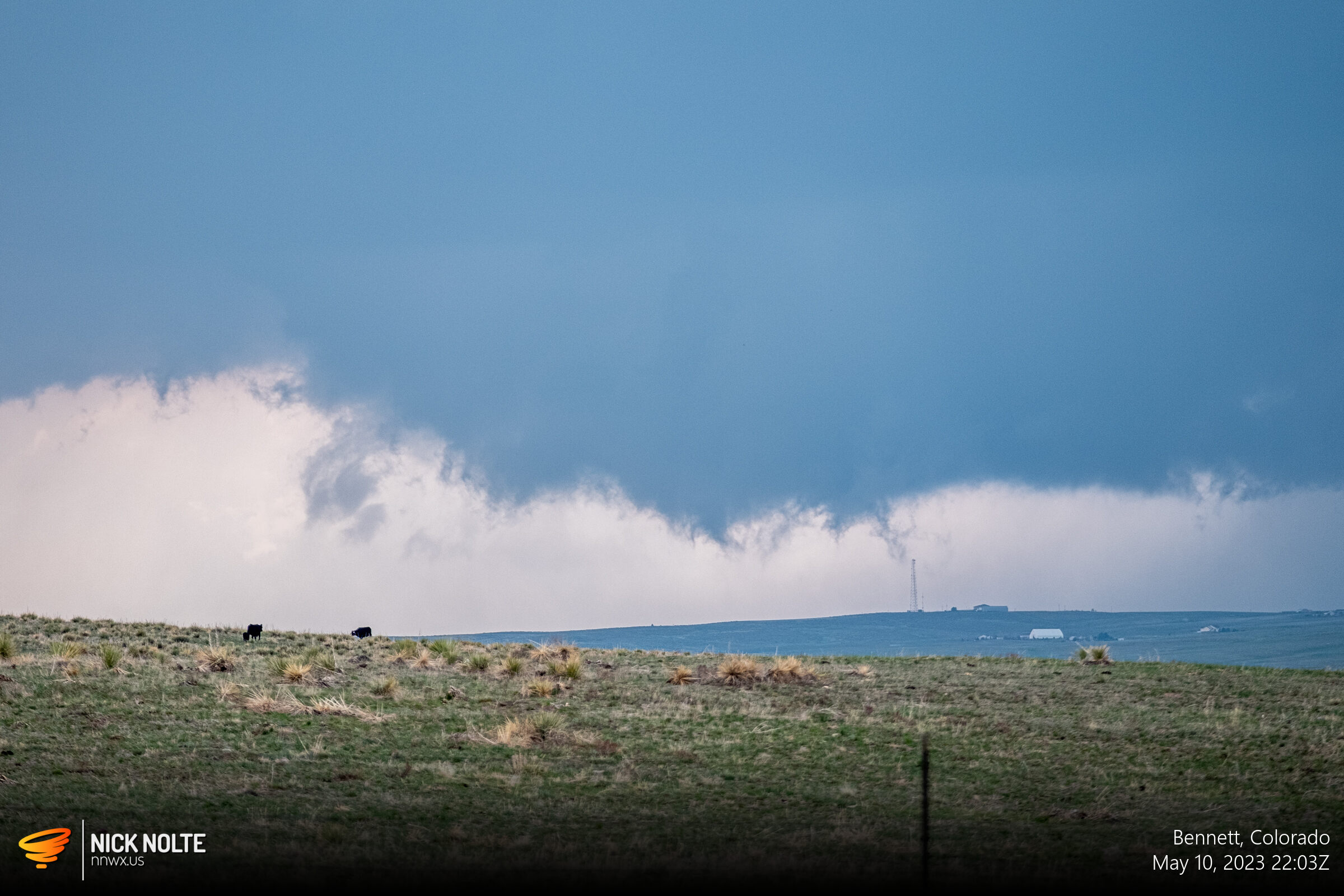 As the storm grew closer, I bailed east and then north to get downstream of the storm again. While I repositioned a band of storms formed along the rear flank and the radar presentation turned into a huge mess.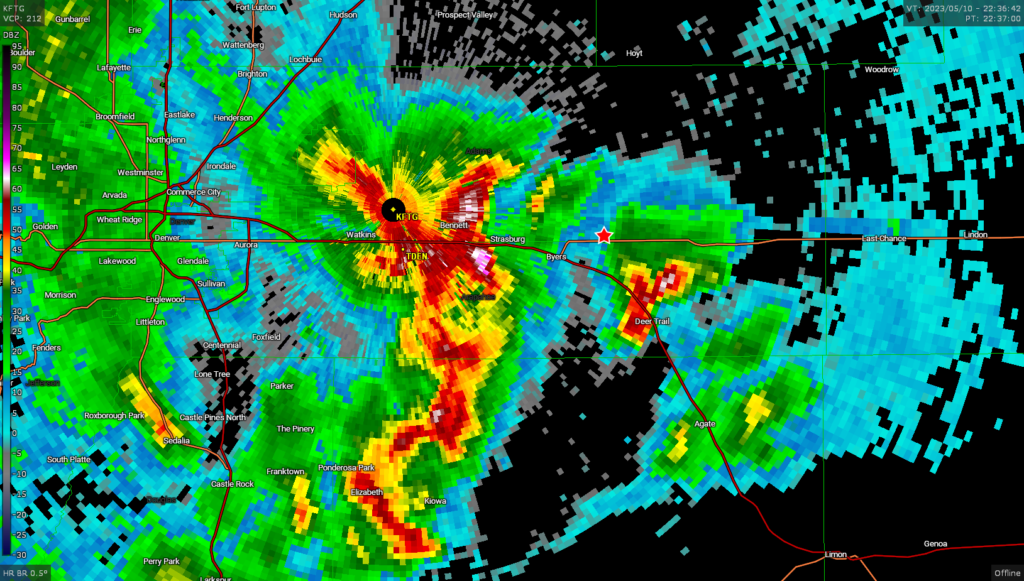 At this point I became more interested in the storm to my immediate southeast that had popped up over Deer Trail. Ooh, a storm out in front, clear of this abstract mess to my west. As it tracked off to the north, it then got overtaken by the stuff from the west, but another storm had developed downstream just south of Brush. I figured this was the game now, keep hopping to the easternmost storm and hope it does something before it gets munched.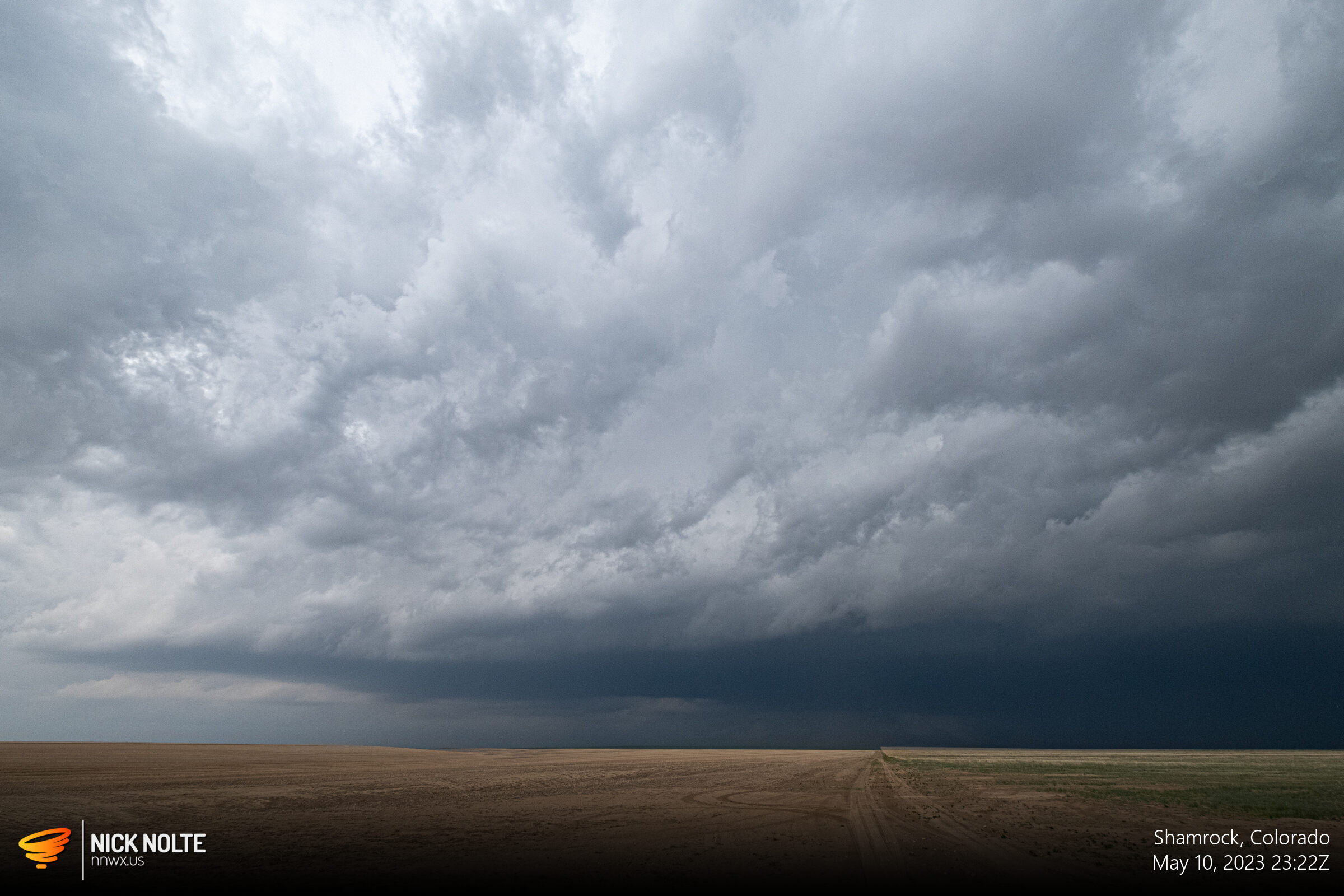 This storm spawned a brief landspout just north of Last Chance, Colorado.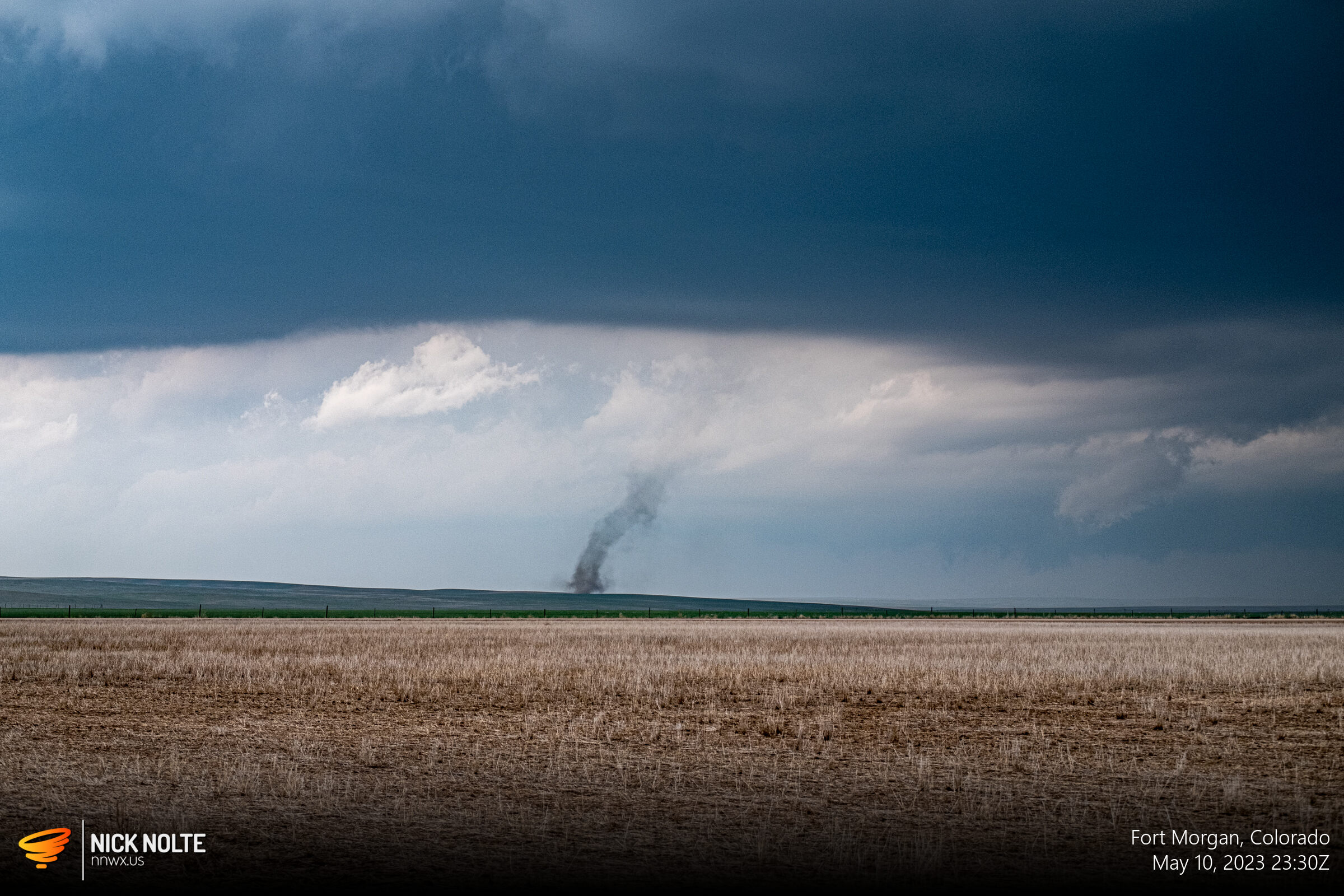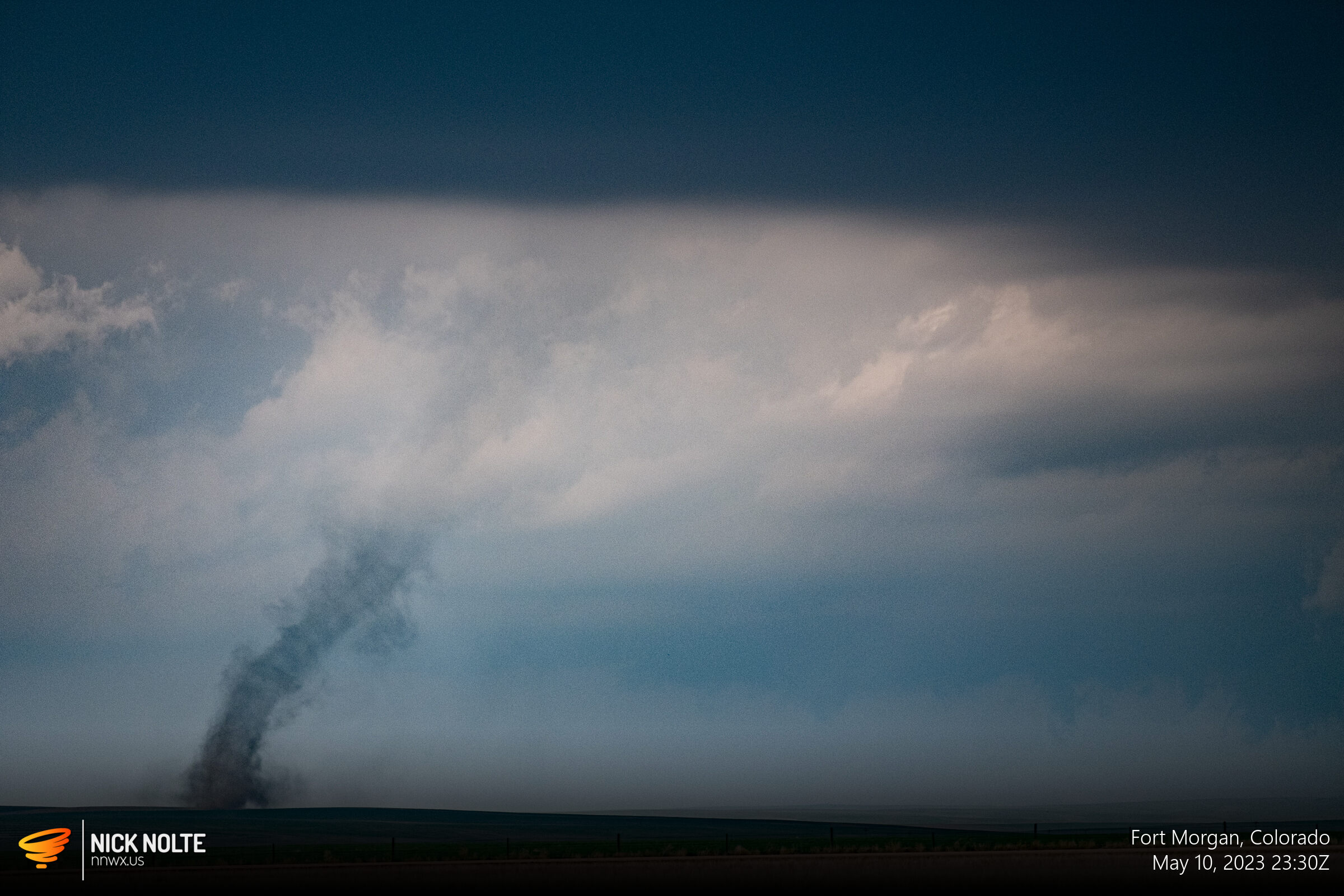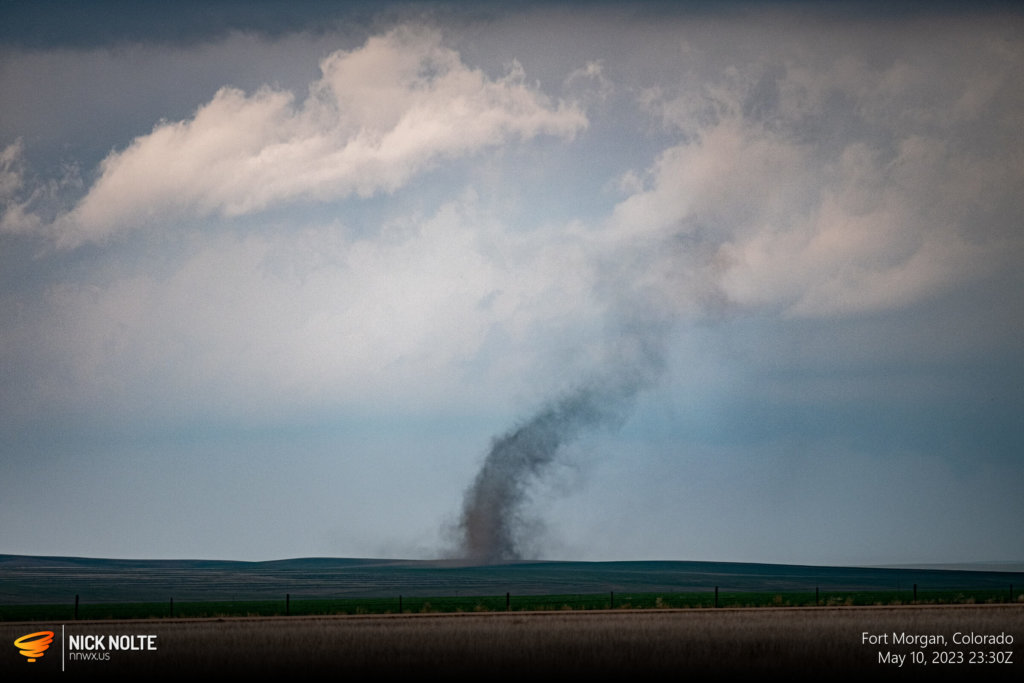 The core of the storm continued to ramp up as it approached Woodrow as reports of 2.5-inch hail were coming in.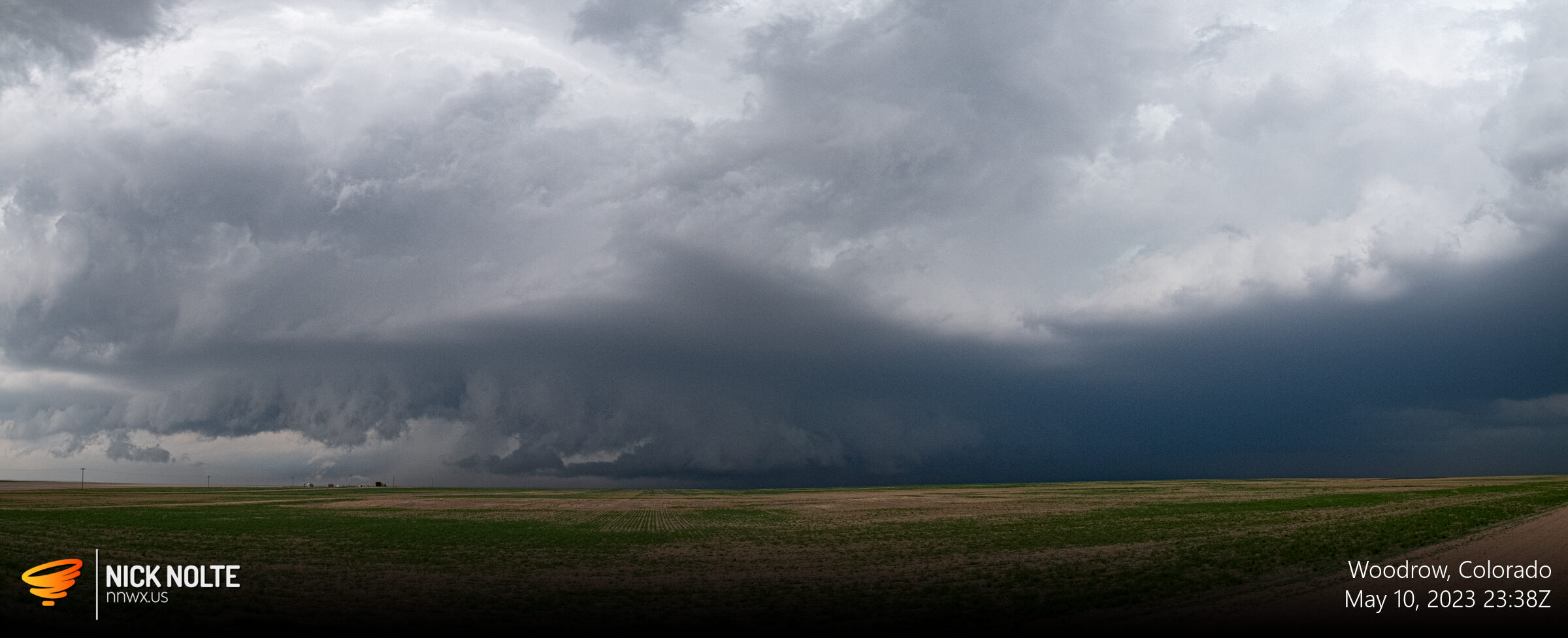 Eventually this storm put down another landspout near Woodrow.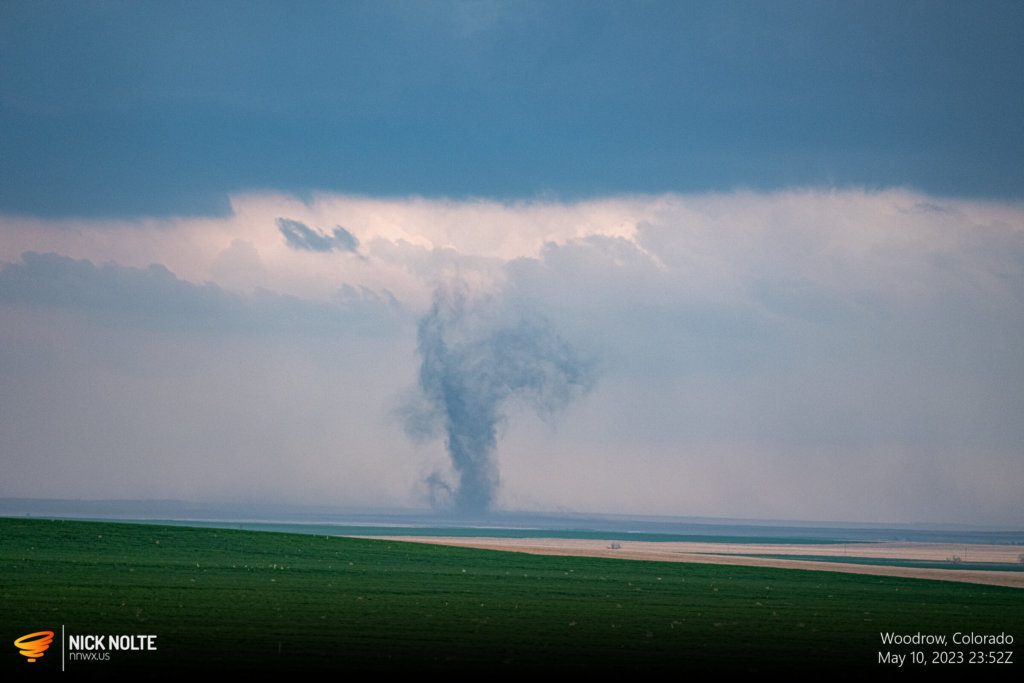 With no other storms worth looking at nearby, I continued to track this storm to the northeast as it moved towards Akron. Just west of town I looked in my side view mirror as it started to drop a new tornado.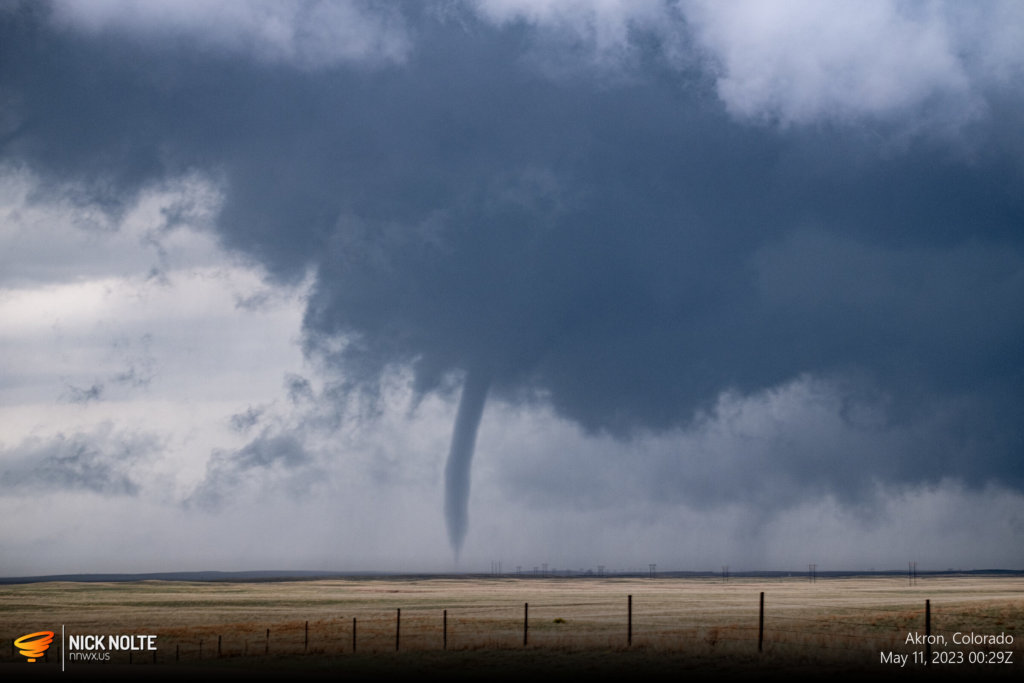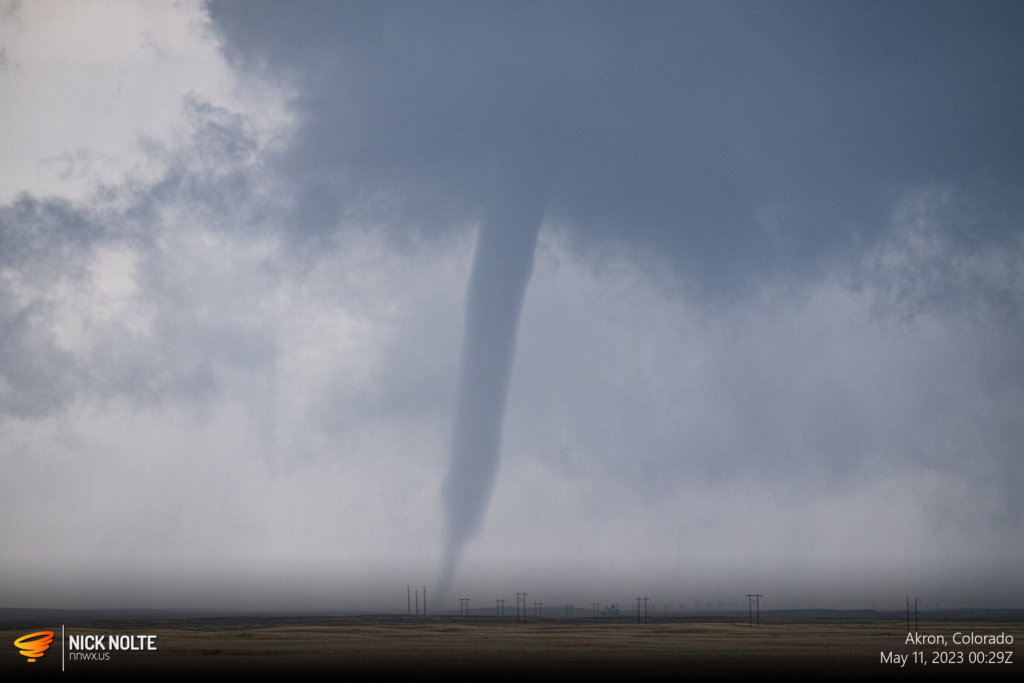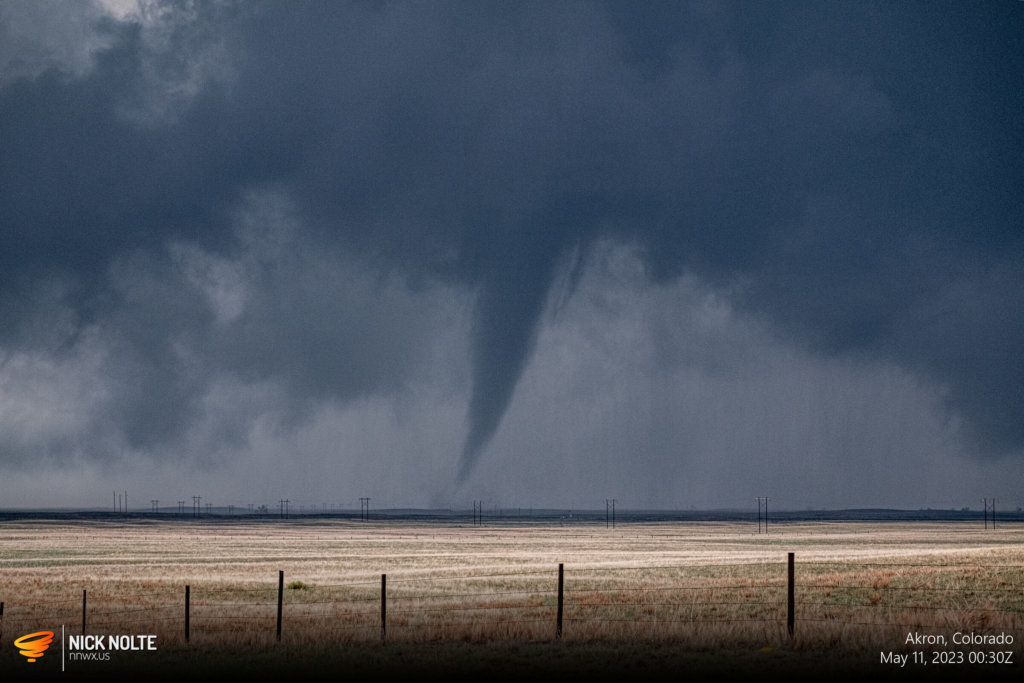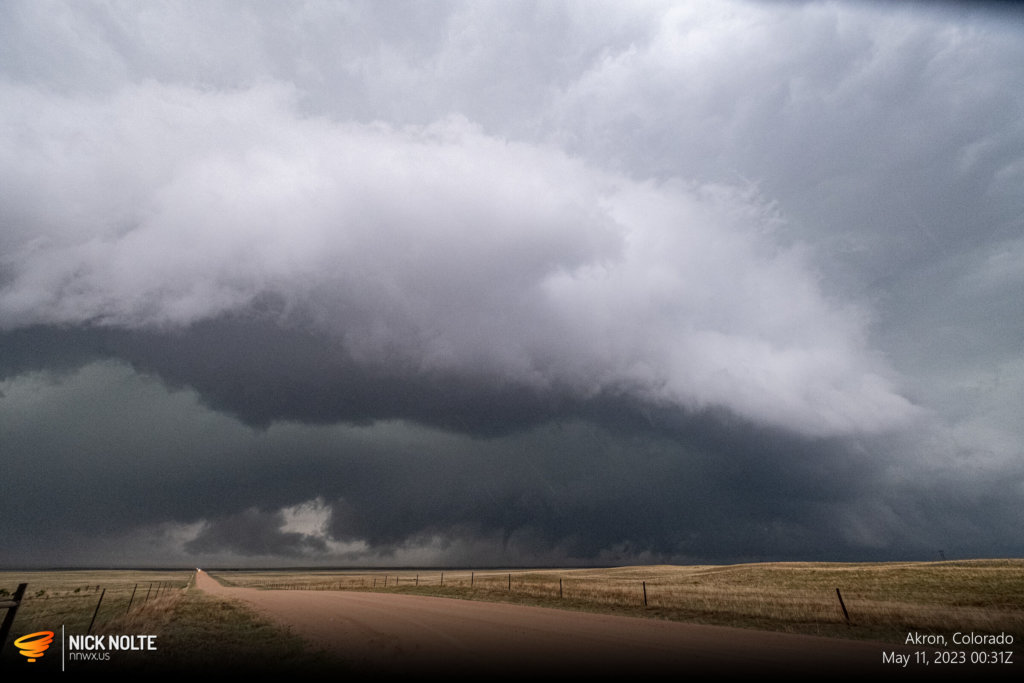 The tornado only lasted for a couple minutes, and was rated EF-1 by the Denver WFO the following day. I gassed up the car in Akron and continued tracking the storm as it continued northeast, but eventually called the chase as it was getting dark and the storms were winding down. I had a hotel in Goodland for the night for the next day of chasing, so I began heading that way.
Chase Recap
| START | END | DURATION |
| --- | --- | --- |
| Grand Island, NE @ 10/1357Z | Goodland, KS @ 11/0323Z | 13 hours, 26 minutes |
INTERCEPTS
CHASER ENCOUNTERS

10/2353Z @ 15 N Last Chance, CO
11/0029Z @ 6 W Akron, CO

10/2330Z @ 15 NW Last Chance, CO
Freddy McKinney (2)
Mike DeLange (1)

Chase Map