| 2 | 1.75" | 60 | 667 |
| --- | --- | --- | --- |
| TORNADOES | HAIL | WIND | MILES |
I had booked May 23 through the 25th off from work as it looked like these might be a few active days in The Plains, but the decision came after work on Friday the 20th whether or not to leave immediately to target Western Kansas or Eastern Colorado on Saturday. Originally, I was not considering chasing Saturday, but the 18z model runs convinced me to head out and I felt comfortable with the decision once the 0z models began to roll in.
One of the big fly in the ointments for the Saturday target was rising or neutral height rises across Kansas with weak mid-level flow, the day would stay capped into the late afternoon and we'd be hoping for an increase in shear once the low level jet kicked in. Otherwise, decent boundary moisture with dewpoints in the low 60s was expected to make it's way into Western Kansas which would foster surface based cape values into the 2,000 J/Kg range. Nevertheless, I thought Saturday looked decent enough to head out a day earlier and get in position. I left home shortly after getting out of work and did my usual drive to Cameron, MO where I arrived shortly after 3am to catch some sleep. During that time the 6z day one outlook came out and had a meager 2% tornado zone in western Kansas. Based on the 0z model runs, I kind of expected them to have at least a 5% area outlined, but they did upgrade it once the 13z update came out.
I left Cameron shortly after 13z as I knew I needed to be in Western Kansas for the show, so no time to waste! My original plan was to head west on I-70 to Oakley and sit and wait. I ended up getting off near Grainfield and heading south from there as there was a cumulus field developing west of the US 83 corridor.
Shortly after 20z, I drove west out of Scott City and found a nice quiet dirt road to hang out and wait for storms to develop. The cumulus continued to percolate but the afternoon cap appeared to still be holding. At the same time, the SPC issued a tornado watch for Western Kansas. Shortly before 22z blips started to show up west of Scott City and the SPC issued a new mesoscale discussion indicating the tornado threat was increasing.
The little storms trying to fire were clearly having trouble with the cap and were struggling for quite a bit. After an hour or so a storm finally got going west of Leoti.
As the storm drifted northeast it went severe warned west of Leoti and was exhibiting broad low level rotation very early in its life cycle and eventually went tornado warned around 2340z. I was parked on a dirt road three miles east of Kansas Highway 25 watching as the storm started to really get it's act together and the low level structure became really nicely defined eventually dropping a tornado.
After watching the storm drop a couple of tornadoes, I tracked along with it as it put on quite a structure show.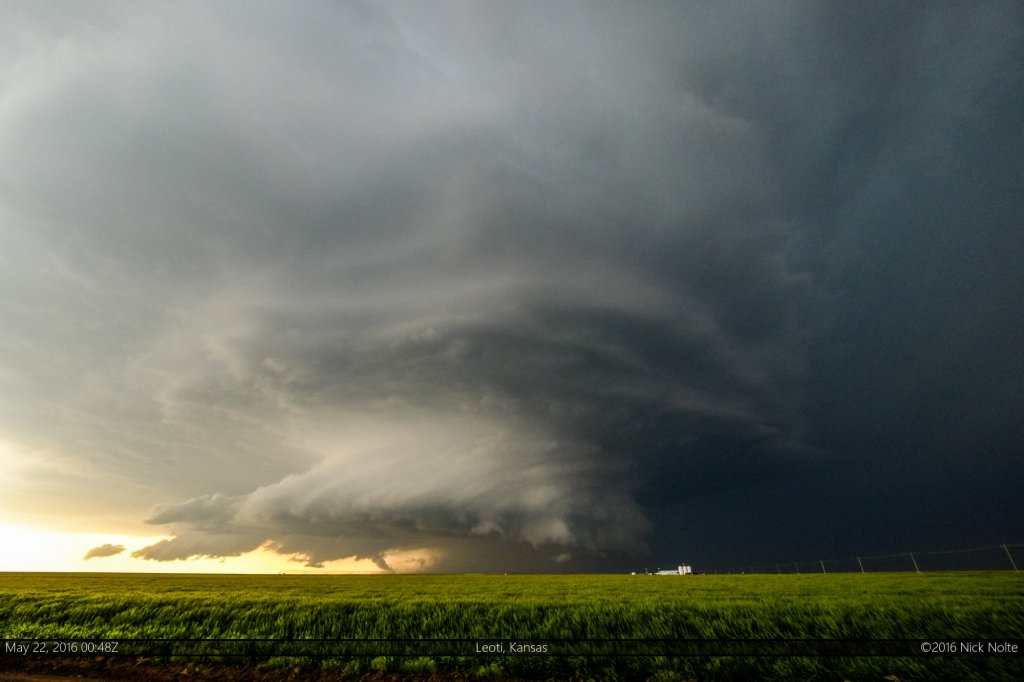 As the sunset on the day, the storm continued to put on an amazing show with a beautiful mammatus display
and then followed it up with some crazy nighttime structure and lightning.
As the night wore on, I made my way to Dodge City for the night to prepare for what was supposed to be my first chase day of my mini vacation, but now I get to start with two tornadoes on the board already!
Chase Recap
| START | END | DURATION |
| --- | --- | --- |
| Cameron, MO @ 21/1345Z | Dodge City, KS @ 22/0439Z | 14 hours, 54 minutes |
| INTERCEPTS | CHASER ENCOUNTERS |
| --- | --- |
| 22/0008Z @ 8 N Leoti, KS | None |
Chase Map