| 0 | 0.00" | 0 | 376 |
| --- | --- | --- | --- |
| TORNADOES | HAIL | WIND | MILES |
Another one of those marginal setup days. A dryline draped across Nebraska, Kansas, Oklahoma into Texas was supposed to become a bit more defined during the day and push eastward providing potential focus for isolated thunderstorm development. The question mark was how long storms would live once they pushed off the dryline, as the warm sector was pretty well capped. That would be a question we would see answered in spectacular fashion.
Around 17z, I departed Kearney to head towards Beatrice where surface obs were showing 81/72 which was a pretty good reading for the day.
As I arrived in town I met up with Evan Bookbinder, Connor McCrorey and Brandon Sullivan who were meeting up with an Australian film crew for the day. We were later joined by Scott Bennett as he tracked us down while we threw a frisbee around in a park in Beatrice.
Scott, Evan and Connor try to will the cumulus to build. Eventually, we felt that south would be worth a play so we drove down to Wymore, then Odell and Steele City before we saw a cumulus field trying to go up west of Lincoln. So, we hopped on 77 and bolted north.
As we approached Lincoln, we finally got a view of a beautiful looking supercell with a very defined wall cloud.
We attempted to drive north beyond the airport to get a clear view of the storm, and once we got there the updraft had been choked off and the anvil orphaned.
And with that, the day was over and it was time to figure out where to go eat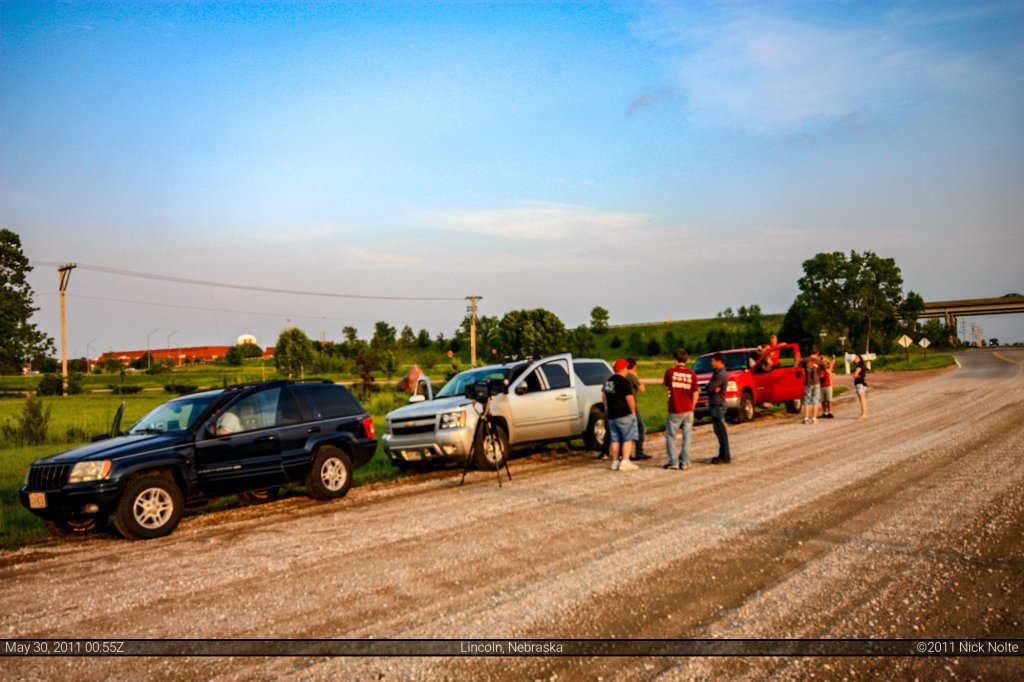 Chase Recap
| START | END | DURATION |
| --- | --- | --- |
| Kearney, NE @ 29/1627Z | Grand Island, NE @ 30/0426Z | 11 hours, 59 minutes |
Chase Map