| 0 | 0.00" | 0 | 755 |
| --- | --- | --- | --- |
| TORNADOES | HAIL | WIND | MILES |
This would be my first attempt at chasing upslope in Colorado. Admittedly, my knowledge in this area is very lacking. While I'd read up on things like the Denver Convergence and Vorticity Zone, what I knew beyond that, as far as Colorado orographics goes, was limited at best. The previous day, sweating my ass off in Southwestern Oklahoma, I noticed forecast models showing southeasterly surface winds in Colorado and figured, hey this might be a good opportunity to go after that 2% colorado tornado threat.
Sure enough, the next day with the 12z SPC outlook, there it was, a 2% ring in east central Colorado. Well, the issue was they also outlined a 5% oval over Missouri and Illinois. So, the question was, which one to go after?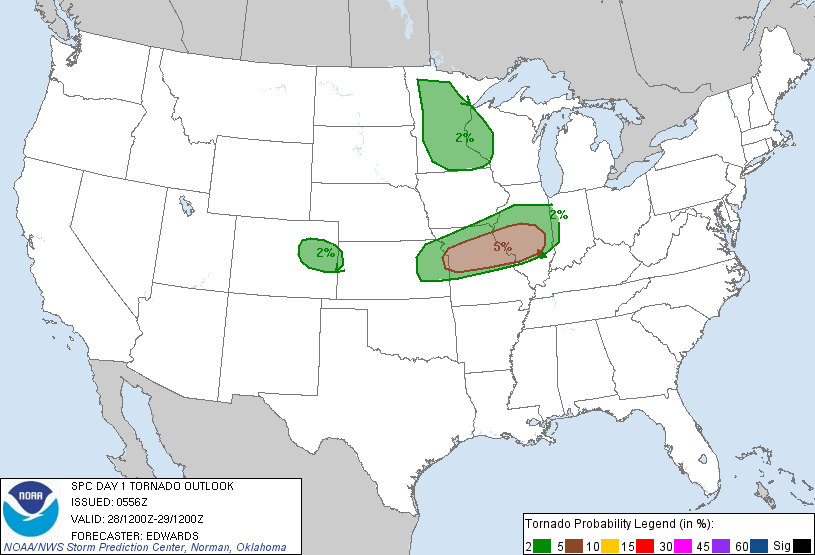 Given the forecast models, as well as SPCs own wording, that area in Missouri/Illinois was looking primarily like a hail and wind event as well as a short window of discrete cells before growing upscale into an MCS. Plus, I was already in western Kansas not far from Colorado, so I decided (with images of Campo, CO dancing in my mind) to go for the Colorado play.
I arrived in Limon around 19z and sat, watching the satellite. There appeared to be towering Cu right at the edge of the foothills, but they were not advancing eastward. After hearing some chatter regarding this, apparently you watch for one of these to start really towering and it'll eventually roll into the valley. The parameters were primed if one of them could get going.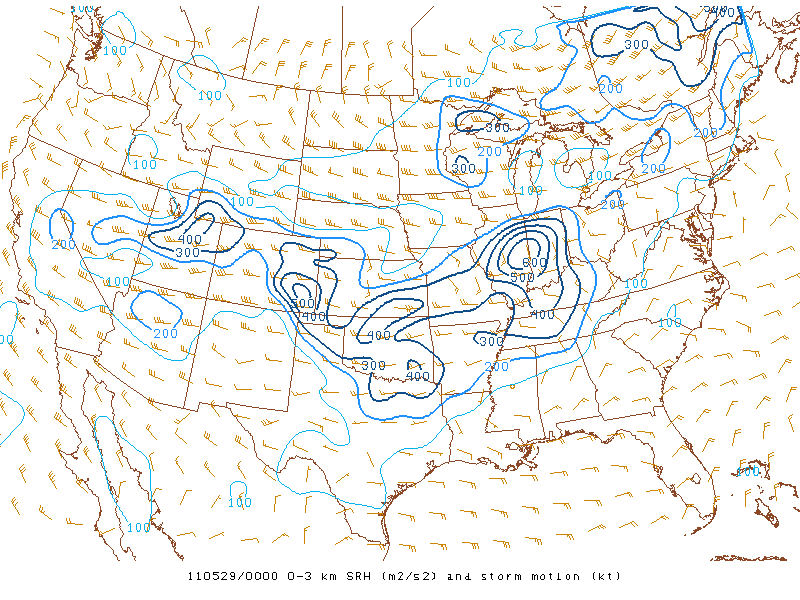 SRH was in the 400-500 range throughout eastern Colorado, it was just a matter of getting a storm up and it'd start spinning, right? Anyway, I left Limon around 20Z and headed towards Deer Trail, and then Bennett at 22Z. Each stop, watching the satellite for clues something was about to explode. I then went south to Kiowa as the cumulus west of there looked most vigorous of them all. I waited there until 2330z when I called it a day as nothing was taking off. I began the trek back to Limon, then north to I-80 to get to Kearney for tomorrow.
I had gotten just northeast of Sterling when John Allen messaged me on Facebook to let me know storms had finally fired SW of Limon. At that point, I was an hour or two away and darkness was approaching, so I chalked it up as a lesson learned to not give up on Colorado before dark. While unknown to me at the time, the storms that did fire only produced two hail reports so I did not miss any epic Colorado tornado action, but I did learn the one lesson, so it was a good day.
Chase Recap
| START | END | DURATION |
| --- | --- | --- |
| Dodge City, KS @ 28/1414Z | Kearney, NE @ 29/0458Z | 14 hours, 44 minutes |
| INTERCEPTS | CHASER ENCOUNTERS |
| --- | --- |
| None | None |
Chase Map