| 0 | 1.00" | 60 | 715 |
| --- | --- | --- | --- |
| TORNADOES | HAIL | WIND | MILES |
I spent the night in Guymon planning to chase southeast Wyoming again the following day. While a front pushed southward into North Texas, upslope flow was expected to continue pushing moisture up against the Rockies, especially along the Raton Mesa and points north.
Storms had been going on throughout eastern Colorado all morning and persistent cloud cover was a concern as the afternoon approached. Without clearing it would be difficult to get organized storms. With a low pressure expected to develop somewhere along the NM/CO border, it appeared La Junta would be a decent staging area.
I left Guymon around 15z in no real rush to get to La Junta. Given the satellite imagery it appeared the game was going to be to find areas of differential heating and hope storms would be able to take advantage of the increased insolation in those areas.
I arrived in La Junta around 19z. There were still scattered storms to my southeast as new development was occurring along the I-25 corridor. The mesoscale discussion issued an hour earlier wasn't too inspiring and was also highlighting the lackluster thermodynamic environment. A couple of tiny cells started to develop to my southwest so I decided to go check them out and headed out of La Junta on highway 10.
Back to the north near Cañon City, a warned cell was dropping copious amounts of rain along with some 2″ hail and as time went on that storm started to develop into a complex line with the north edge becoming tornado warned. I opted not to go after that as it was still near I-25. Instead a new cell started to develop to my north so I diverted towards that storm.
I tracked along with this cell for a little bit and it didn't do much, but it didn't appear that anything else was either.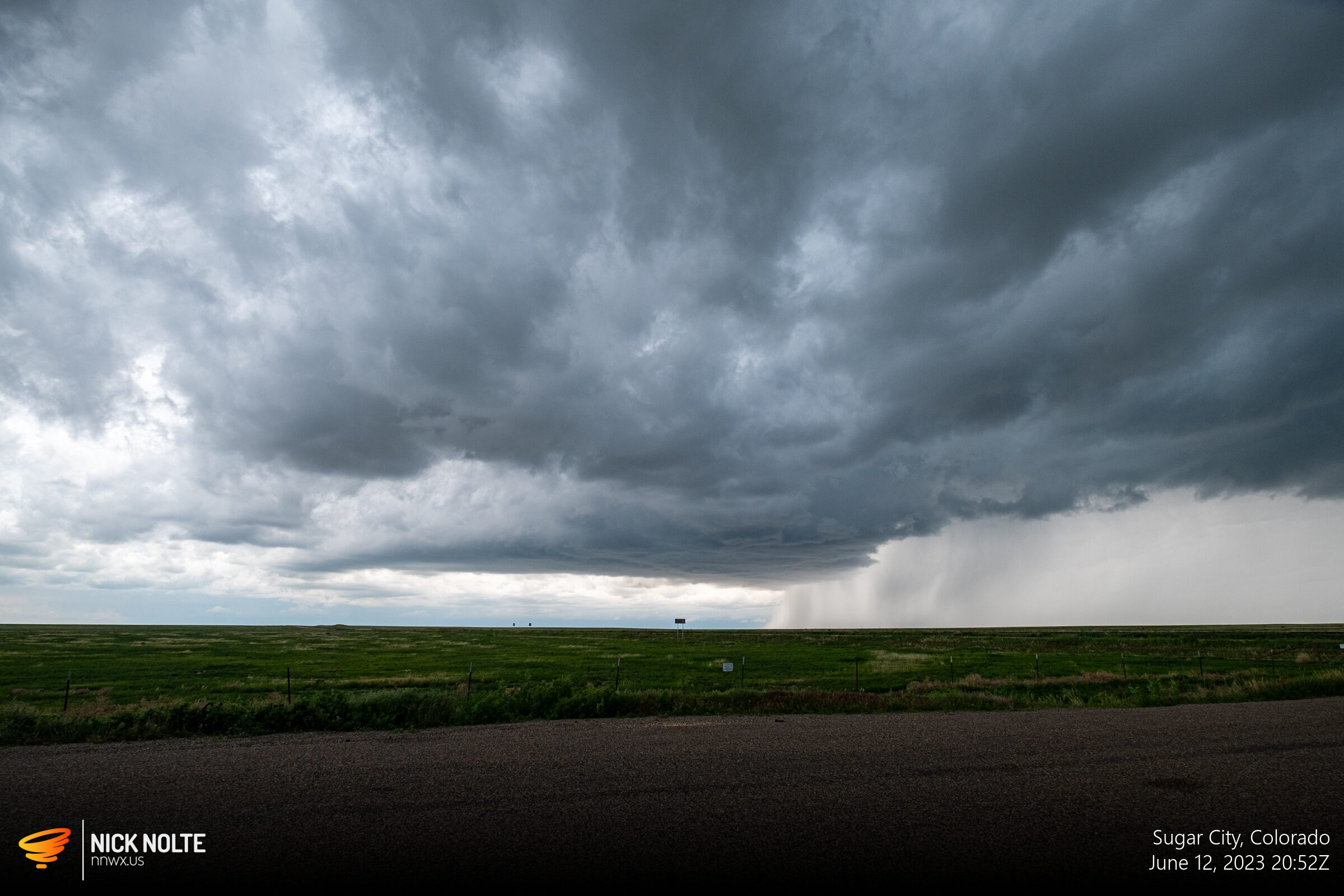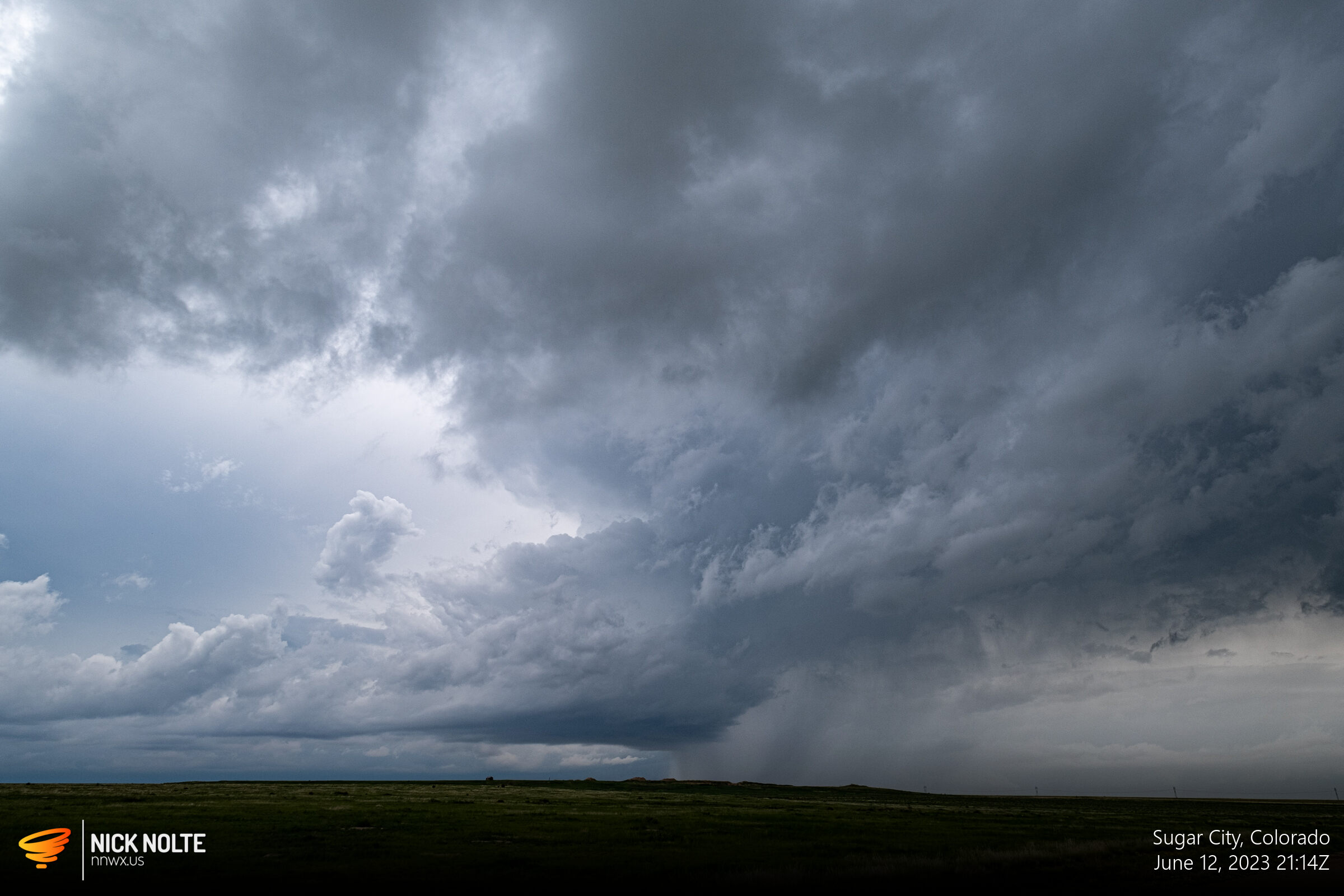 At this point, the storms around I-25 had formed into a bowing line that didn't even look that impressive and it was on course to overtake the little cells I was hanging around. In the photo above you can see the dark band in the background just above the horizon, that's the shelf from the line.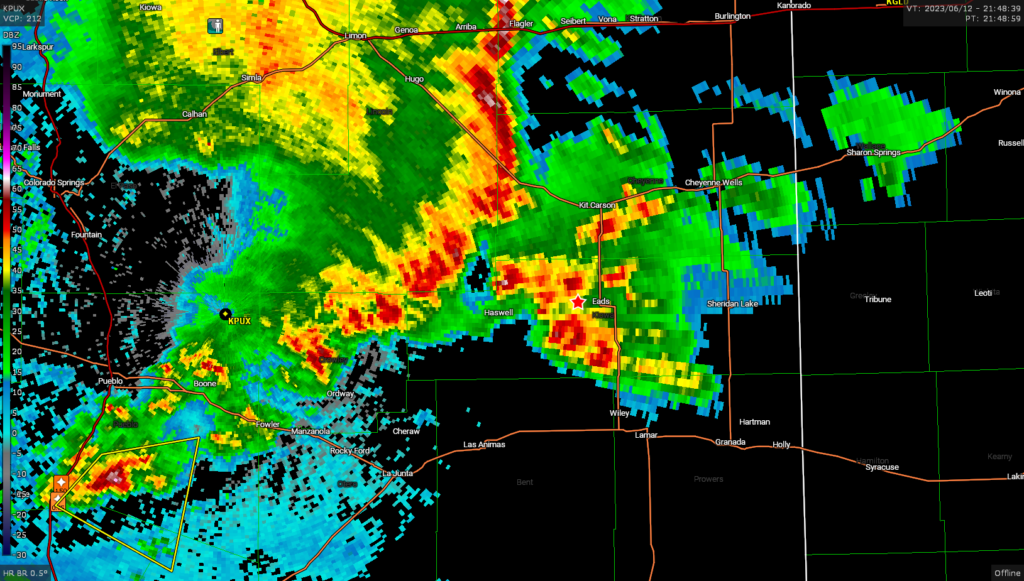 This was about when I decided to call the chase and begin the trek back to Grand Island. The incoming line didn't even look like a decent shelf, so I'd consider this day a bust overall. The SPC storm reports would agree with me, I think 🙂
Chase Recap
| START | END | DURATION |
| --- | --- | --- |
| Guymon, OK @ 12/1506Z | Grand Island, NE @ 13/0403Z | 12 hours, 57 minutes |
| INTERCEPTS | CHASER ENCOUNTERS |
| --- | --- |
| None | None |
Chase Map