| 0 | 1.50" | 60 | 547 |
| --- | --- | --- | --- |
| TORNADOES | HAIL | WIND | MILES |
After the tornado in Selden on the 24th, I went home to get my phone replace since it bricked itself while I was out. Luckily I was able to put my SIM card in my iPad so I could still get data otherwise that chase would have been interesting. So I spent the 25th home taking care of that and came back out on the 26th for two final days. This day we were expecting a warm front to stretch across northern Kansas and early thunderstorm development was pretty likely.
The forecast was for discrete supercells to develop in the High Plains in Eastern Colorado and Western Kansas along the dryline. SPC had specific wording in their outlook for long-track supercells and had a 15% hatched outlook for tornadoes in Northwest Kansas.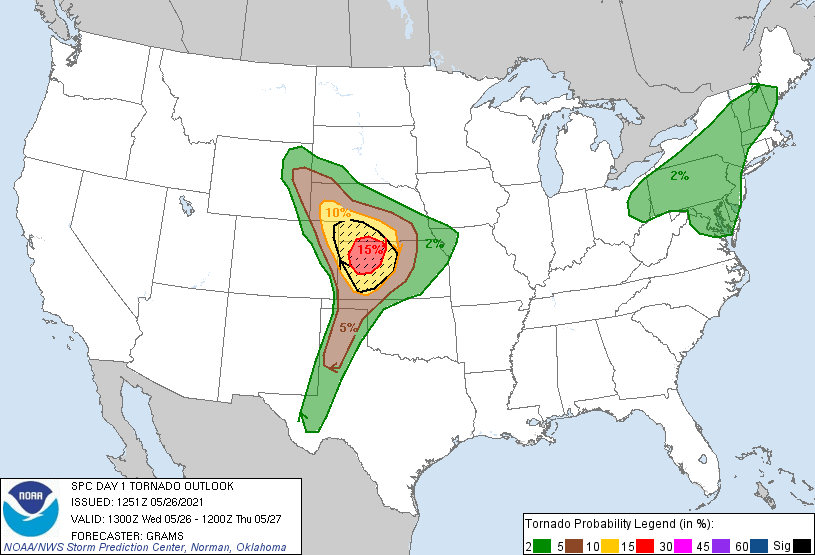 I left Grand Island around 15z and passed an elevated hailer north of Colby as I arrived in Oakley shortly after 19z. The warm front was still south of I-70 at this point and now I was just waiting. I stumbled onto Skip Talbot, Jenn Brindley, Anton and Tracie Seimon and Hank Schyma on a random dirt road a couple miles southeast of town. We hadn't seen each other since before the pandemic so it was good to get caught up.
A mesoscale discussion was issued around this time and while it foretold of a tornado watch it also indicated that storm initiation was still some time off. Even still a cumulus field was developing south of the warm front and the atmosphere was very unstable so if a storm was able to pop it would go up really quick.
While we sat around waiting a debate raged on whether or not we should have gone east as cells started to go up near Hays. Hindsight says we probably should of but things still looked good where we were for later initiation. I continued to hang onto hope we'd get a storm in our target area despite the train of tornado warnings occurring about 90 minutes to our east.
As the cumulus field to our south started to bubble, we took off towards Scott City. Eventually around 22z a cell started to blow up over Leoti and it appeared our target area was about to get going.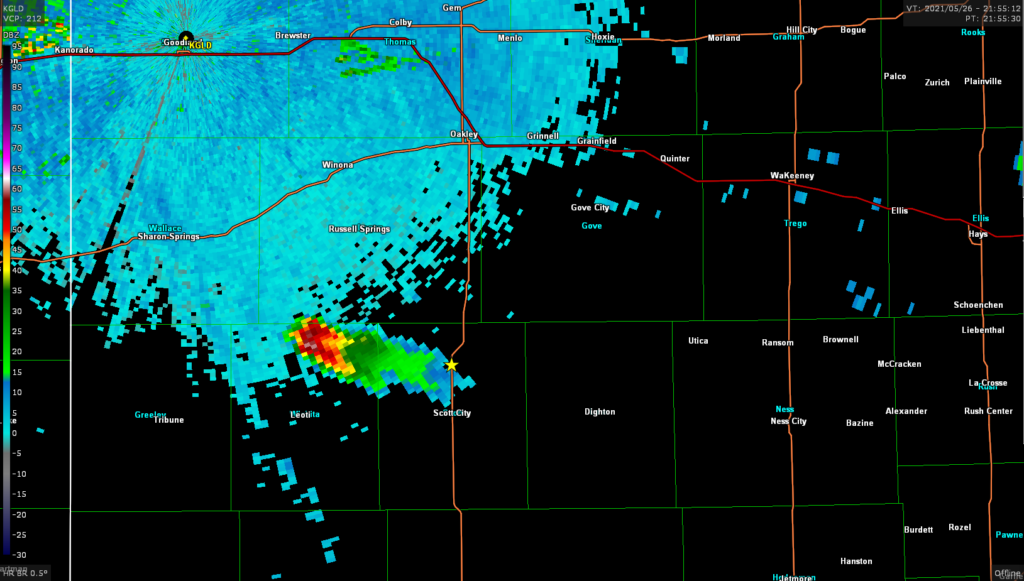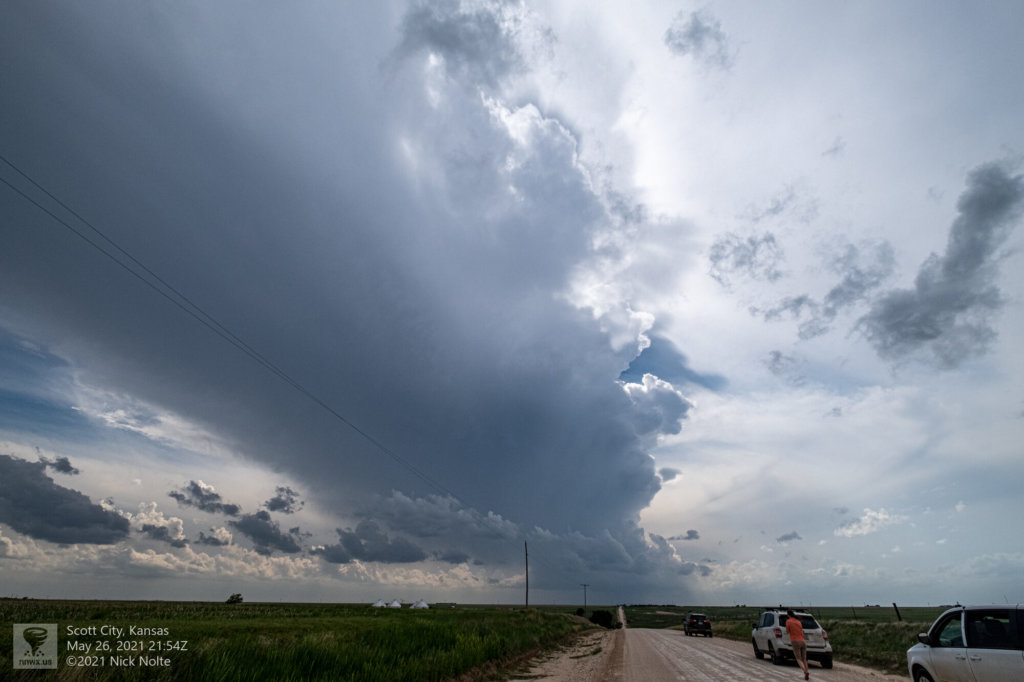 This cell struggled to do much and it was starting to become clear this area might not get it done. We continued to track it north as it split a couple times and while much to our dismay tornado warnings were now being issued for cells well to our north between Benkelman and McCook in Southern Nebraska. Turns out we were missing out on a pretty good show. I decided to bail north and try to get to the storms that were currently warned. They weren't moving too quick so hopefully I could get there.
I pulled up behind one of the cells south of McCook just before 0z and it looked pretty good. No tornado currently in progress, but definitely in a state where it could do it again.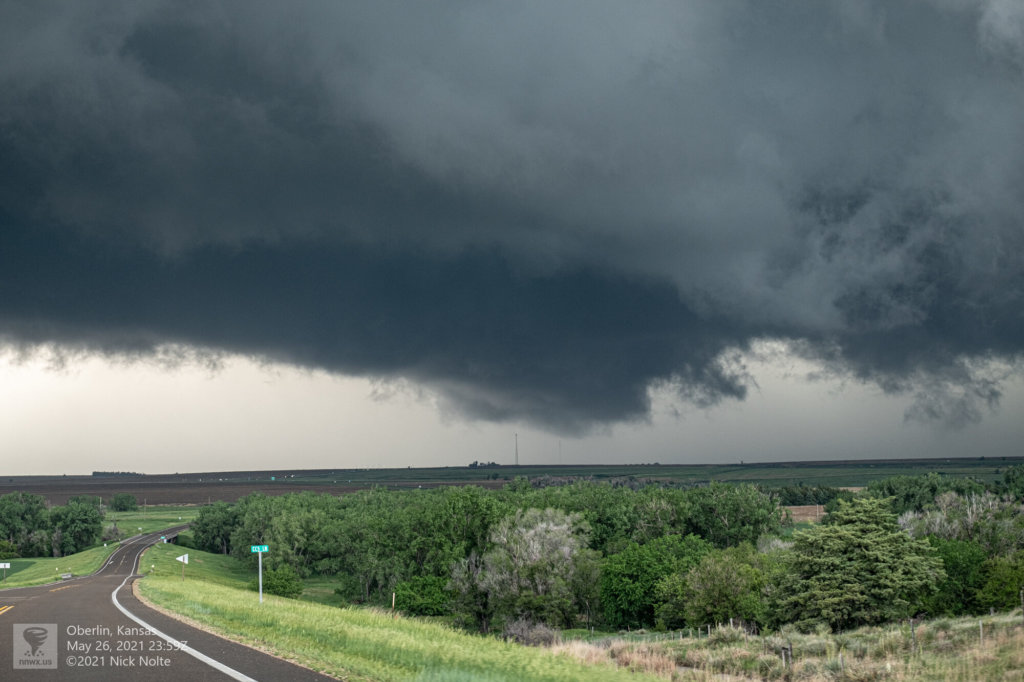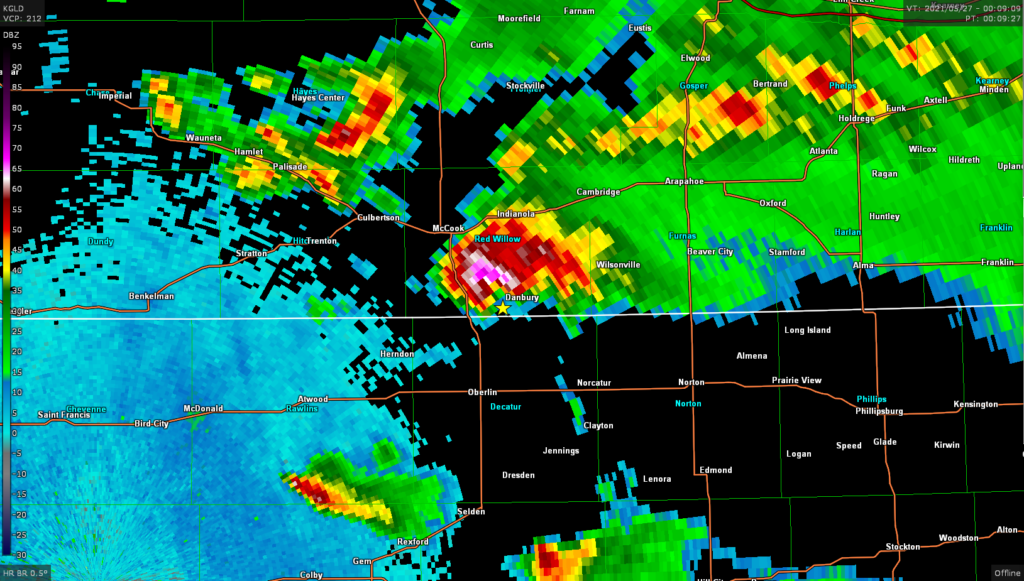 At this point the forward flank of the storm was very high precip and the inflow tail into the wall cloud was just over the treetops it seemed.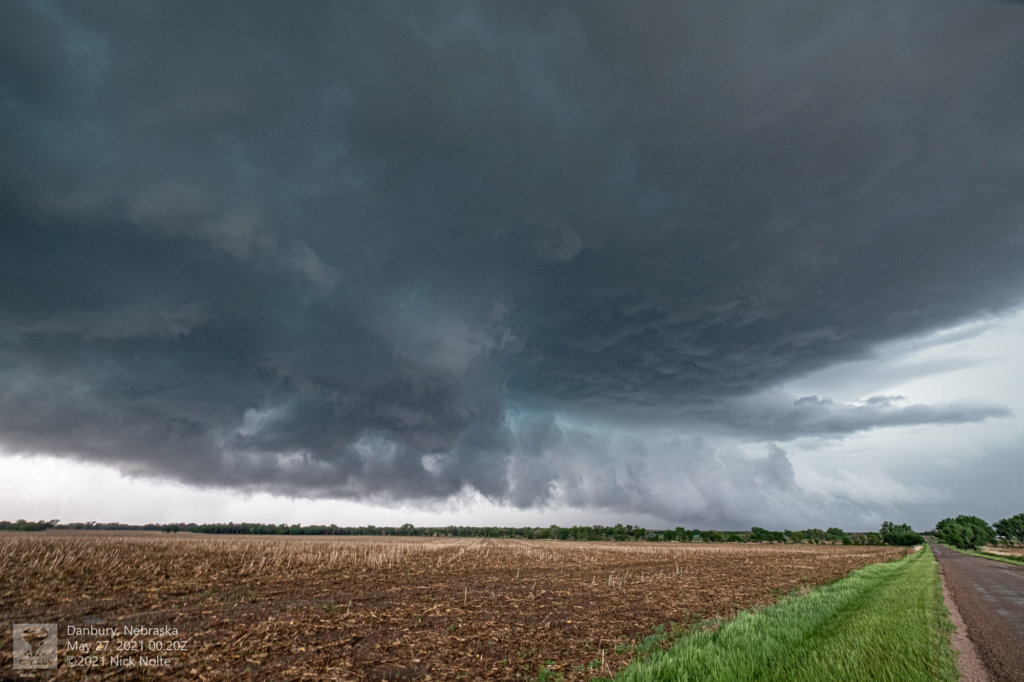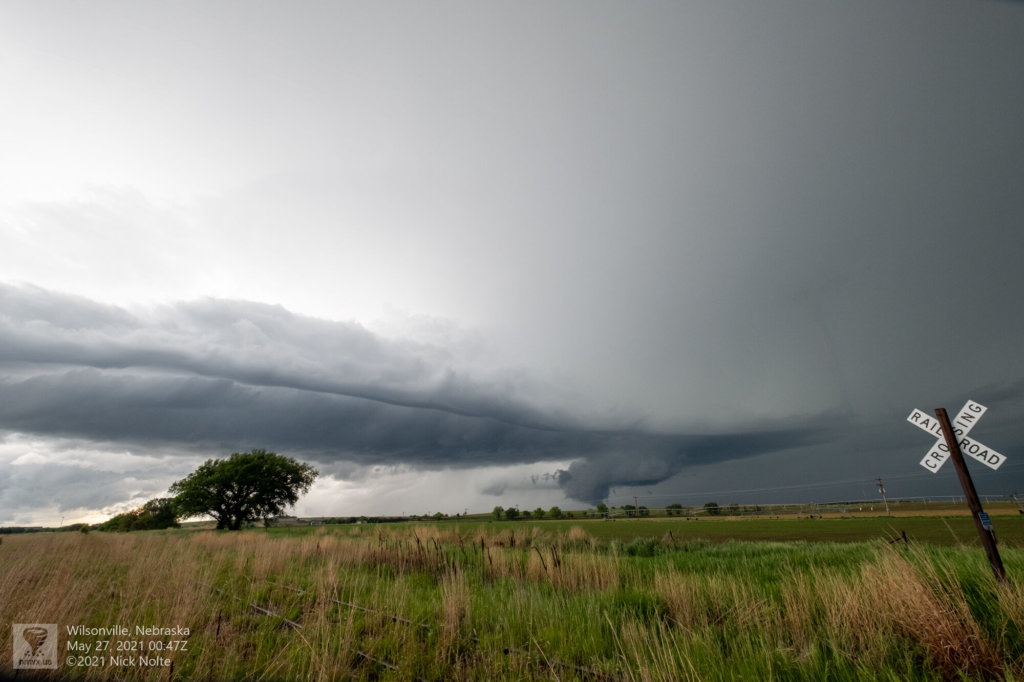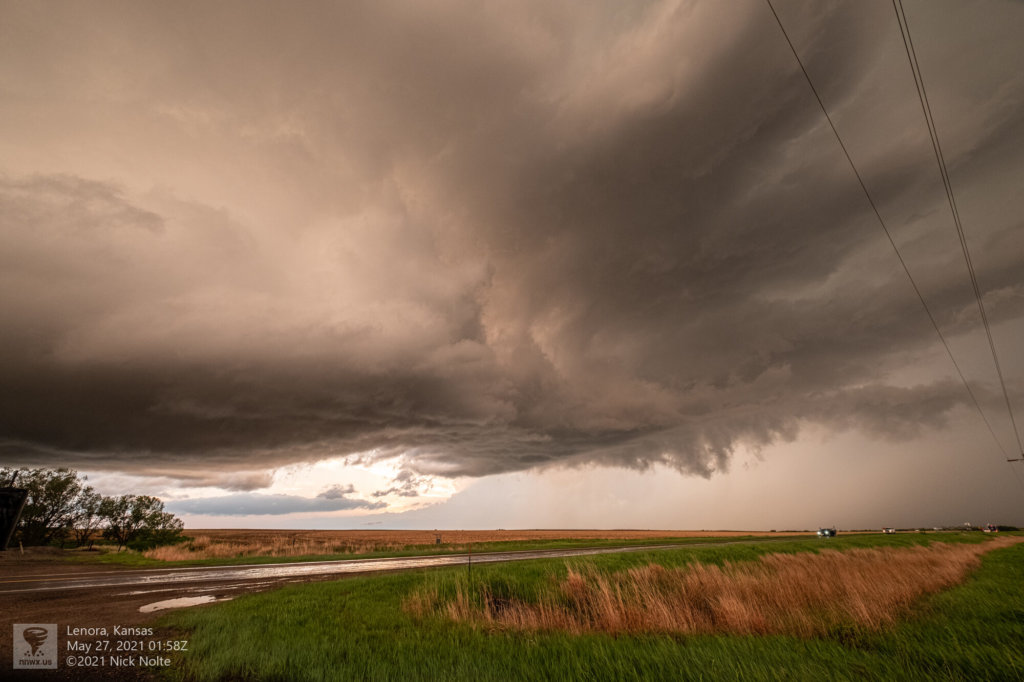 Unfortunately by this time the storms had grown into a complex mess and the chances for a tornado were pretty much gone as the sun set. I debated heading home and calling the chase vacation but decided to spend the night in Russell and make a decision in the morning.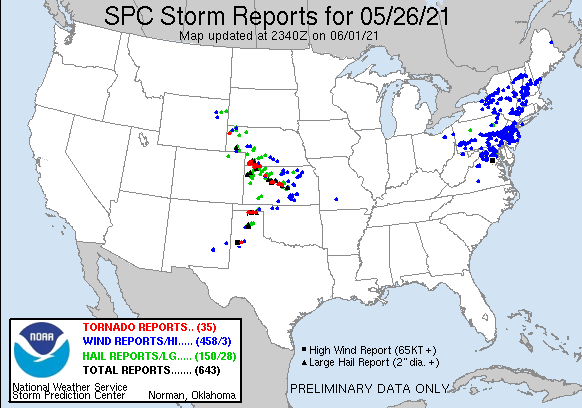 Chase Recap
| START | END | DURATION |
| --- | --- | --- |
| Grand Island, NE @ 26/1515Z | Russell, KS @ 27/0336Z | 12 hours, 21 minutes |
Chase Map