| 0 | 1.75" | 60 | 317 |
| --- | --- | --- | --- |
| TORNADOES | HAIL | WIND | MILES |
June 30th presented a marginal opportunity for severe weather across the Eastern Dakotas and stretching down into Central Nebraska, while tornado risk was low it looked like a decent opportunity for some supercells. While a negative tilted trough was moving out of the intermountain west a cold front was forecast to move across the target area triggering storms with supercells initially possible then transitioning to a linear event quickly.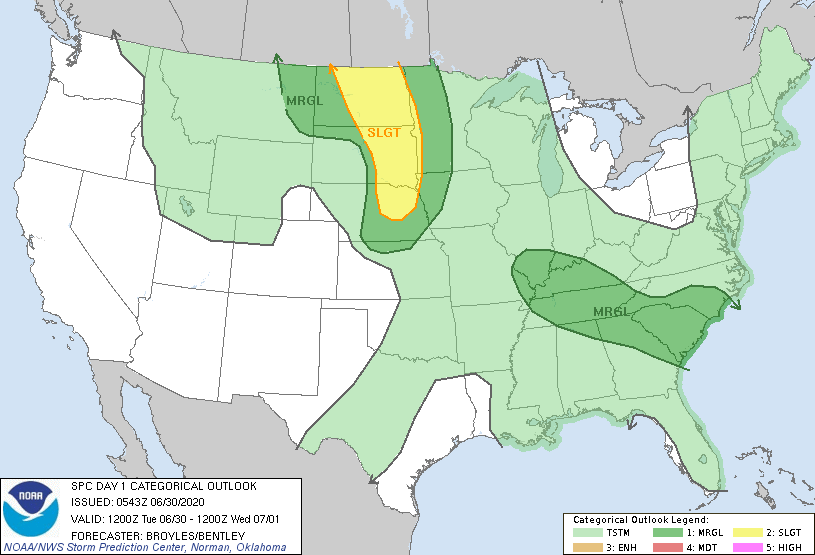 I was originally targeting the Broken Bow/Ansley/Loup City area for late day initiation. I arrived in Broken Bow shortly before 21z with a robust cumulus field occupying most of North Central Nebraska. While the SPC mesoanalysis was showing 5,000 J/kg of MLCAPE it appeared the cap was holding and they verified as much in the mesoscale discussion issued just before 23z.
There was a clear arc of towering cumulus on visible satellite where storms were trying to go up, so I just did my best to keep those within driving distance and kept watching for the most robust updraft. Eventually a strong cell started to go up southwest of O'Neill a bit further up the line than I was expecting, but I hung tight waiting for one of the southern towers to develop.
Eventually around 1z a cell began to develop near Lexington, about 40 miles to my southwest so I figured that was the play and I got visual on it pretty quick as it started life as a nice LP supercell.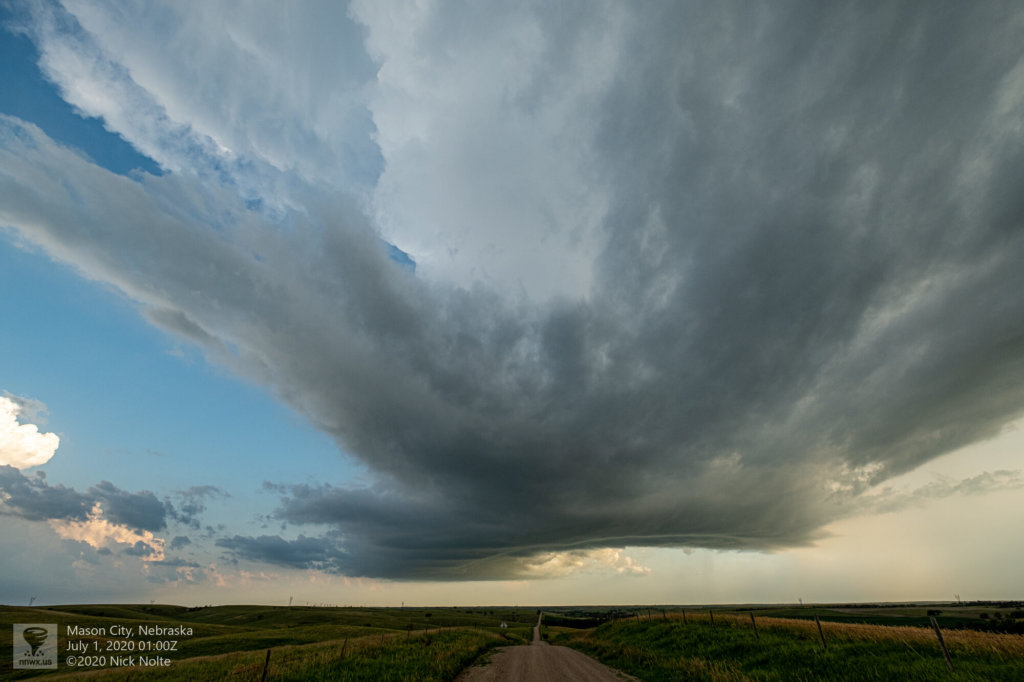 As I tracked this storm it started to do some really cool stuff with the lowering sun creating all kinds of crazy colors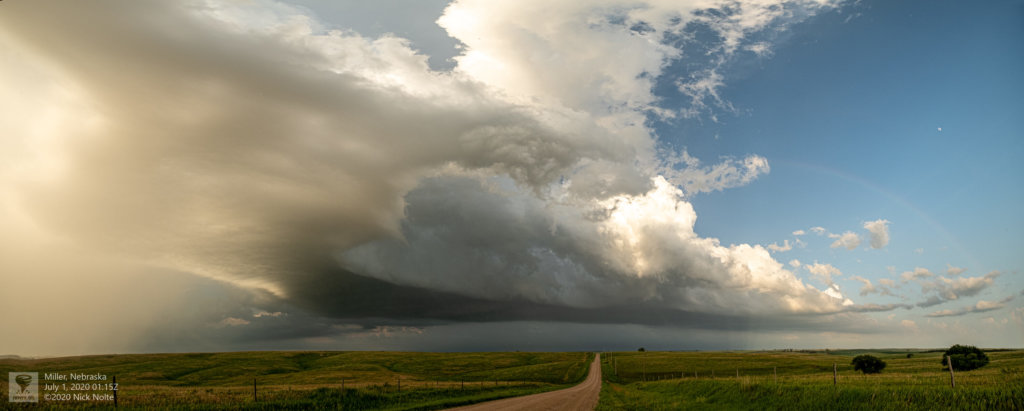 As I continued to track it east the sun continued to set and I was able to get some great shots of the updraft tower and the anvil with the setting sun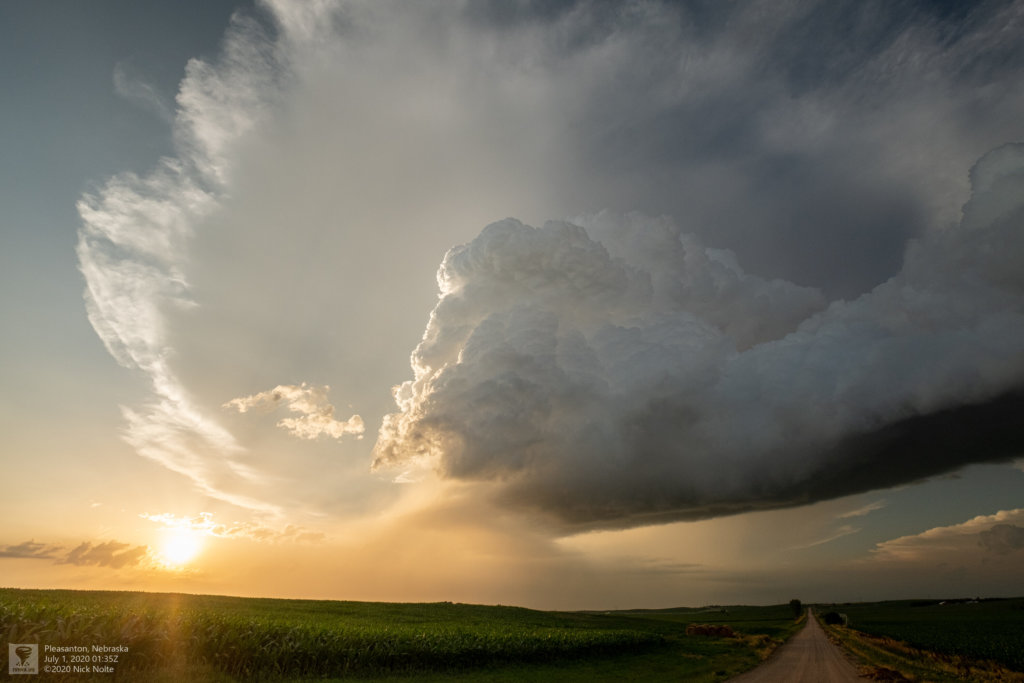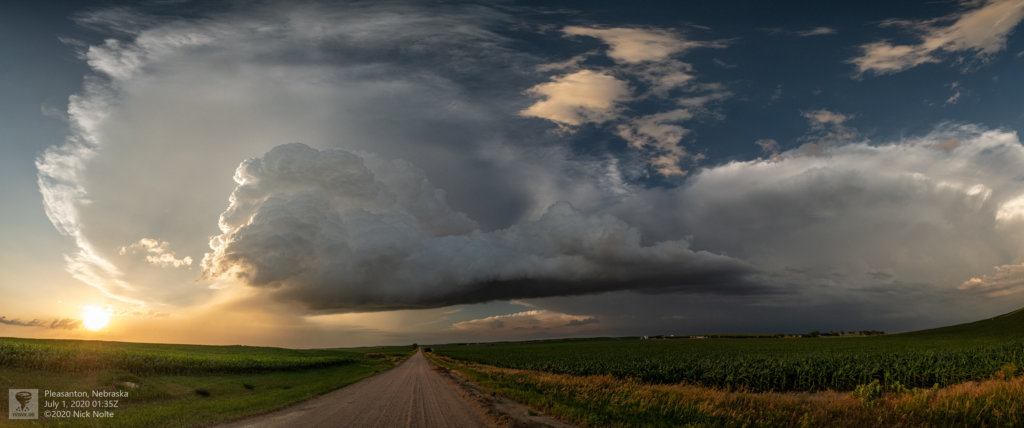 I decided to leave this storm and go after the one to its east (you can see the anvil for that one above) it would go on to drop some golf ball size hail west of Grand Island after sunset.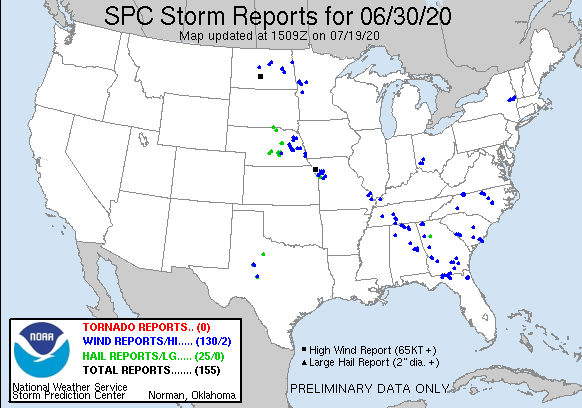 Chase Recap
| START | END | DURATION |
| --- | --- | --- |
| Grand Island, NE @ 30/1857Z | Grand Island, NE @ 01/0302Z | 08 hours, 5 minutes |
| INTERCEPTS | CHASER ENCOUNTERS |
| --- | --- |
| None | None |
Chase Map