| 4 | 1.00" | 60 | 543 |
| --- | --- | --- | --- |
| TORNADOES | HAIL | WIND | MILES |
May 23rd featured an expansive enhanced risk of severe weather stretching from Emporia, KS southwest into the southern Texas Panhandle. A stationary front was positioned across Northern Oklahoma into the Texas Panhandle. South of this feature dewpoints into the upper 60s to low 70s was advecting into the area setting the stage for severe weather as MLCAPE values were forecast to reach 3,000 J/Kg.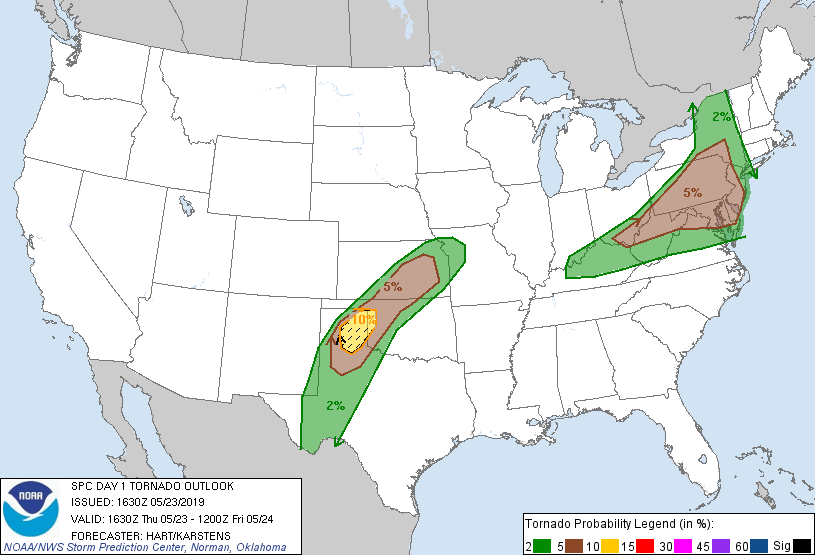 SPC had a 10% hatched area for tornadoes confined to a relatively small area in the Eastern Texas Panhandle. This coincided with the triple point where the dryline and front intersected and is the location I typically prefer, especially for early day initiation allowing the option to drop south along the dryline should the triple point turn into a mess.
We had stayed in Enid the night before and so had a bit of a drive to get into the target area. We left Enid a little after 14z and made for Pampa in the Texas Panhandle. We arrived there around 18z and found a nice park to sit in and wait for the day to develop.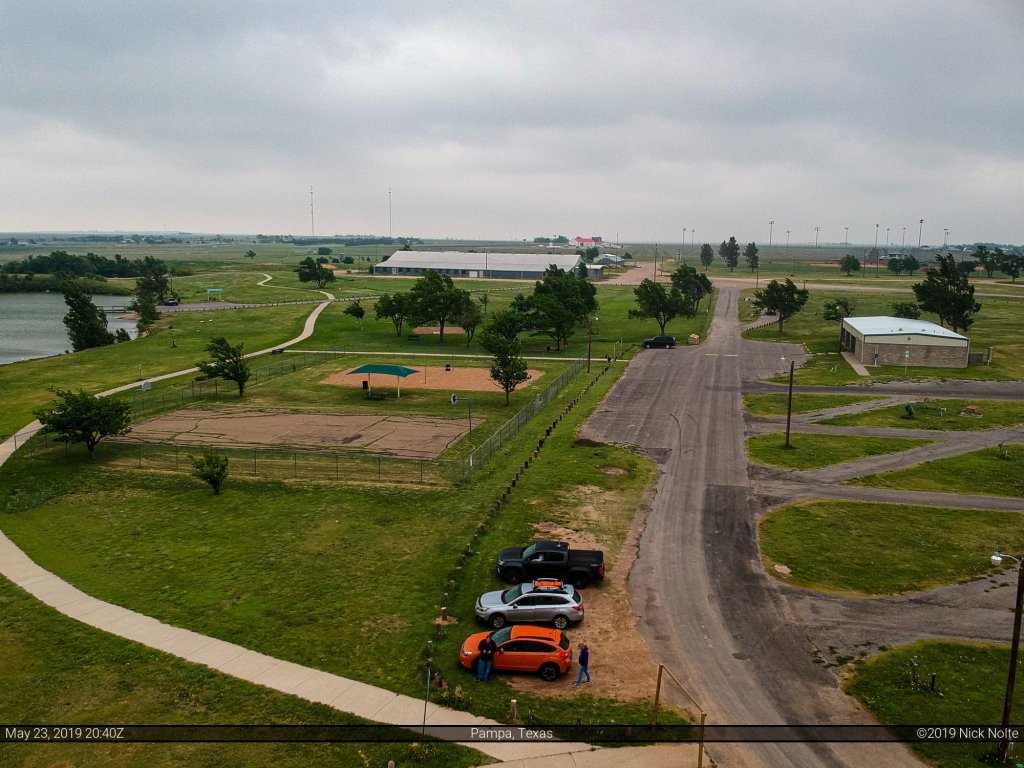 The SPC issued a mesoscale discussion for our area just before 19z as the area was getting primed for supercell development. A mention at the end indicating the potential for a long-track tornado if cells could remain discrete enough as they entered better low level enironments in the eastern Panhandle.
Shortly before 21z cells began to erupt along the dryline southwest of Amarillo as well as a couple to our north. We decided to head north towards Perryton to get in position for cells that would be coming from the southwest. The otherwise flat terrain of the Texas Panhandle is sliced into a canyon between Pampa and Perryton where the Canadian River has left it's mark and we wanted to be on the north side to track anything that came our way after it crossed the canyon.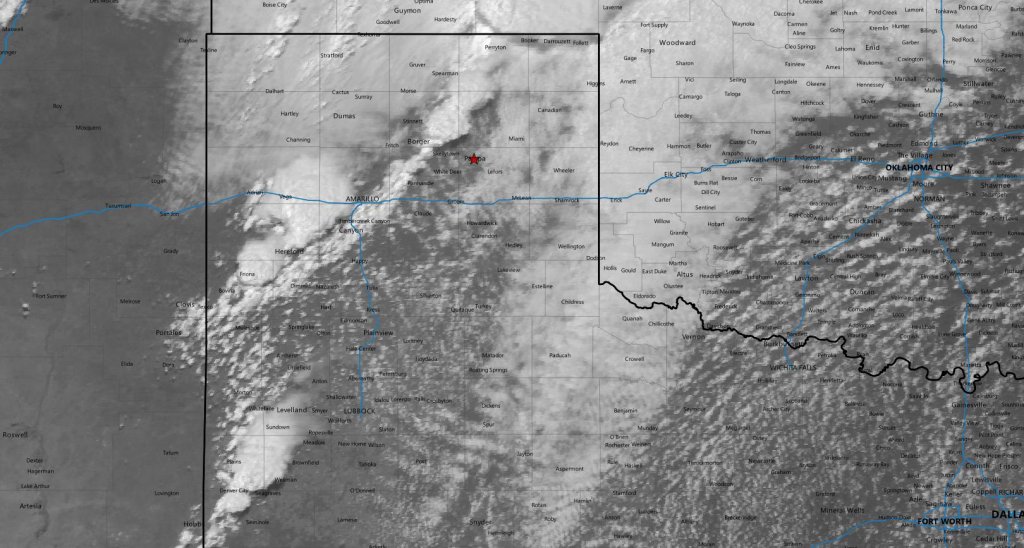 While we sat at the intersection of highway 70 and FM 281 we got to see the various comings and goings of many other storm chasers and spoke with the local sheriffs.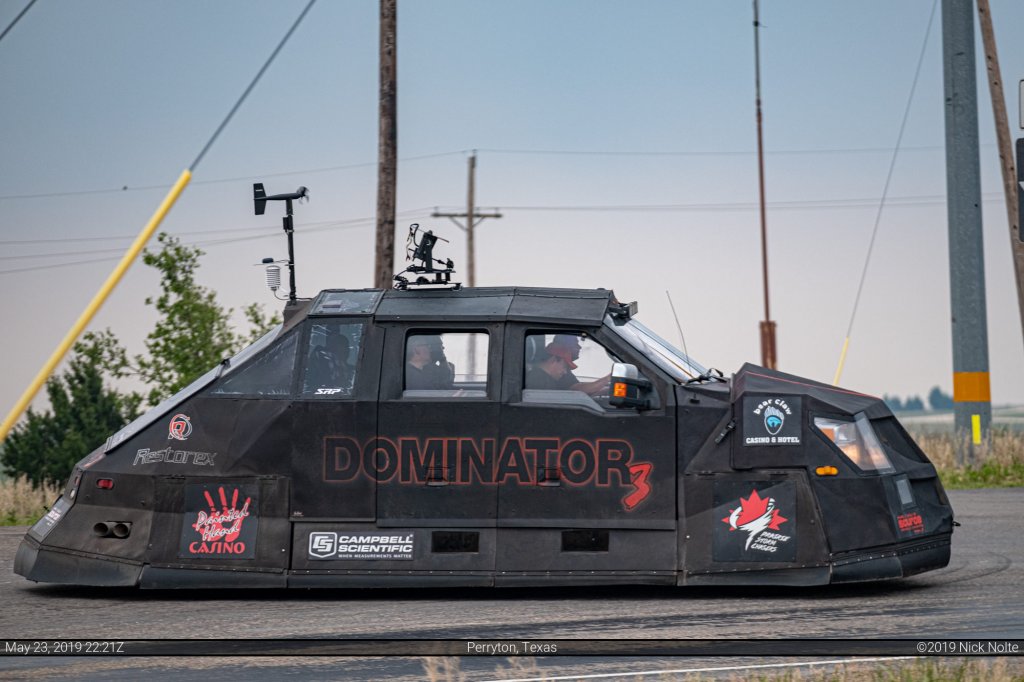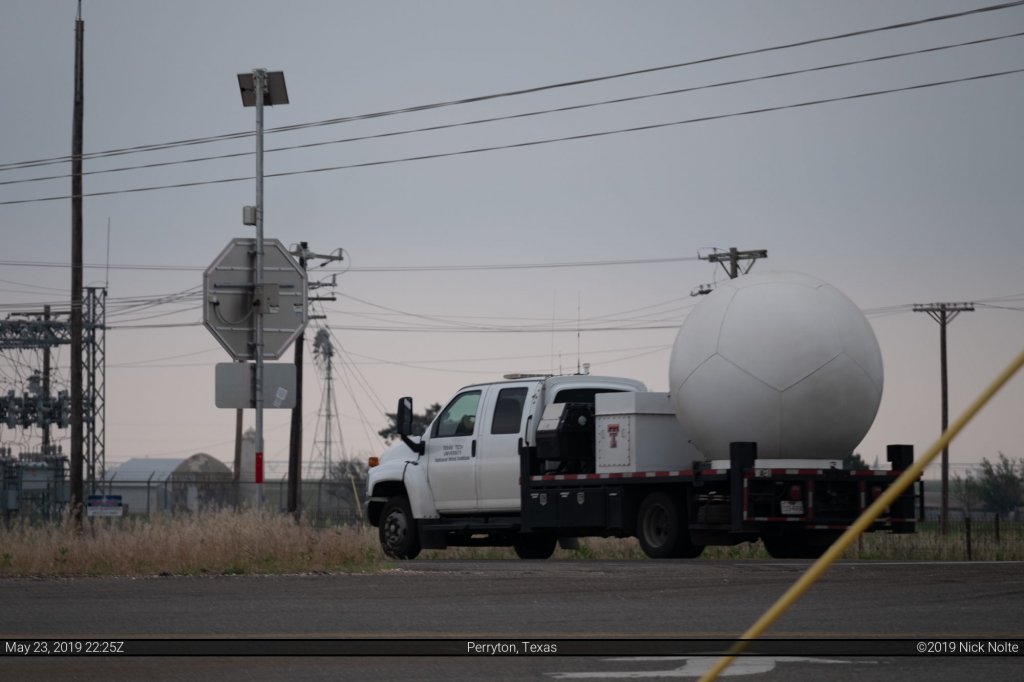 Eventually a storm to our southwest went tornado warned as it approached the canyon. We finally had our storm and we prepared to begin tracking it.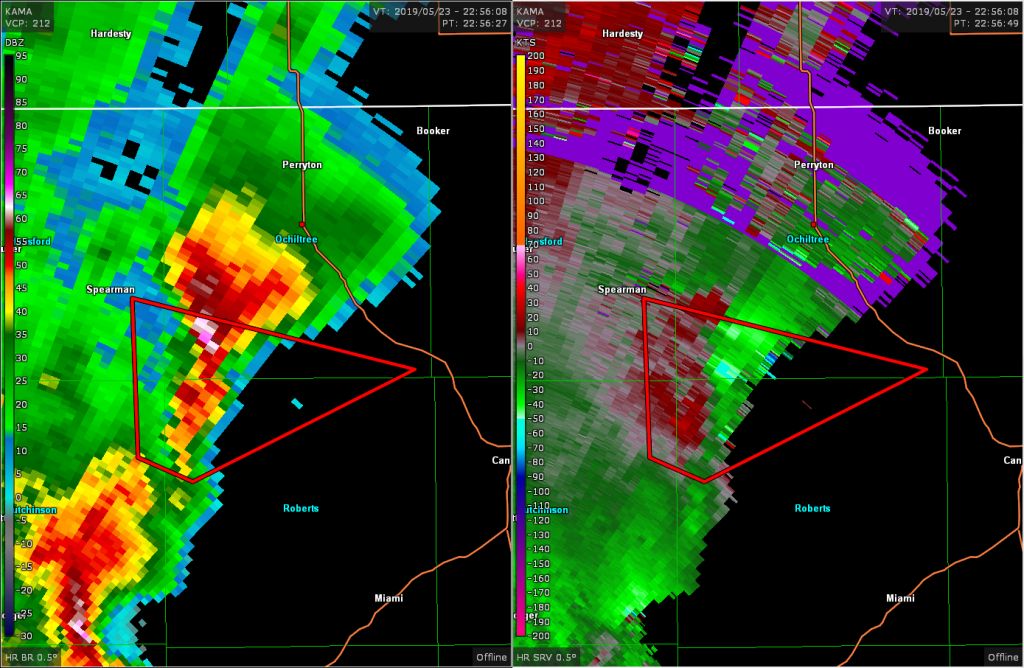 We started tracking the storm as it progressed to the north-northeast stopping every now and then to take a look. As with storms of the previous days, haze made it difficult to see much unless you were right on top of the storm. We pulled off at an intersection south of Perryton to take a look and noted a large, ragged wall cloud.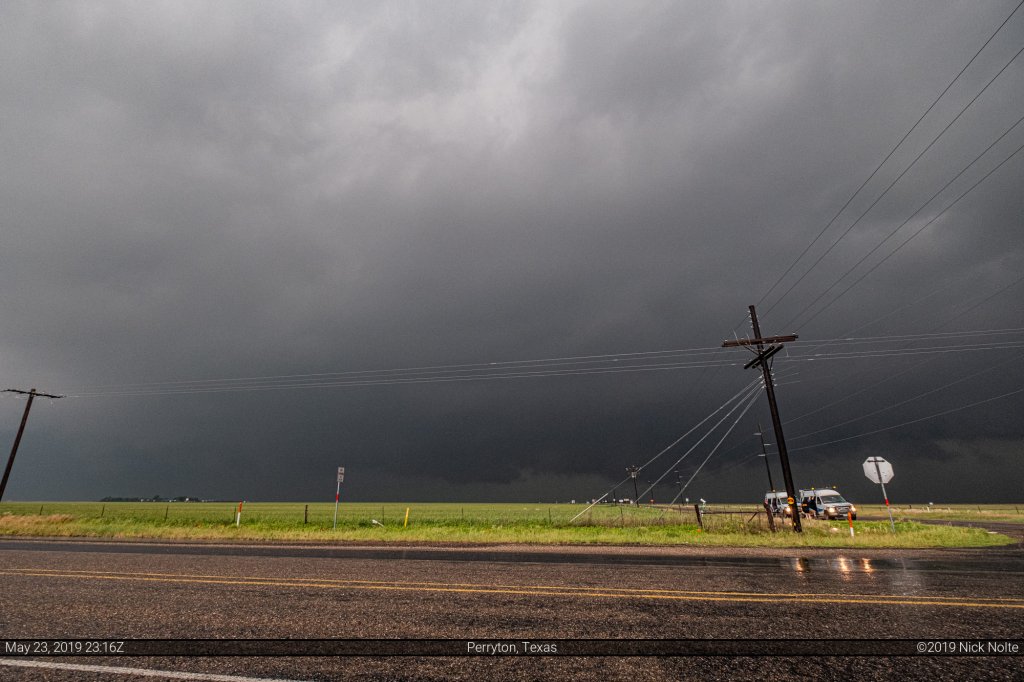 At around 2330z we took a road east south of Perryton as the core of the storm had encroached on the highway ahead, so it was time to stair-step to stay in front of the inflow notch.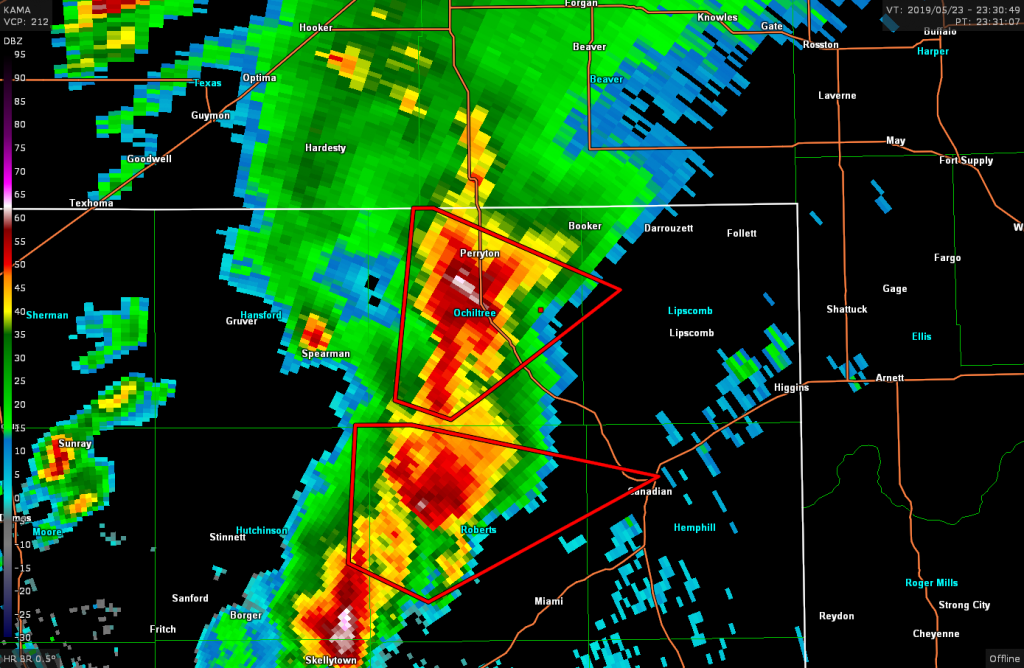 We continued stair-stepping towards Booker and as the storms we had been following began to fizzle and look like garbage on radar we stopped at a gas station to reassess. Jon and Brad decided to begin heading east as it looked like the chase was over. I was pretty close to calling the day, myself, but decided to continue east and looks for other options.
East of Booker I originally was going to try and navigate north to keep up with the storms we had been following as it had become tornado warned again despite looking terrible on radar however upon turning onto a dirt road west of Darrouzett I took another look at radar and noted two cells to our south and figured one of those probably had a better chance. Just as that thought crossed my mind, both southern cells went tornado warned.
We continued east through Darrouzett and turned south on highway 305. My plan was find a west road to sneak into the inflow notch of the storm immediately to our southwest. I found FM 3260 just south of Lipscomb that presented us an excellent road option to poke into the storm. We were able to sit here for a few minutes and watch as the storm developed.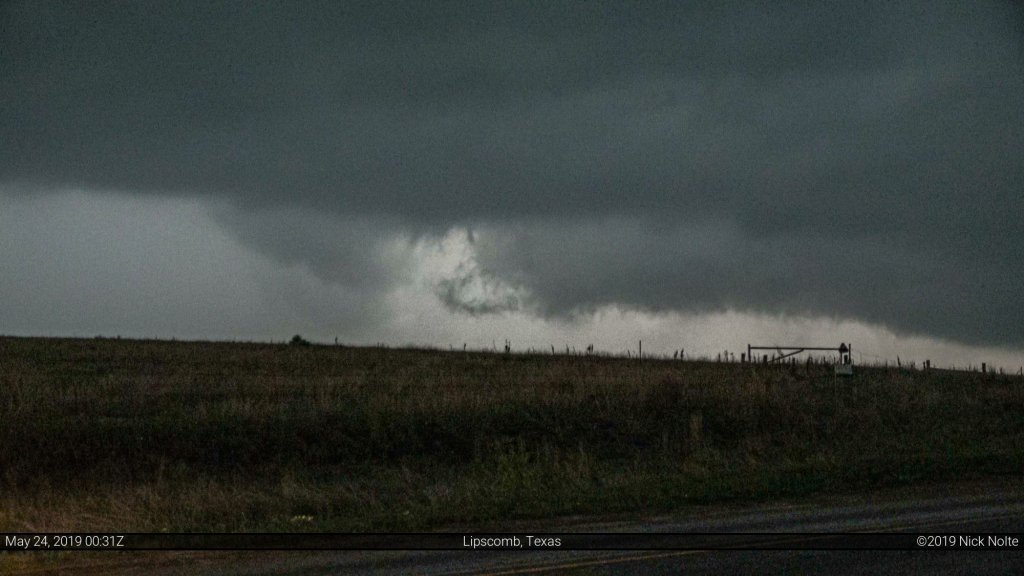 Eventually the storm produced a brief tornado that lasted about 15 seconds.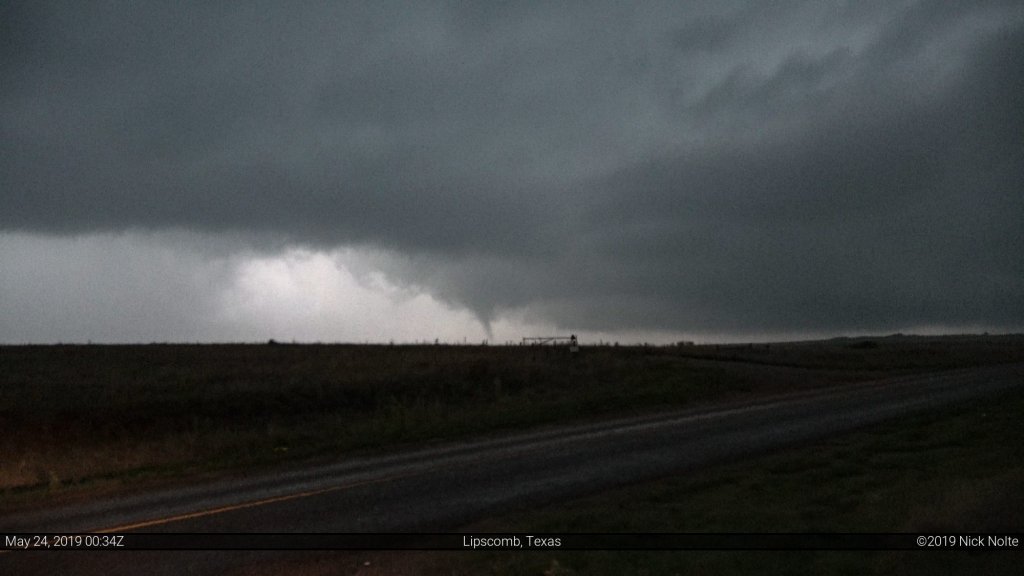 About 30 seconds later the rain encroached on our position and we bailed east several miles to FM 1454 where we turned north to get into position again about 7 miles south of Follett.
While radar presentation of the storm was lackluster, it had a very strong and low wall cloud with very heavy motion and a very long inflow tail. It was evident that if the storm could hold together for a bit it had the chance to put down another tornado or two.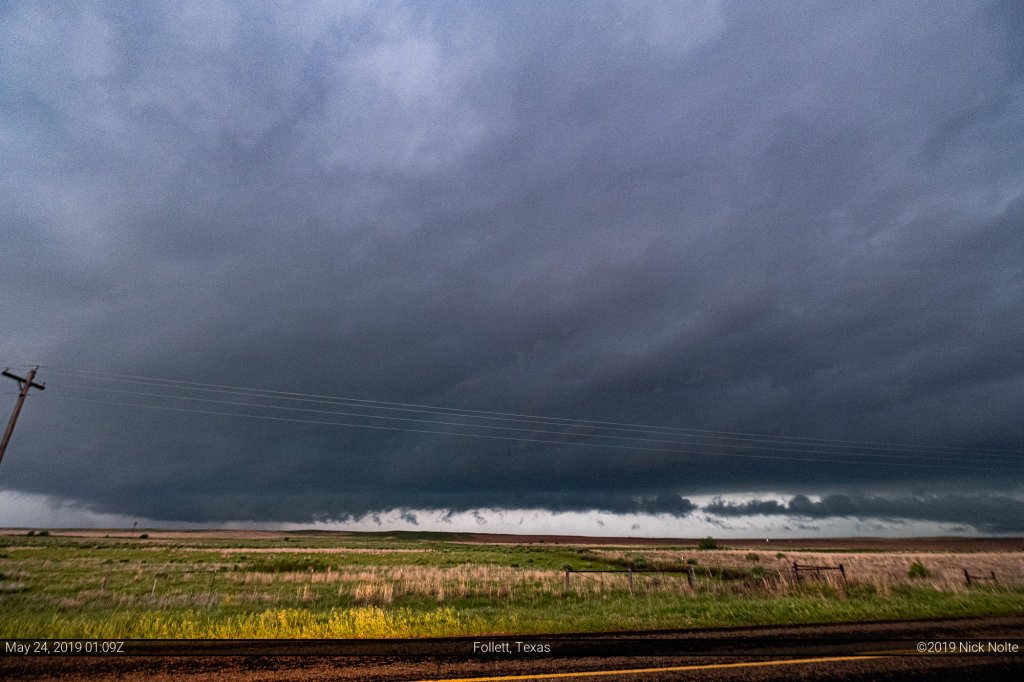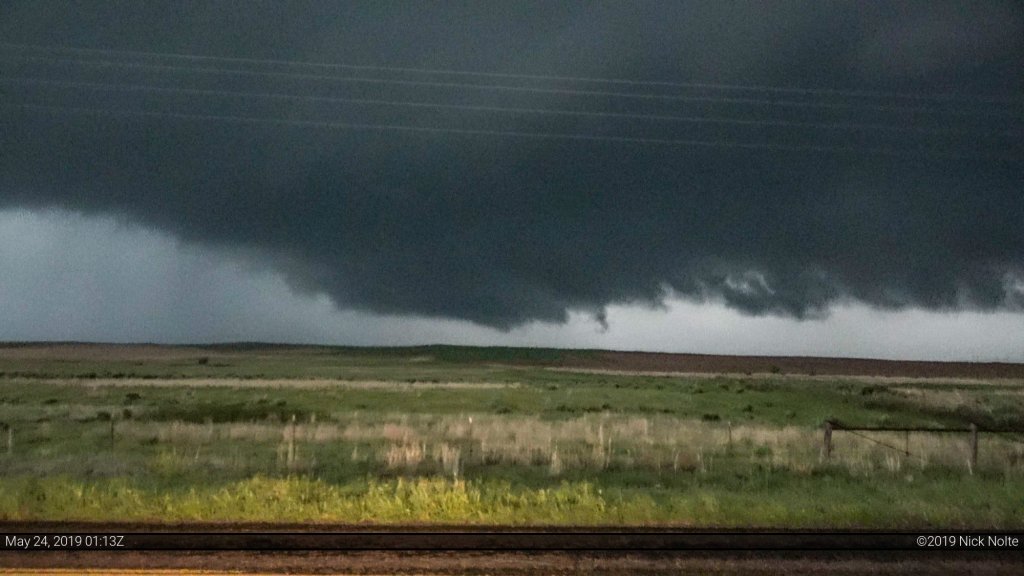 We sat here for ten minutes watching this wall cloud and inflow tail and there were a couple moments where it looked like it was about to produce a tornado (maybe there was a dust whirl!) but didn't. You can view a pretty cool time lapse of this part of the storm in the video at the end of the post from the 1:11 to 1:47 mark.
As the storm continued north, we did too and stopped again a few miles east of Follett as the storms inflow began to ramp up. As soon as we stopped I got out and witnessed a small rope tornado for a few seconds before it dissipated.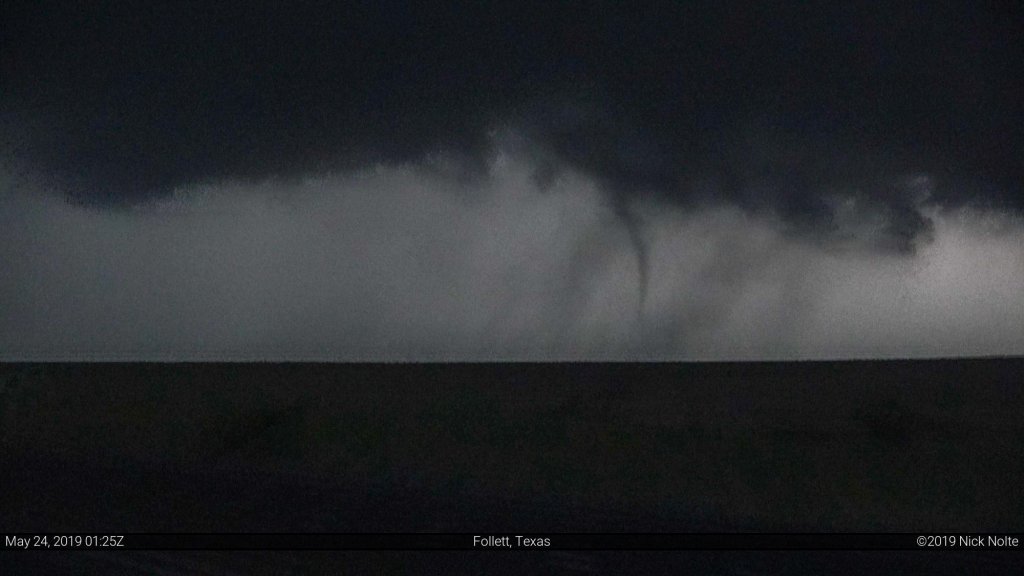 Then a few minutes later a larger cone tornado developed and vacillated between fully condensed and not.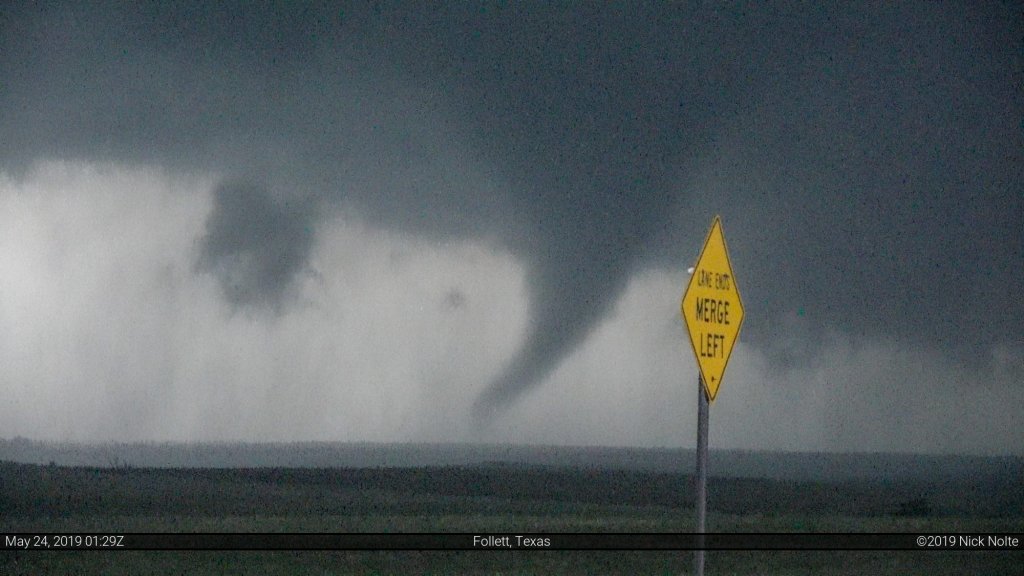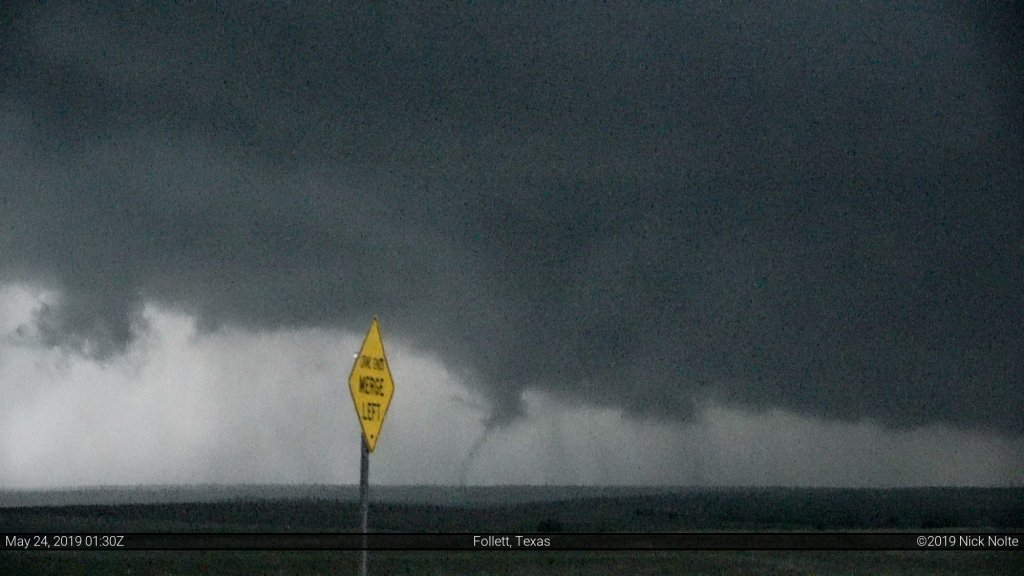 After the tornado dissipated I decided we should head east to US 283 and go north there and not risking heading north on dirt roads. As we approached US 283 looking over our shoulders we noted that the storm had put down another tornado, this time more significant.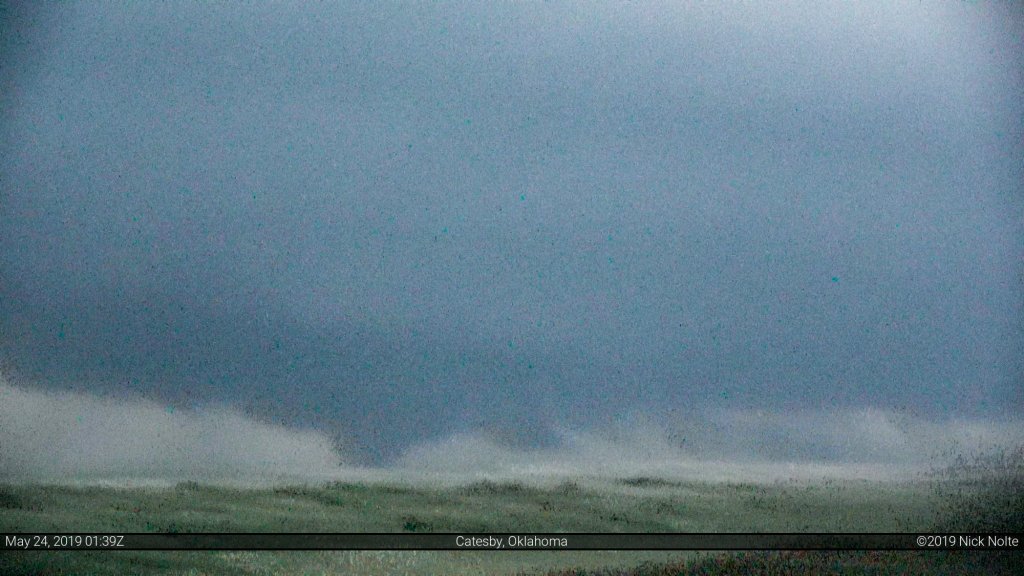 At times the tornado in the distance even appeared to have a satellite although I have not confirmed this with anyone else.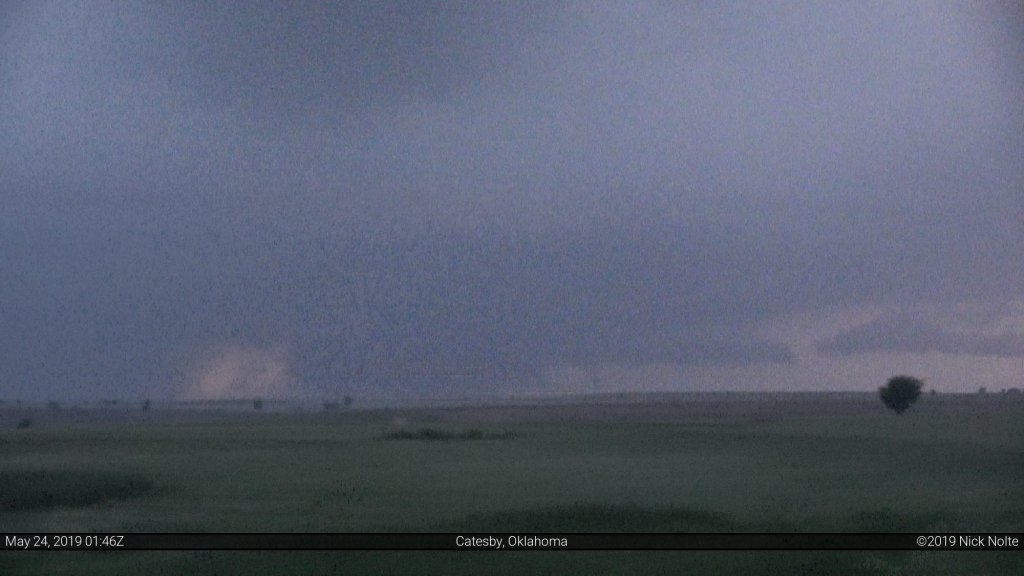 We continued to parallel the tornado on US 283 as it approached US 412 near Slapout. Every now and then we'd get a lightning stroke to backlight the ongoing tornado and it had grown very large.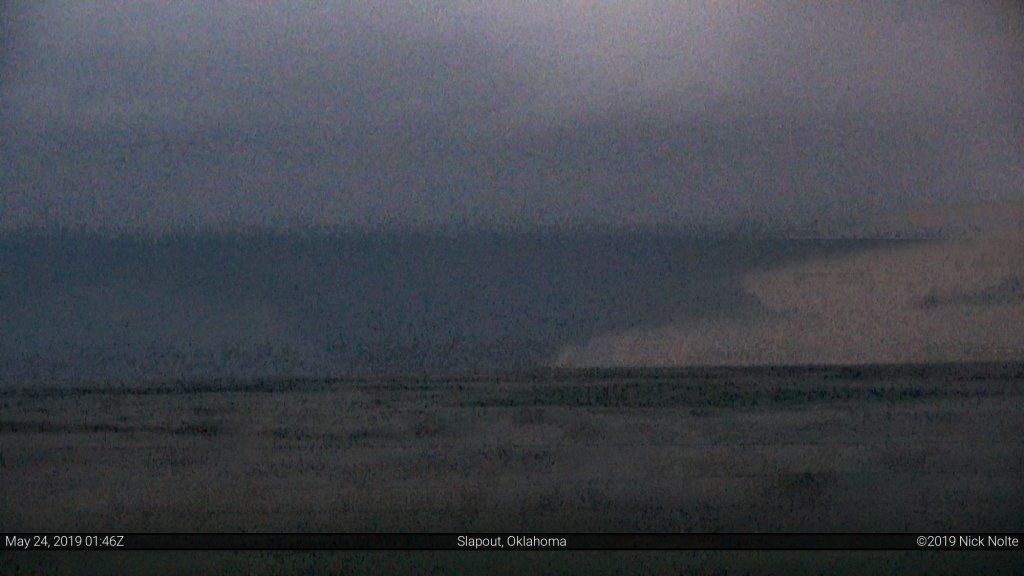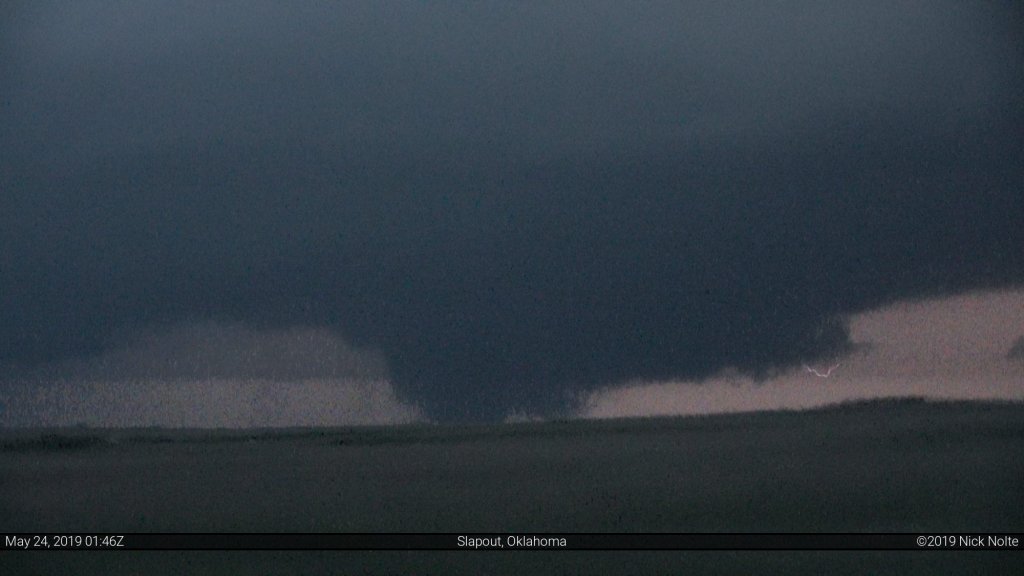 As we approached US 412 it had appeared that the tornado had lifted which was a promising sign as it was on a collision course with Laverne, Oklahoma. We sat at the intersection of 283 and 412 for a bit watching the storm in the darkness as it put down one additional tornado before finally lifting and then we called the chase and headed to Woodward.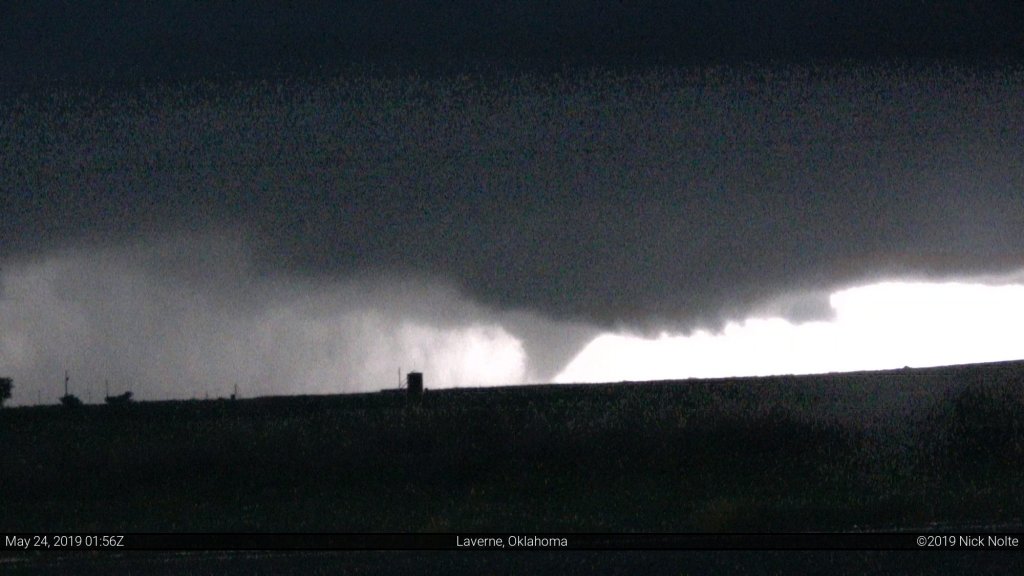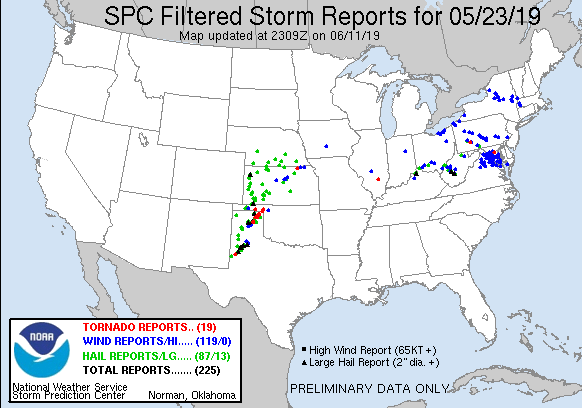 Chase Recap
| START | END | DURATION |
| --- | --- | --- |
| Enid, OK @ 23/1430Z | Dodge City, KS @ 24/0518Z | 14 hours, 48 minutes |
INTERCEPTS
CHASER ENCOUNTERS

24/0129Z @ Follett, TX
24/0132Z @ 1 NE Follett, TX
24/0135Z @ 7 S Slapout, OK

24/0034Z @ 7 W Lipscomb, TX
Bandit (8)
Blake Naftel (3)
Brad Goddard (38)
Emilie Williamson (9)
Jonathan Williamson (56)

Chase Map