| 0 | 1.75" | 65 | 513 |
| --- | --- | --- | --- |
| TORNADOES | HAIL | WIND | MILES |
June 17th and 18th presented a couple of relatively local chase opportunities in Nebraska for me. A surface low in northeastern Colorado and a stalled front extending east from there into Nebraska along the Platte River Valley presented a decent opportunity for severe weather.
Upper 50°F to 60°F dewpoints were expected along the I-80/76 corridor from Sterling to North Platte along the stalled front. Storm Prediction Center had outlined a slight risk along the I-76/I-80 corridor around the Nebraska/Colorado border area. Initially this had a 2% tornado risk with it, but they upgraded it at the 1630z outlook to 5%
My initial plan was to head west to Ogallala or Julesburg and re-evaluate. By the time I arrived at Ogallala around 1930z, a cell was already developing southwest of Julesburg, so I continued west to I-76 and ventured into Colorado to intercept the storm.
The storm had been tornado warned at this time and right around 2020z a report came in regarding a brief tornado in an open field northwest of Julesburg. That would have been right around the time of the following shot, but I never got visual on any tornadoes.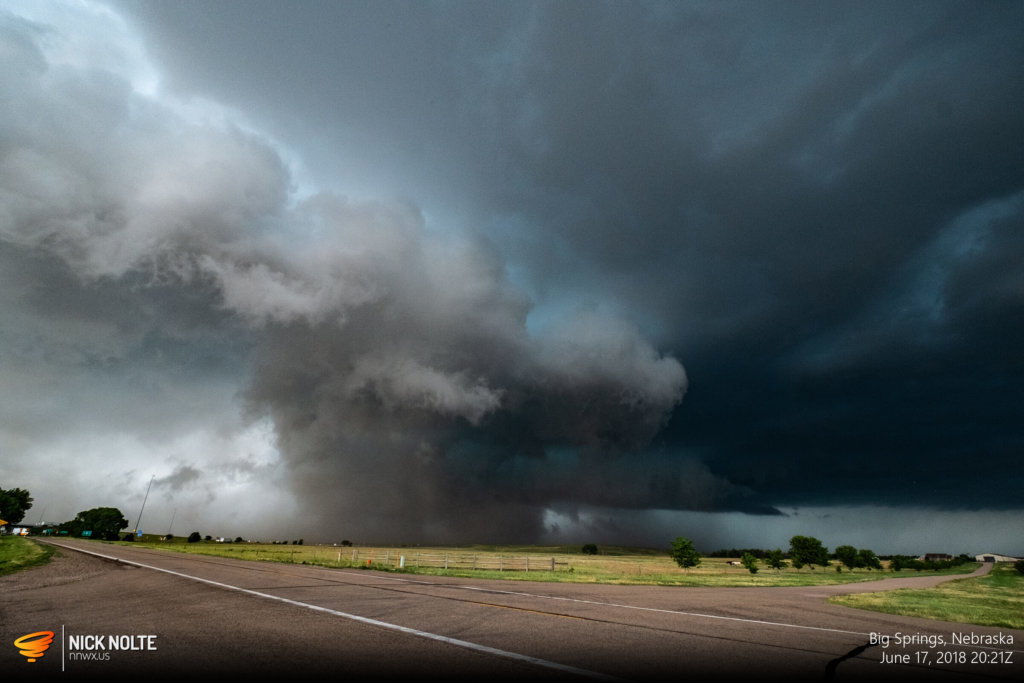 But, there was quite a mass of rain in there, so who knows what was hiding behind it. A couple additional reports came in over the next half hour indicating brief tornadoes as the storm tracked from north of Big Springs towards Lake McConaughy. I decided to cross the Kinglsey Dam to head east towards Keystone as the recreation area was being evacuated because of the tornado warnings. I ended up crossing the dam just as the brunt of the storm was crossing it, 60 to 70MPH winds buffeted vehicles on the dam while golf ball size hail fell from the sky.
I got back out in front of the storm east of Keystone, but roads became few and far between as the storm drifted northeast away from the river valley and into the sandhills. At North Platte I took US 83 north to try to get back to the storm, unfortunately as I finally caught back up south of Stapleton the storm had begun to weaken and bow out. Despite that I continued to follow along with it as it trekked northeast, but once I got to Dunning it became clear that I would not be able to keep up with it as it moved across unfavorable terrain and darkness began to fall. I hit highway 2 at Dunning and began the trek home.
Chase Recap
| START | END | DURATION |
| --- | --- | --- |
| Grand Island, NE @ 17/1654Z | Grand Island, NE @ 18/0128Z | 08 hours, 34 minutes |
| INTERCEPTS | CHASER ENCOUNTERS |
| --- | --- |
| None | None |
Chase Map