| 1 | 1.25" | 40 | 1,015 |
| --- | --- | --- | --- |
| TORNADOES | HAIL | WIND | MILES |
March 26th featured a shortwave trough over eastern Colorado that was expected to track east into the Ozarks while a surface cyclone moved into Western Oklahoma. A dryline extended south from the low into Texas and would provide the focus for thunderstorm development during the late afternoon as it migrated east towards I-35. The big concern for this setup was whether or not quality moisture would advect northward in time after a scouring cold front swept higher dewpoints to the Gulf in the previous week.
I debated even chasing this day and stayed at home until the last minute before making a decision. Being a Sunday, with work on Monday I was hoping the target would be north of Oklahoma City. Alas, the SPC issued a moderate risk for the OKC area and south with a 10% tornado risk south of there to the Red River. I was still hoping a play would materialize north, but began the trek south just after 15z anticipating arrival in OKC by 21z and hoping not to have to drive too much further south than that.
Just before 20z, the SPC issued a mesoscale discussion for the dryline and warm sector throughout Central Oklahoma. They included a focused area for higher tornado probabilities that mostly matched up with their 10% outlook from the SWODY1.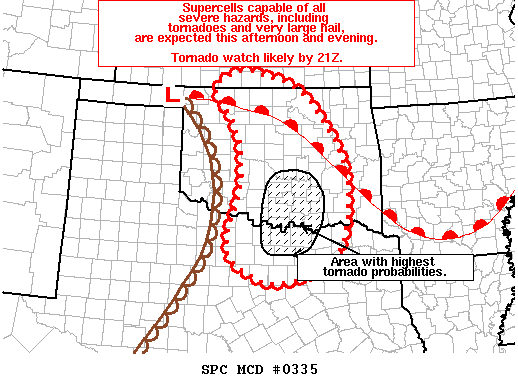 At the time I had just entered Oklahoma and there was a percolating field of cumulus south of Oklahoma City beneath a mid-level deck of clouds, so I stayed on I-35 to continue south intending to drive through Oklahoma City and stop somewhere like Paul's Valley to see what this cumulus field was going to do.
As I approached Purcell, a storm fired in Stephens County about 30 miles southwest of Pauls Valley. With a tornado watch already issued, I continued south with the intention to position in Pauls Valley for an intercept. The cell intensified as it approached Pauls Valley and was exhibiting a nice wall cloud as it slid by the gas station I was parked at.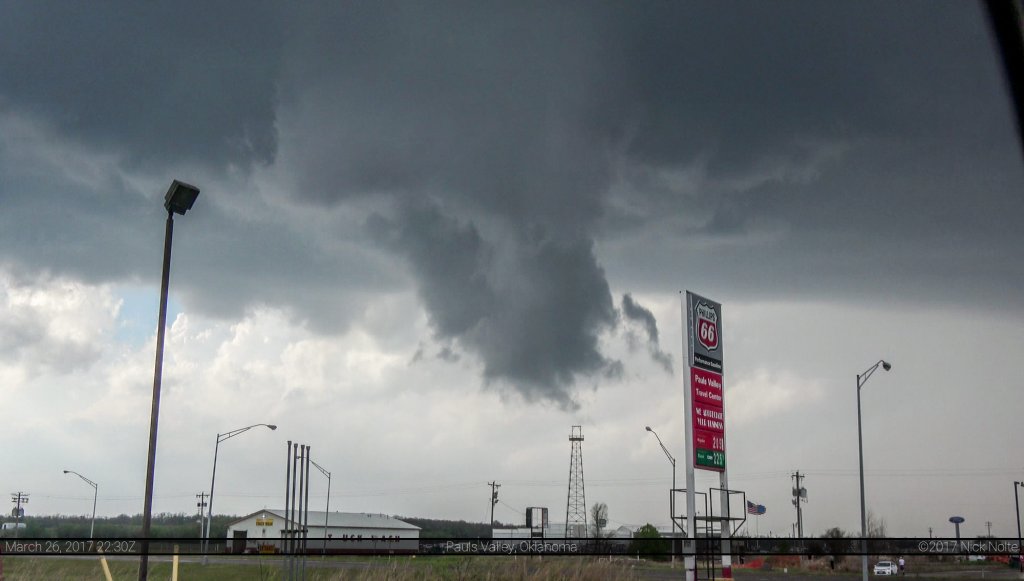 The rotation was pretty decent with this but it was rather ragged looking and eventually dissipated. As I followed the storm to the northeast, the wall cloud would come and go.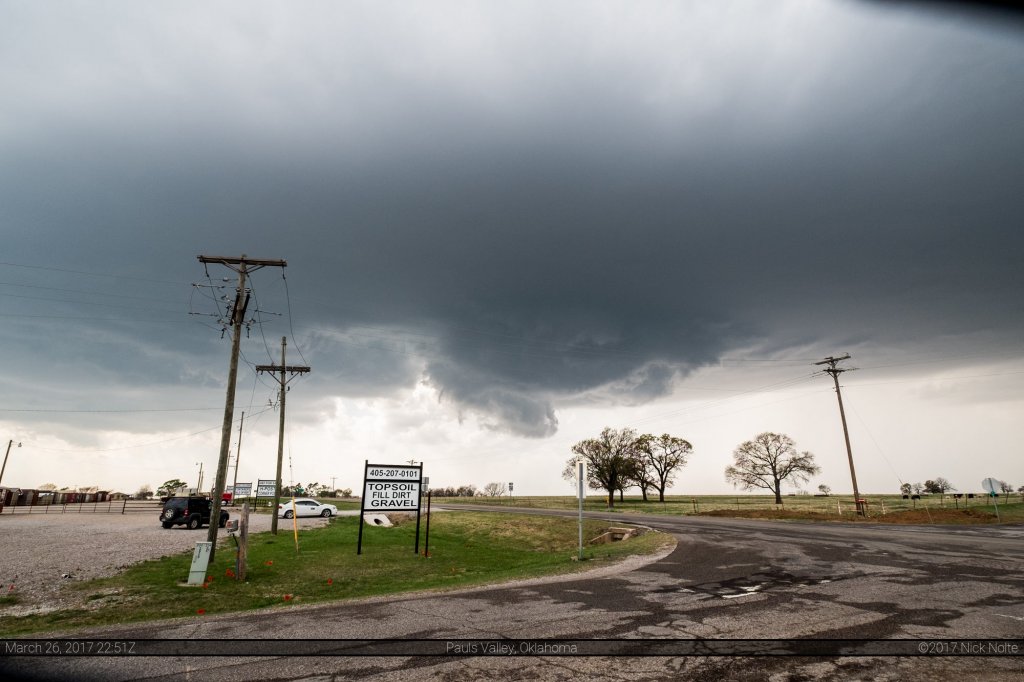 The storm became tornado warned just before 23z as it approached Byars even though I hadn't seen any evidence of a tornado. There was some broad circulation indicated on radar with the mesocyclone, but nothing too serious visually.
As the cell approached Konawa it quickly gained a hook and exhibited some tighter rotation on radar and it was about this time it spawned a funnel cloud that a couple other chasers reported as a tornado, with debris on the ground.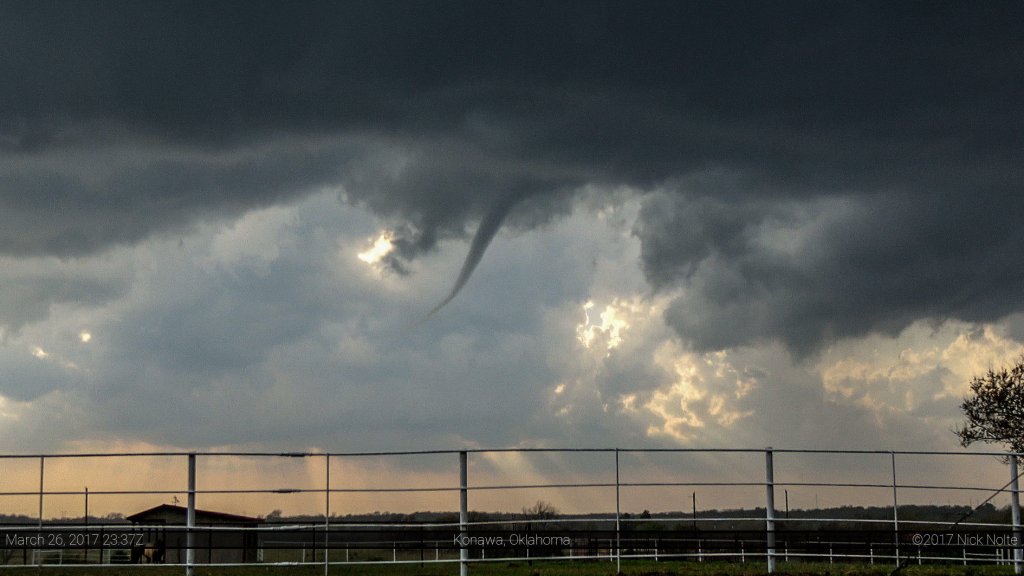 It was approaching 0z and I knew I had a 7 hour drive from where I was to get back home in order to work the following day. I followed the storm I was on for a little bit longer until I decided to call the chase and start heading home. While this was going on, another cell to my south near Ada rapidly intensified and ended up putting down a nicer tornado than what I got.
Nevertheless, I was already on the way home with a long drive to go. All in all a good day with a good storm and a tornado. Hard to beat that.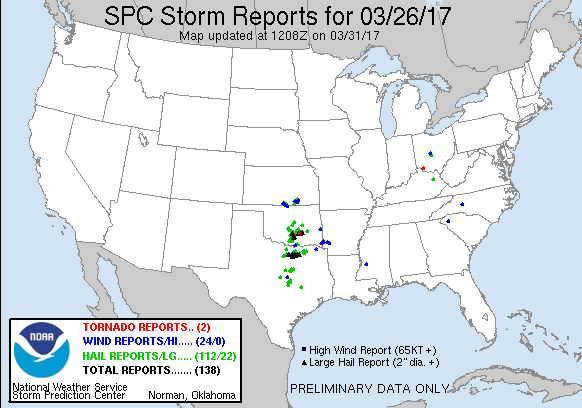 Chase Recap
| START | END | DURATION |
| --- | --- | --- |
| Grand Island, NE @ 26/1537Z | Grand Island, NE @ 27/0736Z | 15 hours, 58 minutes |
| INTERCEPTS | CHASER ENCOUNTERS |
| --- | --- |
| | None |
Chase Map