| 2 | 1.00" | 50 | 778 |
| --- | --- | --- | --- |
| TORNADOES | HAIL | WIND | MILES |
Thursday, May 7th was the start of a four day chase event starting in the Southern Plains and moving north each day into the Northern Plains on the 10th as a pretty deep 500mb trough was making it's way onshore from the Pacific through the four corners region and into the Dakotas. Each day would present itself with a severe weather opportunity. The first day being focused along the Red River area along the Oklahoma/Texas border as well as further upslope in the SW KS/OK Panhandle areas where dryline intersected a cold front. Overnight convection was still ongoing across southern and eastern Oklahoma at daybreak and while upper level energy was still quite a ways west, I felt that the outflow from the overnight MCS might be the focus area for the day and set my target for Wichita Falls.
I spent the previous night driving from Michigan and spent the night catching some rest in Springfield, Missouri. I left Springfield shortly after 13z knowing I had a pretty good trek ahead of me to get to Wichita Falls in time for the show, so I wasted no time heading down I-44 to Oklahoma City. I didn't get to OKC until about 18z and storms had already erupted in the Texas Panhandle, but they went linear pretty quick and I was worried the day was already over. But, I continued down I-44 and finally got to Wichita Falls at 20z. By this time, two severe thunderstorm watches were in place for the Red River area.
I was southwest of Holliday keeping an eye on the southern end of the line of storms slowly moving east, but the prospects were looking slimmer and slimmer. I pulled off Highway 82 east of Dundee to get out and watch the storms to the northwest. As the tail end drifted by without any rousing appearance I was wondering if this was going to be the story for the rest of the evening.
I continued on southeast to stay in front of the line, passing through Archer City, Olney and Newcastle before turning north out of Graham and a view of mediocre wall cloud with a pretty clear RFD slot.
After pulling through Loving, I turned south on highway 16 to stop and take another look and by this time the end of the line had become quite a jumbled mess and was not visually appealing either. It was here that Skip Talbot, Jennifer Brindley and Phil Bates met up with me. I had stopped by Skip's place in Illinois the night before to pick up his camera bag he left before he came out chasing, and we'd finally been able to meet up so he could get it from me. While we exchanged pleasantries, unbeknownst to us the storm that had passed to our north and east was starting to organize.
I hopped in my car and looked at the radar and noticed the broad rotation showing up and was quite surprised that was going on. So, I took off north and east on highway 114 trying to catch back up to the storm. At 2242z I merged onto US 281 northwest of Jacksboro and the couplet continued to become better organized and the first tornado warning for the storm was issued. I was in pretty good position just a mile or two behind it as I tracked it through Jacksboro and northeast from there on highway 59.
As I passed through Cundiff, I had got back in front of the storm and moved east to keep getting some distance as I'd figured I would need some space to go north into the notch if necessary. At 2325z I was north of Chico and stopped to look into the storm. Meanwhile, to the south a tornado warned supercell was moving through Boyd and Rhome and that storm was moving northeast, on a collision course with the storm I was following near Krum and Sanger. As I pulled into Alvord I made the decision to go south and begin intercepting the storm coming up from Rhome, which had lost it's tornado warning for the moment. It would regain it in a couple minutes as a reported tornado southeast of Decatur prompted a new warning. By this time, that cell had taken on classic supercellular characteristics.
The road network between Decatur and Denton is a bit lacking south of US 380. As a result I ended up a bit out of position as I took County Road 407 east between New Fairview and Justin before turning back north towards Krum. By this time I had fallen about ten miles behind the storm which was showing an awesome hook echo and consolidating couplet.
I blasted north on County Route 156 through Justin, Ponder and Krum. By this time, the storm started to interact with the line coming in from the west and it appeared to slow down a bit. I found county route 2450 out of Krum which took me north right into the inflow notch and I was able to watch the wall cloud organize and drop a tornado at this point for a good fifteen minutes or so.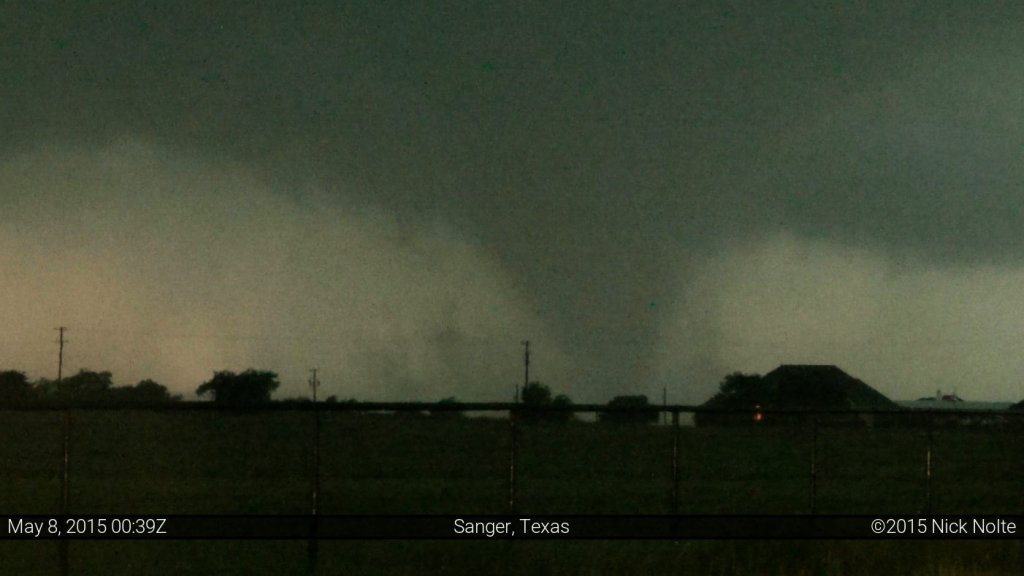 Getting to watch a tornado from one spot as it moves over a small distance for more than a couple of minutes is a luxury rarely afforded storm chasers. As such, this was one of my favorite intercepts because once I was in position, I didn't have to move while I was watching the tornado for over 15 minutes. Eventually, the tornado moved into heavy rain and, combined with the darkness, lost my visual on it. I moved back east to highway 138 and began the trek to Wichita Falls where I met up, again, with Skip, Jenn and Phil to talk about the intercept. Turns out they were pretty close to where I was and intercepted as well.
Chase Recap
| START | END | DURATION |
| --- | --- | --- |
| Springfield, MO @ 07/1319Z | Wichita Falls, TX @ 08/0317Z | 13 hours, 58 minutes |
Chase Map