| 1 | 1.00" | 50 | 560 |
| --- | --- | --- | --- |
| TORNADOES | HAIL | WIND | MILES |
After a bust the previous day, we were looking forward to chasing this day as we were sure there would be storms. We spent the night in Dodge City, Kansas and our initial target for this day was Lawton, Oklahoma. SPC had a 10% hatched tornado risk for our target area and we left Dodge City around 1420z. We pulled into Seiling just prior to 17z to reassess data and SPC put out a mesoscale discussion for the developing Cu field that was in southwest Oklahoma. The LLJ was expected to ramp up and allow the storms to organize and a chance for tornadoes existed.
After assessing the data we made the determination to continue moving south as the north play wasn't looking like it was going to initiate. We moved down west of Apache to the Wichita Mountains east of Cooperton and watched a nice looking storm move through the hills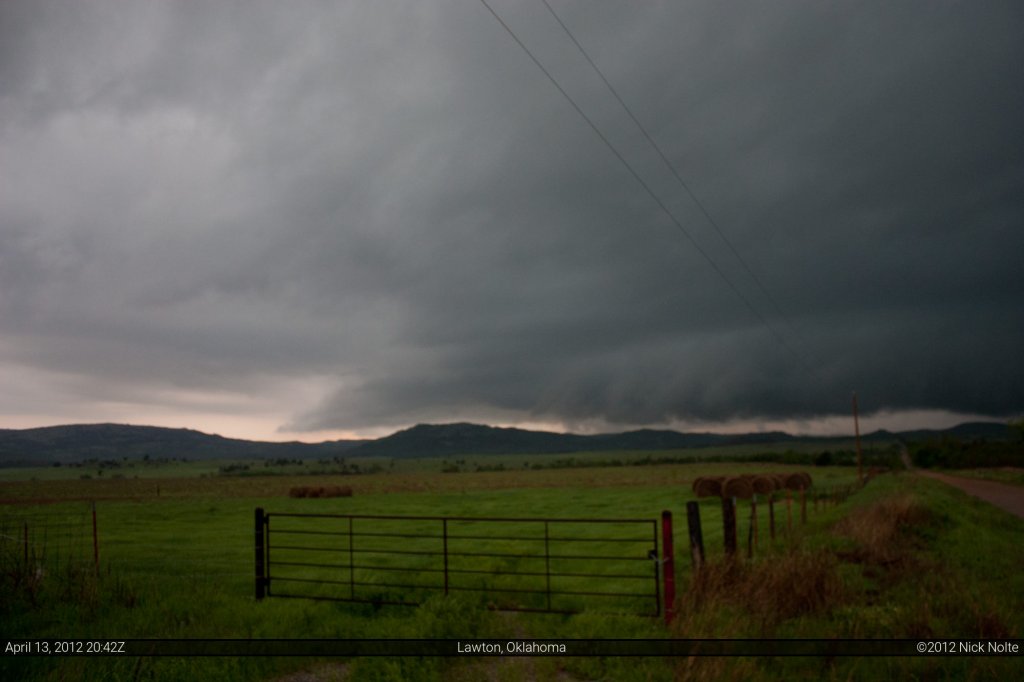 We followed the storm to the northeast trying to keep a decent view of it and ended up in Chickasha and decided that the storm was not worth following so we had to come up with a new plan. We decided the storms back to the southwest were the interesting ones now so we bolted back to the southwest and drove through Apache, again, and sat at the intersection of highway 19 and 58 west of Boone. We got a pretty decent view of the meso and tornado of the storm near Cooperton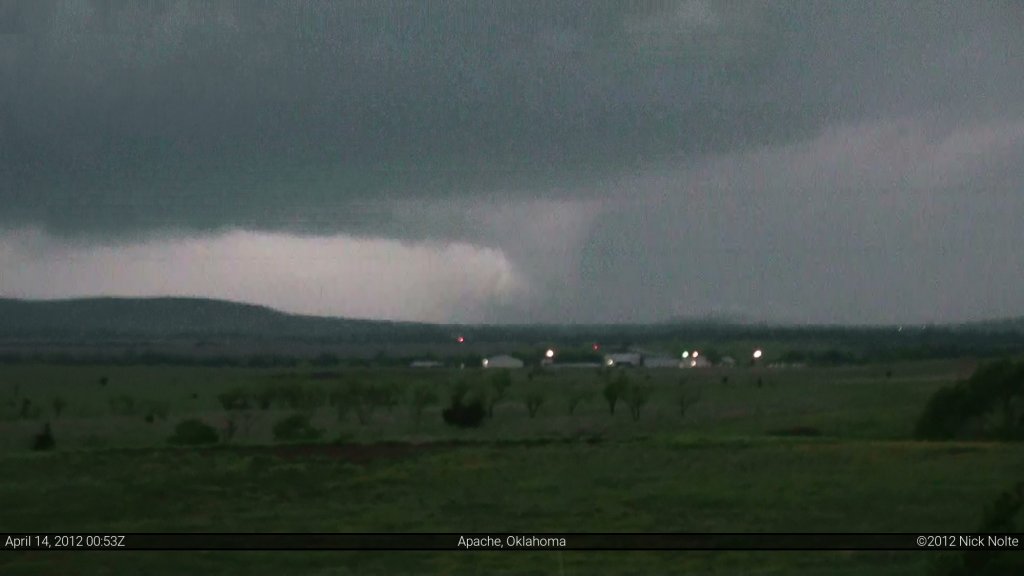 We drove up near Alden to shoot some lightning as the storm passed and after a few minutes shooting at dark we drove back towards Chickasha and stopped in Verden to let the storm pass over us at a Citgo in town. I pulled out a lawn chair and sat under the station awning as the cell passed over dropping copious amounts of rain and hail. After that we decided to call it a day and drove back to Chickasha, again, and met up with Skip, Jennifer and Brad at a restaurant to recount the long day.
Chase Recap
| START | END | DURATION |
| --- | --- | --- |
| Dodge City, KS @ 13/1410Z | Chickasha, OK @ 14/0432Z | 14 hours, 22 minutes |
Chase Map