| 0 | 0.00" | 30 | 763 |
| --- | --- | --- | --- |
| TORNADOES | HAIL | WIND | MILES |
Convergence along a lee trough was expected to trigger scattered thunderstorms from New Mexico to Nebraska. Southwesterly flow from 500mb up juxtaposed over southerly flow in the low levels would create an environment supportive of supercells while the large CAPE would promote large hail while large low level shear and high helicity would promote possible tornadic activity. I awoke in Sioux Falls, SD and wished I had at least driven a little south the day before, but I spent the 31st resting and relaxing. Anyway, I left Sioux Falls at 1340z and made my way down to my target area of Norton, KS.
By the time I got to Norton, the cumulus field to the south of there had started to become better defined, so I moved towards Stockton where I got on the first cell a little after 22z.  It was showing a nice wall cloud and otherwise decent structure.
I tracked the storm east along US 24 where it started to appear a bit outflowy near Osborne.
Continued following it to near Luray where it's outflowish appearence continued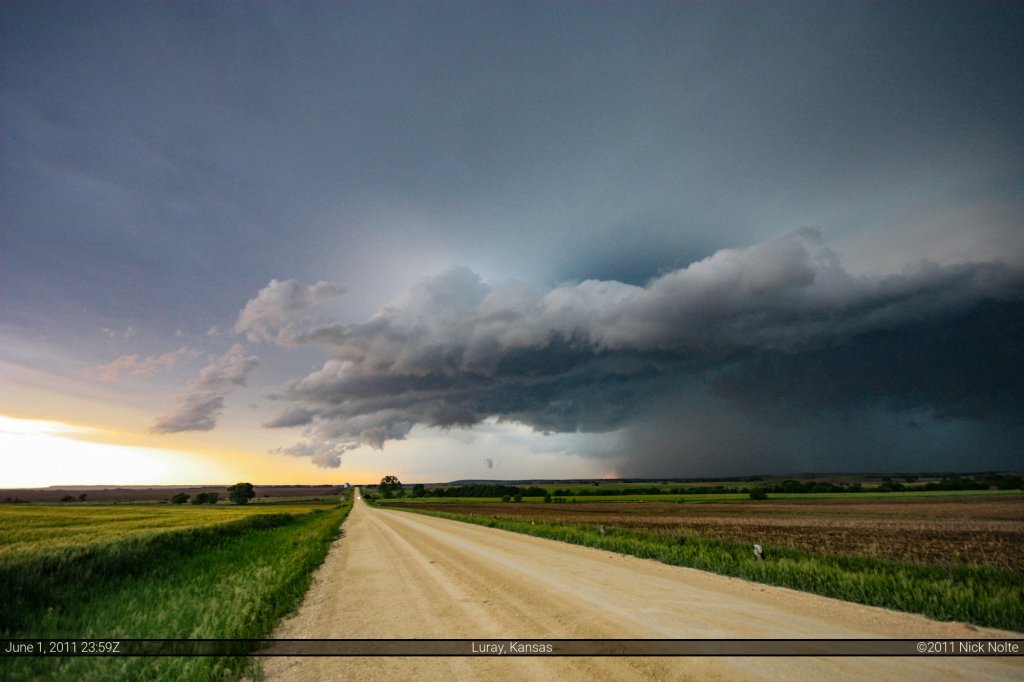 Then it went for sure, outflow dominant…
Chase Recap
| START | END | DURATION |
| --- | --- | --- |
| Sioux Falls, SD @ 01/1340Z | Grand Island, NE @ 02/0140Z | 12 hours, 0 minutes |
| INTERCEPTS | CHASER ENCOUNTERS |
| --- | --- |
| None | None |
Chase Map