| 0 | 1.75" | 40 | 464 |
| --- | --- | --- | --- |
| TORNADOES | HAIL | WIND | MILES |
As I was about to check in to my hotel the night before this day, the front desk clerk informed me that she needed to go break up a fight. She then proceeded out the front door and began yelling at someone. A few minutes later she came back in and mentioned she would need to call the police. And so began a great stay at the Rodeway Inn in Grand Island, Nebraska.
Anyway, loud air conditioners and crappy wifi aside, we would begin the following morning feeling pretty good about our location. For the start of the day I chased with Brandon Sullivan, Connor McCrorey, Evan Bookbinder, Scott Bennett, Robin Lorenson and a few others.
After lunch, we sat around Broken Bow as the cumulus field began to develop above us and to the west as the front encroached on our area.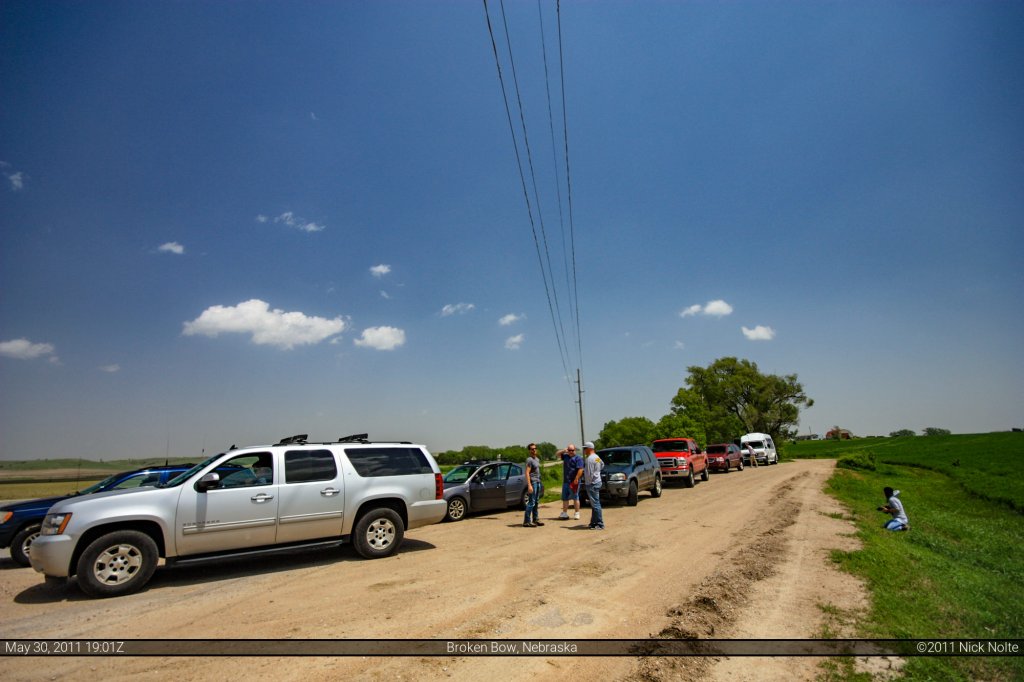 We initially got on a cell just north of Taylor which had some rotation in it. However, we became concerned with the storm when very cold outflow smacked us suddenly in the face.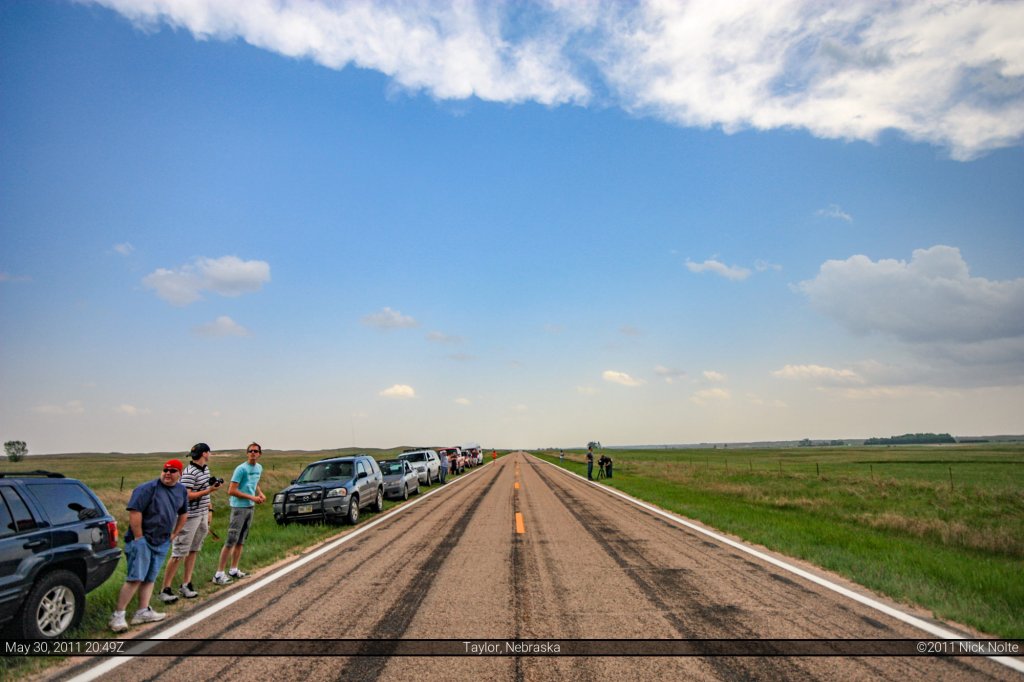 Eventually we left this storm, one half of the crew we were chasing with decided to go back west. Scott, Robin and myself continued on towards O'Neill as the storm we were tracking was pulling away to the northeast. After gassing up in town, we made the decision to head west and check out the other storm coming up from the southwest. Once we got on it, it was looking especially shelfy.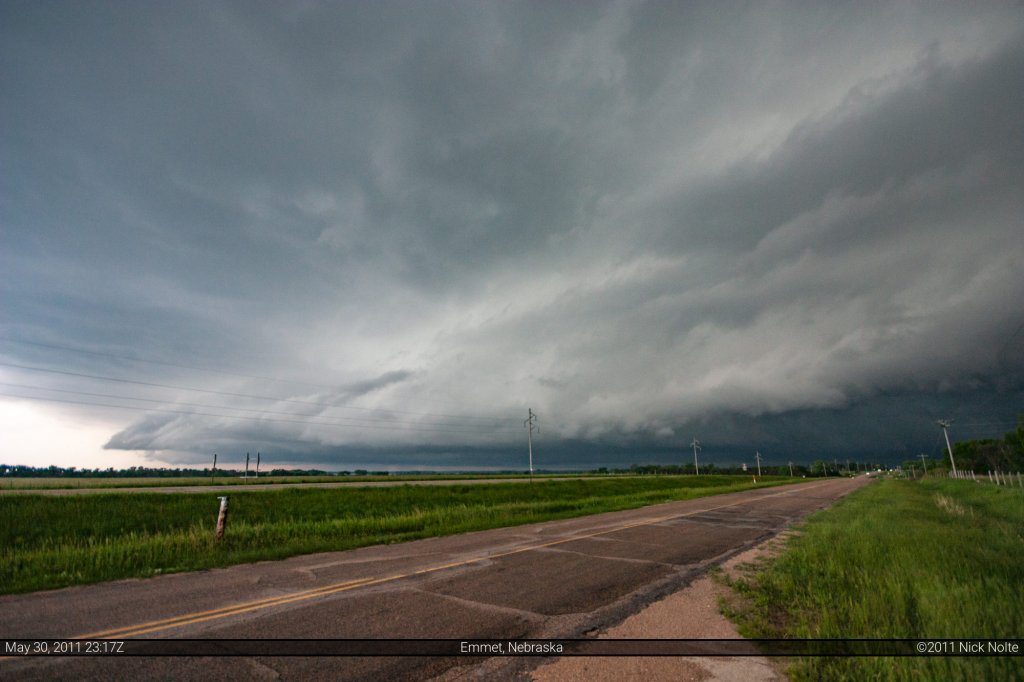 At this point, Scott and Robin decided to core punch to find some hail. We also ran into Bart Comstock retreating from the storm and convinced him to return to the core for hail glory! As we approached the core, the loud smacks from golf ball sized hailstones caused me to retreat, while the rest forged ahead. My car has a rear window that is angled poorly for hail, and I didn't want to risk shattering it. My decision would later be supported by Bart's report of 2.75″ hail in the core.
So, at this point, I had broken off from Scott and Robin and headed back to O'Neill when a tornado report came in on SpotterNetwork. It also looked like a wall cloud was forming to my north, so I hopped on some county roads east of O'Neill and tracked the storm northeast. It was here that I encountered several gustnadoes, a possible tornado and strong inflow to the storm. So strong, that they were sucking dust from the fields into the storm visually demarcating their location. One gustnado that formed to my south I was going to intercept with my car, but as I approached it, it grew much larger and I backed off.
Shortly thereafter, back towards the wall cloud, what appeared to be a possible tornado, but video evidence is inconclusive…it looked like there was one in there, but so much dust obscured the view. Eventually, I tracked the storm as it began to bow out and its gust front was evident by the wall of dust it was pushing east.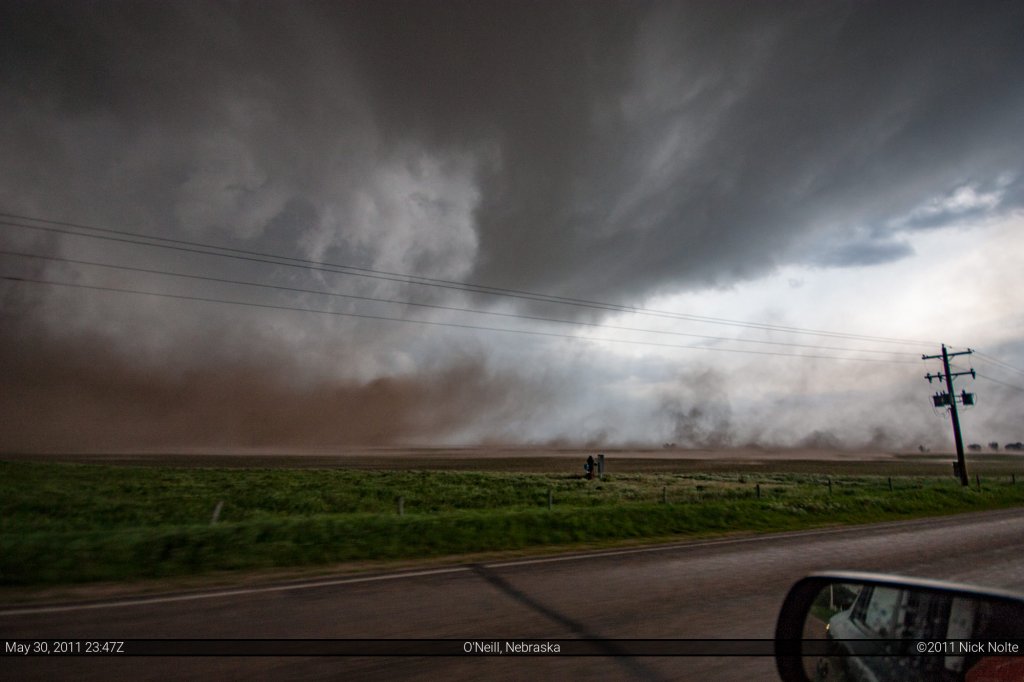 Chase Recap
| START | END | DURATION |
| --- | --- | --- |
| Grand Island, NE @ 30/1459Z | Sioux Falls, SD @ 31/0236Z | 11 hours, 37 minutes |
Chase Map