| 2 | 0.00" | 70 | 535 |
| --- | --- | --- | --- |
| TORNADOES | HAIL | WIND | MILES |
Well, this was the last day of my chase vacation. After spending the 22nd reveling in tornado outbreak bliss on the northeast side of the state, I was eyeballing the northwest part of the state this day. The 23rd I spent in Pierre resting as it was my first and only down day of the entire vacation. The SPC was calling for slight risk across most of the area, however they were outlining a 10% tornado probability across west/central SD into South Central ND. There was a surface low in the Nebraska Panhandle that was going to lift to the NNE throughout the day and an attendant warm front was supposed to lift along with it and a cold front was forecast to swing eastward through the northern plains in the late afternoon. This meant much of Western South Dakota would be in the warm sector with nicely backed surface winds, and with temperatures headed for the 90s and dewpoints into the 70s the picture was painted for some serious action in the area. The only problem: forecast storm motion was to the NNE at 50 MPH! This was going to be similar to the speed demons of the May 10th Oklahoma chase. However, motion to the N/NNE meant chances were high these storms would be parallel to the road network, but if you weren't on a storm from the beginning, you sure as hell weren't going to catch up to it.
The 8am update from SPC drew out a moderate risk for severe weather which encompassed my target area. My target at this time was Philip, SD. I left Pierre at 17Z and SPC mesoanalysis was showing 2,000 J/Kg of CAPE in the warm sector already and it was supposed to only go up from there. I chose Philip as I was expecting things to fire pretty quickly and was worried about storms developing northward into a line, so you needed to be on a storm early. A tongue of 3,000 CAPE was edging in towards this area and the surface low wasn't too far off to the southwest, so the backing winds were pretty good around the area.
I get to Philip around 1824Z and storms are already beginning to fire, I immediately turn north on highway 73 and I see a storm going up to my left, right and in my rear view mirror. So, now, not only do I have to deal with a tricky forecast environment, fast storm motions, now I'm going to have to choose between these three storms, a 66.6% failure rate! While approaching Philip I noted the storm further west looked pretty healthy, a nice flanking line and nice looking anvil. I decided as I drove north on 73 I'd have time both observationally and radar-ically (word? lol) to determine which storm to stick with.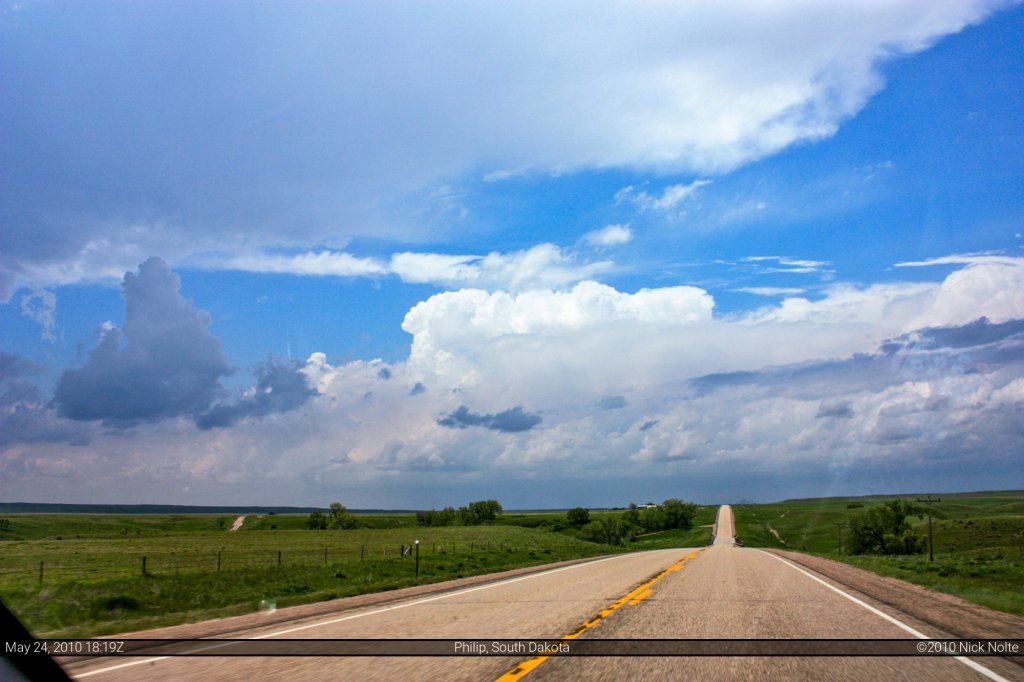 As I paralleled the storms, the western one actually started to look weaker on radar while the eastern one looked as if it was strengthening.  And the one in my rear view wasn't sure what it was doing.  So I narrowed my choices down to two as to whether to follow the west or east storm and I had about 18 miles to figure that out as highway 34 quickly approached.  Looking back on the radar it actually appears the western storm was splitting at the time the radar signature weakened, because it didn't take long for it to become stronger than before and at the same time the eastern storm started to become elongated and showing weaker returns on radar.  Visually, the western storm looked better so my decision was made to turn left onto 34, good thing too as my time to decide would expire in 1 mile.
So I turned west on 34/73 which would eventually lead me to Howes. The storm was now in my front view and the anvil was looking real good. Once I got closer to the storm there was a well defined rain free base and a lowering which meant good things to come. I paused on the side of the road at 1858Z to check the situation out. The surface winds were clearly out of the southeast here, so the environment was prime. As the road turned west towards Howes it was clear this storm was getting organized. At 1915 I pulled off and observed a very stout wall cloud on this thing and a very well defined clear slot and the beginnings of a beaver tail. It was only a matter of time before this thing wrapped up. While I shot some photos of the wall cloud, Andy Gabrielson zipped by for what seemed like the fifth time of the day, we kept leapfrogging each other.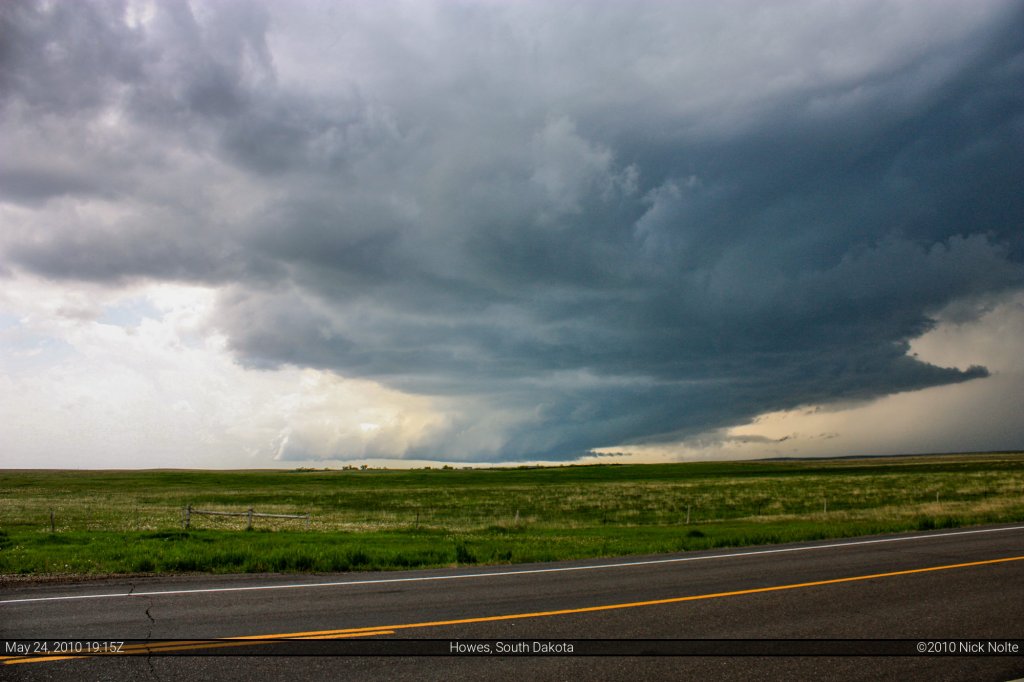 I hopped back in the car and continued west to Howes, which is an unincorporated community (of what appears to be 1 house) at the northern terminus of the 34/73 duplex.  As I turned north at Howes, Andy was coming back down south and as I turned he yelled "it's wrapping up!"  Sure enough, I took my eyes off this thing for literally 3 seconds and it started to drop a tornado.  This was at 1922Z.  I decided to adjust my position westward and went about a half mile where I pulled off again across the street from "Wink's Washout" to get some photos of the tube as traveled across the field.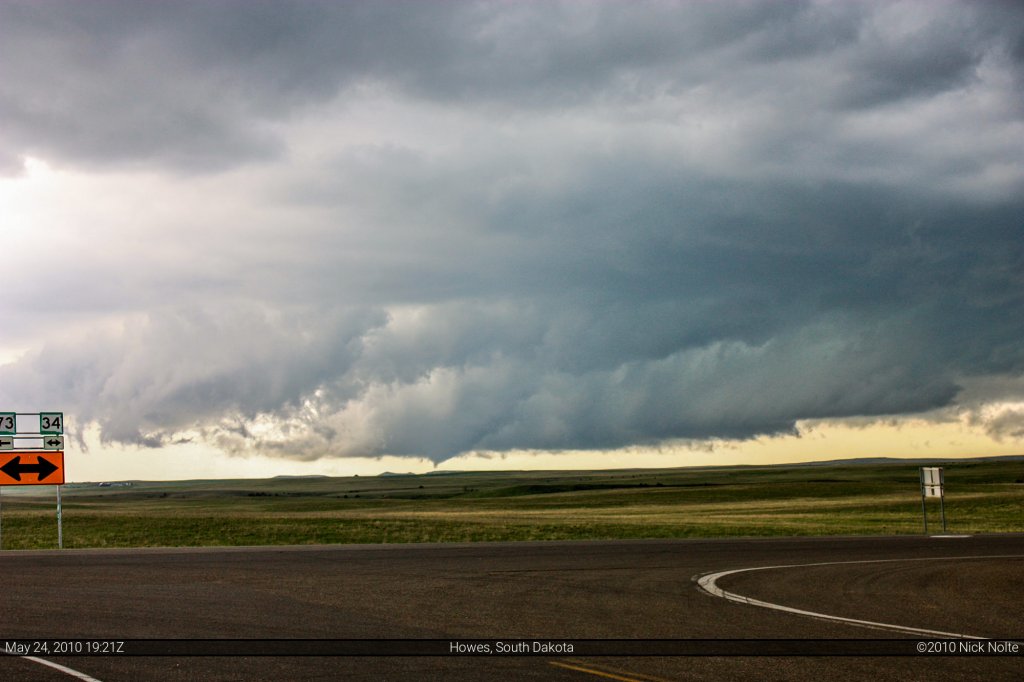 I adjusted my position another mile to the west and as I was pulling up to park off the side of the road, a gentleman who was pulled off on the opposite side was signaling to me as if I hadn't noticed the tornado. I get out and yell "what's going on?" He points into the field and I go "oh, hey! A tornado!" and proceed to cross the street and start taking photos, lol. There was three others people with him and they turned out to be regular people on the way back home from vacation, so they got treated to an awesome show by Mother Nature on "their way home." They asked me if I knew anything about tornadoes, I explained I was out here chasing. One of the passengers asked if they were safe at the location and I indicated that the tornado would cross the road about two miles up the road and that they would be alright here but that it would probably get a lot windier than it was.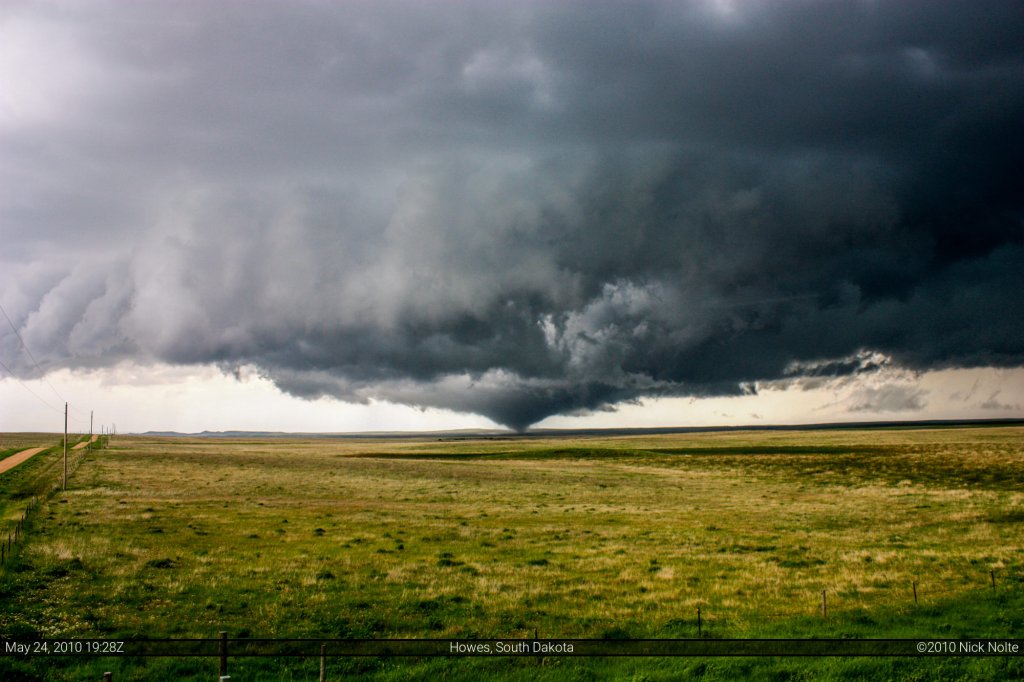 I bid them farewell and told them to have fun and adjusted my position another 1.3 miles to the west where I pulled off just east of a church and apparently about a couple hundred yards behind Bill Hark who has similar photos as mine, but from a bit closer, lol. I watched and photographed as the tornado approached the road not far behind the church. I flipped my car around to prepare to head back east and north to keep up. That's when I noticed the satellite tornado, it was a long needle-like tornado in the field to the north as the main tornado which was just starting to cross the road. I snapped a few more shots as the second tornado was twisting in the wind and the main wedge crossed the highway. The RFD area was amazing in both size and brightness, you could see blue sky!
From 5:30 to 7:08 of my Storms of 2010 video you can view my footage from this day
I headed back east to catch 73 north towards Faith and paralleled the tornado for a while but it eventually lifted and that was that for that tornado. The NWS survey later rated this an EF-2. I wouldn't be surprised if it was stronger earlier in it's life (where most of my photos were taken) as it was moving across completely open fields, and as such no damage to assess. After this I decided to drop south back to Philip and take US 14 west towards Wall to see what I could catch coming up from Nebraska. Hell, it was only 1:30 out here (Mountain Time) so there was a lot of daylight left.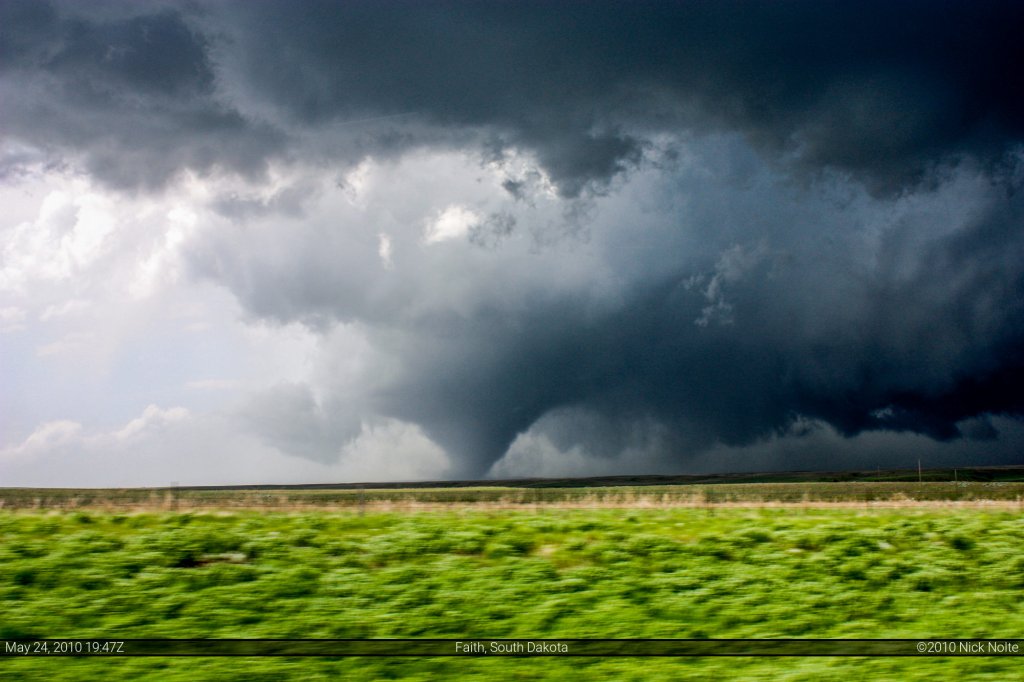 As I approached Wall the storms had congealed into an line that was mostly moving NNE. I hopped on I-90 to head east and stay ahead of it I was just barely managing to stay ahead of the precipitation as the shelf cloud was directly overhead. There was some wicked motion in the shelf, and as I pulled away I stopped at a rest area to video a bit of it and even saw a gustnado start to form, but it quickly dissipated. I bolted east again to stay ahead of the precip, but it soon caught me very suddenly. I drove in the wind driven rain for probably thirty miles before I pulled ahead of it for good. My last chasecation day turned out to be a success and the entire trip was great!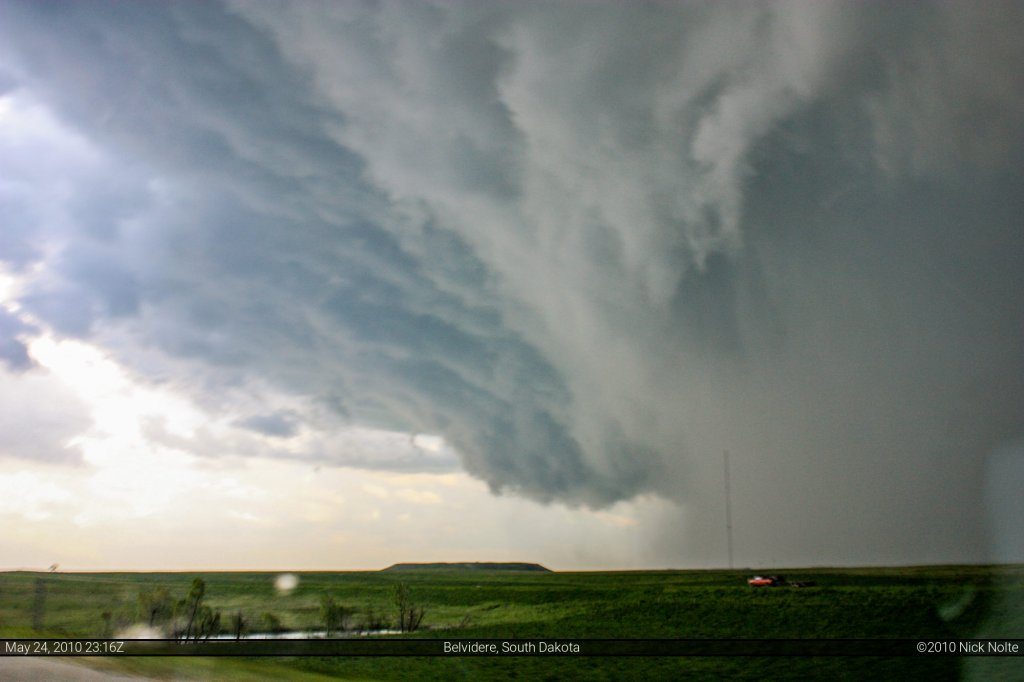 Chase Recap
| START | END | DURATION |
| --- | --- | --- |
| Pierre, SD @ 24/1515Z | Mitchell, SD @ 25/0206Z | 10 hours, 51 minutes |
INTERCEPTS
CHASER ENCOUNTERS

24/1927Z @ Howes, SD

24/1924Z @ Howes, SD
Andy Gabrielson (3)
Corey Johnson (1)

Chase Map