| 4 | 1.00" | 60 | 325 |
| --- | --- | --- | --- |
| TORNADOES | HAIL | WIND | MILES |
After a dismal outing in Wyoming the prior day, I was hoping today would be better. I felt I was in decent position as storms were a possibility north and south of Valentine, NE. The common rule of thumb is "when in doubt, go south" meaning if you're not sure where the best play is for the day, head for the southern end of it. What I was worried about on the south play was the pretty stout cap that was over Nebraska that I was concerned any storms would form at all. The cap was looking pretty moderate in South Dakota as well, but not quite as strong. I also spoke with another chaser and his concern was the cap as well, but we both independently made the decision to head north into South Dakota. It would pay off big time.
I didn't leave Valentine until 11am local time, SPC Mesoanalyis showed the CAP holding in Nebraska at over -100 J/Kg, but it had started to erode just a bit in South Dakota. Heading north, the skies remained mostly blue. I arrived in Murdo, SD at about 1pm local and chilled out for a bit checking the latest data to make a determination. A pleasant surprise from SPC Mesoanalysis showing the cap continuing to erode and at this time 4,000 J/Kg of CAPE had pooled beneath it. As long as the cap could be broken, it should end up being a good day.
I arrived in Pierre just a bit before 2pm and stopped for food at the McDonald's in town, plus to bum their WiFi while I waited for storms to initiate. As I kept an eye on things I decided perhaps I should get my oil changed. I was probably 2,000 miles overdue and I didn't expect any storms to fire for a bit, so I figured lets get it done. I pulled up to the lube express at Wal-Mart and started to give them my information. They then told me to check back in an hour. An hour!? I didn't expect storms to fire for a bit, but I wasn't sure if I had an hour. I actually told them no can do, and got in my car and pulled away. I was still in their parking lot when I looked over the data some more. Nothing had fired on satellite yet, and while CAPE was up to 5,000 and the CAP was all but eroded, I decided that I will get the oil changed. I pulled back in and waited an hour. When I drove out of the repair bay at 4pm I saw the storm tower going up to the northwest. I started north again on 83 and it wasn't too long before I got a good look at the developing storm
SPC Analysis from 21Z showed the cap completely gone in the area of the storm and CAPE over 5,000. Dewpoints were close to 70 and the surface wind was backed at 20 kts. Bulk Shear over the area was 40-50kts and 0-1km SRH was at 300 and SigTor Parameter was at 7! It was clear if a storm got going it was going to explode. Explode, it did. Just after 5pm local the storm first showed up on radar and it didn't take it long to get spinning. The meso marker showed up at 5:27 and the hook not long after that. This was the storm, now was I just going to get to it in time?
I punched east on 20 a bit south of Selby. There was quite a "chaser convergence" there at that intersection, probably 10 cars pulled off the side of the road observing the developing storm to the west. At about 5:20 I pulled off on the north side of 20 to do a bit of observation myself, and it was clear that this thing was just getting started. At 5:32, still observing along the side of the road, the wall cloud began to form. During this time my GR3 hadn't updated so I was a bit oblivious to the exploding returns on radar. However, with the visual on the wall cloud beginnings, I decided to keep in front of the storm and get in position.
I finally abandoned my observation area at 5:40 and continued east on 20. It was during this time my data came back and I saw the exploding radar image on GR3. I could tell the storm was building, but I didn't know it was going up that quick. As I approached Hoven, I decided to head north on 47. I pulled off the side of the road again at 5:57, the wall cloud clearly getting organized. I continued north a bit and pulled of once again at 6:10. At this point the wall cloud was very well defined and it was clearly rotating. From my position on the road it appeared it would cross the road about 100 feet north of where I was. I watched as it came towards me, this is where the first tornado formed at 6:13. The condensation vortex didn't reach the ground, but there was a small debris cloud at the surface in the field, it didn't stay down long and lifted quickly.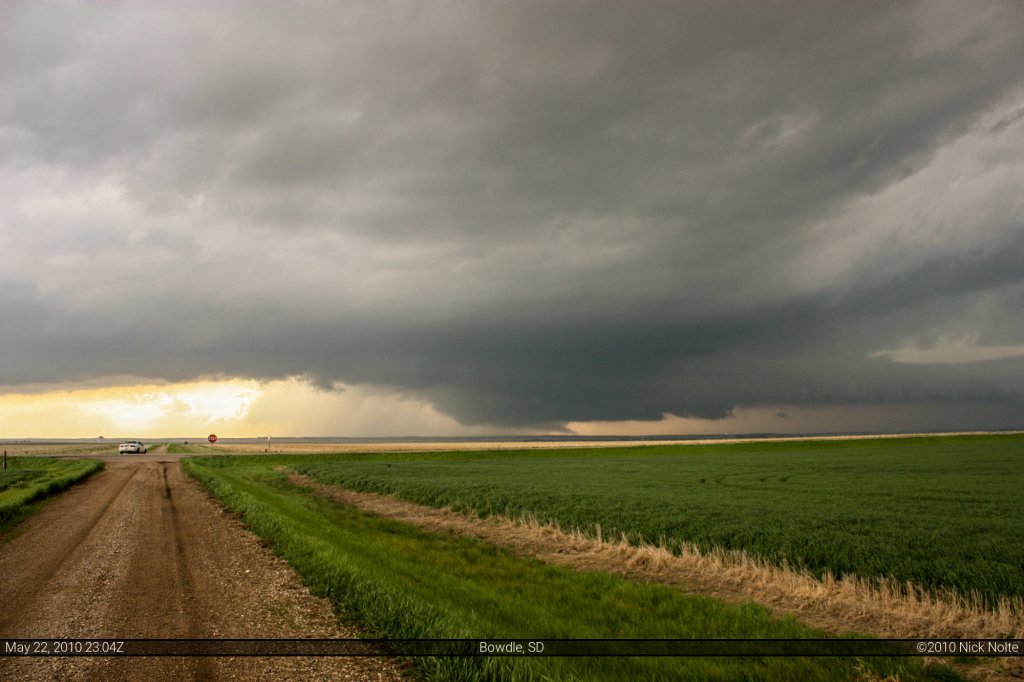 Knowing the parent circulation was going to cross the road near where I was, I decided to get back on the road and go north to stay in front of this thing. It started raining pretty hard and the wind was pretty fierce as it approached the road and I tried to race it north. The radar shows the circulation crossing SD-47 at 6:17 local time about a mile south of US-12. I was turning onto US-12 at 6:18 so I was barely ahead of this tornado. As I continued east on US 12, a look back out my window showed the second tornado in the field south of US-12 just east of SD-47 The horizontal lines in the photo below is the defogger on my rear window, lol.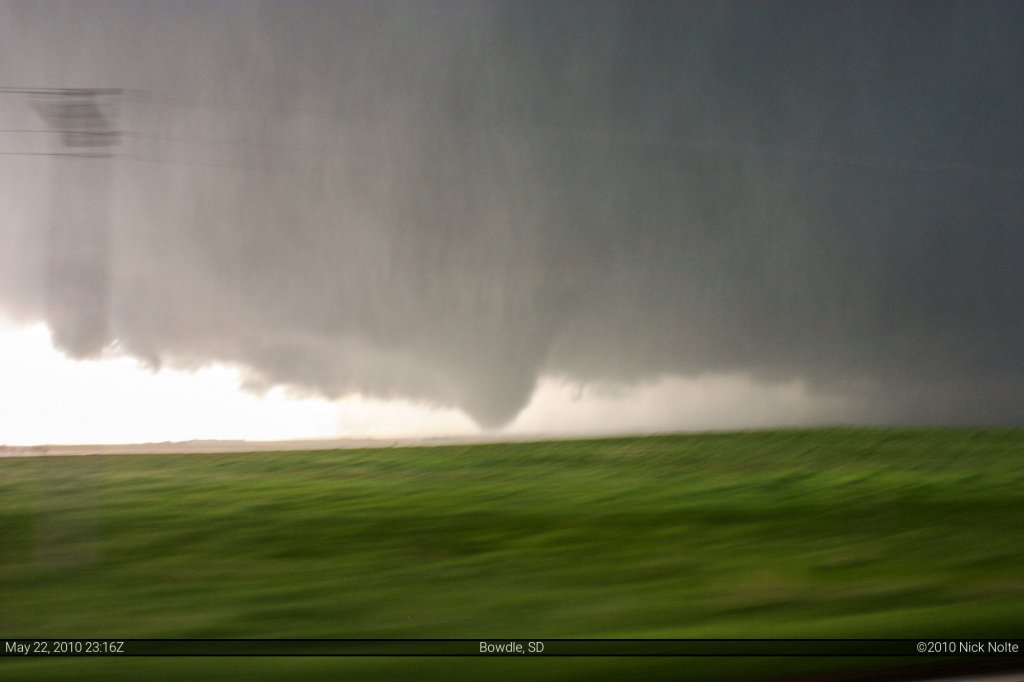 At this point I was just trying to get some distance between myself and the storm. I pulled off the road at 6:22 to look back and the tornado was a pretty large cone crossing US-12 and continuing northeast. The cone appeared to lift at this point, but I'm not 100% sure, but the storm kept on trucking. After watching for a minute I continued east on US 12.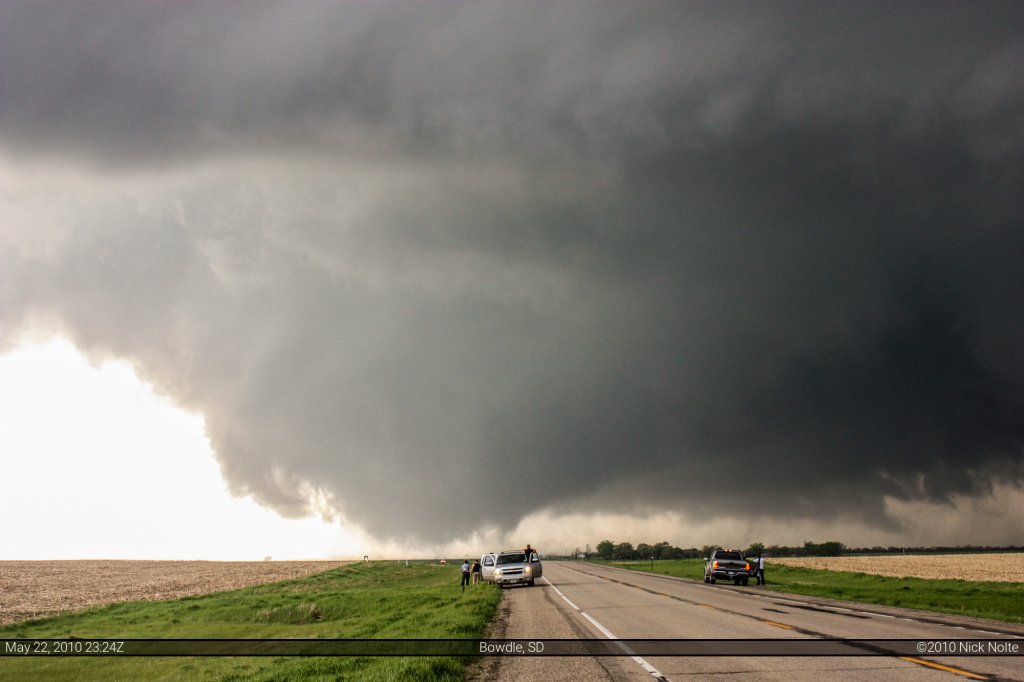 While driving east I noticed it was starting to get larger and more wedge-like in appearance. I turned north on SD-47, drove through Bowdle and pulled off on the north side of town to watch this monster cross the road in front of me. The motion of this thing was incredible and I could hear it from my car.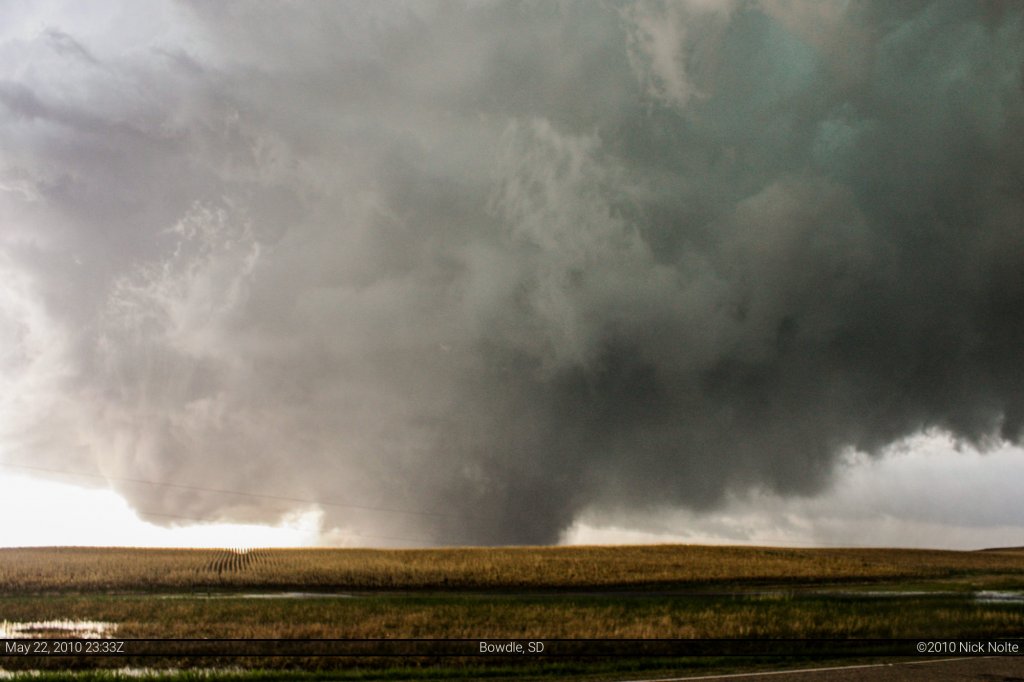 From 2:25 to 5:35 of my Storms of 2010 video you can view the footage from this day
I turned the car around at 6:35 as it began to encroach on the highway and dropped back down to US-12 to head east and keep up with it again. During this time the wedge apparently lifted, but 16 minutes later I pulled off the road again and witnessed the third tornado of the day form back to me west northwest.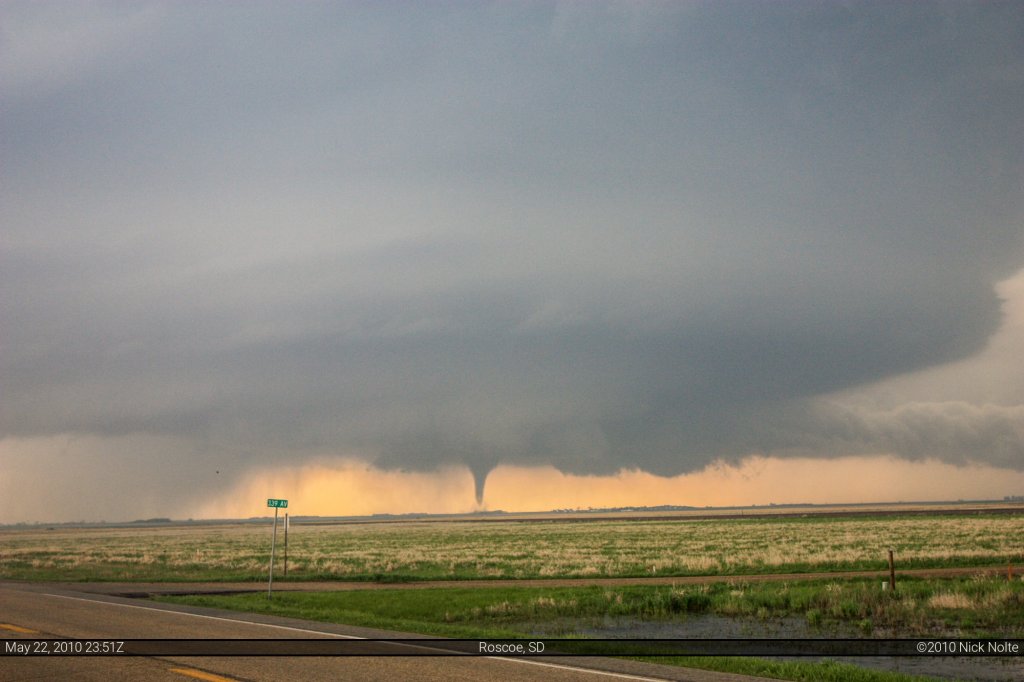 After this one lifted, I decided to call it a day, an unbelievably successful one at that and head to Aberdeen as dusk settled in. I figured all the other chasers on this storm were going to descend on the city to book hotel rooms, so I figured I'd get the jump on them, lol. So, a majorly successful chase which was sweet redemption for the utter failure and disappointment in OK on the 19th. To top it off, there was still more to come in the following days!
After coming back to Michigan, the NWS had performed the damage surveys and determined that the Bowdle, SD wedge was an EF-4 tornado with winds up to 200 MPH. A high tension power transmission tower was sheared from it's concrete base and hurled 400 yards. Numerous farm buildings were swept off their foundations and a few houses had substantial damage. There was also farm equipment that were tossed around like Matchbox cars.
It is also interesting to go back and look at the SPC Mesoanalysis at the time of the wedge. The tornado crossed SD-47 at about 2335Z, the 23Z mesoanalysis had Supercell Composite Parameter at 28, CAPE at 5,000, Lifted Index of -10, Low level lapse rates approaching 9°C, 0-3km SRH at 300. So, basically, all the ingredients were there.
Chase Recap
| START | END | DURATION |
| --- | --- | --- |
| Valentine, NE @ 22/1620Z | Aberdeen, SD @ 23/0147Z | 09 hours, 27 minutes |
INTERCEPTS
CHASER ENCOUNTERS

22/2317Z @ 7 SW Bowdle, SD
22/2333Z @ 1 N Bowdle, SD
22/2352Z @ 3 W Roscoe, SD

22/2313Z @ 8 SW Bowdle, SD
None
Chase Map