| 0 | 1.25" | 60 | 575 |
| --- | --- | --- | --- |
| TORNADOES | HAIL | WIND | MILES |
Well, this is one of those chase days you don't want to talk about, but "reliving" it might allow you to at least learn something. After chasing the Dumas, TX supercell the day before and driving back to Lubbock that night I was pretty tired, admittedly and didn't plan too well for the 19th. The SPC outlook for the day painted a moderate risk across most of Central Oklahoma, I took a look at the models rather hastily in the morning and decided Lawton, OK would be a good place to start.
The setup for the day had a surface low in Colorado that was to migrate to the east into Central Kansas early in the morning. This was going to allow pretty strong moisture advection from the southeast into the Oklahoma area bringing CAPEs up to 3000 J/Kg and with 40-50kt deep layer shear, everything looked good. Part of the reason I chose Lawton, was the distance I'd have to drive from Lubbock just to get to the playing field. So, my planning was subpar on this day, and nothing could prepare me for the frustrating craziness that would ensue.
I high tailed it out of Lubbock around 9:30am and got to Lawton around 2pm. Looked at some data and was concerned about the Cap in place south of I-40 and decided to head a little further north. Arrived in Hobart around 3:40 and noticed the Cu field starting to look a little better. Finally saw a target to go after around 4:30 as I arrived in Custer City. This storm that I spotted would later become the Watonga-Kingfisher cell that dropped a couple of tornadoes near Hennessey and Kingfisher. But I was not prepared for how difficult it was going to be to get in front of this storm.
Managed to stay out of the rain from this storm until precisely 5:01. I had got off the main drag and was putzing around on some county roads. As I headed south on N2510 Rd back towards Highway 3 is when I got caught in the rain. As I approached the intersection of N2510 and OK-3 there was a string of cars heading east which made turning left into traffic difficult. After waiting for almost two minutes for a clearing, I joined to convoy and headed east with them. Arrived in Watonga at 5:13pm CST, was out of the rain at this point, just barely. Arrived in Kingfisher around 5:43 as part of this giant convoy of chasers and locals. The storm off to the north, but when you're traveling the same speed as the storm you cannot get in front of it. The day continued as such.
As I turned north on 81 out of Kingfisher I could tell it was going to be nearly impossible to get into position, and just a few miles up the storm crossed the road in front of me. It was HP at this time and I turned around to try and get back on 33 and head east to get ahead of it. I rejoined the convoy and not too far out of Kingfisher traffic was slowing to a crawl as other chasers coming south off a county road were forcibly turning left into the convoy on a state highway causing people to slam on their brakes. At this point the convoy was easily three miles long, maybe longer and we were crawling along at 30 MPH. The storm continued east at a quicker pace than that and most of us watched helplessly as the storm slowly pulled away. The rest of the day was spent trying to catch up and never quite making it.
I dropped south of 33 to try and get out of the circus, went through Cashion and turned north on 77 only to run into the storm crossing the road in front of me yet again blocking my path to better position. Having to turn around instead of punching the core, I went south to 248th St where I turned east towards I-35. At this point I was on the northern fringes of Oklahoma City and speed limits in the area are not conducive to chasing, stop signs every mile, etc. Turned north on I-35 only to find the storm crossing the road AGAIN! Still not able to get in position to go east in front of this thing, I exited the highway and tried to find an east road to keep just keep up with it. A road that all my mapping devices and maps indicated was paved, was not and was mostly mud making it impassible. Had to double back yet again and at this point I was incredibly frustrated. I decided to call it a day and headed to gas up and find a hotel near OKC and get ready for what was to be a travel day on the 20th.
This day turned out to be a complete bust, saw one storm with some rotation, that was it. My Chase Rule #1 was born on this day: Do not chase a SPC high risk situation in Oklahoma. Or if you do, pick a target away from the high risk area.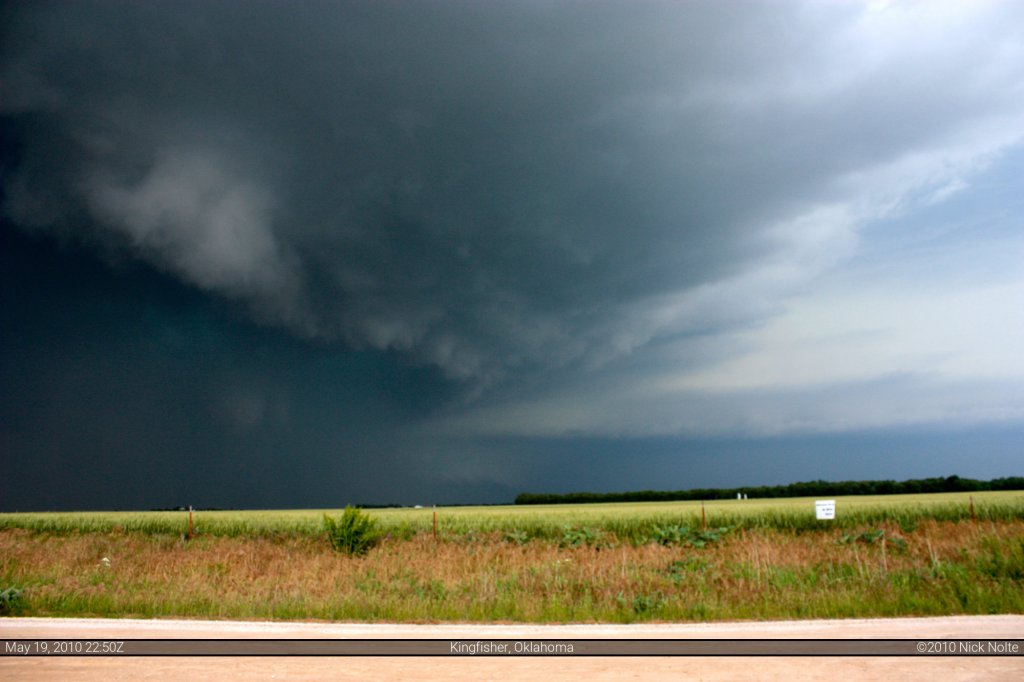 Chase Recap
| START | END | DURATION |
| --- | --- | --- |
| Lubbock, TX @ 19/1426Z | Oklahoma City, OK @ 20/0147Z | 11 hours, 21 minutes |
| INTERCEPTS | CHASER ENCOUNTERS |
| --- | --- |
| None | None |
Chase Map