| 1 | 1.00" | 40 | 540 |
| --- | --- | --- | --- |
| TORNADOES | HAIL | WIND | MILES |
With everyone's eyes on the event predicted for the 19th, overlooked was the "day before" event that was setting up along the TX/NM border. Target of the day, for me, was Dalhart, Texas in the northwestern Panhandle of Texas. Forecasts were showing a low centered in southeast Colorado with a warm front extending southeast from there to Louisiana. With the dryline expected to slosh eastward through the day, a bulge was expected for form in the panhandle. This spelled out a great location for backed surface winds, warm air and moisture advection and with the dryline pushing east, the catalyst needed to kick off some storms.
I took off from Lubbock a little after noon CST and began my trip headed north on US 87. I arrived in Dalhart at about 4pm CST. By this time a nice area of 3,000 J/Kg CAPE had formed over the area, so our instability was definitely present, just needed a little kick to get it going. Well, that kick arrived and the cell that would become the Dumas Supercell first showed up on radar, 30 miles south of Dalhart, at 4:16pm CST. At 4:26 it had it's first hail marker indicating 0.75″ hail. At 4:31 that hail marker grew to 1-inch. At 4:37 it was up to 1.5 inches. At 5:49 it was up to 2.25″ Basically it exploded from nothing to supercell in about 23 minutes. It was at this point, the storm appeared to cycle on radar as its overall appearance became a bit ragged. That only lasted about 20 minutes, then it really got its act together. Here's the radar image of the storm for the day from 4:16pm to 6:36pm.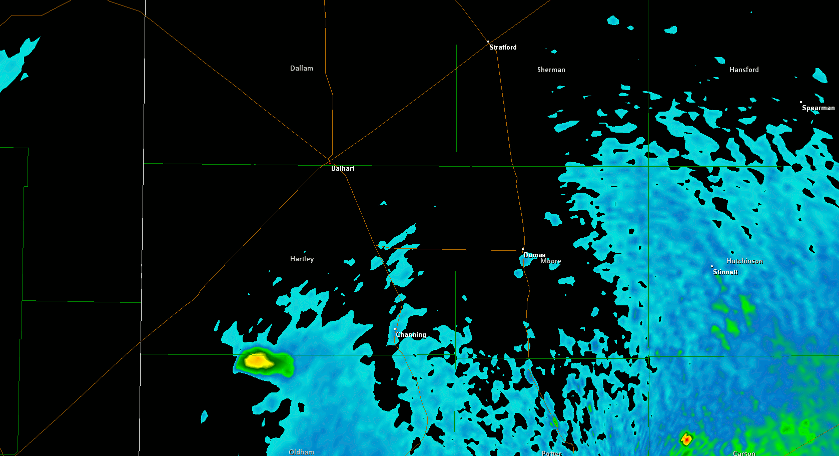 At 5:18 the storm began to exhibit signs of rotation and a wall cloud began to form about 15 miles southeast of Dalhart.  The wall cloud really started coming down and looking much more foreboding as it continued on to the east north east.  At 5:51pm just north of Channing, as I was heading east on FM 722 the only tornado I would see this day dropped.
Shortly after this, at about 6:00pm the storm began it's transition to an HP Supercell, and it was a good looking one at that. Softball size hail was being reported falling from the storm just after 6pm. The core of the storm had that tell-tale green color to it indicating it was full of hail. At 6:04 I stopped along FM 722 on Middlewell Rd to watch the storm for a bit as it trudged to the east. I then continued east for 10 more minutes where I stopped and observed, yet again. The wall cloud at this time was nearly on the ground.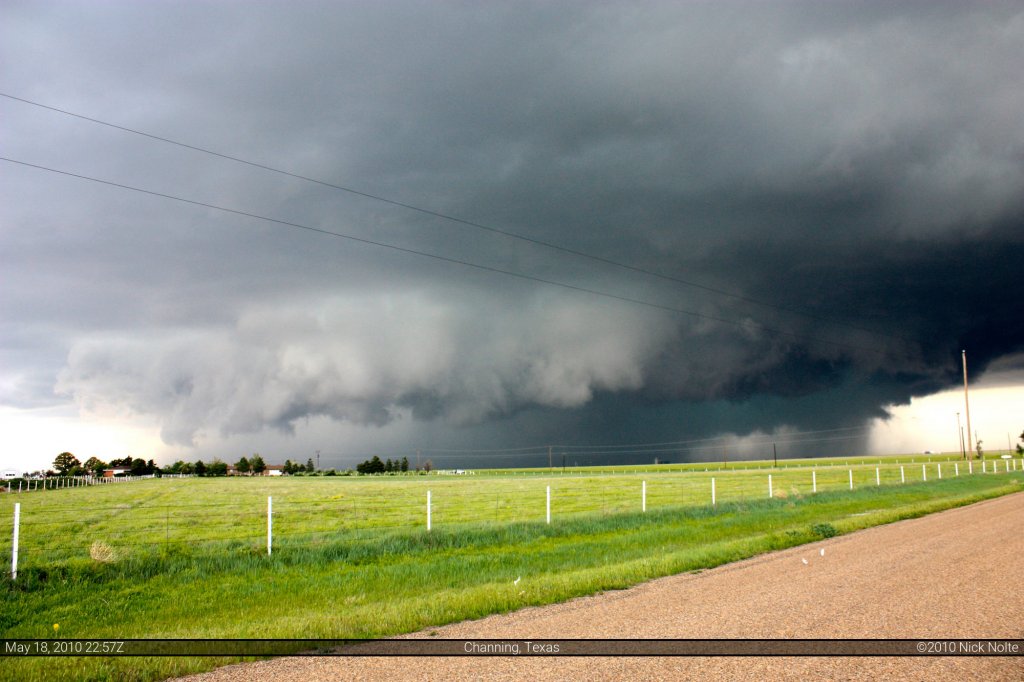 After that, I dropped south and then east so I could come back up north without punching the core. As I approached Dumas on US 87/287 there was quite a convergence of other chasers and locals, alike, gathered along side the road as the storm descended on Dumas.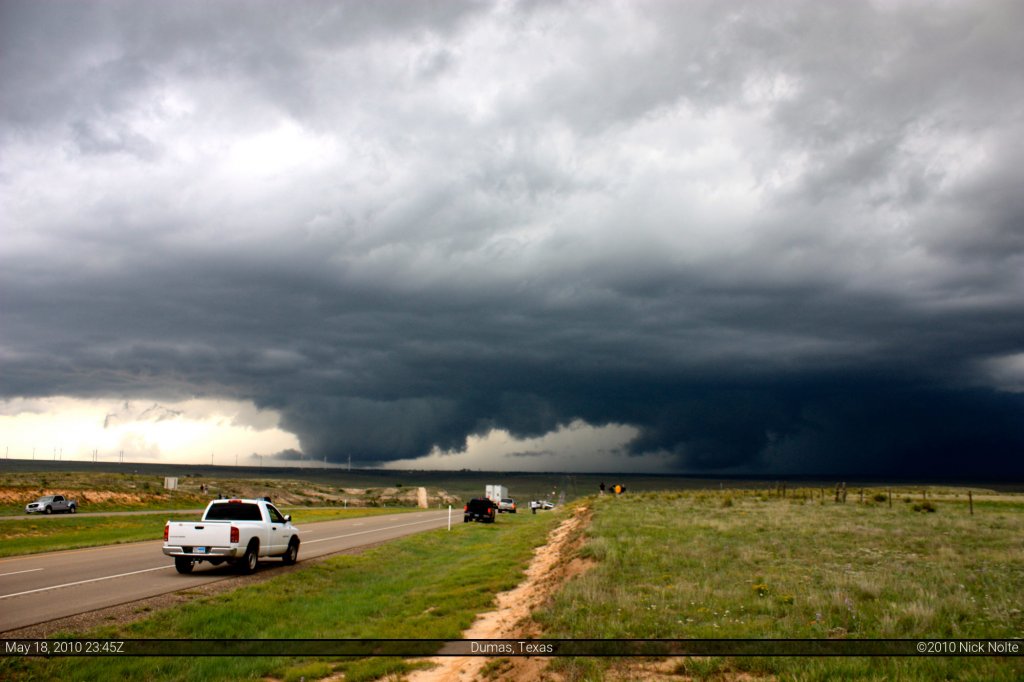 From 0:50 to 2:25 in my Storms of 2010 video you can view the footage of this storm:
After the storm passed Dumas, I drove through town and pointed east on TX-152. The storm, at this time, was running parallel with the highway, but only about a half mile north of it. As I tried to get ahead of the storm I ran into some heavy precipitation that was wrapping around the south side of the storm. Torrential rains reduced visibility close to zero and some quarter sized hail was thrown in the mix for good measure. Finally, at about 7:35, I got out of the rain as I approached Stinnett.
The tornado sirens were blaring in the small town, yet locals and chasers alike lined the shoulders of the highway observing the storm as it passed just north of town. Here I saw two more funnel clouds. I tried, once more, to get ahead of the storm, but ran across a closed road on Ranch Road 2277 that didn't inform you of such until after you had drive 8 miles on it. Needless to say I lost about 20 minutes on the storm, and it was starting to get dark. I observed the storm race away from atop a hill on that stupid road and then called it a day.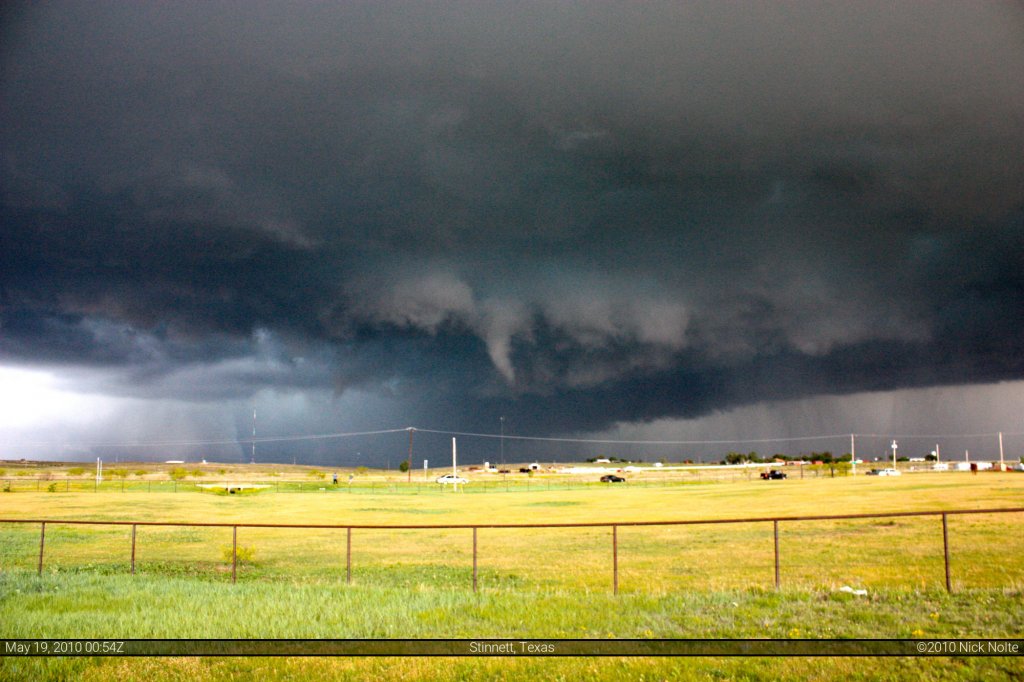 Chase Recap
| START | END | DURATION |
| --- | --- | --- |
| Lubbock, TX @ 18/1714Z | Lubbock, TX @ 19/0509Z | 11 hours, 55 minutes |
| INTERCEPTS | CHASER ENCOUNTERS |
| --- | --- |
| | None |
Chase Map