| 0 | 0.75" | 60 | 760 |
| --- | --- | --- | --- |
| TORNADOES | HAIL | WIND | MILES |
An overnight MCS from Eastern Nebraska into Iowa would make afternoon recovery behind it and to the north questionable. If it could recover, surface based storms would be possible in the late afternoon near an occluded front stretching from a low in Eastern South Dakota south into Iowa.
SPC had a broad 5% tornado outlook stretching from southwest Minnesota into Oklahoma. The biggest question for me was if the MCS progressing east would get redevelopment along the southern flank, and if the air mass behind it could destabilize.
Sometimes I make questionable decisions when planning out a chase day. I got up relatively early and decided to track the MCS into Iowa to see if it restrengthened, but my plan was to pull off it and sit in northwestern Iowa for the later show. I met up with the MCS in Columbus and continued east on US 30 into Iowa as it drifted east-northeast.
Eventually I arrived in Denison after following behind the MCS for a bit and decided this would be the end of my eastward trek. It was time to focus on the airmass to my northwest hoping for recovery. As I trekked up US 59 new cells began to develop across the river in Nebraska. With their northeastward tracks, I was going to need to continue to head further north.
I continued north towards Sanborn, and as I did the cells all weakened and fell apart. It appears the post MCS environment here had not recovered yet. Looking at visual satellite it looked like even further north was the answer. Clearing was building near Sioux Falls, so my plan was to just continue north.
Around this time, SPC issued a mesoscale discussion focusing on southwest Minnesota back to Sioux Falls as the best areas for supercell development.
As 20z rolled around and I approached the Minnesota border south of Luverne, cells began to fire along the US 81 and I-29 corridor in South Dakota. From this point on I was just playing catch up trying to get on one of these cells. After 21z a couple of funnel sightings prompted tornado warnings near Brookings. I was so far behind the eight ball on this chase that the only photo I shot was of a cell south of Brookings as this was happening.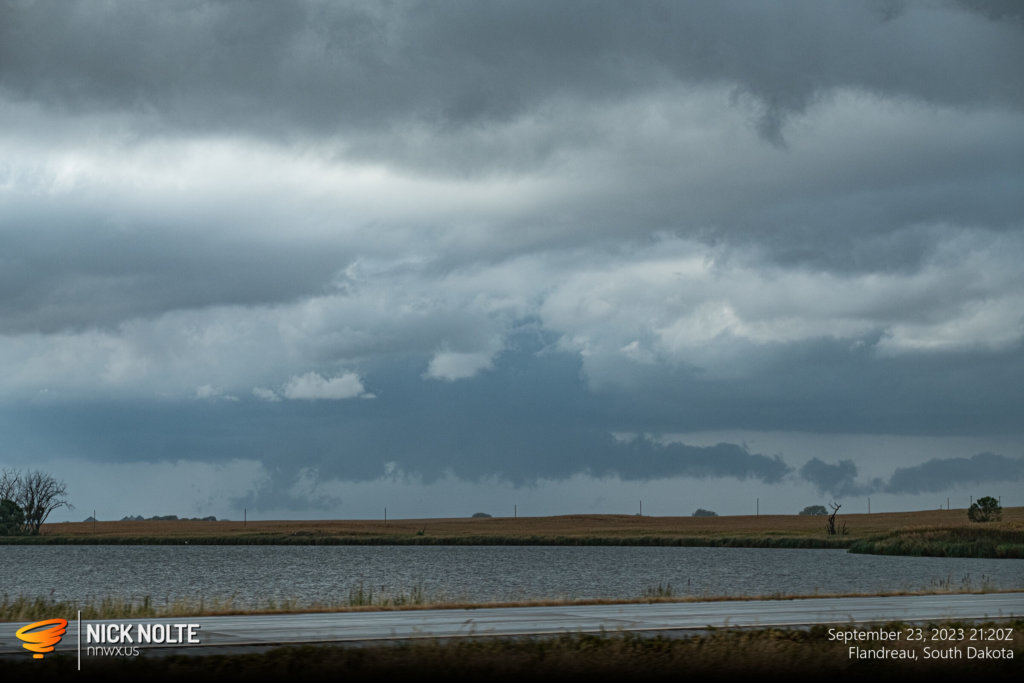 I followed this cell for a little bit, but after 22z most of the storms started to weaken and that pretty much ended the chase day and I began the long trek back home!
Chase Recap
| START | END | DURATION |
| --- | --- | --- |
| Grand Island, NE @ 23/1311Z | Grand Island, NE @ 24/0321Z | 14 hours, 10 minutes |
| INTERCEPTS | CHASER ENCOUNTERS |
| --- | --- |
| None | None |
Chase Map