| 0 | 1.00" | 70 | 585 |
| --- | --- | --- | --- |
| TORNADOES | HAIL | WIND | MILES |
The second day of a week long chase vacation in late June featured strong easterlies advecting very moist air into the Central High Plains across Colorado and Wyoming. Some places were expected to reach low 70°F dewpoints which is pretty nuts for the area. The Denver Cyclone was expected to be active but really anywhere from Douglas to Denver was looking pretty good. When you get 3,000 J/Kg of CAPE in Wyoming or Colorado, you figure out how to be there.
After spending the night in Pierre, we had a bit of a drive to get into the target area. My initial target was Southeast Wyoming, probably Wheatland area to setup. We left Pierre at 13z and began the trek southwest. As we crossed the border into Wyoming right around 18z the SPC issued a mesoscale discussion for our target area indicating a higher chance for tornadoes along the I-25 corridor between Chugwater and Fort Collins.
It only took another 40 minutes before a tornado watch was issued for the same area. While a cell had exploded near Sidney, Nebraska, a cumulus field was rapidly developing west of I-25 in Southeastern Wyoming, so we decided to wait it out.
I was also concerned that the current cloud cover north of Cheyenne might temper storm development as they rolled off the hills. We could hope for a cell to track southeast towards Cheyenne and keep it in the better air. Eventually storms began to develop in Albany County northwest of Laramie, so we moseyed on west to check it out.
Eventually I found a spot off highway 34 with a bunch of other chasers where we were able to sit and wait for the storm to roll off the hills. It eventually went tornado warned, but was very reluctant to roll towards us. I even drove further into the hills to get a closer look but once we got close enough the cloud deck was so low it was like a fog and you couldn't make anything out, so we returned to our previous spot.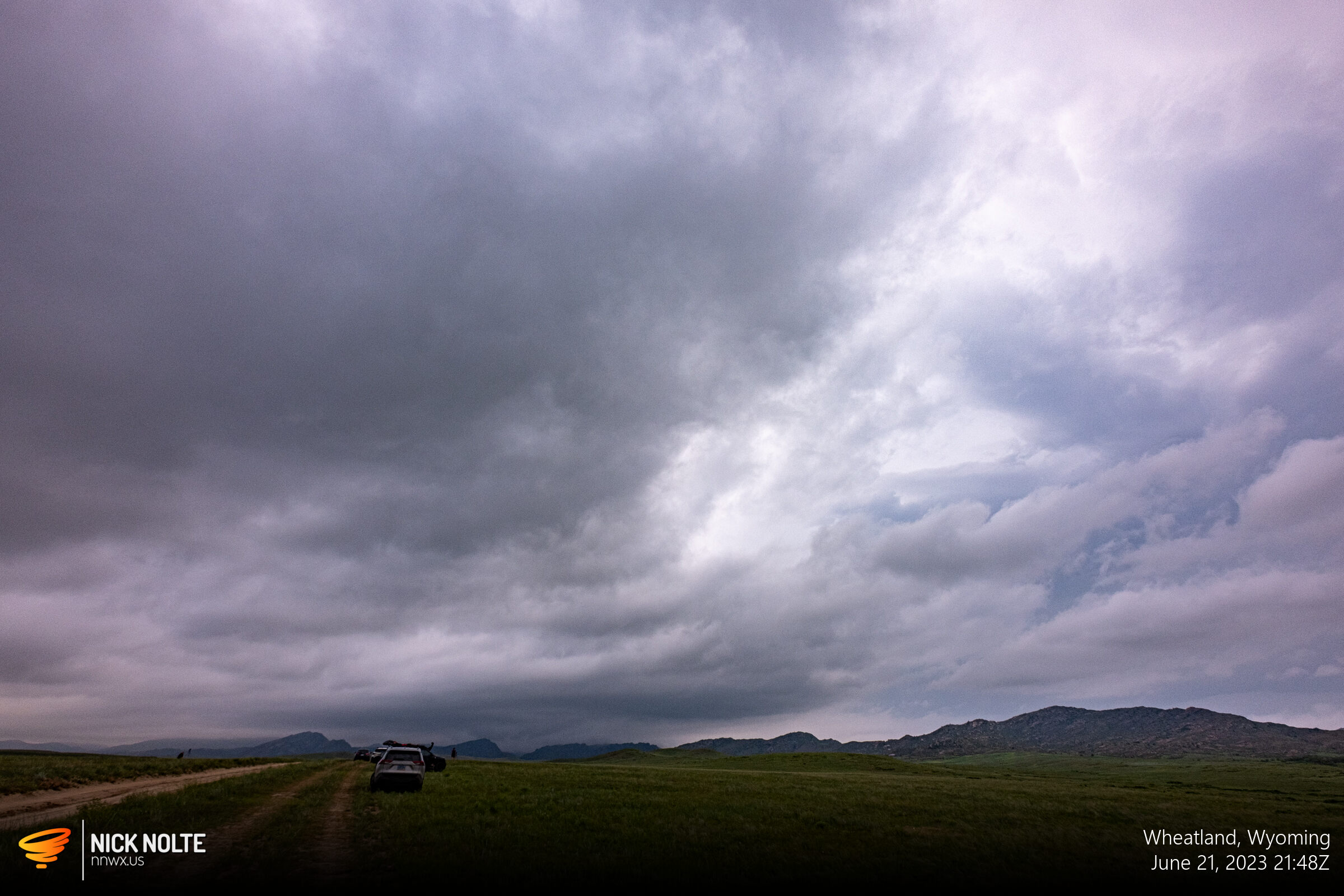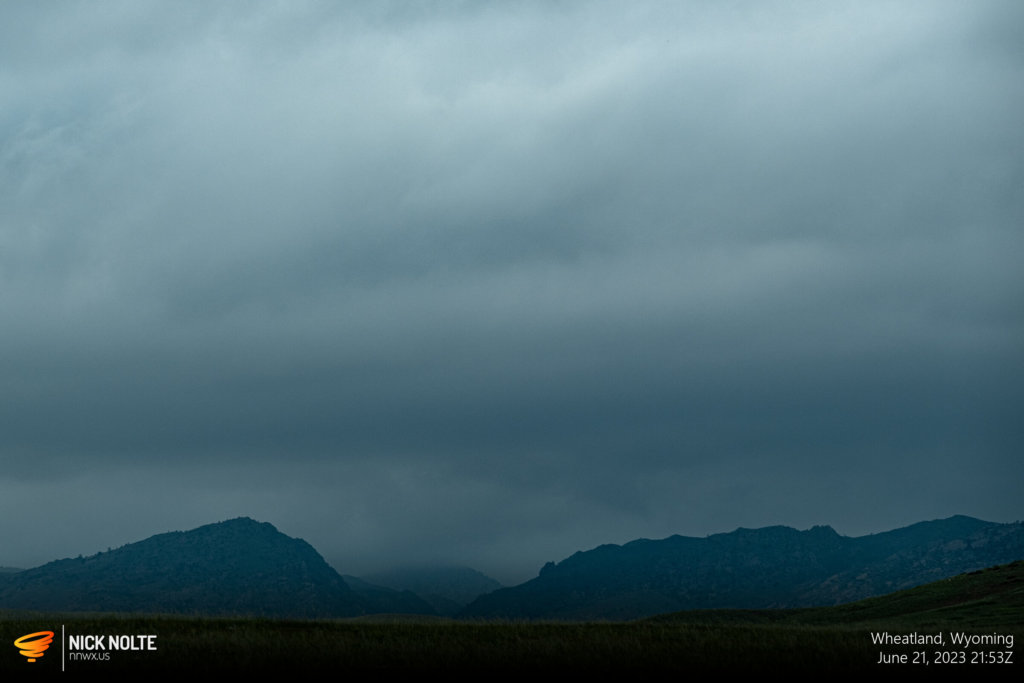 While this was going on, some tornadic craziness was going on near Akron, Colorado where fellow chaser Tony Laubach got some career quality footage. Blissfully unaware at the time, we continued to wait for the storm to move.
Eventually the storm began to move towards us, and as it did a new area to our immediate north developed as a new cell began forming downstream.

Eventually we moved back to Wheatland while tracking the storm and it was grungy at best.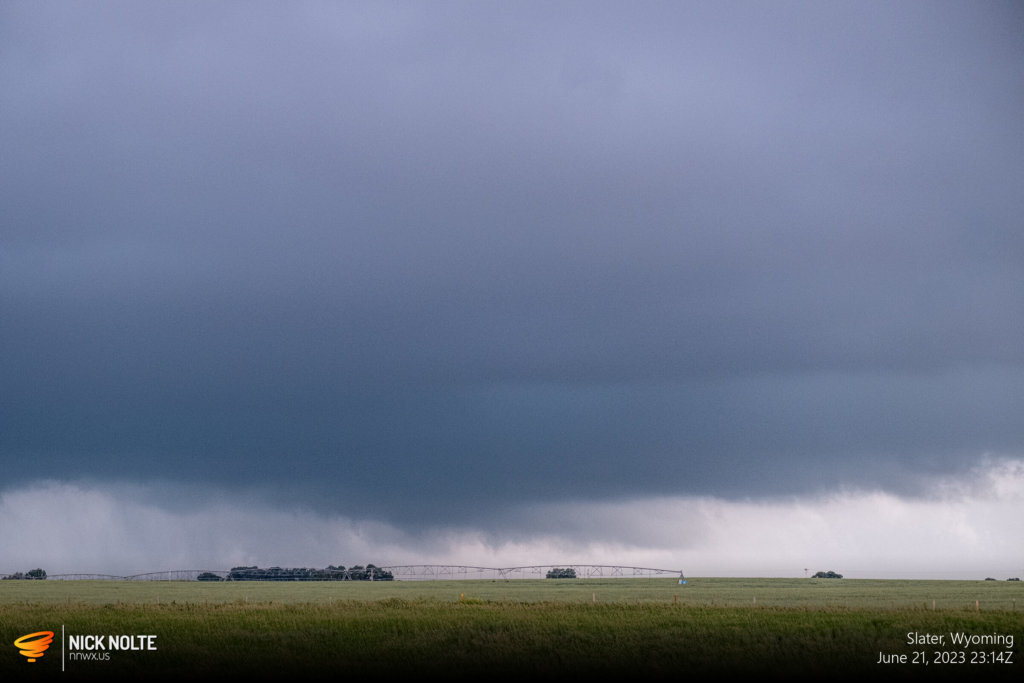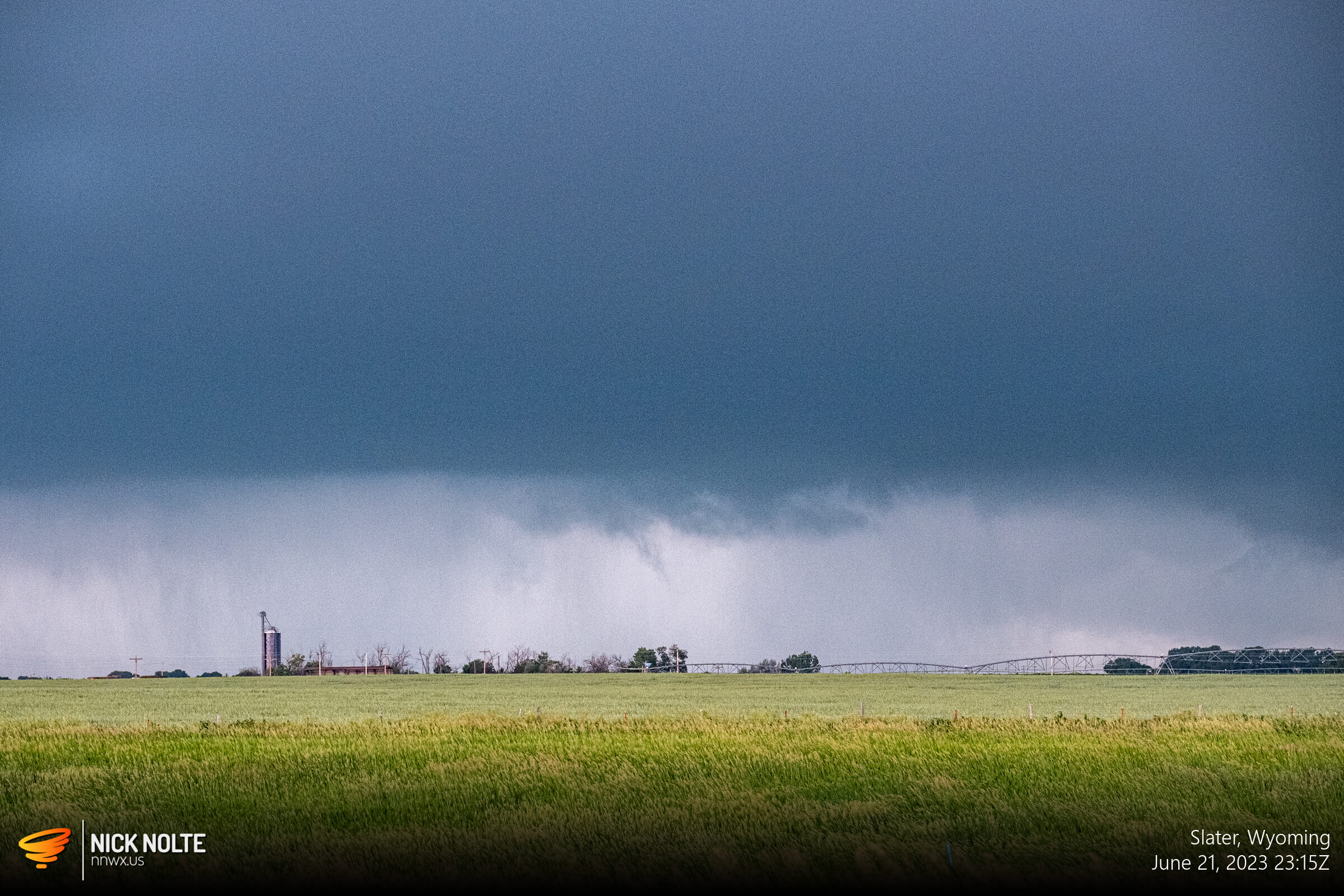 There were a couple times where it looked like it was trying to wrap up and we'd get these little filaments dipping down from the base, but this was as good as it got. Unfortunately Colorado was the place to be for this chase day, but at least an enjoyable chase in Wyoming.
Chase Recap
| START | END | DURATION |
| --- | --- | --- |
| Pierre, SD @ 21/1233Z | Cheyenne, WY @ 22/0133Z | 13 hours, 0 minutes |
| INTERCEPTS | CHASER ENCOUNTERS |
| --- | --- |
| None | None |
Chase Map