| 0 | 1.00" | 50 | 869 |
| --- | --- | --- | --- |
| TORNADOES | HAIL | WIND | MILES |
With zonal flow present across the upper third of the United States and a lee surface low forming in Colorado presented a decent opportunity for severe weather as well as along the warm front extending to the east. An area of favorable deep layer shear around the point where Wyoming, South Dakota and Nebraska meet offered the chance of supercells and with backed surface flow near the warm front meant a tornado could not be ruled out.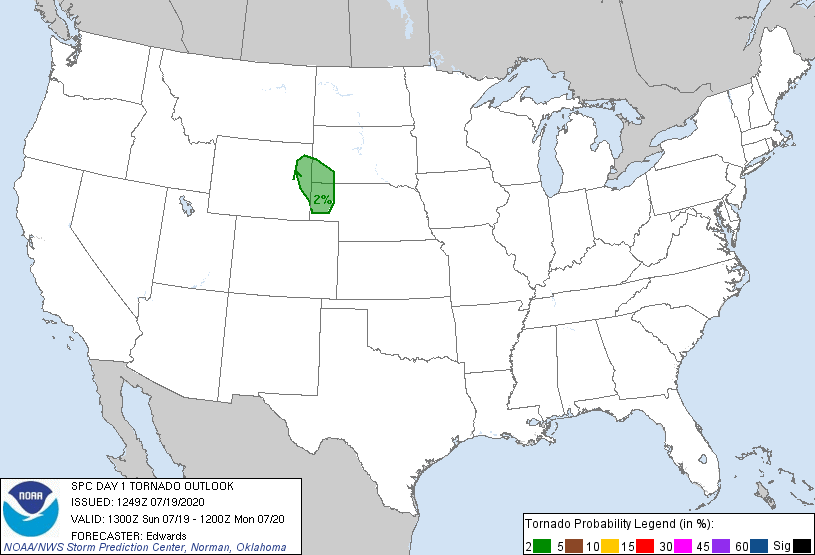 The SPC had a slight risk area stretching from Devils Tower into Northwestern Kansas with a 2% tornado risk near the WY-NE-SD tripoint as mentioned before. Given the surface map and the lee surface low setting up near Douglas it appeared that the target area was going to be east of there around Lusk, so that's where I decided to target.
I left Grand Island around 14z and began the trek west and arrived in Torrington just after 19z where I looked over data to make a final decision where to head. The low looked like it was around Glendo so I decided to continue on to Lusk as planned.
Funny enough as I arrived in Lusk a cell started to develop near Pine Bluffs. It didn't look too strong at first so I decided to stay north and keep an eye on it. By 22z I was still near Lusk and the cells by Pine Bluffs had turned into a clustery mess, but it didn't appear that initiation was imminent where I was so I decided to bail south to the cluster of storms.
As I bailed back south a rather significant cell erupted near Scottsbluff, so that was the one I decided to track. The rest of the cluster to the south looked rather disorganized and messy. The Scottsbluff storm did provide a cool landscape for the dark skies.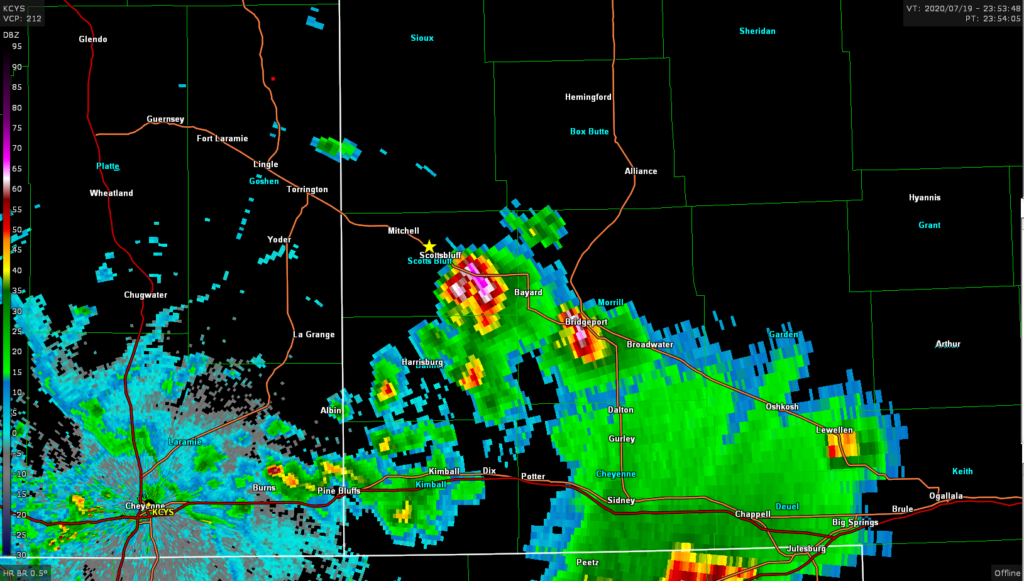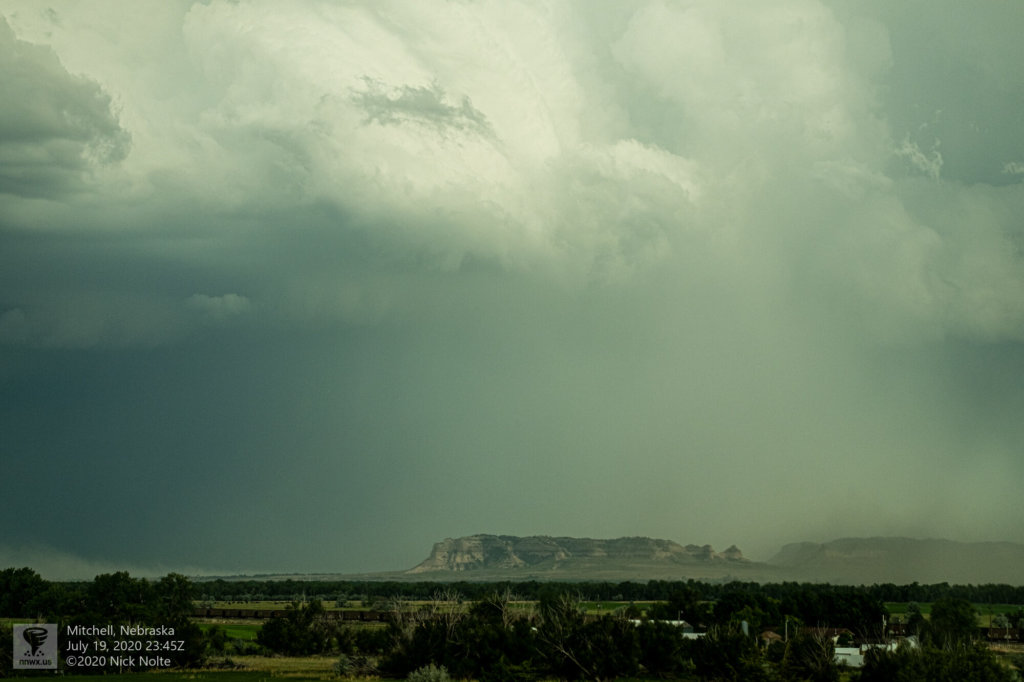 I continued to just track the storm as it tracked down US 26 and while it was turning into a weak mess, I was able to get behind one of the cells that had a nice clear view of its updraft tower.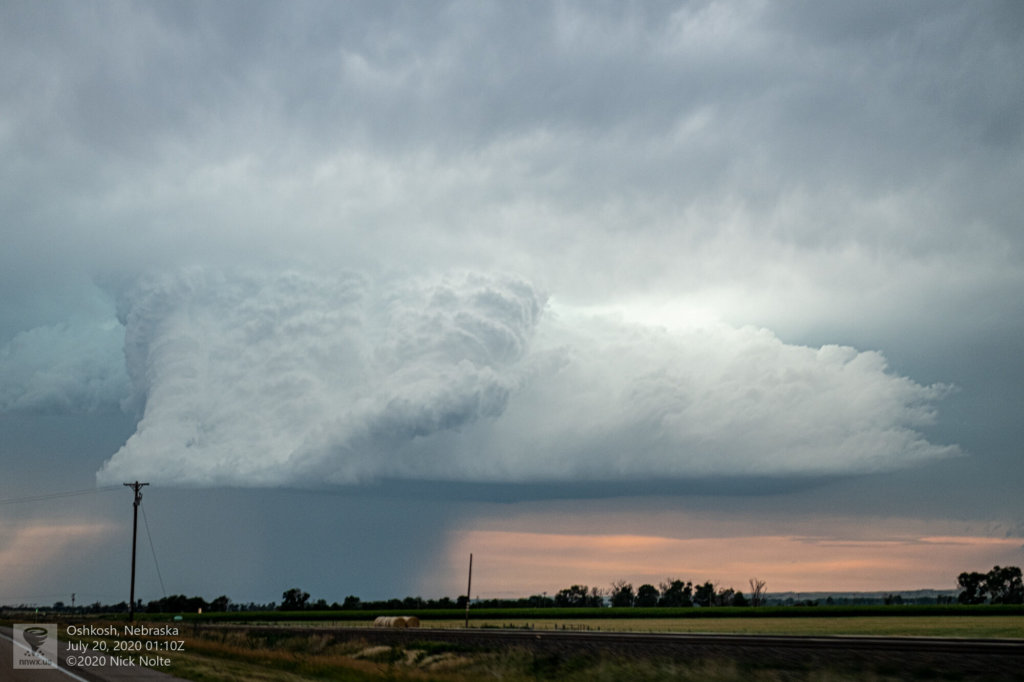 Then as I approached Lewellen the storm dropped every hailstone it had and presented another nice view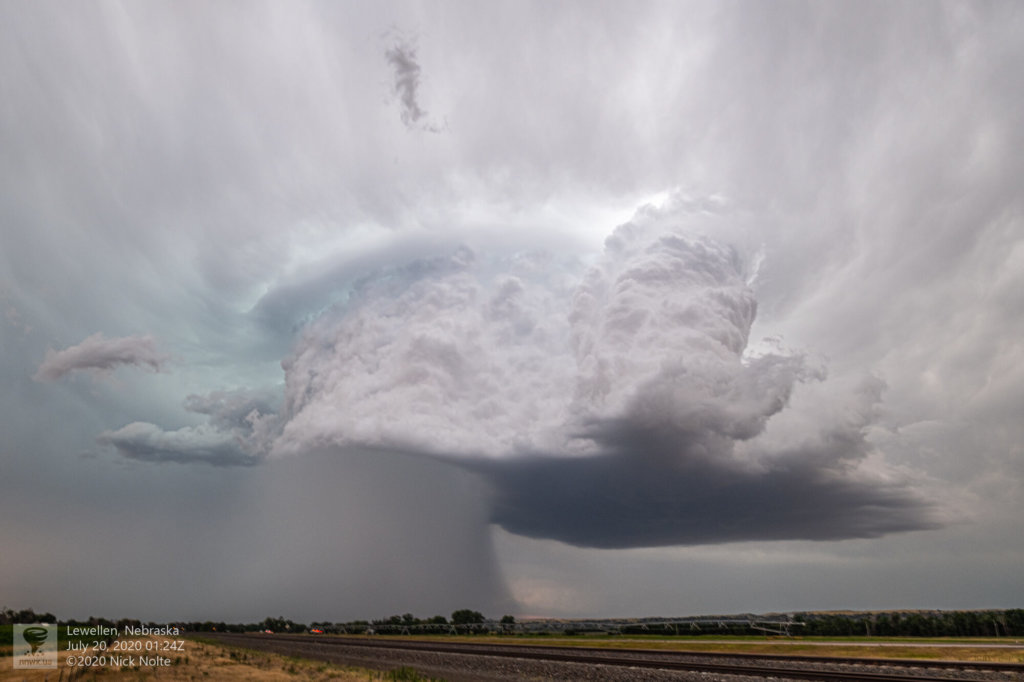 With this core dump the storm evaporated into the ether and that pretty much ended the chase. Overall it was a pretty disappointing day but there was some cool visuals that salvaged it.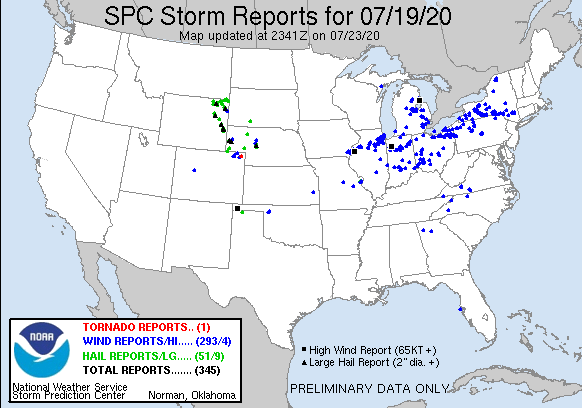 Chase Recap
| START | END | DURATION |
| --- | --- | --- |
| Grand Island, NE @ 19/1406Z | Grand Island, NE @ 20/0459Z | 14 hours, 53 minutes |
| INTERCEPTS | CHASER ENCOUNTERS |
| --- | --- |
| None | None |
Chase Map