| 0 | 2.50" | 60 | 1,041 |
| --- | --- | --- | --- |
| TORNADOES | HAIL | WIND | MILES |
The weekend of June 29th was one of those that makes you question your sanity with regards to this hobby. A possible two-day severe event across the Northern Plains, but where the Saturday target may be Minot, North Dakota? A 10 hour drive one way? Sure, why not?
The SPC had outlined a 5% tornado risk in Eastern North Dakota as a cold front was moving in from the west while a warm front extended southeast from North Dakota through Minnesota and Iowa. The morning MCS that moved across North Dakota was expected to leave an outflow boundary that would probably serve as focus for storms later in the day.
Given that it was about a ten hour drive from Grand Island to the target area, and I was expecting initiation in late afternoon — around 22z — I had to get on the road rather early. I left home at 9z (4am CDT!) and began the trip north.
I arrived in Pierre, South Dakota just before 14z. The MCS was still marching across Northeastern North Dakota.
The MCS had definitely laid down a boundary stretching from Carrington to Dickinson. I expected this to sag south during the day, probably coming to rest along the I-94 corridor. My plan was to continue north to Bismarck and make my decision how far west to go once I got there.
I arrived in Sterling, ND right at 17z and decided to take a break there and monitor data. By this time the MCS was beginning to decay and was almost out into Minnesota. Meanwhile, the outflow boundary had actually surged south to the North Dakota/South Dakota border, but further west a cumulus field was beginning to develop near Dickinson. SPC issued a mesoscale discussion for the outflow boundary from the early morning MCS which oriented northwest to southeast across North and South Dakota.
That western edge that curled up into North Dakota was among that cumulus field and it looked like that was going to be my target. At 2220z I began the trek westward along I-94 as the cumulus field started to agitate. Initiation of a storm south of Dickinson occurred just a few minutes later. At 23z the SPC issued a tornado watch for all of south-central North Dakota.
I arrived at the Richardton exit at 2330z and decided to punch the core of the storm to get south of it.
Here, I encountered some 1-inch hail, but nothing too serious. I finally got on the south side of the storm and was able to stop and take a look.

There wasn't much for low level structure as the storm had begun to fizzle out, however a new storm had formed downstream and it organized rather swiftly even developing a hook.
This storm looked better organized than the last one and had an elongated wall cloud but rotation was not evident.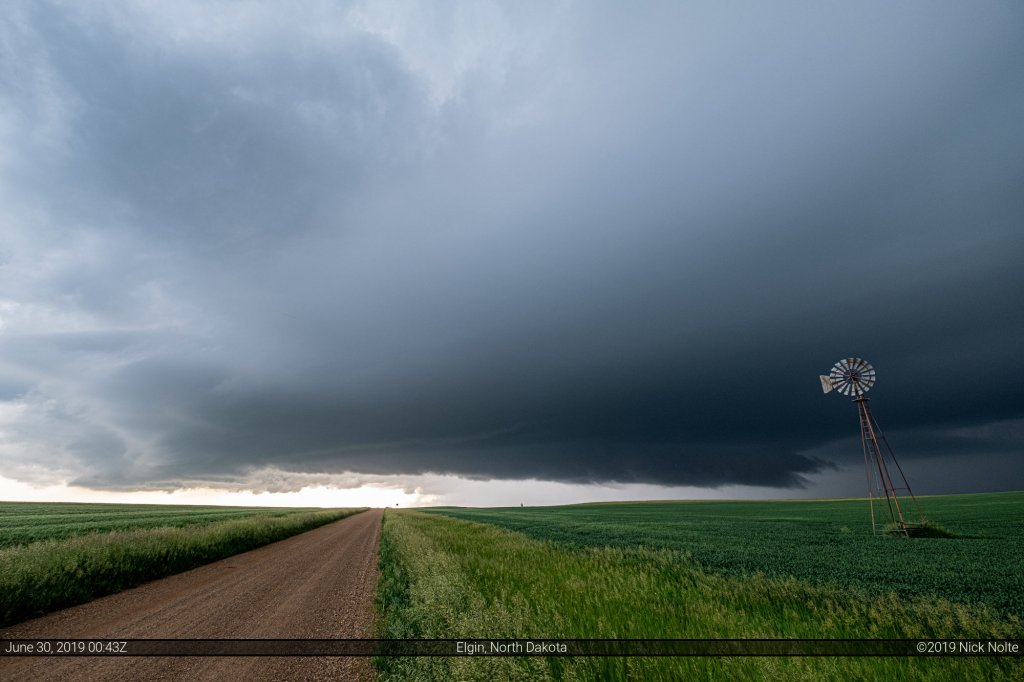 The storm then ramped up with a much heavier core and a more pronounced hook and it was finally showing rotation on the velocity scans. There was a very significant rear-flank downdraft cut and I had a view of where I would expect a tornado to be, unfortunately from my vantage point I couldn't see anything significant; and at the end of the day there were zero tornado reports.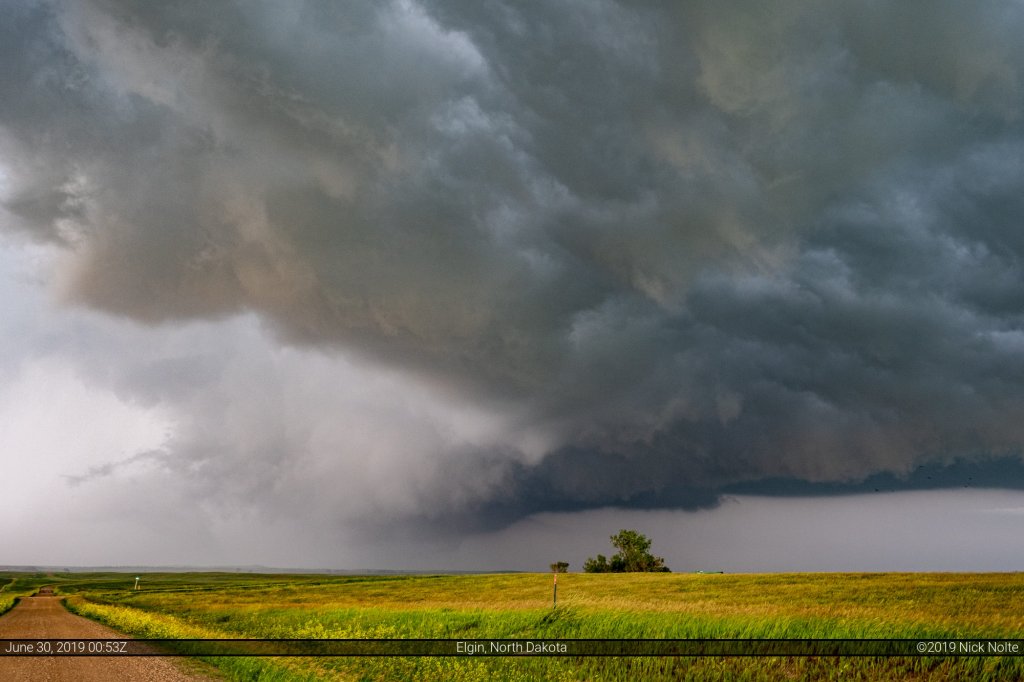 At Carson I attempted to go north to poke into the storm to see if anything was obscured in there. I went about 4 miles north of the main highway and then took a dirt road east expecting to stay in front of the RFD. Unfortunately the road ended at a farmhouse and my only exit was back the way I came. That meant driving through the RFD where I encountered some near-baseball size hail which caused my first (and only!) windshield damage of the season!
I continued to track the storm east as it maintained a nice hook and tornado warning, but it never did develop any significant low level rotation and within an hour it completely fizzled out as the cap filled in despite 6,000 J/Kg of MLCAPE according to Mesoanalysis.
It looked like I was going to need to be along the South Dakota/Nebraska border east of the US 183 corridor on the following day so I had planned to make my way to Pierre for the night but was unable to find a hotel. I ended up driving all the way to Watertown before I found a place to book.
Chase Recap
| START | END | DURATION |
| --- | --- | --- |
| Grand Island, NE @ 29/0846Z | Watertown, SD @ 30/0650Z | 22 hours, 4 minutes |
| INTERCEPTS | CHASER ENCOUNTERS |
| --- | --- |
| None | None |
Chase Map