| 0 | 1.00" | 50 | 479 |
| --- | --- | --- | --- |
| TORNADOES | HAIL | WIND | MILES |
May 22 had the looks of a potentially significant severe episode across Northeast Oklahoma into Missouri. Given the terrain and land cover in the target area we wanted to play as far southwest as we could to avoid heading into the hills and jungle.
An 18z analysis noted a stationary front draped across Northern Oklahoma then arcing into Central Missouri. A dryline extended from about Enid, OK through Altus and into West Texas. The front was expected to lift north into Southeast Kansas which would provide the focus for severe development in the afternoon.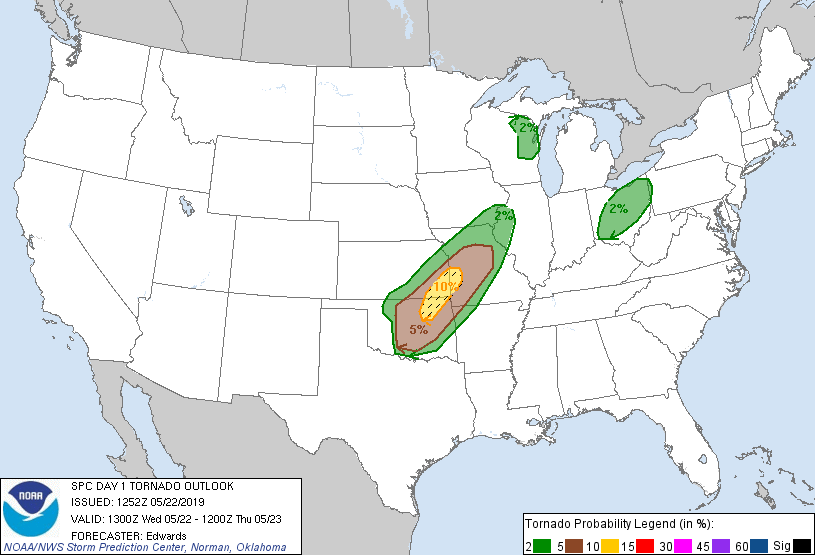 The 13z SPC outlook initially had an enhanced risk throughout the target area with a 10% hatched area for tornadoes. At the 1630z update they increased the risk to 15% and issued a moderate risk.
After spending the night in Wichita, we decided our initial staging area should be in southeast Kansas with decent road options to drop south towards Tulsa if needed so we took off from Wichita prior to 16z and made our way to Coffeyville. We noted some road closures in southeastern Kansas due to the heavy rains and flooding of the past couple weeks that could make chasing off pavement rather tricky.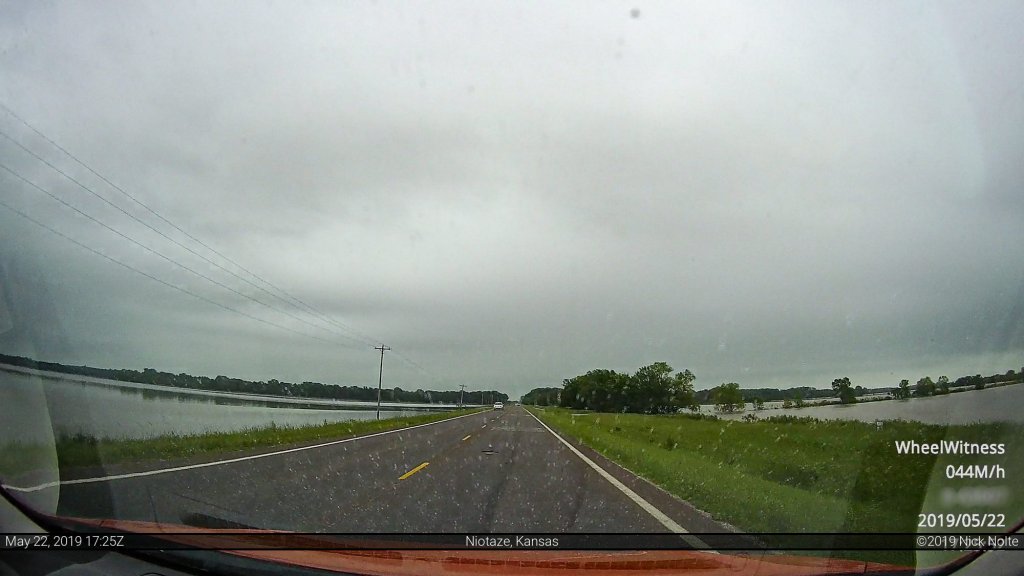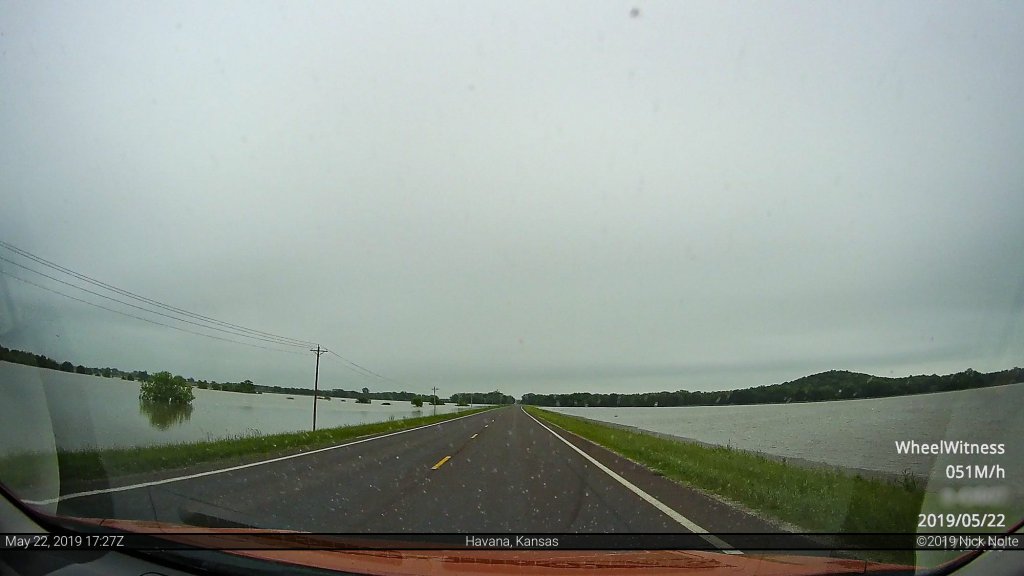 We passed through some stretches on the way to Coffeyville that were totally inundated with flooding as water was up to the shoulders of the roadway.
We arrived in Coffeyville around 18z and shortly thereafter the SPC issued a mesoscale discussion for the area just to our south encompassing the entire I-44 corridor in Oklahoma indicating a tornado watch was probable in the next couple hours.
Around 2030z the SPC issued a particularly dangerous situation tornado watch for the Tulsa, OK to Columbia, MO corridor. We hung back for a little bit waiting to see how the area would develop as it looked like the entire area was primed for supercells.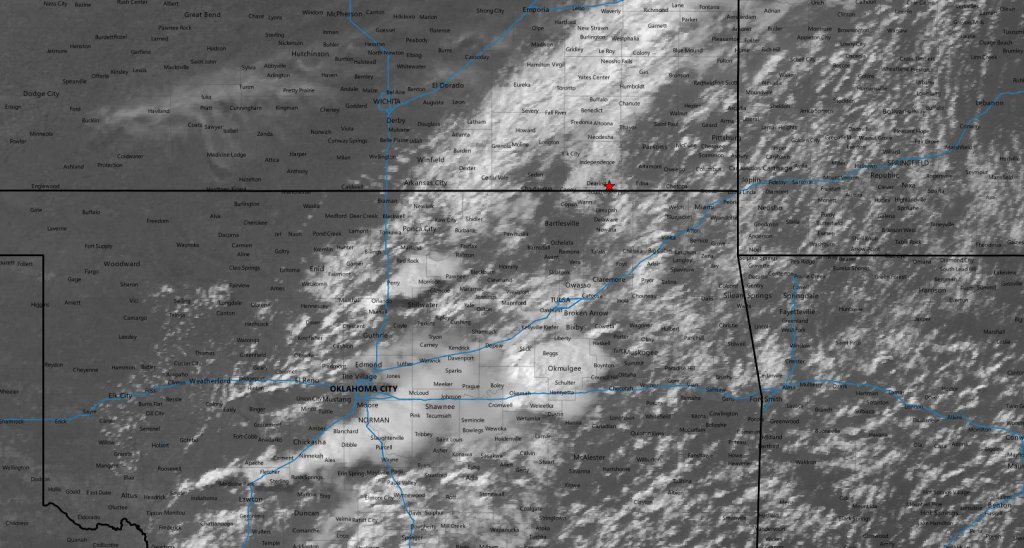 A couple of cells began to go up east of Oklahoma City near Okemah around 21z and we began the trek south intending to intercept as the approached Tulsa. Those cells went tornado warned as tornado reports came in before 22z. It appeared we had hung around Coffeyville for a bit too long, nevertheless, we kept heading south hoping it held together for us to intercept.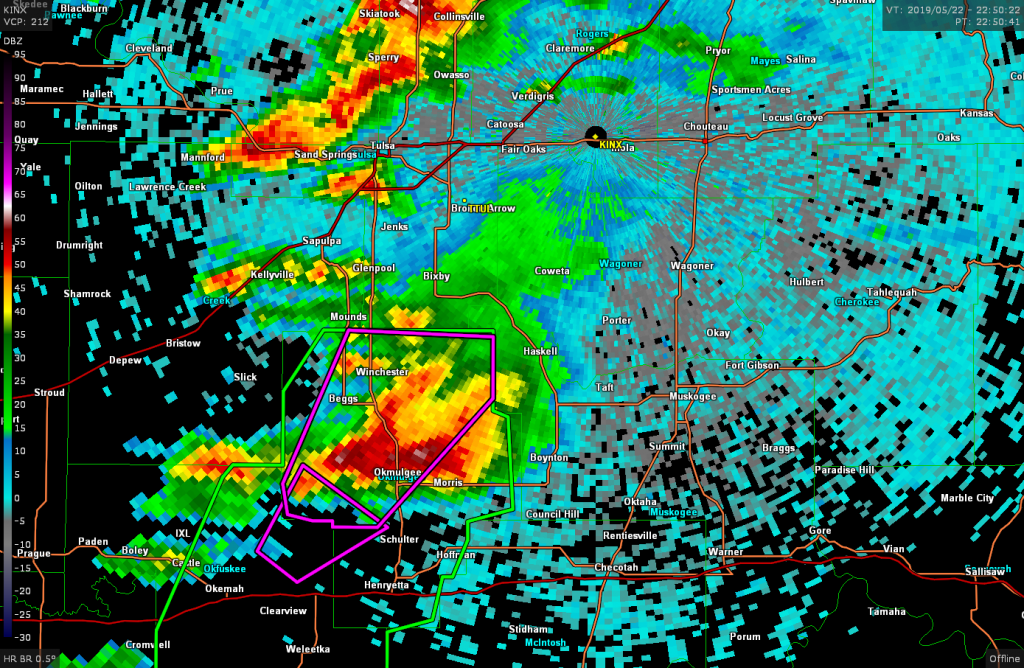 As we approached Chouteau our plan was to head south towards Wagoner to attempt an intercept. As we arrived in Wagoner we noted the storm had taken a little bit of a right turn and we'd need to continue south a bit to avoid getting cored, so we continued towards Muskogee where we finally got a look at the storm to the west.
At this point the storm had appeared to occlude and was weakening as far as it's radar presentation went. We followed it back north towards Wagoner eventually letting it go as it fell apart. At that point we decided to go after the next storm in line to the west as it became tornado warned. We stopped west of Inola, literally next to the KINX radar tower, as we watched the storm to the west.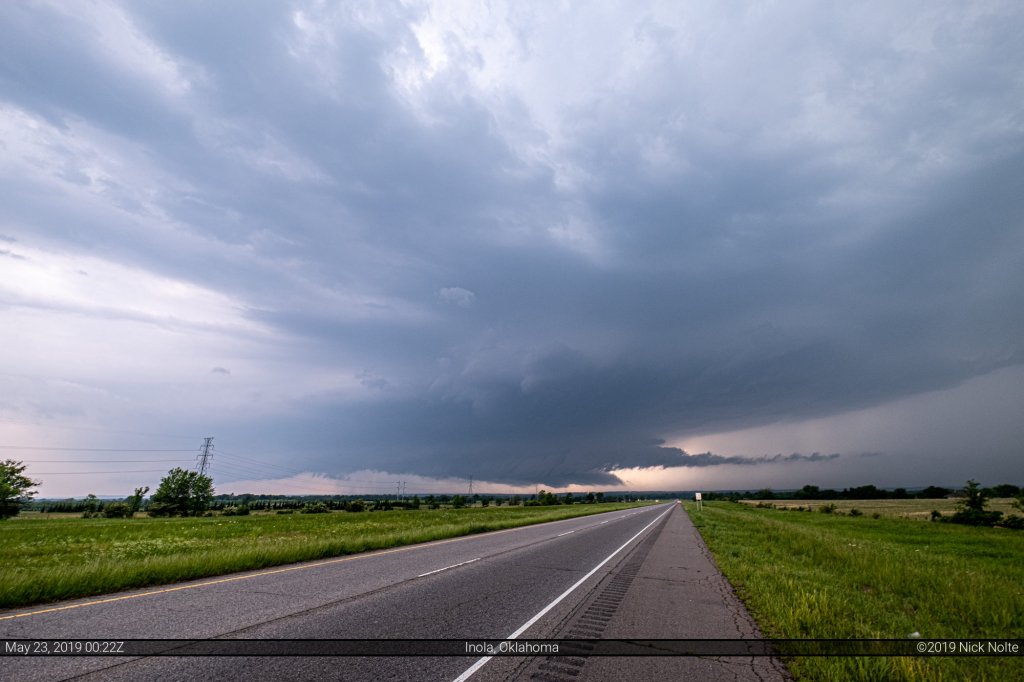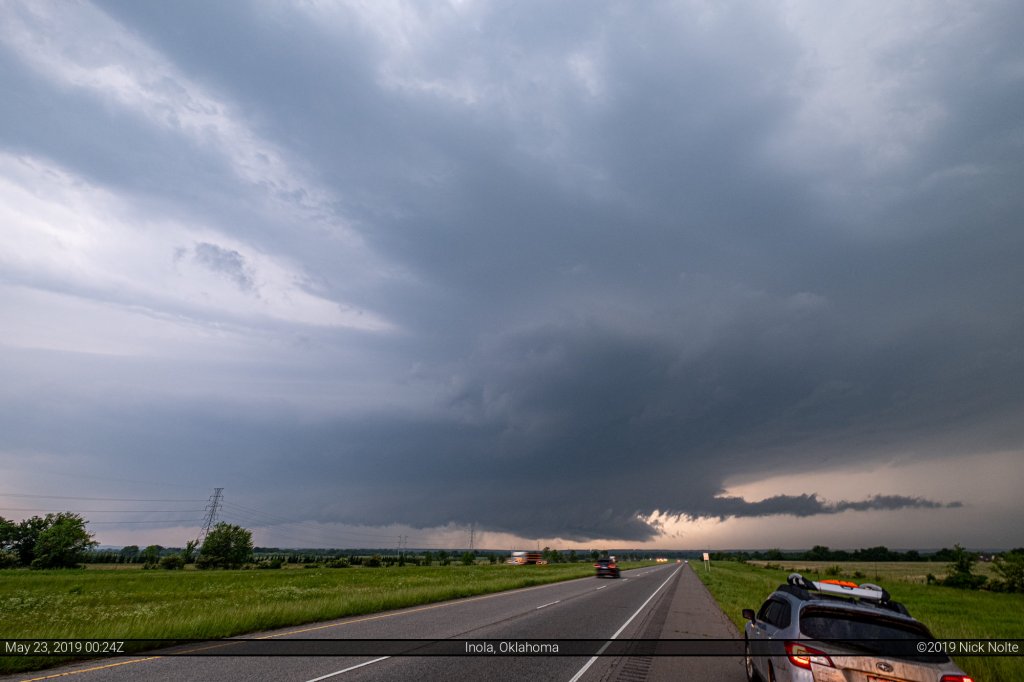 The storm exhibited a nice inflow tail and decent low level structure and a report of a tornado came in during these shots but we never saw anything from where we were.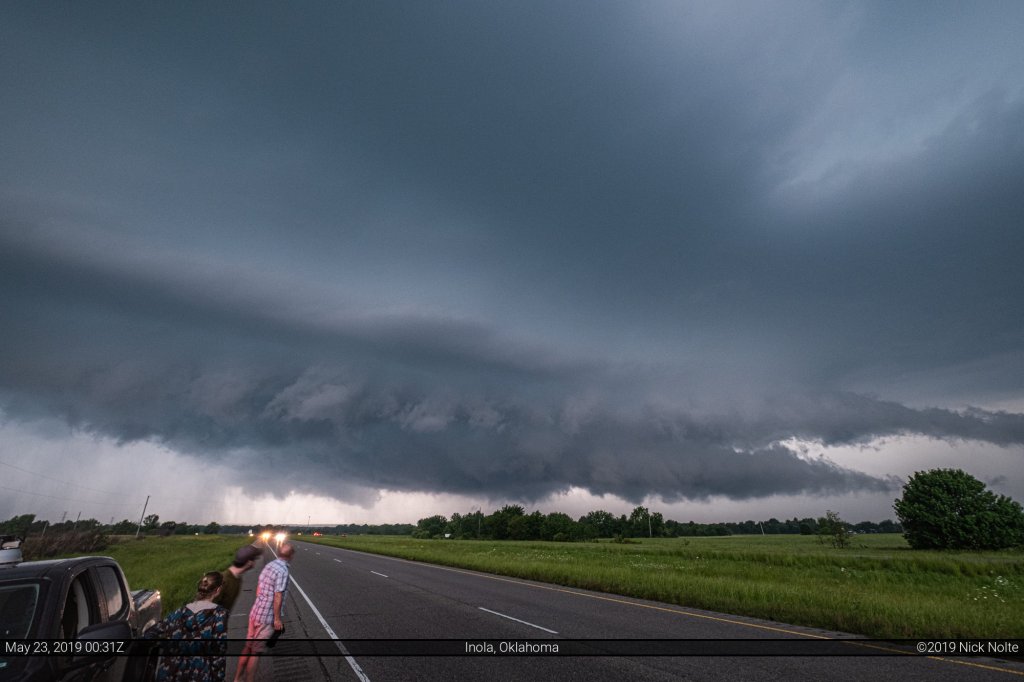 We turned around and went back east towards Chouteau to get one last look at the storm. We watched the storm approach with much the same look as the previous photos above and with a lack of road options to the east because of the flooding and darkness we decided to call the chase.
As we were heading back towards Tulsa another cell coming through Tulsa caught our attention as it exhibited a nice hook on radar so we stopped to check it out as well.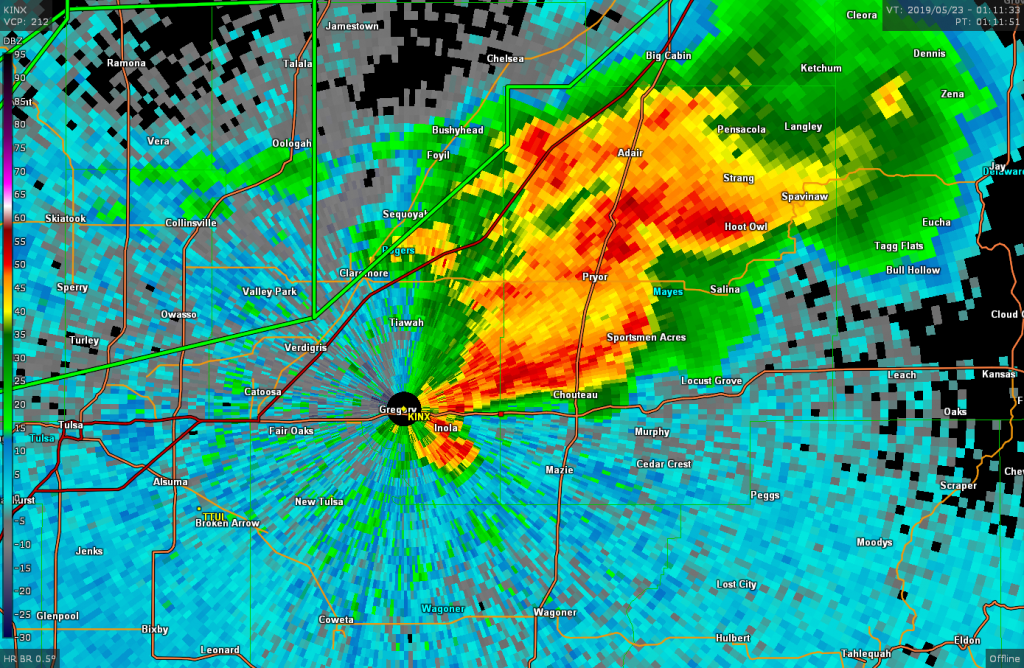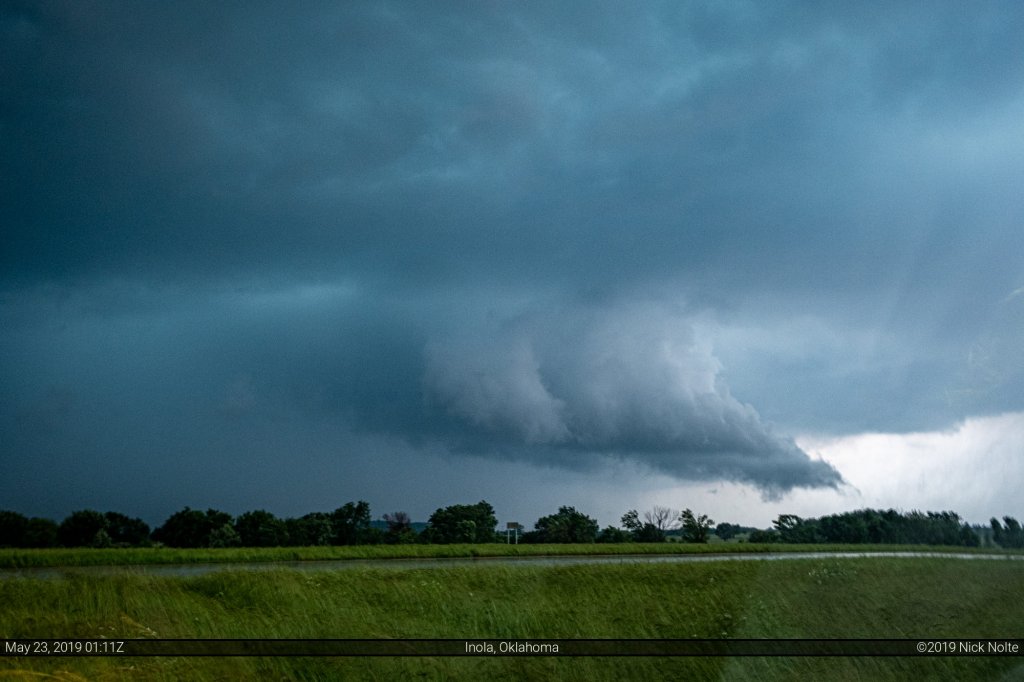 Same story as before, decent low level structure but too much rain to really see anything going on underneath the meso. We watched as this storm went by and then Brad, Jon and Emilie and myself continued west. My mother and I stopped in Sand Springs to catch some dinner at iHop and while in the restaurant the tornado sirens went off for the complex on the eastern side of the county.
However, another complex of storms was approaching from the west and after leaving dinner we stopped to get a look as we skirted the southern edge of the hook along US 412.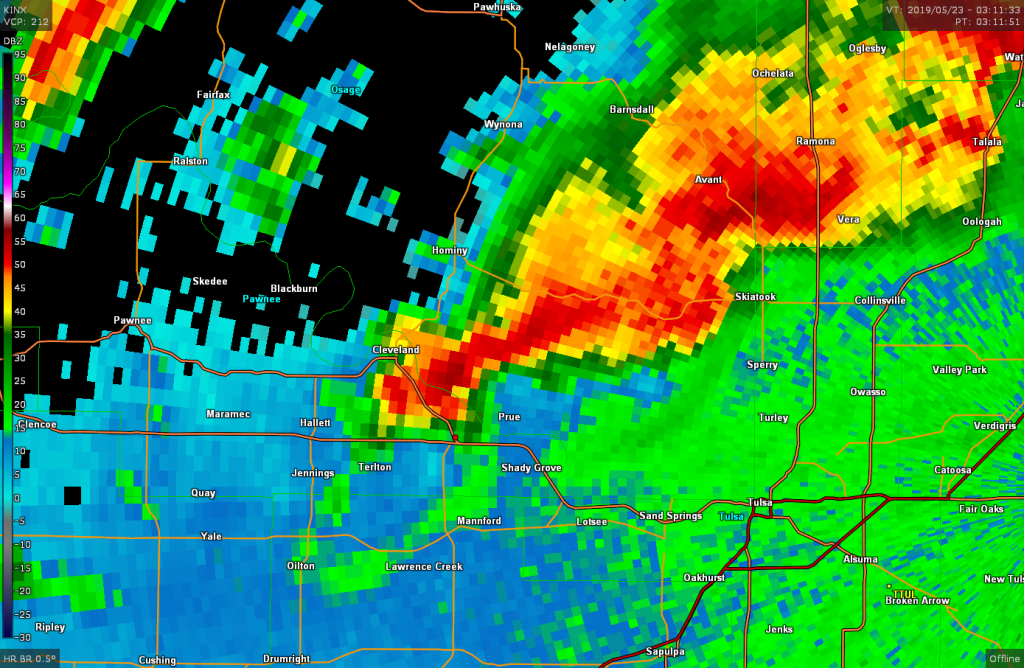 I wasn't able to make anything out in the lightning flashes and as the storm slid by we eventually called the chase for real this time and continued west to Enid.
Chase Recap
| START | END | DURATION |
| --- | --- | --- |
| Wichita, KS @ 22/1503Z | Enid, OK @ 23/0450Z | 13 hours, 47 minutes |
INTERCEPTS
CHASER ENCOUNTERS
None
Bandit (8)
Brad Goddard (38)
Emilie Williamson (9)
Jonathan Williamson (56)

Chase Map