| 0 | 0.00" | 0 | 662 |
| --- | --- | --- | --- |
| TORNADOES | HAIL | WIND | MILES |
Probably the deepest sleep ever for me after being up for 42 straight hours the day(s) before and driving 1,475 miles. We awoke relatively early in Aberdeen to move east into Minnesota to get in position for the chase this day. We were expecting a very unstable airmass across southern Minnesota with temperatures into the 90s and dewpoints approaching 80. I was concerned with the upper flow as we were on the right exit of a 500mb jet, but it was pretty far north and the 300 jet was pretty much in Canada, but the atmosphere was going to be primed and looking at forecast soundings from the night before we were convinced today was going to be a pretty decent day.
We headed out of Aberdeen east on US 12 to Millbank where we stopped for some lunch as some warm frontal showers passed overhead. We continued on and hung out in Benson for a bit while some storms north of the front taunted us. We called them the bait storms expecting them to draw some people north causing them to miss the show later in the south. After a while in Benson we moved southeast on US 12 to Willmar and current data was leading us to head south from there towards Redwood Falls as we made a move to the clearing on satellite.
Eventually we ended up in Windom where we hung out for a very, very, very long time. Specifically four hours in the blistering, humid heat waiting for something to pop. Luckily for us, it wasn't complete boredom as we were treated to a private air show by a local crop duster taking care of the field just a hundred yards to our north:
While sitting here we kept an eye on RUC and HRRR and both kept saying that cells would begin firing in two hours. Unfortunately, this pattern remained for a few runs and storms were always two hours away. Around 0z we mentioned that if nothing happened in the next hour we would begin the trek home. Then, shortly after 0z a green blip showed up on base reflectivity to our southwest, just five miles from where we were sitting. We watched it for a scan or two and it grew in size and intensity, initiation had FINALLY started.
We caught up to it a few minutes later and scoped it out
Shortly after the video the storm kinda fizzled out, but the one to the northeast was getting it's act together…so we went after that one. That would end up being the game for the rest of the evening, get on a storm as it fizzled and the next one up the line was strengthening.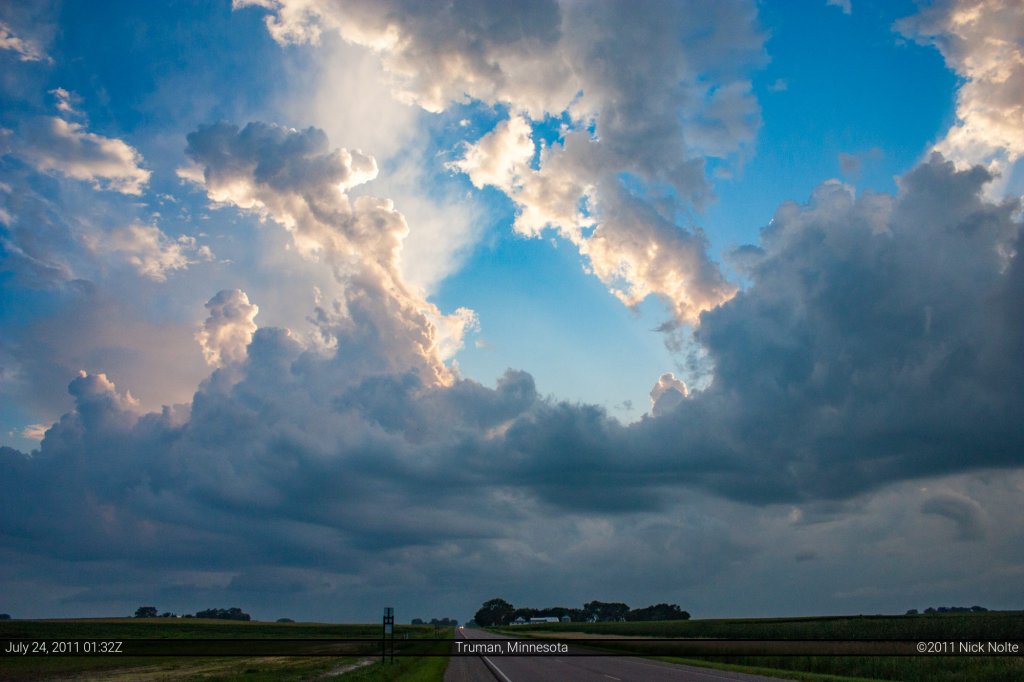 As darkness fell, stuff began to congeal and the chase was pretty much over.  The drive home began as I made my way towards Madison.
Chase Recap
| START | END | DURATION |
| --- | --- | --- |
| Aberdeen, SD @ 23/1403Z | Madison, WI @ 24/0740Z | 17 hours, 37 minutes |
Chase Map