| 0 | 0.00" | 20 | 1,475 |
| --- | --- | --- | --- |
| TORNADOES | HAIL | WIND | MILES |
A big ass ridge was dominating the weather across the southern two-thirds of the country bringing a substantial heat wave to much of the Central and Southern Plains. The displacement of the jet stream to the north confined most of the severe weather opportunities to the Dakotas and even Canada. This day had captured my interest a few days prior and I was prepared to make the looooooong drive to the Dakotas to play in some of the best chase terrain in the country. Decent shear profiles indicated that isolated supercells were possible early in storm evolution before everything grew upsacle.
I left after work on the 21st to begin the trek west. My initial plan was to get as far as I could then crash for a rest and finish up the drive on the 22nd. Little did I know this was about to become the most driving I'd ever done in one sitting. I finally left Grass Lake, MI just before 6pm EDT and headed out. 3 am rolled around as I wandered into Minnesota and at that point I was debating even stopping at a hotel as I'd only get to sleep for a few hours. I pressed on a little bit as some nighttime storms were passing by to my south. I approached a wind farm near Dexter, MN around 830z and got off the highway to try and get some shots.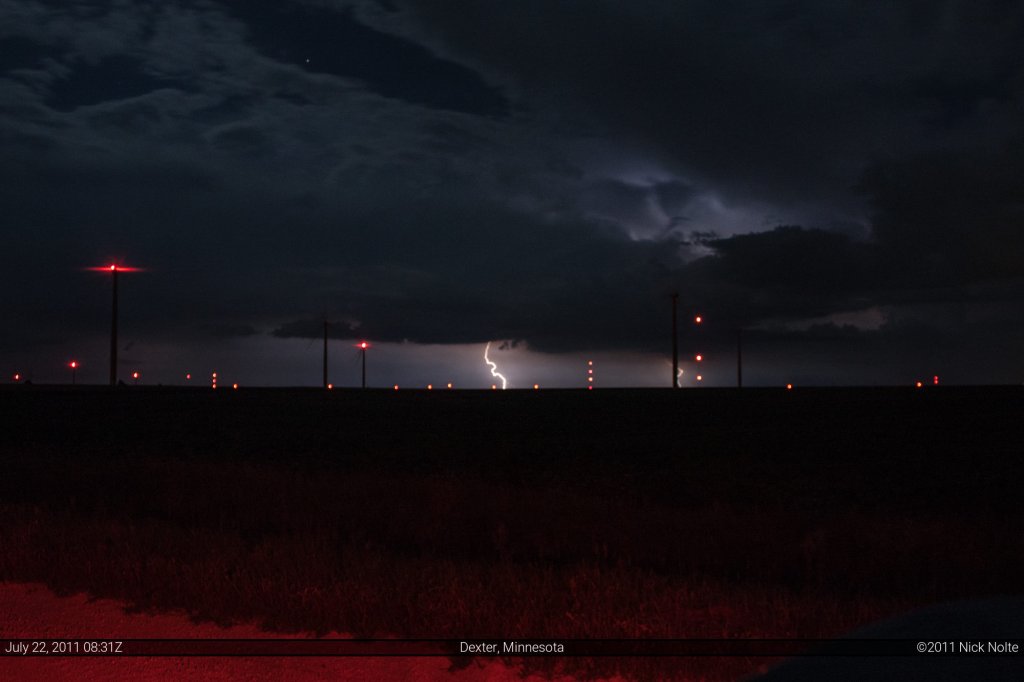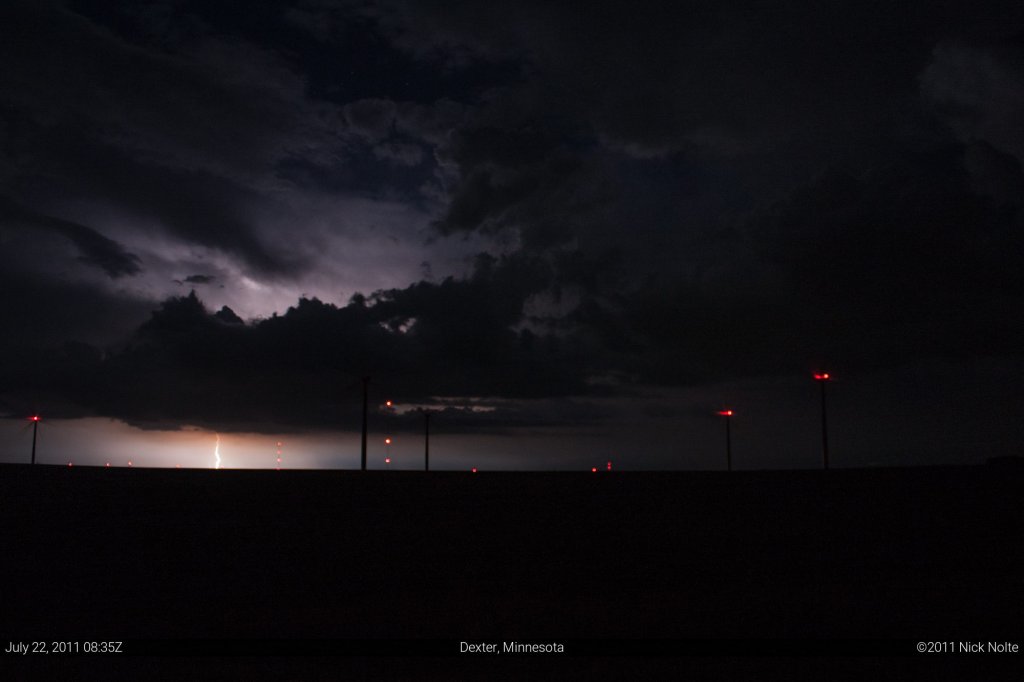 This woke me up a bit and I decided to press on. I eventually pulled off at a rest area to close my eyes for about thirty minutes before continuing on. As dawn broke SPC had issued the 13z update and indicated slight risk across the target area with 5% tornado probabilities a little north and west of my planned stop. I pressed on and finally arrived in Mobridge shortly before 19z and met up with some other chasers at the DQ in town.
Eventually we parted ways, I tagged along with Skip Talbot and Jonathan Williamson as we scouted out a place outside of town to hang out and watch the sky. In the distance some cells were going up to the east, but we determined they weren't the main show and stayed put while I tried to take a little nap.
After a while a cell started to fire across the border in North Dakota west of Bismarck. We decided to go after it and headed west out of Mobridge then north into North Dakota. We eventually caught up to the storm near Flasher and it had a nice looking wall cloud on it. We kept driving to get closer, all the while the storm was looking better and better and the wall cloud getting more and more defined.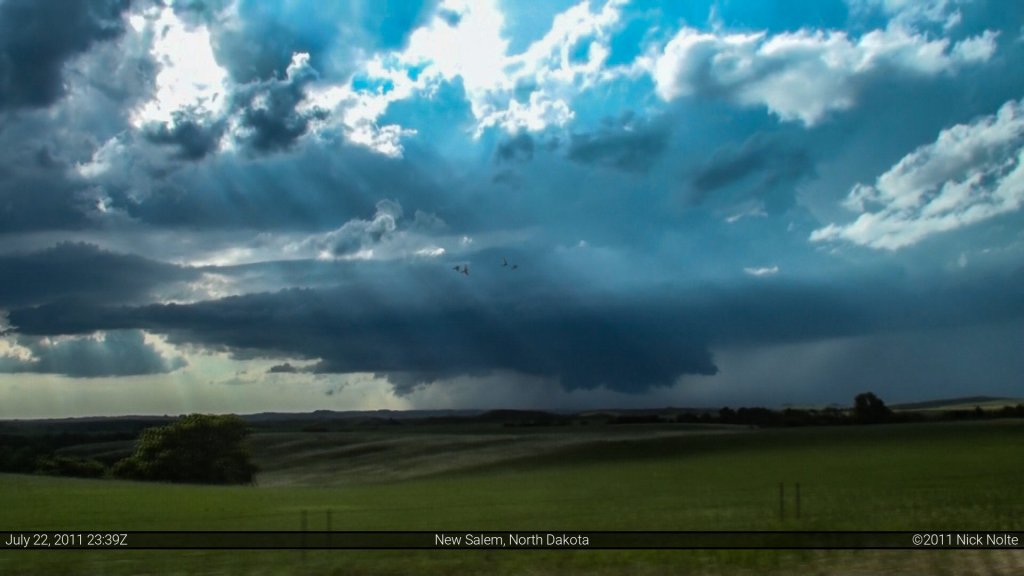 As we finally got on a road that led straight to the base we bolted for it and as we did the storm started to die, the wall cloud dissipated and nothing exciting came of it.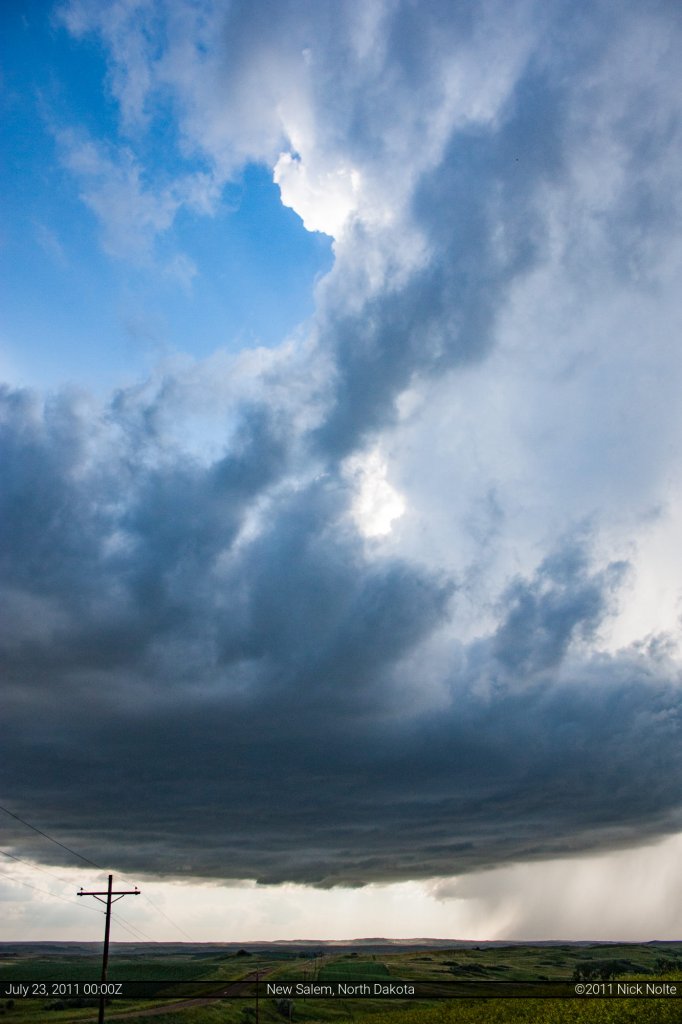 After the failed storm, we went back south to sit in the middle of some crazy atmospheric parameters (5000 CAPE, 300 ESRH) in hopes something else would go up.  The cap won the day back in South Dakota and nothing chaseable materialized until the cold front pushed through the area.
We drove back on US 12 towards Aberdeen with plans for chasing in Minnesota the following day. In doing so we retraced steps many of us made on May 22, 2010 passing through the area where the Bowdle tornado occurred. Earlier in the year, in June, I was up here and US 12 was closed east of Roscoe because of flooding. It was open this time, but it wasn't what I expected. It was night time and we came up on where the road had been closed where a stop light was controlling traffic as it was one lane. Once we got the green light we continued forward and the pavement gave way to dirt and gravel. Dirt and gravel which had water up to its edge…The South Dakota DOT built a causeway across a huge flooded plain to reopen US 12 and on either side of us was several feet of water. It was quite an eerie experience late at night as it looked like we were driving through a lake. Here's a video of what it looked like before they built the dirt causeway, which made the road a foot higher than it appears in this video:
Chase Recap
| START | END | DURATION |
| --- | --- | --- |
| Grass Lake, MI @ 21/2153Z | Aberdeen, SD @ 23/0408Z | 06 hours, 15 minutes |
Chase Map