| 0 | 1.50" | 30 | 329 |
| --- | --- | --- | --- |
| TORNADOES | HAIL | WIND | MILES |
Hadn't really paid attention to this day in Michigan. The big story was the impending tornado outbreak for the southeast that was to start this evening. Nevertheless, a little after 1pm a mesoscale discussion was issued regarding the potential for severe weather across Lower Michigan. A surface low near Green Bay had a trailing cold front back through lower Michigan into Illinois. This front was expected to trigger storms as the atmosphere destabilized. Strong boundary layer flow coupled with strong flow at the mid levels was conducive to supercellular development.
At 3pm the tornado watch was issued and shortly thereafter I hit the road. I originally attempted to intercept a storm that was north of Battle Creek, but after a few radar scans noticed that the storm was weakening. So, I turned back to I-94 and continued west to intercept a storm that was just coming out of Indiana. I caught up to the storm south of Decatur where it had a nice rain free base and even a wall cloud. Surprising structure by Michigan standards.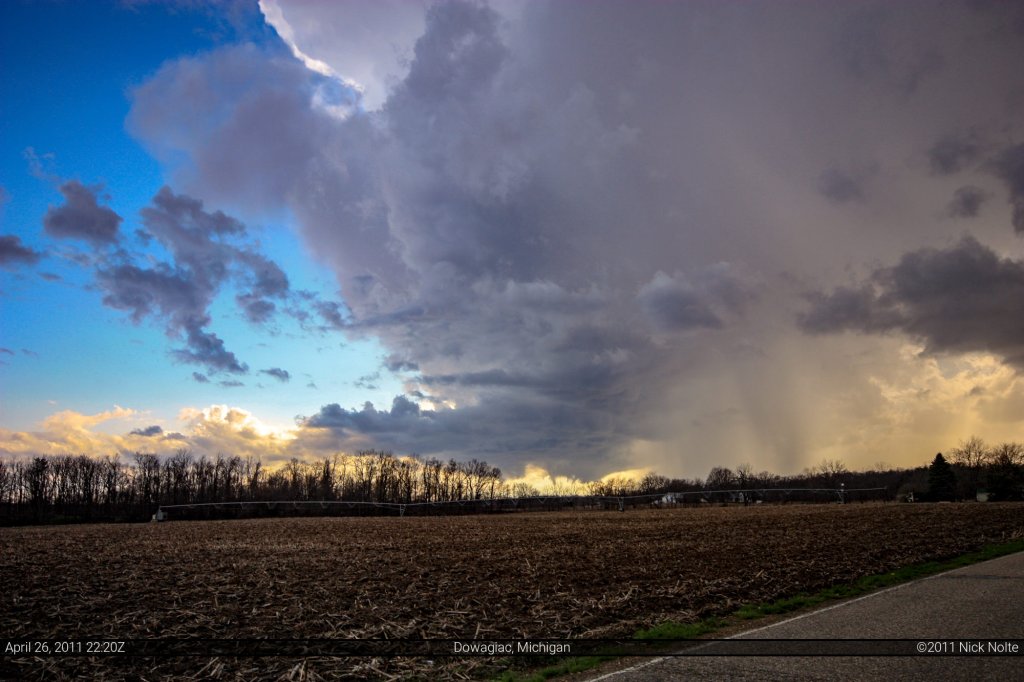 As I tracked this storm to the northeast, I had to punch the core and was surprised to find significant hail just south of Mattawan. Hail near the size of golf balls, and on top of that, it was covering the road. It had looked like it recently snowed. Something I had never seen in Michigan before. These storms were low-topped supercells and were low precip in nature. After the storm passed me, I got back on I-94 to get back in front of it and finally did so west of Battle Creek. Here I managed to stay with it on state highways all the way to Owosso where it eventually died. As dusk fell, available instability dropped off and there was no energy to keep the storm going. With night falling, I began the trek home. Pretty impressive day for Michigan. Here's video from the chase:
Chase Recap
| START | END | DURATION |
| --- | --- | --- |
| Grass Lake, MI @ 26/2005Z | Grass Lake, MI @ 27/0224Z | 06 hours, 19 minutes |
| INTERCEPTS | CHASER ENCOUNTERS |
| --- | --- |
| None | None |
Chase Map